Julien Alfred and fellow UT sprinters (© University of Texas Athletics)
I was 12 when my dad passed away.
When I lost him, I also lost the motivation to keep running. I couldn't keep going. It wasn't until my coach, Cuthbert Modeste, came to my community and school looking for me that I eventually returned to the track.
He saw a potential in me that I still hadn't recognized, and even if a small part of me thought I could be something in this sport, I was grieving and my family was struggling. It's hard to see past that as a child. So, honestly, if he didn't come back for me, I don't know if I'd be where I am today.
St. Lucia national record-holder, Commonwealth Games medalist, Big 12 Indoor and Outdoor champion, NCAA champion, 8x All-American, 3x National Athlete of the Week, getting named to The Bowerman Watch List … At times, it's even unbelievable to me that I have such honors to my name.
Especially knowing how this all started. A kid trying to have fun, seeing no problem in racing and beating the boys in school. Teachers and parents rallying behind me and politely nudging me towards success. It's surreal.
It really speaks to the importance of not only having the talent and potential, but having people who truly believe in you more than you believe in yourself. I think that's part of the reason why Texas has been such a great fit for me.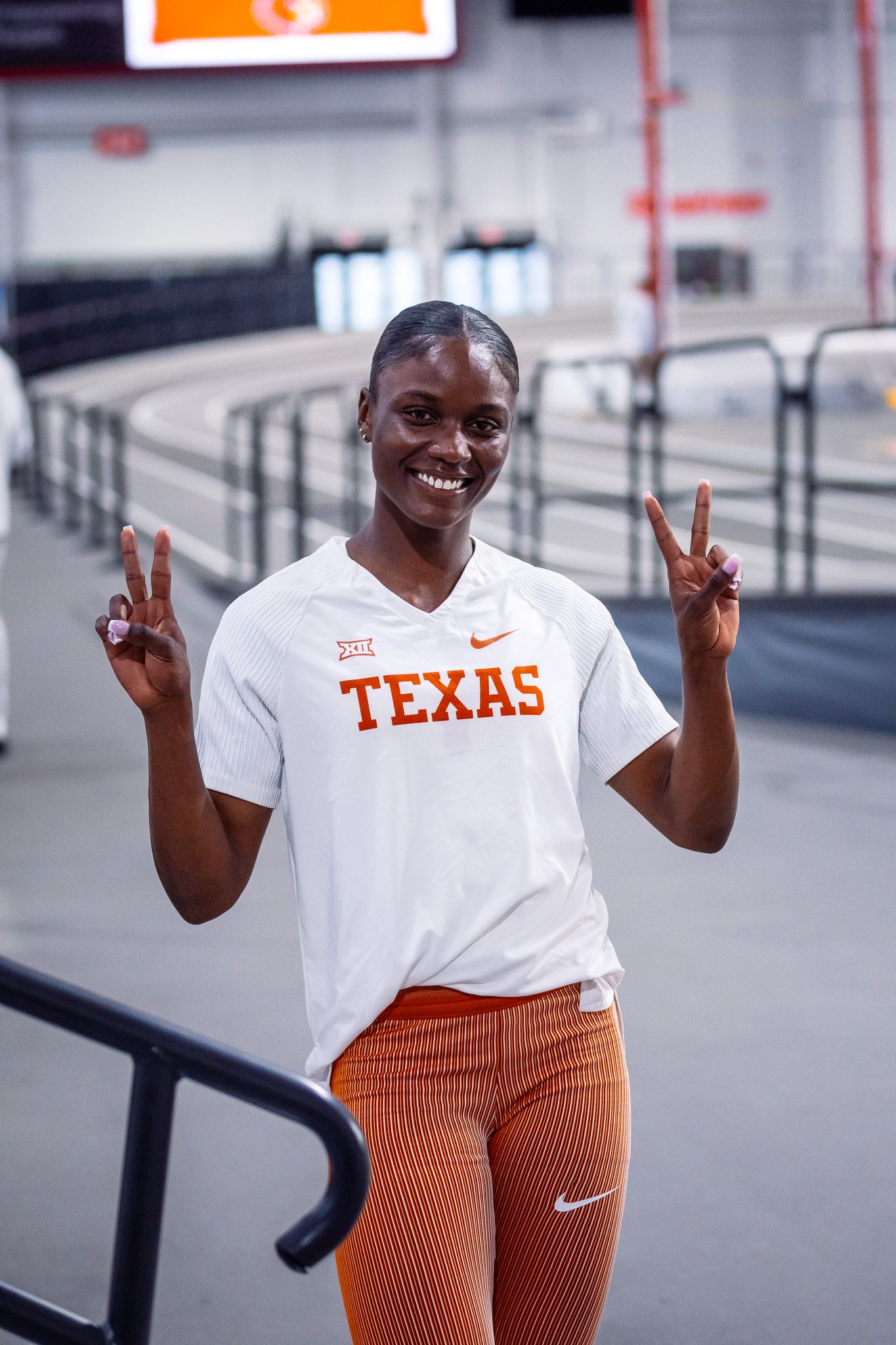 I remember when the offer from UT came in. I had just gotten silver at the Youth Olympics and offers were rolling in. I didn't know too much about collegiate track and field at the time, but I was familiar with Coach Flo and the results he got from training Jasmine Camacho-Quinn and Sydney.
When I went on my visit, I didn't go anywhere else after that. I trusted his results, his vision for me and the program. I knew I was supposed to be here. And in my five years, I couldn't ask for a better coach. He's been an inspiration to a lot of us here.
He's not just a coach, but he's a mentor, he's a dad — not growing up with my dad, Coach Flo really stepped into that position and played that father role for me. He's guided me in the right direction and just being under him has changed my life in so many different ways.
One of the most important being fixing and elevating my mindset. My confidence and how I view myself has completely changed since coming to UT. It's one thing to know you have what it takes, but it's another to also have a coach that can help you see it from their point of view as well.
Before the 200m at Big 12's this year, I went to him and told him how I was feeling anxious and he said to me, "just go out there and do what you're capable of."
It was that simple for him — his belief in me and our training was all it really took to set things back in line.
Honestly, it wasn't until last season that I realized that I have what it takes.
In 2019, I got hurt at Regionals and coming back in 2020 I was hungry for more — hungry to go after everything I lost. To get hurt again in 2021, obviously I came back with the same mindset, but at the same time, what I had missed out on weighed on me heavier than before. I knew I had what it took to go out there and do great things, and since the start of last season I've been determined to show that.
And even so, in 2022, I went into Indoor Nationals with the fastest time and I still lost. But that following outdoor season really turned my life around (I didn't lose a 100m race until prelims of World Championships).
As the only athlete to represent my country at Worlds last year, following that up with silver at Commonwealth, it felt really good to be able to put St. Lucia on the map, especially in terms of female sprints, because not many people know or think about us in the track and field world.
To be a part of that shift is really important to me, with every record I break I want to not only bring attention and honor to UT but my country as well.
I know this season has been amazing on paper: breaking the collegiate record three times, breaking the conference record in the 200m, defending and reclaiming my Big 12 titles... I've really gone after it.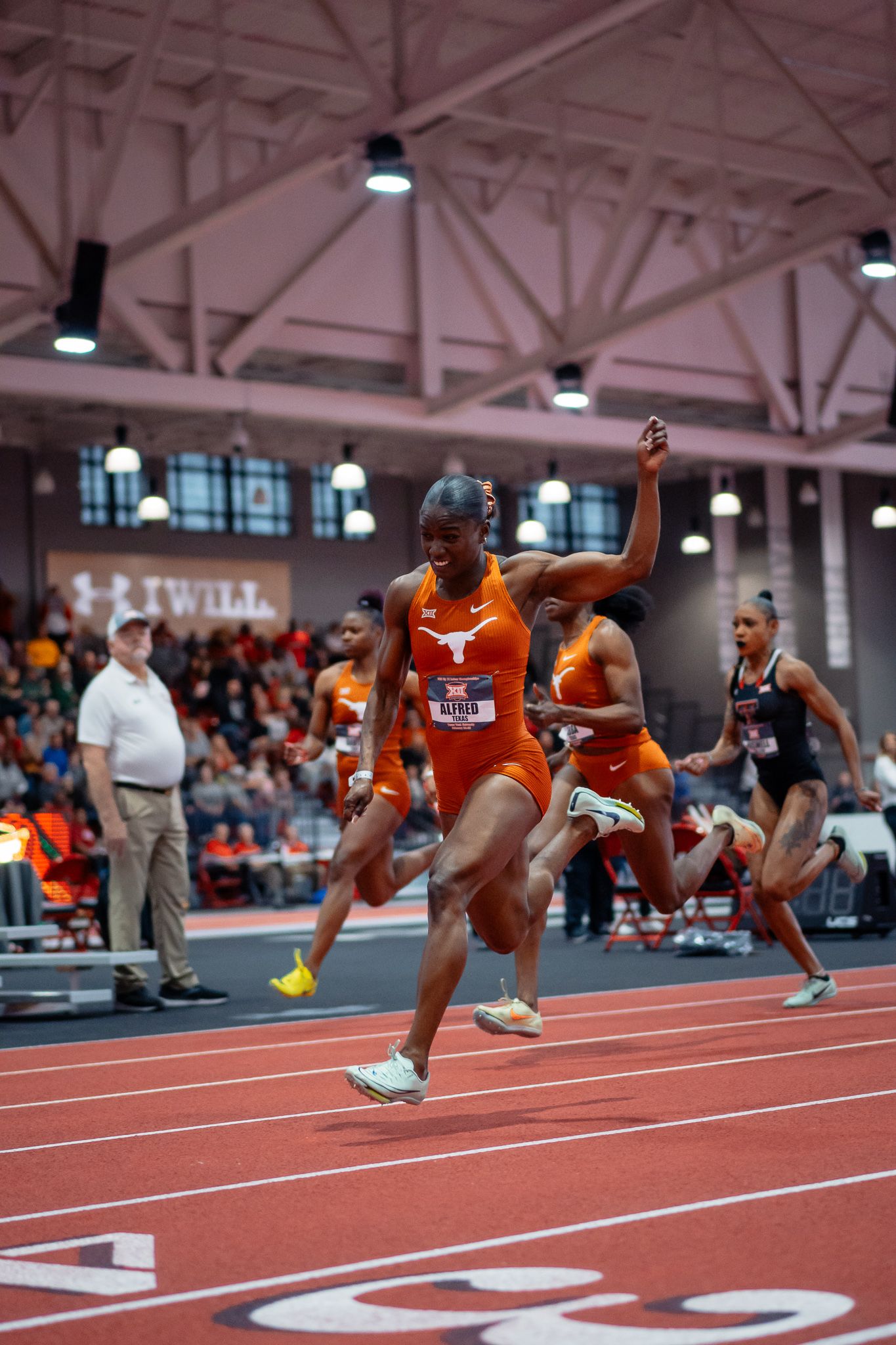 And with all the hype around me, I'm sure people are wondering if I'll succumb to the pressure… What's wonderful about my mindset as not only an athlete, but what I've grown to develop as a person, is that this time around I don't feel any pressure at all from the outside. Every time I step into the blocks I'm just trying to have fun.
Staying off social media has definitely helped. Everyone has something to say. There are so many different opinions and predictions online, I've never been a fan of social media discourse, and I don't want it interfering with the positive outlook I've set for myself.
The only pressure I feel, at times, is pressure from myself. I always want to win and run faster and each race I go into, I ask myself: Can I do this again?
To silence that small voice, I let the results speak for themselves.
As for Nationals this weekend, there's not much to say. I'm really excited, but I'm going into this as if it was just another meet. I know what I have to do, I know what I'm capable of and so does Coach Flo.
I'm just taking it one race at a time.
It is wild to think that this is my last Indoor Nationals. I don't know how to feel about it. My time at UT all went by so quickly, and while it feels good to be finishing up – especially school – I'm going to enjoy these last few moments in the burnt orange and white.
The people I've met while representing Texas have changed my life, that's probably what I'll miss most about college track — my teammates. They've really helped me become the person I am today, on and off the track… they've allowed my inner child to come out again… they've just made me a better person.
Looking back at everything, my career, my childhood, what it took to get here, I think about little Julien and how I felt like I didn't have what it took and how I wanted to quit.
My mom would always tell me there's light at the end of the tunnel, so now, if I could, I'd tell my younger self that it gets better, don't give up just yet. Don't put any pressure on yourself to do well, because now you're more determined than ever.
You'll make it. One race at a time. One person at a time. Your life will transform, and you'll love stepping on the track each day.
Photography: UT Athletics