Janee' Kassanavoid at the 2022 World Athletics Championships (© AFP / Getty Images)
My Dad taught me many lessons in life, but two stood out above all.
The first: don't give up.
The second: always strive for perfection.
We'd play catch when I was a kid, and if you didn't correctly pass it, right to where he was, you'd have to go run to get it. Being the youngest of four siblings, there was no concession made for my youth, and I was disciplined just the same as the others.
Yeah, it was tough, it was harsh. But in the end, it made me better.
My father's name was Ron Kassanavoid, and he was Native American, from the Comanche tribe. He grew up in Indian Territory in Lawton, Oklahoma, but his goal for his children was that we'd be raised differently. He'd been brought up in a lifestyle that limited him, and he wanted more for us: better resources; better education; a better way of life.
I was born and raised in Lawson, Missouri – a town of about 2000 people with low diversity. As a result, it was very hard to have a sense of identity, to figure out who I really was.
My dad passed away when I was eight, so it was very difficult to forge that sense of connection to my culture. The education system certainly didn't teach me the things I should have known about indigenous communities.
At school, our textbooks just had one black and white picture of a chief, but nothing on the trauma we went through as a culture. Knowing that now, it's painful, but it's also something that empowers me to be at the top level of sport, to compete and to represent.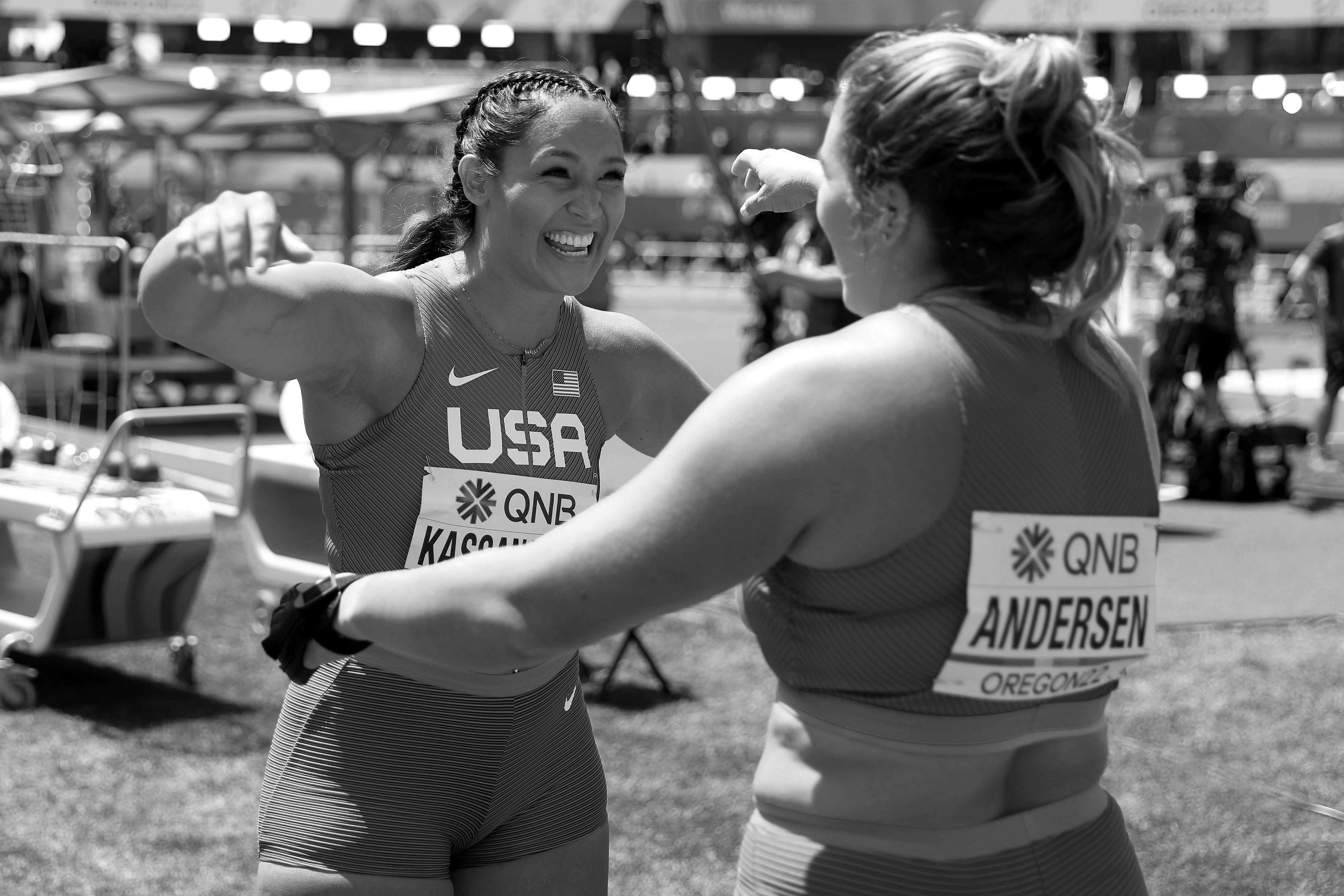 The reality is that the history of the United Sates is filled with trauma for indigenous people. It was illegal to represent your culture, to dance, to speak your language. You were essentially forced to be stripped of being Native American, made to live the white man's life.
Learning about all this was emotional, but it's something everyone should know so we can move forward as a society, to lean more towards equality, not reparations.
Life is still hard for so many indigenous communities, and I know a lot of people living in them, who feel they can't get out. If I can be that shining light or a positive impact for them, that's what I want.
The more I've grown, the more I've reached out to connect with my culture, and these days I choose to represent it – to be that face I didn't necessarily have growing up.
What traits do I think of when I think of the Comanche tribe? Strength, resilience.
From an early age, that was instilled in me from my father, from his culture.
We're warriors.
My dad was the whole reason my siblings and I got involved in sport from a very young age. Basketball was my first love, and in school I had dreams of playing in the WNBA.
My mom, meanwhile, is the strongest woman I know. She dealt with a lot, raising four kids by herself, and we didn't always see eye to eye. I didn't understand as a teenager why she was so hard on me, but it's only now, as an adult, that I realize she truly knew what was best.
She's my biggest fan, my biggest supporter.
Dad was our coach, and he made sure we were disciplined as children, instilling a strong work ethic. Being the youngest, I was babied in a sense, always made to feel like the lesser of the four. The older three were all Division One athletes, and as a kid, being compared to them, I felt like I was never good enough.
But being as competitive as I am, I wanted to create my own legacy.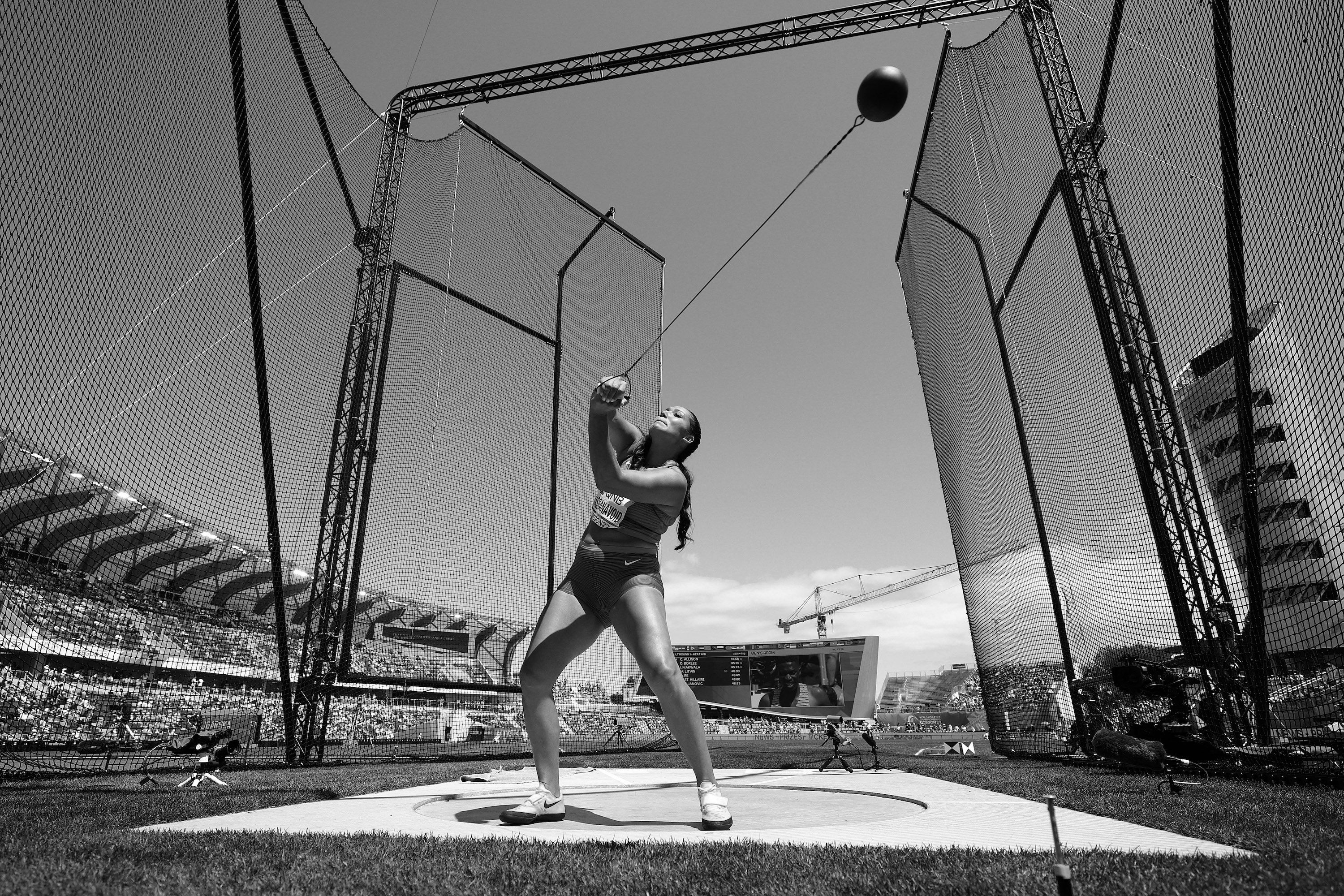 I only learned the hammer in my freshman year of junior college. I was 19, and I'd never seen the event before, never mind knowing how to do it. But I had good all-round athleticism from the various sports I did in my youth, and so I picked it up fast.
I had a lot to learn, but I became a student of the event, investing time to understand how it worked, listening to my coach's technical cues.
I accomplished a lot in college, but after finishing I was like, 'Okay I need to make money.' I pursued culinary arts, studied to be a dietician, but I still had unfinished business with the hammer. I was throwing 68 metres at the time, but my coach told me straight: you can get better.
I was constantly taking time off with injuries, having to come back from surgeries. But after my senior year at Kansas State University in 2018, I took a long break, then built back up. I didn't have anyone who could assist financially, so I worked 60 hours a week, doing 12-hour days with adults who had intellectual and developmental disabilities, then training for the hammer at night.
The following year, in 2019, I went from 68 to 73 metres. Once I was there, I saw I could mix it with with the best professionals in the US. I made everything else work, knowing it was important I gave it a shot.
It was a risk, but in the end the hard work paid off.
In 2021, I threw 75.50m shortly before the US Olympic Trials, but I finished fourth in that final, throwing 73.45m. Missing the team for Tokyo was painful, but I allowed it to be painful, accepted it, then put my head down and went back to work.
Ever since I started throwing, I was always told that throwers in the US don't get the job done, so I was like, 'Okay, I'm flipping the script.' If I was making all these sacrifices, I wanted it to be worth it.
Last year, it was.
I improved to 78.00m and, ahead of the World Championships in Oregon, I felt I could go anywhere in the world and still throw at least 75 metres. Knowing that while stepping into that ring, I didn't doubt that I'd come out with a medal.
I did: bronze.
A world medal was something I'd always envisioned, but it was the most rewarding, honouring, humbling moment when it actually arrived. Standing on that rostrum was surreal. I was super proud of myself.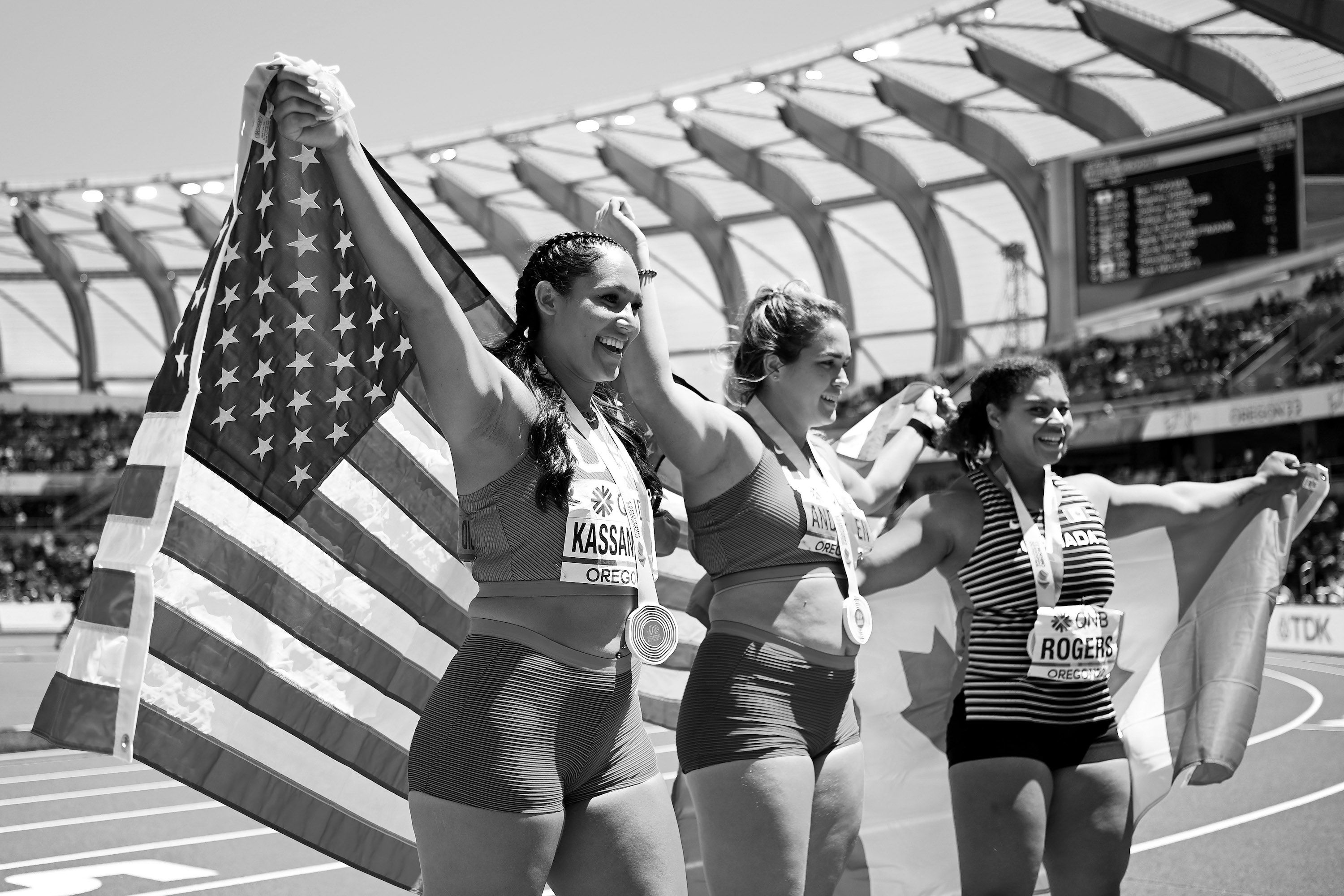 But for me, this was about so much more than my individual moment. There we were, in 2022, and I was the first Native American woman to win a medal at the World Championships – 110 years since Jim Thorpe became the first Native American man to win an Olympic gold.
When I was a teenager, I didn't see people who looked like me winning medals, but I hope other kids can look at what I've achieved and see their path to doing the same.
Yes, life is still hard for indigenous people. Yes, we've been restricted, but I know we can break through. There's a lot of successful, creative people from our communities doing amazing things, getting out there and rising to the top in so many areas.
Another one of my goals is to promote health and wellness among Native American communities.
People are still dealing with traumas from generations before and many don't know how to get out of that. It's hard to be constricted in those communities with poor healthcare, low education, minimal resources, and we've got a very high prevalence of alcoholism, obesity and drug use.
I can't relate to a lot of those people as I didn't grow up in the same environment, but I know what my father lived through, and he passed so much of that to me.
Now that he's gone, I can try to be that voice.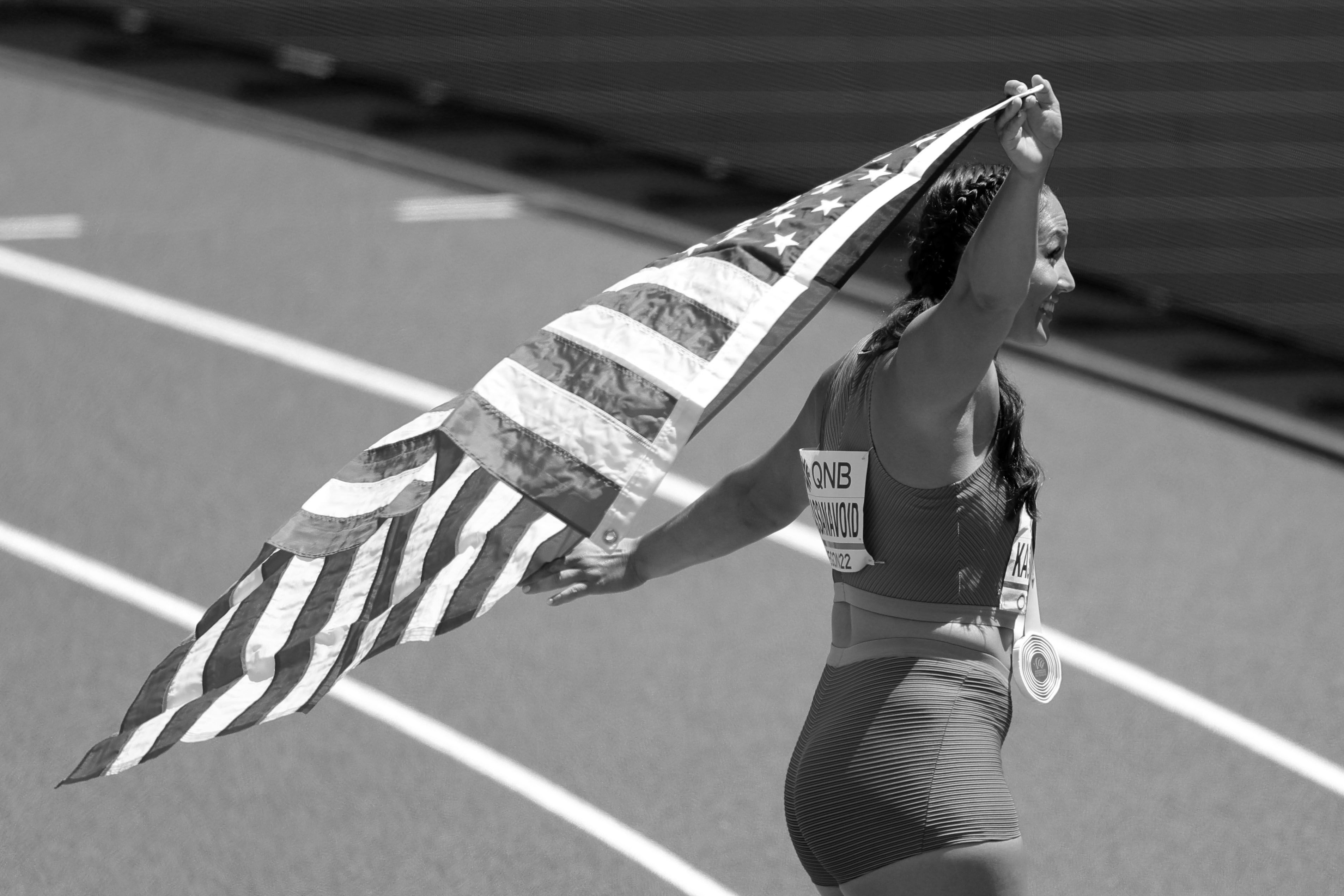 Last fall, I paid a visit to Lawton, where my father grew up, and I met a lot of people from the community, developing connections with the elders, understanding more about where I came from. It was a really heartfelt, cherished moment. I just wished my Dad was still around to see it.
But in the time we had together, he instilled so many characteristics in me – for sport and for life. I'll keep carrying the flame for him, for our culture.
I know that I'm making him proud.