JuVaughn Harrison (© Mario Bassani)
Where did I get my work ethic from?
That's easy. My Mom.
Her name is Georgia, and, when I was a kid, it wasn't just what she said that made me the person I am. It was how she lived.
I grew up in Huntsville, Alabama, and I'll admit: there were times we struggled. But watching her work ethic, what she did to make sure food was on the table, it stayed in my mind, and it still serves as my motivation in this sport today.
She would always wake up bright and early, watch the news, drink her tea, and start her work before my brother and I were awake. Then she'd get us to school, go to her job at the University, and she'd often still be working late at night, long after we'd gone to bed. When I saw that, it made me think: I have to work hard.
You can do anything you put your mind to.
That's what she used to tell us, and that was the biggest lesson; no matter what goes on, if you want to do something, all you have to do is put your mind to it, strive for it and work hard for it.
So that's what I did. I put my head down and I strived.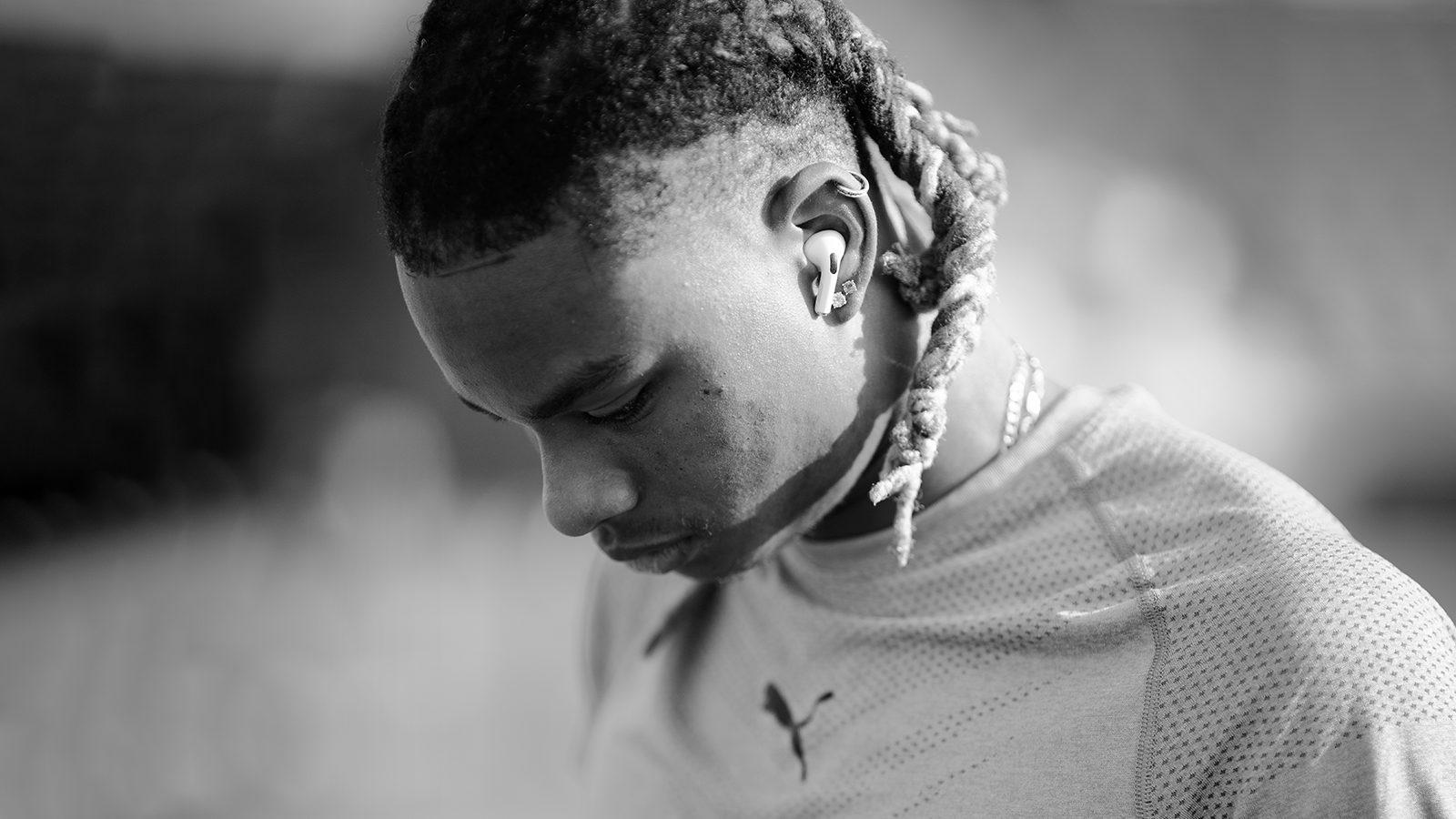 JuVaughn Harrison looks down (© Mario Bassani)
As a teenager, I did everything I could to help my mom. I got a job, worked after school so she would have one less person to take care of. I got my first job as a sophomore in high school and did lots of work, outside of school, throughout those years.
My mom did track, as did my godmother, my aunt, so the sport was something I grew up with. But it was basketball that first showed me I had great jumping ability. Dunking just came easy to me.
Most of my family is Jamaican, so I tried to shy away from track for a while, seeing if I could find something else, but ultimately I came back to it.
The goal was always to be a professional athlete; it didn't matter what sport. I knew very early on that working a 9-to-5 just wasn't for me, so once I got my scholarship offer for track, I was like: okay, we're locked in on track. Let's be the best we can be.
School was never my favorite thing, but I knew its importance. That, again, was thanks to my mom. When I was drifting along, doing the bare minimum, she gave me an ultimatum: If your grades aren't here, I'm pulling you out of sports.
I had no choice but to be good at it.
I understand the value of that now. There were times in college when I just didn't want to do my school work, but then I'd hear her voice in the back of my head and I'd get to work. I'd see people on LSU's team not get to compete because their grades weren't where they needed to be at but, for me, it was ingrained by that point.
It's something I tell kids now when I go back home.
A lot of kids, especially those at my brother's age, just want to go out, work out, play basketball, and I'm like: Yeah, you need to do what you need to do on the court, but make sure you're doing what you need to do in school.
Because at the end of the day, when you get to the higher level, you're a student-athlete, not an athlete-student.
And it's not just about practice, but meaningful practice. Just going out and shooting basketball isn't enough to make the NBA and the same goes for track and field; there's certain aspects you've got to focus on, technique-wise, if you want to be the best you can be.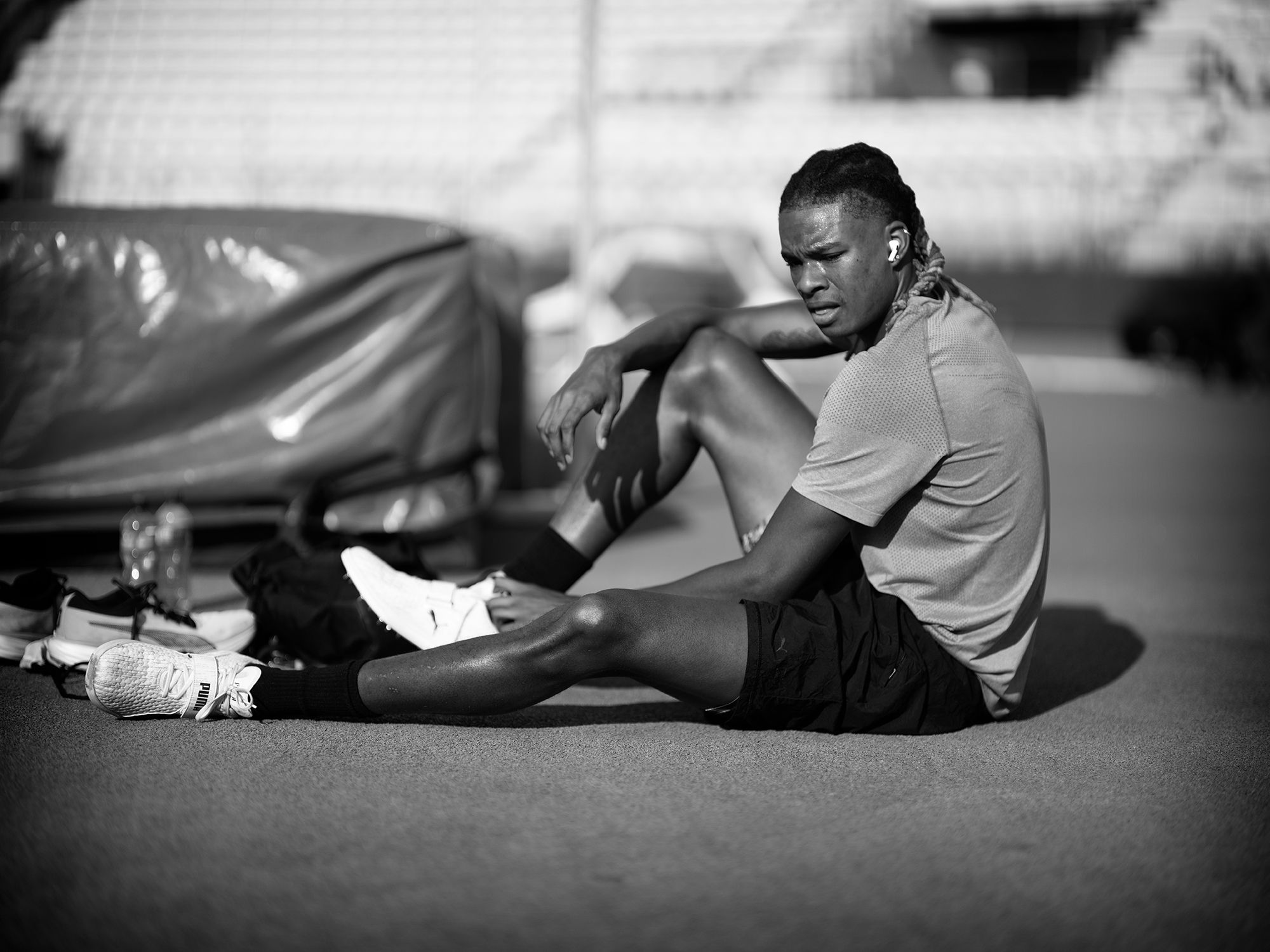 JuVaughn Harrison during practice (© Mario Bassani)
I was lucky to go to LSU. It was one of the places that moulded me into what I am today. The coaching, the staff, the equipment, the training staff – everything was outstanding and it's the reason I'm still based there now, the only difference being that, these days, I train at 10:30AM instead of 2:30PM.
Being a professional is a very different life. It only took one year, but I'm already sick of planes. The big benefit is all the extra time you have to do the one-percenters: getting treatment, eating right, staying hydrated.
The other great thing is that my mom has a lot less stress now; it's made me happier to be able to provide and help her out that way.
Our relationship hasn't changed. She's still my biggest cheerleader. If she's gotta drive six, seven, eight hours to see me compete, then she's driving six, seven, eight hours and cheering me on. And my little brother will be right there with her.
Whenever I hit hard times or a mental block, she's s the person I call to get out of it.
I'm competing for me, of course, but I'm also doing it for her. I like being one of the best in the world at two events, it's something nobody really does, and I don't see myself specialising in one anytime soon.
Because the high jump and long jump focus on different techniques, it strengthens different muscle groups so injuries aren't likely to happen, unless I'm doing something I shouldn't.
In the years ahead I want to win world, Olympic and Diamond League titles in both, and I think it's possible. I just have to lock in and do what I need to do, on and off the track.
To do exactly what my mom always did, and give it everything I've got.