Valeriy Brumel wins the 1964 Olympic high jump title (© Getty Images)
Today (18) marks the 60th anniversary of the first of six high jump world records set by Siberian Valeriy Brumel during a remarkable career which was sadly cut short at 23 years of age due to a motorbike accident.
Brumel, the 1964 Olympic champion, raised the world record bar from 2.23m to 2.28m from 1961 to 1963.


No Flop
For several decades now, every elite high jumper has utilised the 'Fosbury Flop'. But there was a time, prior to the introduction of the revolutionary back layout in the late 1960s, when a variety of different techniques were in use.
The 'Eastern Cut-Off' was a more sophisticated version of the basic 'Scissors' style, but that was largely superseded by the 'Western Roll', as used by George Horine of the USA when claiming the inaugural IAAF world record in 1912 with 2.00m, and the 'Straddle', the first outstanding exponent of what was also termed the 'Belly Roll' being another American, Dave Albritton, co-holder of the world record with 2.07m in 1936.
It was the 'Straddle' which held sway until the Fosbury era over 30 years later, and a landmark performance occurred in 1956 when Charley Dumas cleared 2.15m, the first man to jump 7 feet.


Olympic silver at 18
The record crept up a centimetre at a time until, at the 1960 US Olympic Trials, 19-year-old John Thomas improved all the way from 2.18m to 2.22m. The overwhelming favourite to win at the Rome Games, Thomas could manage only 2.14m in third place behind two Soviet athletes: Robert Shavlakadze from Georgia and the precocious Siberian-born Valeriy Brumel.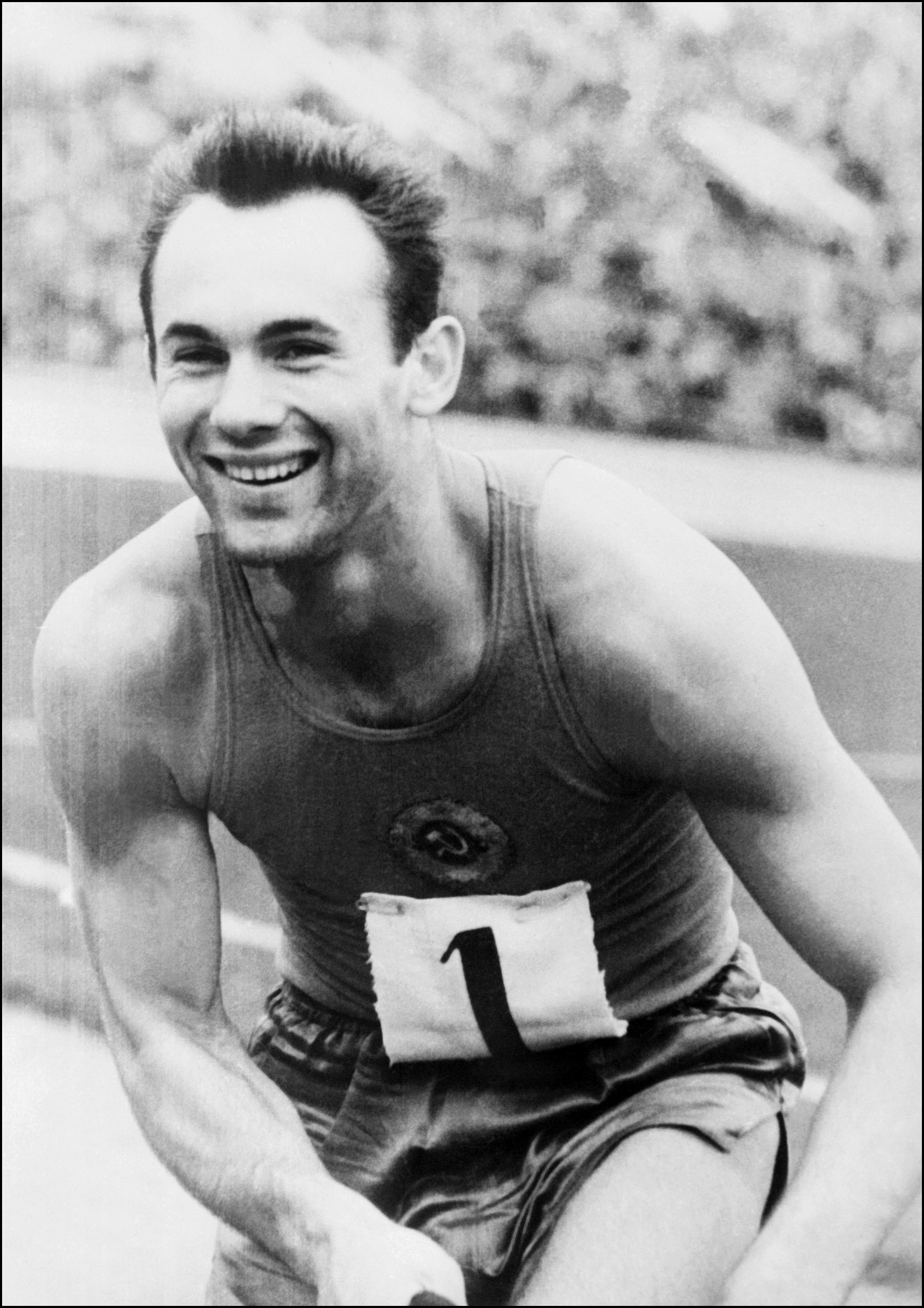 Shavlakadze won on countback at 2.16m but it was a notable international debut by Brumel, the European record-holder at 2.17m and aged only 18.
Coached since the start of 1960 by former pole vaulter Vladimir Dyachkov, author of a 300-page book on high jumping, Brumel's progress that season had been startling. From a best of just 2.01m, ranking him around 70th in the world in 1959, he improved literally by leaps and bounds ... 2.08m in May, 2.17m in August, 2.18m in September, 2.19m and 2.20m in October.
Only one man in the event's history (Thomas) had ever gone higher, but in January 1961 Brumel surpassed him by clearing 2.25m off a dirt surface indoors in Leningrad. That did not count as an officially ratified world record, but it did not take long for Brumel, now 19 and still a junior, to rectify that. He was ready to become the first male high jumper in history to set six world records.
The PE student's first record was set in Moscow's Lenin Stadium on 18 June 1961. He overcame a crisis at 2.08m, clearing only at his final attempt, before relaxing with flawless successes at every height up to and including 2.23m. He even had two good tries out of three with the bar at 2.30m, a height which no one would clear until Dwight Stones did so in 1973.


Training intensity
The contrast between the training programmes of Brumel (1.85m tall, weighing 80kg) and Thomas (1.96m and 88kg) – was immense. Thomas would weight train just once a week and worked out for three or four days a week for nine months of the year.
Under the revolutionary coaching methods of Dyachkov, Brumel would train for two hours every day the whole year round. In January 1960 he lifted almost 9000kg of weights as well as making 310 jumps at 1.85m. He reached a maximum weights total of close to 11,000kg in June before tapering off and concentrating more on his jumping: 100 leaps over 2.10m in August. Jumping for height and style occupied only about 14% of training time. Psychology played a large part too in his preparation.


More records and Olympic laurels
Among his greatest admirers was Romania's queen of high jumping, Iolanda Balas, who said Brumel "has shown such perseverance in training and his calmness in competition is so astonishing that I shall not be surprised to hear that he has achieved a new record."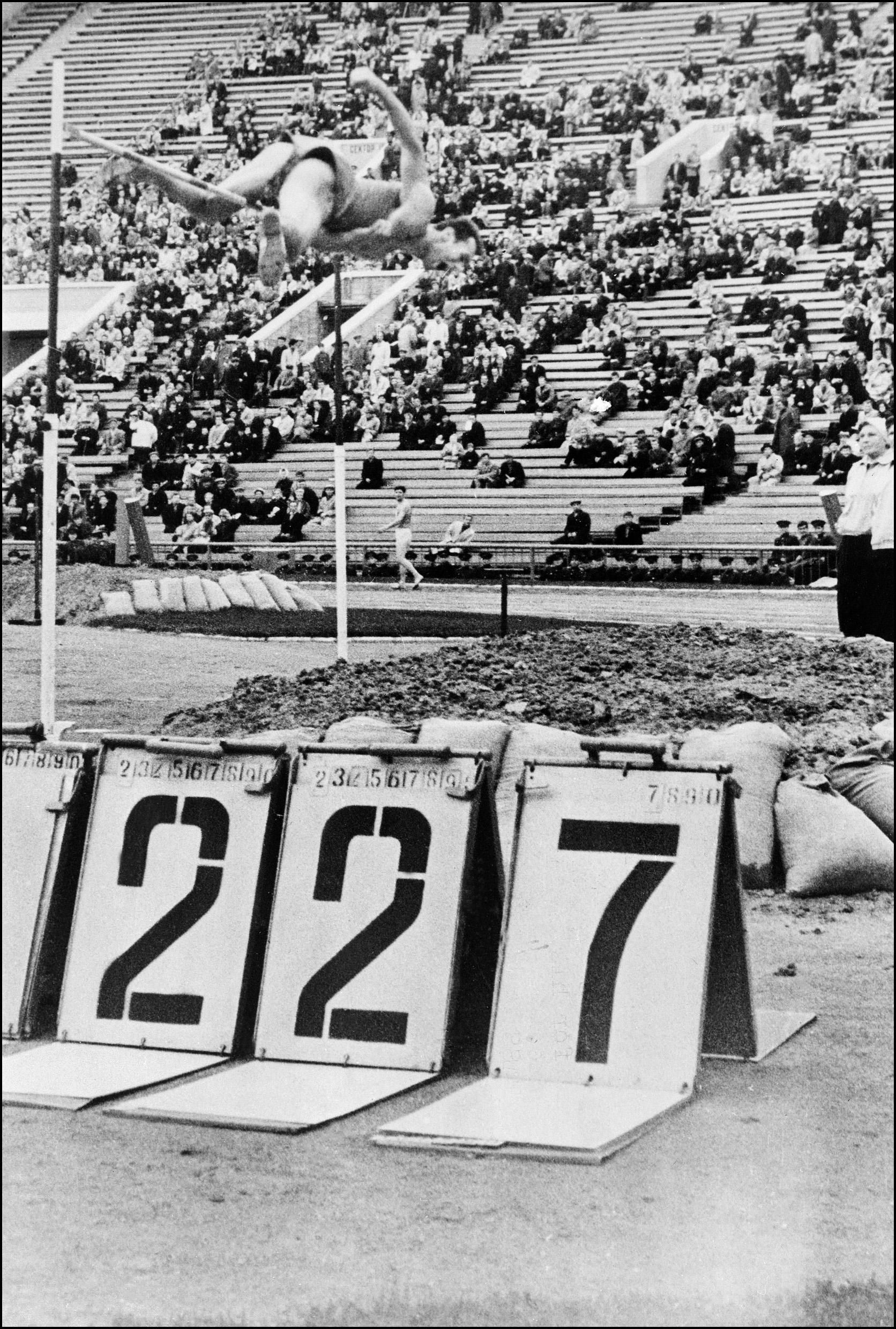 That second record, 2.24m on 16 July, was again achieved at the Lenin Stadium ... only this time in a high-pressure match between the Soviet Union and the United States.
Spurred on by his home crowd and the presence of his American rival, Thomas, and ignoring the rain that fell throughout the contest, he jumped 2.05m, 2.10m, 2.13m, 2.16m and 2.19m first time and with Thomas unable to go higher than 2.19m Brumel's successful third try at 2.24m brought him a cherished victory as well as the record.
He did not rest on his laurels for long. Again at his final attempt he straddled over 2.25m with daylight to spare at the International Student Games in Sofia on 31 August, thus equalling the unprecedented height he had achieved indoors at the start of his momentous year.
Brumel would go on to scale even greater heights in 1962 (2.26m at Stanford in the USA v USSR match and 2.27m in Moscow) and 1963 (2.28m again versus the Americans in Moscow).
He must have clinched the title of 'world's greatest ever high jumper' when after his silver medal in Rome he struck gold at the Tokyo Olympics in 1964, winning on countback against Thomas at a modest 2.18m after twice clearing 2.24m earlier in the season.
It appeared to be business as usual at the start of 1965. He topped the world indoor list with 2.21m, but the big heights eluded him outdoors. His best was merely 2.19m whereas China's Ni Chihchin (born on 14 April 1942, the exact same day as Brumel!) jumped 2.25m.


29 operations!
That was the least of Brumel's worries, for in Moscow on 6 October 1965 he was involved in a serious road accident. He was riding pillion on a friend's motorbike when, rounding a sharp bend, it skidded out of control. He was flung off and the machine toppled across his right leg, resulting in multiple fractures. Amputation was considered but the doctors decided the leg could be saved by surgery.
"Lucky it's not my left leg, the one from which I drive off," Brumel commented.
Realistically, at the age of just 23, his fabulous career was over ... but that was to ignore Brumel's resolve. "I'll return to the jumping sector no matter what it costs me." And so, he did.
Brumel was lucky ever to be able to walk again but after years of monumental struggle, including 29 operations and countless setbacks, he did high jump again ... miraculously clearing 2.06m in 1970, and still holder of the world record. That really was the last word in terms of high jumping but he went on to forge a successful career as a writer.
Brumel died in Moscow on 26 January 2003, aged 60.
Mel Watman for World Athletics Heritage