Sebastian Coe breaks the world 800m record in Florence (© FIDAL archive)
10 June 1981 remains a red-letter day in the long history of 800m running, for it was in Florence late that night that Sebastian Coe lowered his own world record from 1:42.33 to 1:41.73. Every world record is special, marking as it does an advance on anything previously achieved, but Coe's run was extra-special. That time would not be bettered for 16 long years, itself a record in the annals of the men's 800m event.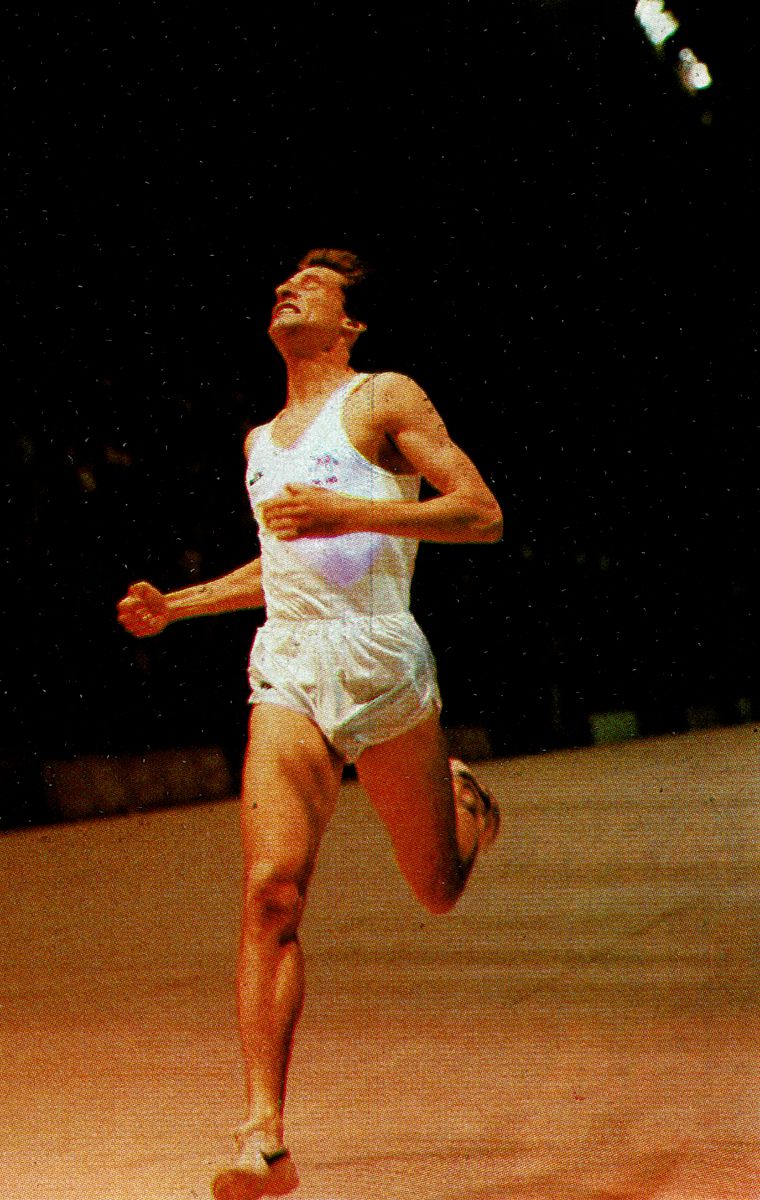 When strongly-built Alberto Juantorena won the 1976 Olympic title in a world record 1:43.50 it was widely thought that here was the man to revolutionise two-lap running. And yet, for all his speed (44.26 400m) and power, the Cuban succeeded only in clipping another few hundredths off the record with 1:43.44 at the 1977 Universiade. Instead it was the slight figure of Coe who has gone down in history as the athlete who, like Germany's Rudolf Harbig in 1939 and New Zealand's Peter Snell in 1962, pushed back the frontiers of 800m performance.
It was in 1979 that Britain's Coe established himself as one of the all-time greats of middle distance running when in the space of 41 days he shattered three world records. He started with 1:42.33 in Oslo on 5 July and was as shocked as everyone else by his time. After clocking his fastest 400m of 46.87 at the AAA Championships he returned to Oslo for the star-studded Dubai Golden Mile on 17 July. Despite being practically a novice at the distance with a best time of 3:57.67, he moved into the lead shortly before the three-quarter mark (2:53.4) and then proceeded to cover the final quarter in 55.6. He had run 3:48.95, again astonished when told he had broken New Zealander John Walker's world record of 3:49.4. As he related later: "When I looked back twice in the final straight it was fear, it was panic, not pain, that I was feeling. I certainly wasn't in the slightest distress at the finish."
Record number three came about in Zurich on 15 August. The target this time was the 3:32.16 1500m by Tanzania's Filbert Bayi. Elated by the knowledge that he had never been faster, having been timed at 45.5 for a 400m relay leg 10 days earlier, Coe shot off at a potentially suicidal pace by clinging to the pacemaker, sweeping through the opening 200m in 25.9 and 400m in 54.3. Before 800m (1:53.19) had been covered, Coe was on his own, nearly 20m ahead of the field. Instead of easing back on the third lap he covered that in 56.3 for 2:49.5 at 1200m and at the finish – almost five seconds clear – his time was a hard earned 3:32.03.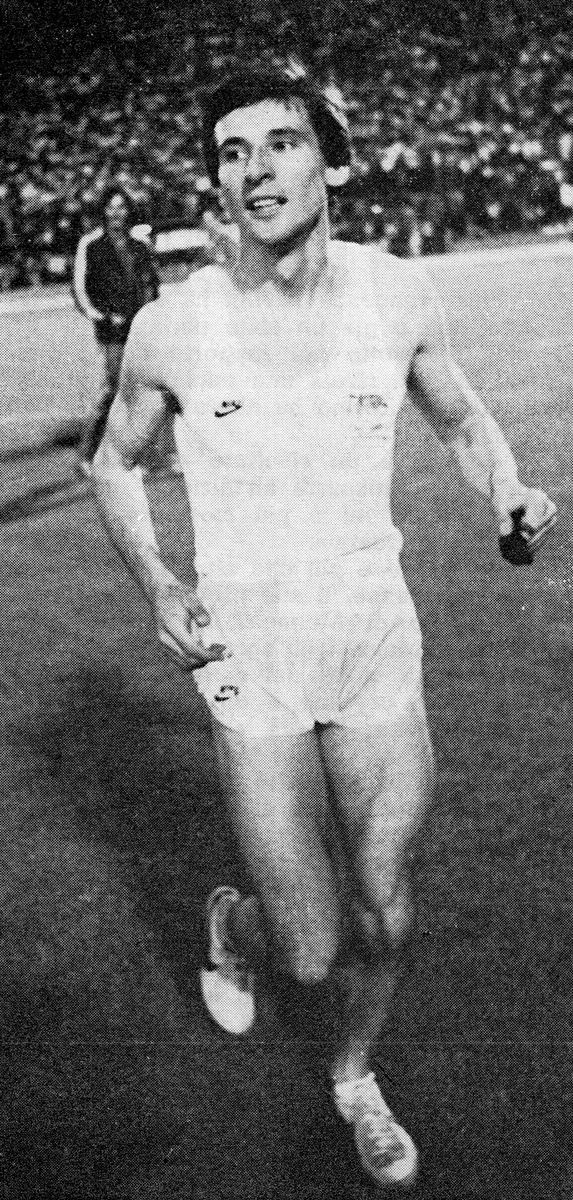 Coe's athletic immortality was sealed in 1980 when he triumphed in the Olympic 1500m in Moscow to make up for his 'disastrous' run in the 800m (a mere silver medal behind Steve Ovett) after adding to his portfolio of world records by covering 1000m in 2:13.40 in his first ever race at the distance.
And so to 1981. With no major title to aim for, the emphasis was on achieving spectacular 'one-off' performances. Asked how he had prepared during the winter, Coe replied: "My training mileage is slightly down but there's been more accent on speedwork. I'm going back to basics, trying to improve my 400m speed." That approach hadn't diminished his endurance, though, for he opened his indoor season by winning the UK 3000m title in a personal best of 7:55.2. Two weeks later he smashed the world indoor 800m record with 1:46.0. "I knew I was fit, but not that fit," he enthused.
A 46.9 400m and 46.3 relay leg on 4 May confirmed his speed was at a high level, and before his fateful appearance in Florence he won the Yorkshire county 800m title on 17 May in 1:46.5, an invitation 800m at Crystal Palace on 3 June in 1:44.06 followed two hours later with a 45.8 relay split from virtually a standing start, and as a final tune-up a 46.6 relay leg at Gateshead on 7 June. He travelled to Florence not expecting anything too special ... around 1:43/1:44.
His 800m race in Florence got under way after 11pm. Kenya's 19-year-old Billy Konchellah, then a 45.38 400m performer who would go on to become world 800m champion in 1987 and 1991, acted as pacemaker. In his slipstream Coe reached 200m in 24.5 and 400m in 49.7 and was perfectly set up for a super-fast time. Sensing Konchellah was about to flag, Coe forged ahead by 450m and after 200m splits of 24.5 and 25.2 he covered the next half-lap in a daring 25.3 for a remarkable 600m time of 1:15.0 – precisely 1:40 pace for the full distance. Inevitably he slowed towards the end but still managed a final 200m of a little under 26.7.
There was some confusion over Coe's final time. Because the photo-finish equipment failed to function properly it took several minutes before the record time of 1:41.73 was confirmed. As explained in World Athletics' Progression of World Athletics Records book: "The time was determined by analysis of three photo-cells positioned at three heights at the finish. All of the heights were below the torso, and the average of 1:41.726 was slower than the time would have been at chest level." The hand times were 1:41.6, 1:41.6 and 1:41.7.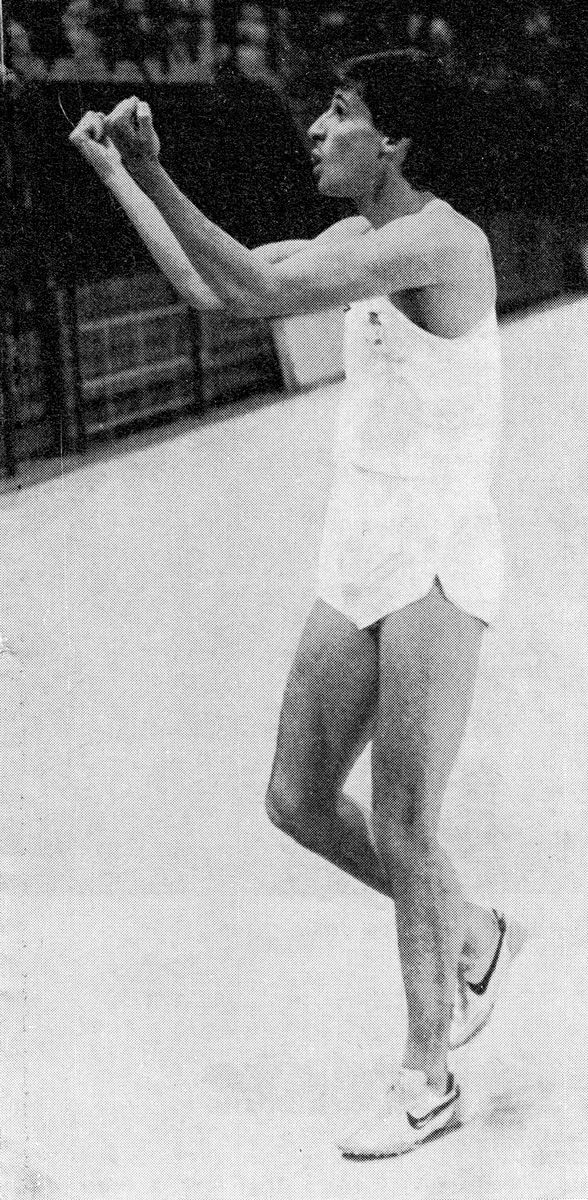 Coe's immediate post-race response: "I'm very happy about the result, but it was terrible waiting the 10 minutes for the official result. It's getting under 1:42 that is the great thing for me. It was as hard a race as I have run for a long time. In the last 30 metres I was beginning to tie up but apart from that there was no problem."
Coe went through that 1981 season undefeated, collecting further world records at 1000m (2:12.18) and mile (3:48.53 and 3:47.33). Other glittering performances would follow, notably a second Olympic 1500m triumph in 1984, but as a testimony to the quality of that 800m exploit in Florence note that even now, 40 years on, only two men have gone faster: David Rudisha of Kenya and Wilson Kipketer of Denmark.
800m world record evolution
Inaugural world (IAAF) record: 1:51.9 Ted Meredith USA 1912 (52.5/59.4)
First under 1:50: 1:49.70 Tom Hampson GBR 1932 (54.8/54.9)
First under 1:49: 1:48.4 Sydney Wooderson GBR 1938 (52.3/56.1)
First under 1:48/1:47: 1:46.6 Rudolf Harbig GER 1939 (52.8/53.8)
First under 1:46: 1:45.7 Roger Moens BEL 1955 (52.0/53.7)
First under 1:45: 1:44.3 Peter Snell NZL 1962 (50.7/53.6)
First under 1:44: 1:43.7 Marcello Fiasconaro ITA 1973 (51.2/52.5)
First under 1:43: 1:42.33 Sebastian Coe GBR 1979 (50.6/51.8)
First under 1:42: 1:41.73 Sebastian Coe GBR 1981 (49.7/52.1)
First under 1:41: 1:40.91 David Rudisha KEN 2012 (49.3/51.7)
Mel Watman for World Athletics Heritage
Photos by FIDAL archive