Valarie Allman in the discus at the Tokyo Olympics (© Getty Images)
Among the latest additions to the World Athletics Heritage collection which is displayed in the Museum of World Athletics (MOWA) are the singlet and shoes worn by Valarie Allman when she won discus gold at the Tokyo Olympics in 2021.
Her opening throw of 68.98m came before heavy rain forced a near-one hour delay in the event. No one, including Allman herself, could come close to that mark once the competition resumed, leaving her as the third US woman to win Olympic gold in the event, following in the footsteps of Lillian Copeland in 1932 and Stephanie Brown Trafton in 2008.
Germany's Kristin Pudenz (66.86m) and Cuba's Yaime Perez (65.72m) earned silver and bronze respectively. Croatia's Sandra Perkovic (65.01m), winner of the two previous Olympic titles, placed fourth, ending her streak of six global podium finishes.
Allman, a self-described introvert, had trouble adjusting to her newfound celebrity. "When I come to a meet and there's people that want to take pictures and I hear on the public address system, 'Olympic champion,' then it really hits me," Allman said. "It's definitely a bit of a shock, but I feel like I'm slowly starting to get the hang of it and figure it out."
Bittersweet
She was the favourite to win another gold medal at this year's World Championships in front of a home crowd in Eugene, Oregon. She had thrown a world-leading 71.46m in April – the longest throw in 30 years and her third US record – and had beaten Perkovic, one of her strongest rivals, in three of their four meetings leading up to the World Championships. But it was not to be, as Allman finished third (68.30m) behind China's Feng Bin (69.12m) and Perkovic (68.45m).
While disappointed that she didn't come away with the win, Allman took pride in the fact that she became the first US woman to earn a discus medal at the World Championships. "It's easy to lose perspective," she said at the time. "It was bittersweet today."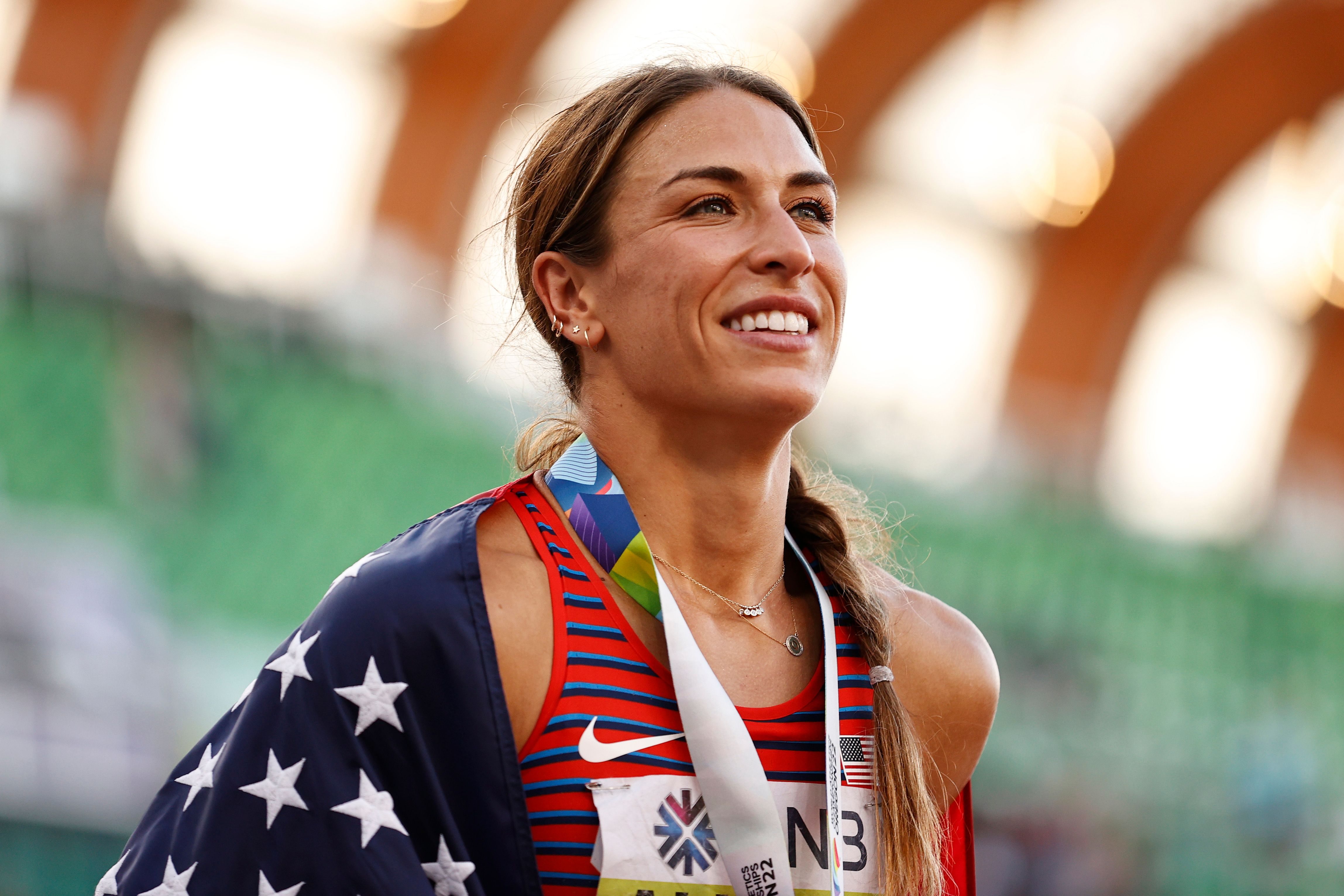 Valarie Allman at the World Athletics Championships Oregon22 (© Getty Images)
Allman was gracious in defeat, saying of Feng's opening toss of 69.12m: "That was an incredible performance. It only takes one good throw, and she did it." And of Perkovic, someone she had looked up to as she progressed in the event, Allman added: "Sandra's great. She earned a bronze medal in Doha, (when) she was at the top of her game and that was the first non-title in a while, and she didn't earn a medal in Tokyo. So, I do feel so much joy for her to earn a medal at these championships. She's been steadfast in her work ethic, her devotion to this sport and I'm truly happy for her."
After a long competitive break while the Commonwealth Games and European Championships were taking place, Allman returned to the discus circle in September, winning in Berlin and Zurich (where she earned her second Wanda Diamond League title) before ending the season with a second-place finish to Perkovic in Zagreb.
Fluidity and connecting movements
Allman often credits her experience as a young dancer ("my first love") with helping her excel in the discus.
"When I first started discus, my brain instinctively thought of the movement as choreography," she explains. "I was able to learn rudimentary discus technique relatively quickly by thinking of the movement through the lens of my dance background. In their simplest form, both dance and discus are about fluidity and connecting movements."
While still competing as a dancer in 2010, Allman had a modest beginning to her discus career, throwing a mere 30.55m during her first year at Silver Creek High School in Longmont, Colorado. After concentrating solely on the discus, she showed marked improvement over the next three years, finishing her scholastic career in 2013 with a best of 56.12m.


Allman's journey to Olympic success in Tokyo
2014 - Allman continued to improve after entering Stanford University, winning the US U20 title in Eugene with a personal best of 57.45m. She then returned to Eugene's Hayward Field to earn silver at the World U20 Championships.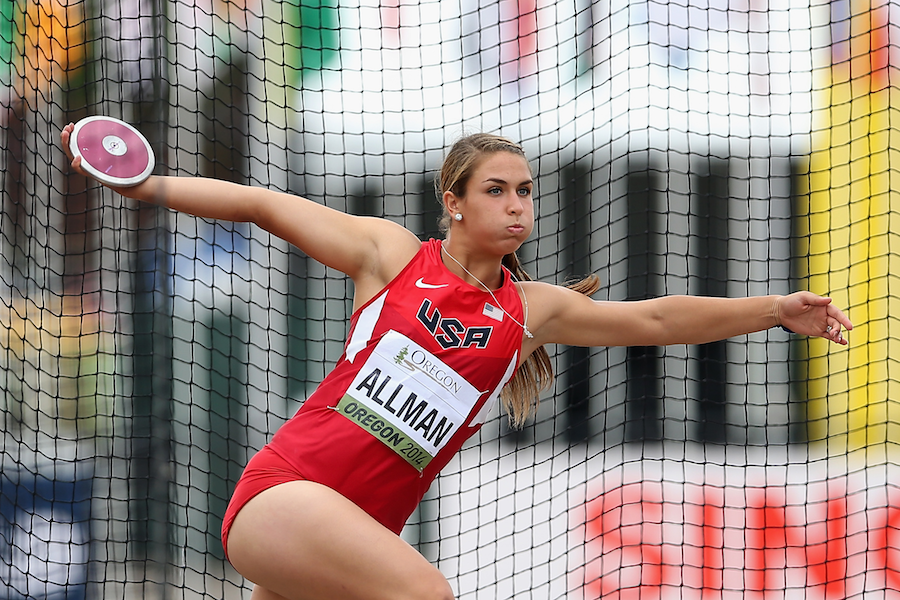 Valarie Allman
2015 - Improving slightly to 57.48m, Allman finished fifth at the NCAA Championships and fifth at the World University Games.
2016 - She broke through the 60-metre barrier when she threw 61.42m while finishing third at the NCAA Championships and then finished sixth at her first US Olympic Trials.
2017 - Working with new Stanford assistant coach Zebulon Sion for the first time, Allman sat out the collegiate season, but still had a productive year, improving to 64.69m and finishing third at the US Championships to qualify for her first senior national team. She didn't make the final at the World Championships in London but was second at the World University Games.
2018 - Completed her collegiate career at Stanford with another third place finish at the NCAA Championships, won the first of her four US senior titles, and finished second at the NACAC Championships. For the first time in her career, she didn't improve her personal best, but still had a respectable season's best of 63.55m.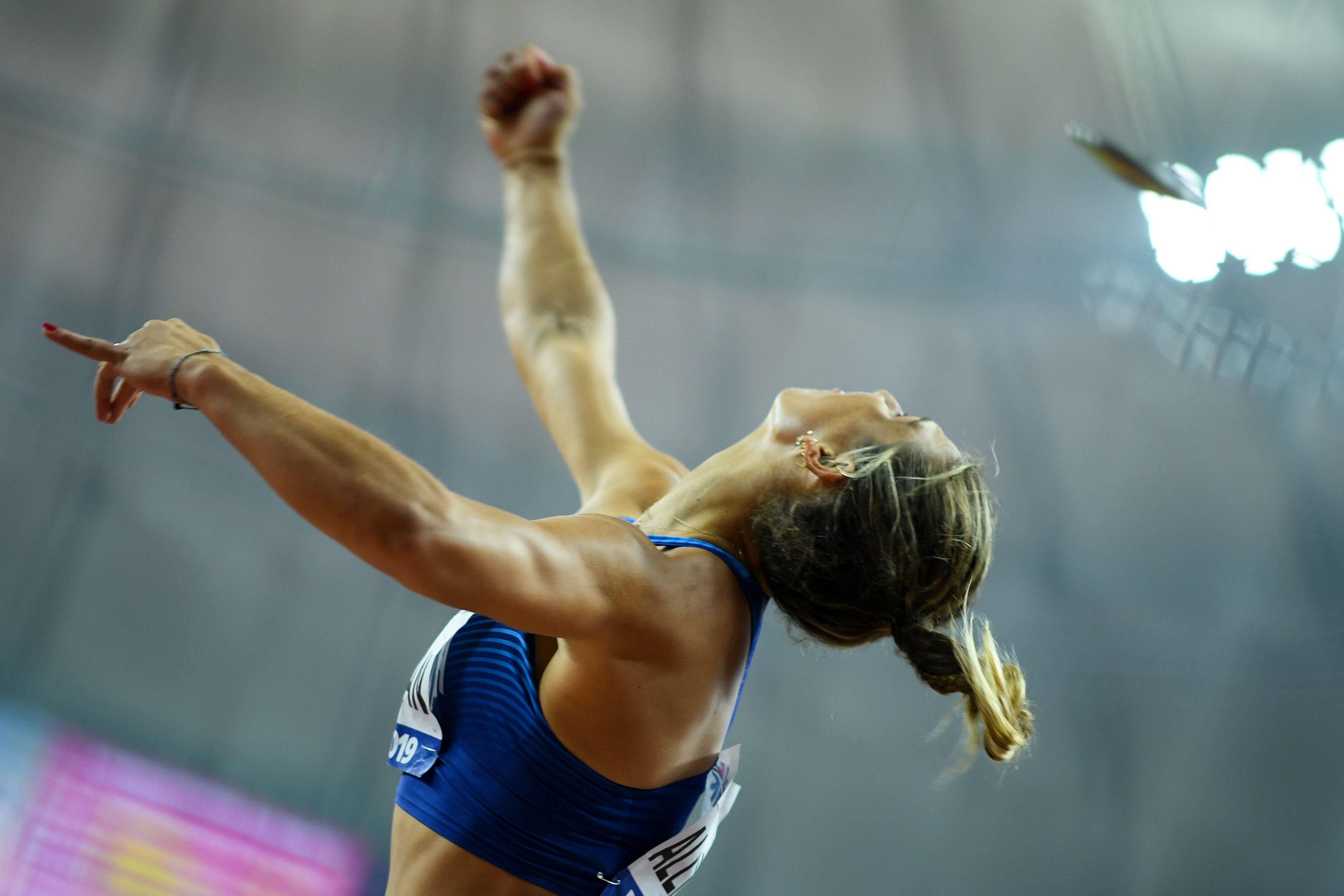 Valarie Allman in action at the 2019 World Championships (© AFP/Getty Images)
2019 - Improved to 67.15m. Won her second US title and finished seventh at the World Championships in Doha.
2020 - Made the most of her only competition in a covid-shortened season, getting her first 70-metre throw (70.15m) in Rathdrum, Idaho, to set her first US record.
2021 - Winner at the US Olympic Trials to set the stage for her gold medal performance in Tokyo. After the Olympics, she won her first Wanda Diamond League title in Zurich and improved her US record to 71.16m in Berlin.
She also competed in the hammer and indoor weight throw during her time at Stanford, with bests of 63.65m and 21.42m respectively.

The 27-year-old first started working with Sion after he was hired as an assistant coach at Stanford in the summer of 2016. Allman relocated to Austin, Texas, in 2018 to continue training with him when he took a similar position with the University of Texas.
"Valarie is an absolutely strong, fierce, competitive, powerful woman," Sion says of the athlete Allman has become. When he started coaching her, he described her as: "a little more unsure in her skin and where she stacked up relative to those more dominant people at the time."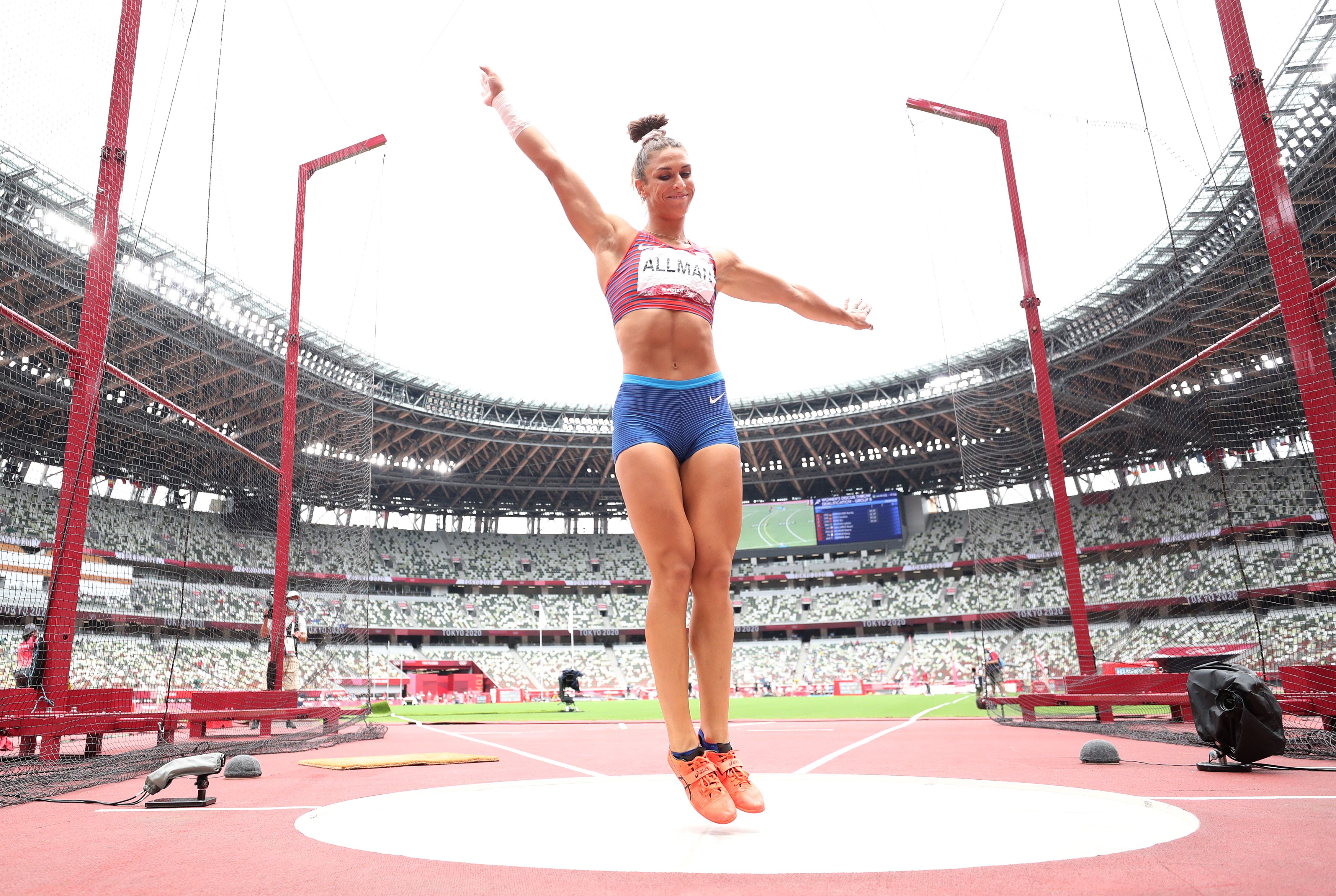 Valarie Allman in the discus at the Tokyo Olympics (© Getty Images)
Sion, a discus thrower himself during his collegiate career at Georgia Tech, adds: "Valarie resumed training at the beginning of October. I write her early fall training in a way that eases her back into physical activity progressively while addressing general fitness and specific needs before starting our more intense training.
"During the fall, her training varies broadly and includes intense bike workouts, swimming, dumbbell circuits, med ball circuits, pilates, and yoga," adds Sion. "I absolutely believe in training as an 'athlete' and being fit as well as strong and powerful.
"Over the past several years, we have really addressed specific areas of improvement, including technical refinement, fitness, power output, and specific throwing strength. Our primary goal for the 2023 season is for Valarie to have a more consistent technical rhythm throughout the season.
"Even though she threw over 70 metres in April and again in September in 2022, I think she is capable of deeper throws if we can keep her technical rhythm more finely tuned, especially during certain training cycles where her power output is higher and more reliable."
Early indications are that Allman is on the right path as she prepares for next year's World Athletics Championships in Budapest and defending her Olympic title in Paris in 2024.
Walt Murphy for World Athletics Heritage