Stefan Holm celebrates his victory at the 2008 World Indoor Championships in Valencia (© AFP / Getty Images)
As Stefan Holm steadied himself for an attempt at 2.36m in Valencia's Palau Velodrom on 8 March 2008, the Swedish little big man of the high jump was about to measure up to the Cuban giant of his beloved event.
With his studied concentration, his purposeful approach, his clean, springy take-off, his pronounced arched-back hang over the bar, and his whiplash leg action, Holm cleared the bar with his first effort. In doing so, he won his prolonged battle of nerve and skill against his long-time Russian rival Yaroslav Rybakov and secured his fourth world indoor title.
Fourteen years on, World Athletics Heritage is delighted that one of the all-time greats of the men's high jump has chosen to donate the yellow and blue Swedish bodysuit and number he wore on the day he prevailed at the 2008 World Athletics Indoor Championships in Valencia, emulating Cuba's Javier Sotomayor as a four-time world indoor champion.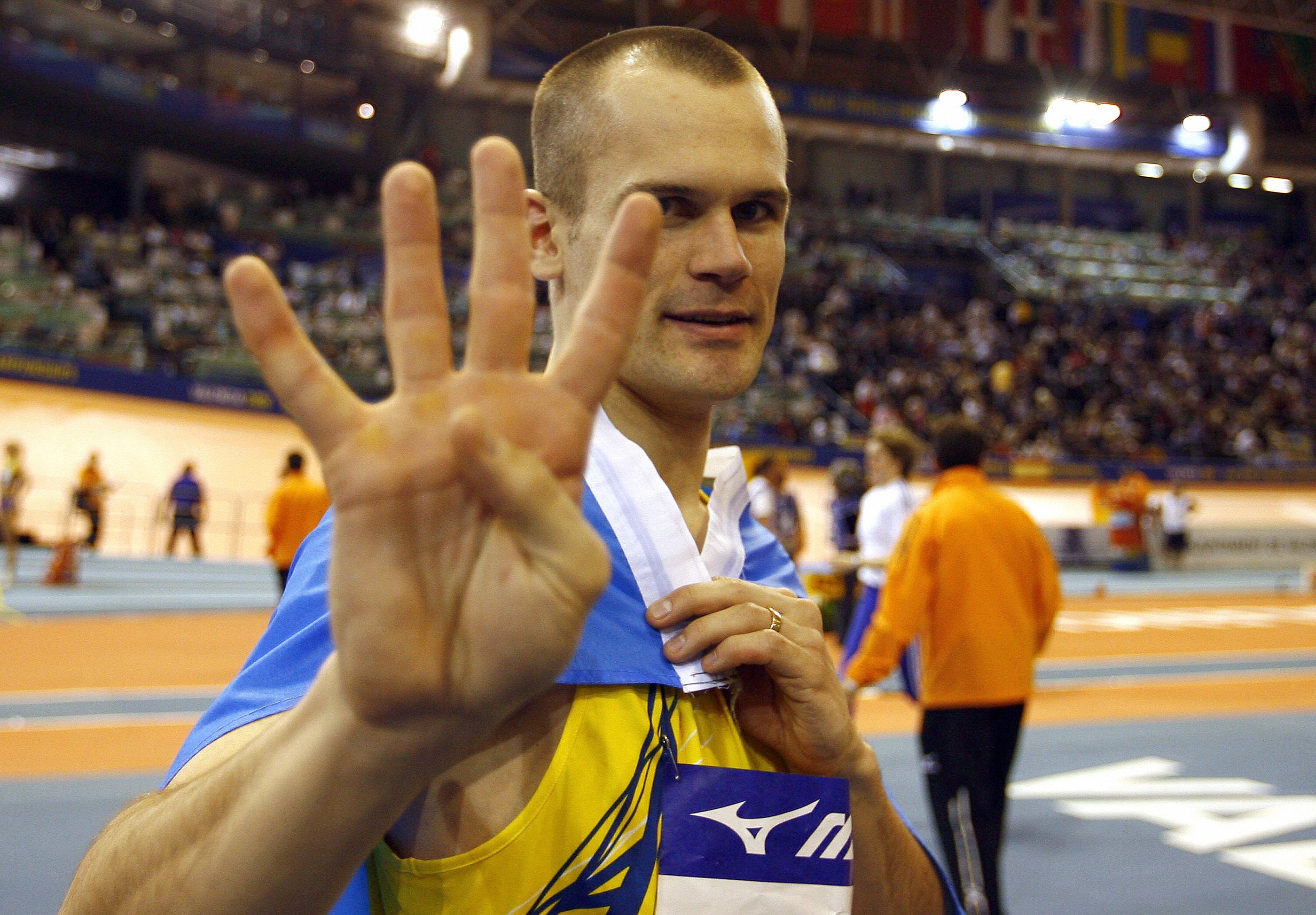 Stefan Holm celebrates his fourth world indoor title win in Valencia (© AFP / Getty Images)
Holm has also generously provided the signed bib numbers from his three other world indoor victories - in Lisbon in 2001, Birmingham in 2003 and Budapest in 2004 – to the World Athletics Heritage Collection, which is on permanent display in the ever-expanding Museum of World Athletics (MOWA).
2.40m club
Sotomayor claimed the first of his world indoor golds in Budapest in 1989 with a mighty 2.43m clearance that remains the world indoor best to this day. The 2.45m world record he set outdoors in Salamanca in 1993 is also still securely intact.
Holm's lifetime best performance outdoors was 2.37m in Athens in 2008, which ranks him a modest joint 28th on the world all-time list. In the indoor arena, however, he made it into the 2.40m club when he secured victory at the 2005 European Indoor Championships in Madrid.
Only four men have ventured higher indoors: Sotomayor (2.43m), the German Carlo Thranhardt (2.42m), and Holm's fellow Swede Patrik Sjoberg and Qatar's Mutaz Barshim (both 2.41m). In total, just seven men have done so indoors or out. Ukraine's Bohdan Bondareko nailed 2.42m and the Soviet-Kyrgyzstani Igor Paklin 2.41m.
No high jumper in history has cleared a distance farther above their own head than the diminutive Holm.
He stands 1.81m, 5ft 11in. The 2.40m he achieved in Madrid in 2005 was 59cm above his own height – a whopping 1ft 11.25in in imperial terms.
Sotomayor is 1.93m, 6ft 4in. His 2.45m world record performance in Salamanca in 1993 was 52cm above his height.
With his enduring world records, his 1992 Olympic gold, his two world outdoor crowns (1993 and 1997) and that quartet of world indoor titles, the Cuban master clearly stands out as the greatest high jumper in history. In imperial terms, he remains the only man to have cleared 8ft; 2.45m equates to 8ft and half an inch.
Athens Olympic title
Holm, however, holds a special place in the pantheon of the all-time greats of the men's high jump.
Although he never quite managed to collect world gold outdoors, finishing runner up to the 2.07m-tall South African Jacques Freitag in Paris in 2003, he struck Olympic gold in Athens in 2004.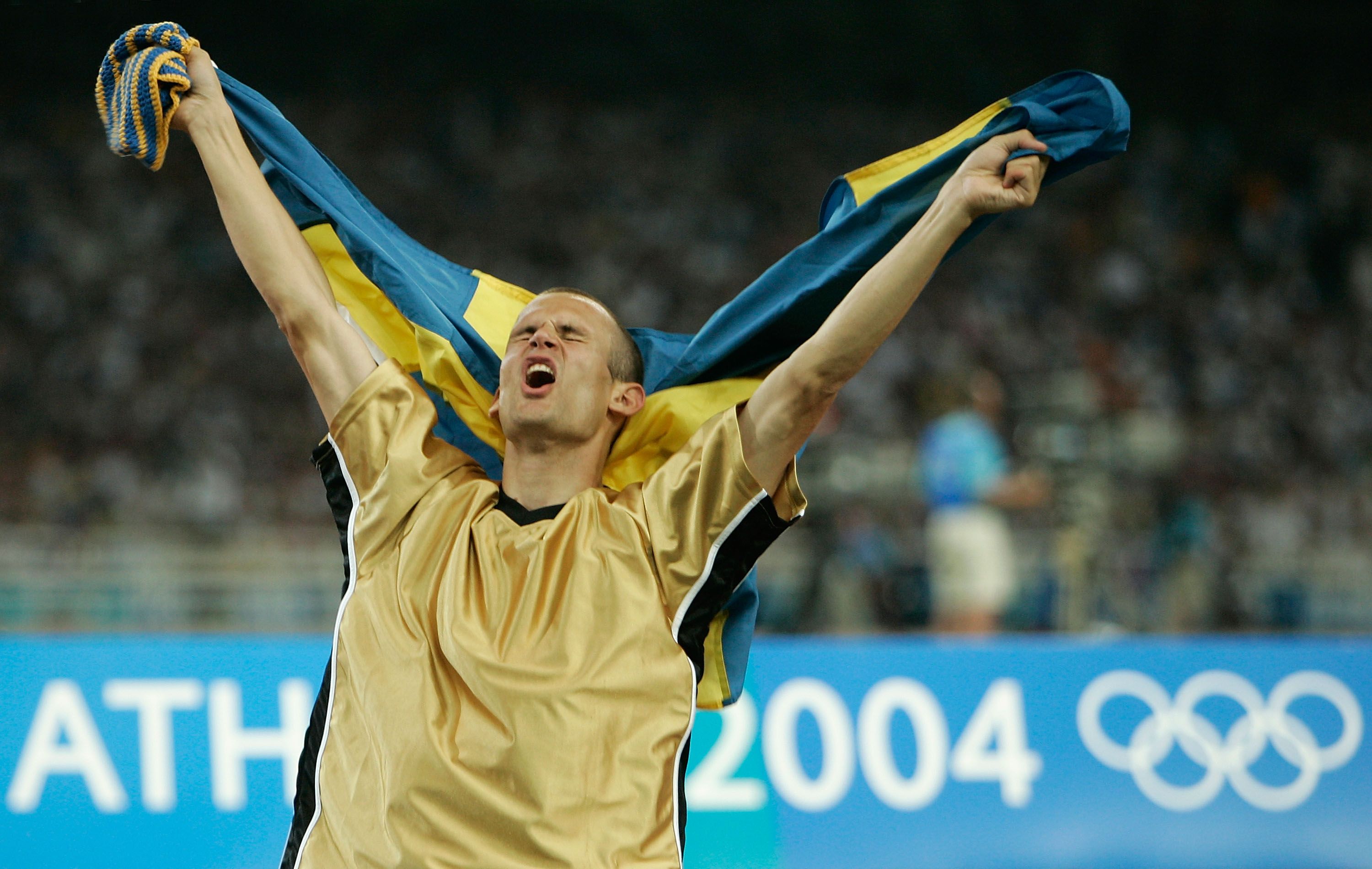 Stefan Holm celebrates his Olympic title win in Athens in 2004 (© Getty Images)
Of the men who have jumped higher than the Swede, only Sotomayor and the 1.89m (6ft 2in) Barshim have scaled the Olympian heights to the very peak.
The others – Sjoberg (2.00m, 6ft 6in) Thranhardt (1.99m, 6ft 6in), Bondarenko (1.98m, 6ft 5in), Ukhov (1.92m, 6ft 3in) and Paklin (1.91m, 6ft 2in) – never managed to make it on the gold medal step at an Olympic Games.
Holm is one of 10 men who boast 2.40m as a lifetime best. Charles Austin is the only other of those to have won Olympic gold. He was shorter too, but at 1.83m, still a member of the 6ft brigade. Unlike Holm.
"I was told many, many times when I was young that I was too short to be a high jumper," he said. "I was always compared to Patrik Sjoberg. He was 2.00m tall and I'm only 1.81m. But I always tried to see the positive side of being a short high jumper."
As a youngster growing up in Karlstad, Holm idolised Sjoberg, closely following his fortunes on television. He was 11 when his towering compatriot won the world outdoor title in Rome and set a world record of 2.42m in Stockholm in 1987. That year Holm won his first high jump competition with a clearance of 1.30m.
"I would have been happy with any medal"
His first high jump memory dates from seven years before that. "My neighbour Magnus Lundqvist and I high jumped over the sofa in our living room," he relates in the biography section of his wonderfully entertaining website scholm.com. "It ended when Magnus broke his arm."
Coached by his father Johnny, a former Swedish fourth division football goalkeeper, Holm found himself competing against Sjoberg by 1993. Jumping at the Swedish Indoor Championships in Malmo, he cleared 2.03m. Sjoberg won with 2.27m, a stadium record Holm had the satisfaction of eclipsing with a 2.28m clearance in 1999.
Two years after that, in 2001, Holm became world indoor champion for the first time, succeeding Sotomayor. The Cuban finished joint fifth in Lisbon with a modest 2.25m. The day after Kajsa Bergqvist's victory in the women's final, Holm completed a famous Swedish high jump double as the only man clear at 2.32m. Ukraine's Andriy Sokolovskiy took silver and Holm's teammate Staffan Strand collected bronze.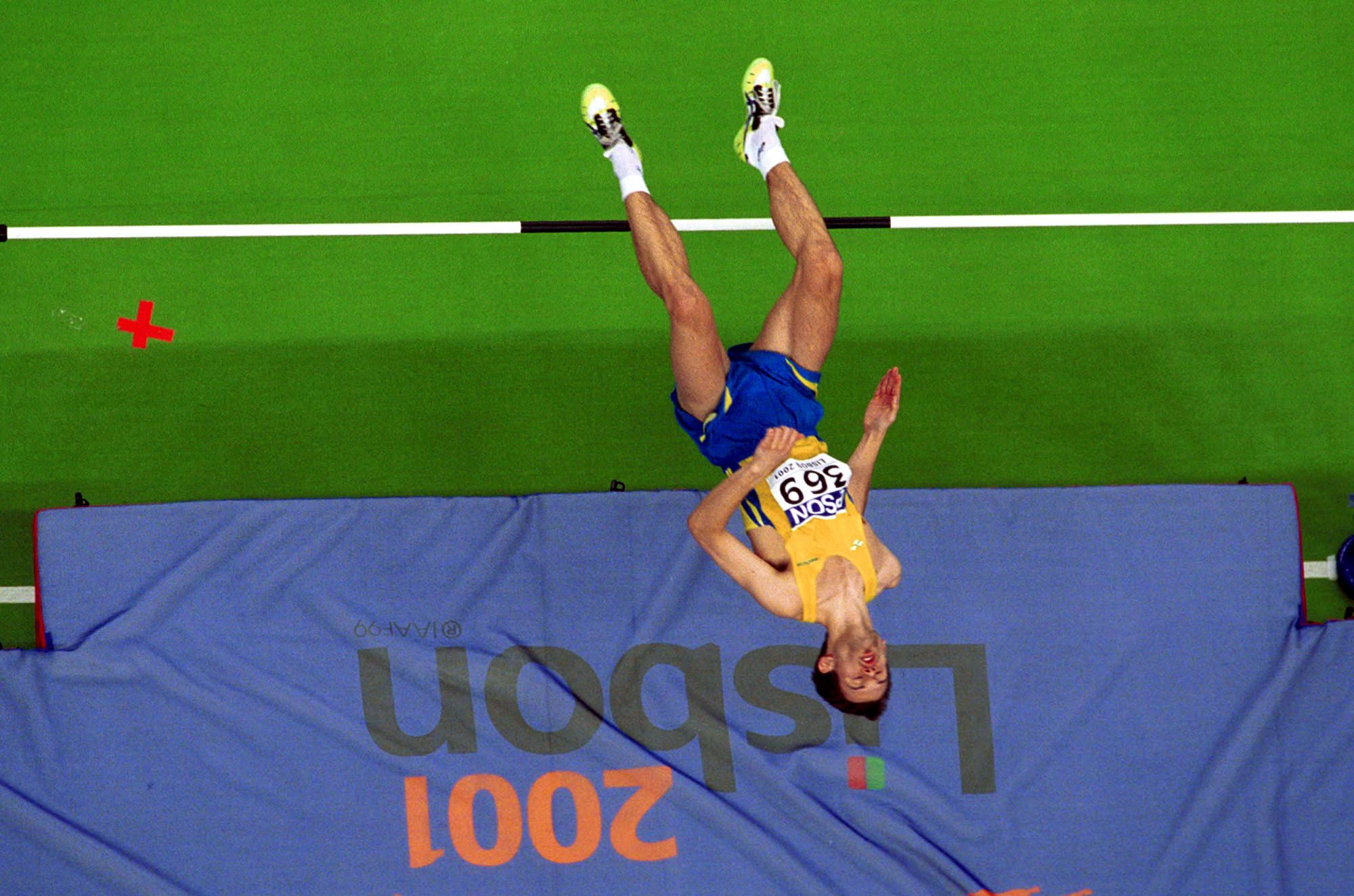 Stefan Holm in action at the 2001 World Indoor Championships in Lisbon (© Getty Images)
"I would have been happy with any medal," Holm confessed. "I had finished fourth at the European Indoor Championships and at the Olympic Games in 2000 and my main goal was to finally get on the podium in Lisbon."
Holm retained his title in Birmingham in 2003, getting the better of Rybakov, the European outdoor champion, with a second-time success at 2.35m after both had cleared 2.33m. The pair battled it out again in Budapest a year later, Holm prevailing with 2.35m and the Russian another silver with 2.32m.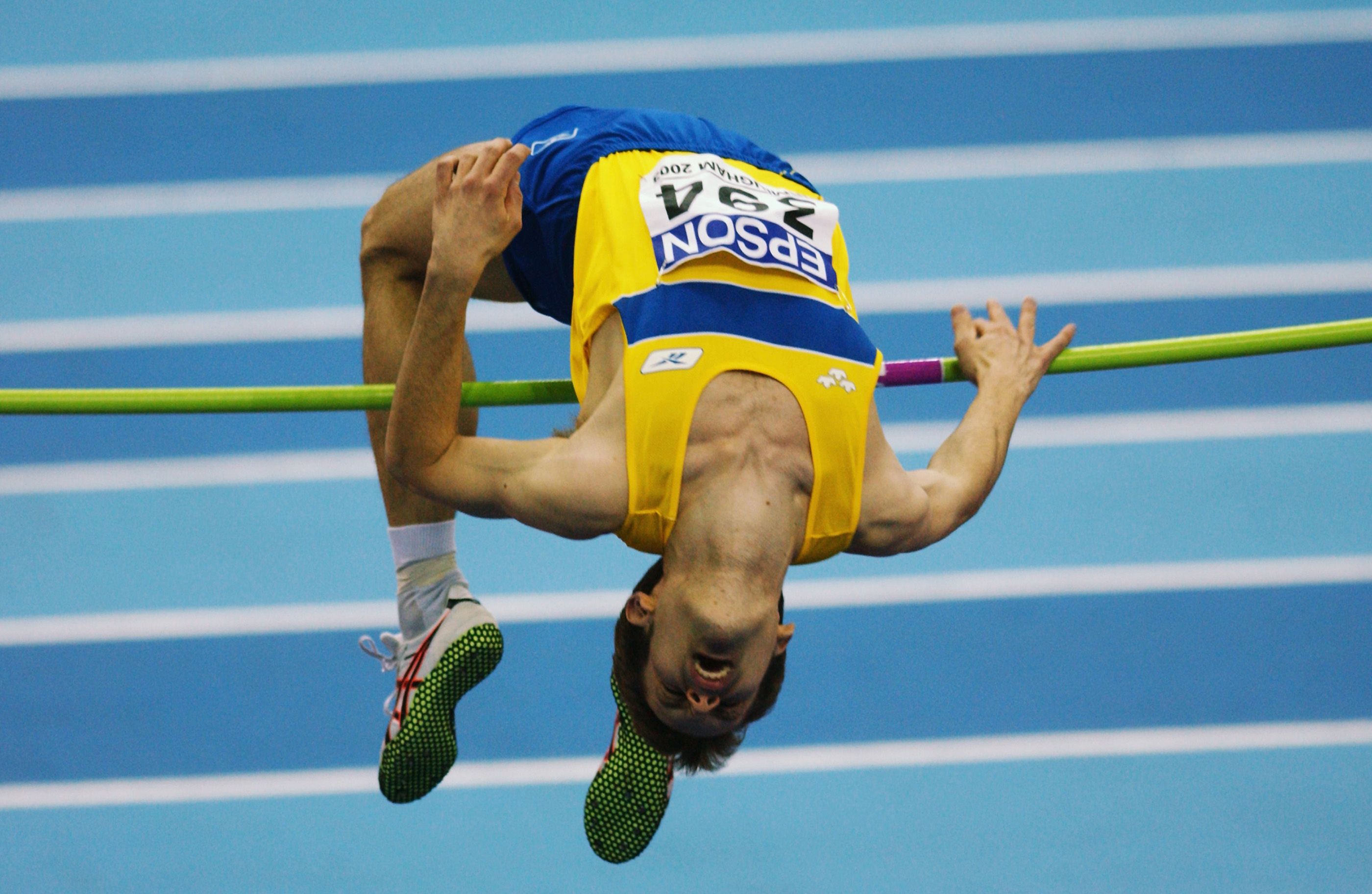 Stefan Holm competes at the 2003 World Indoor Championships in Birmingham (© Getty Images)
"An all or nothing jump that won it"
That year, 2004, proved to be Holm's annus mirabilis. He was unbeaten in 22 high jump contests. His only defeat in any competition came in Sweden's premier intellectual quiz show, in which he failed to retain his title by a single point, losing out to a professor of history.
Holm's 18th victory of 2004 came at the Olympic Games in Athens, where he became the first Swede to win the men's high jump title, equalling his outdoor PB of 2.36m to take gold ahead of Matt Hemingway, the US jumper whose grandfather's cousin was the celebrated Ernest Hemingway.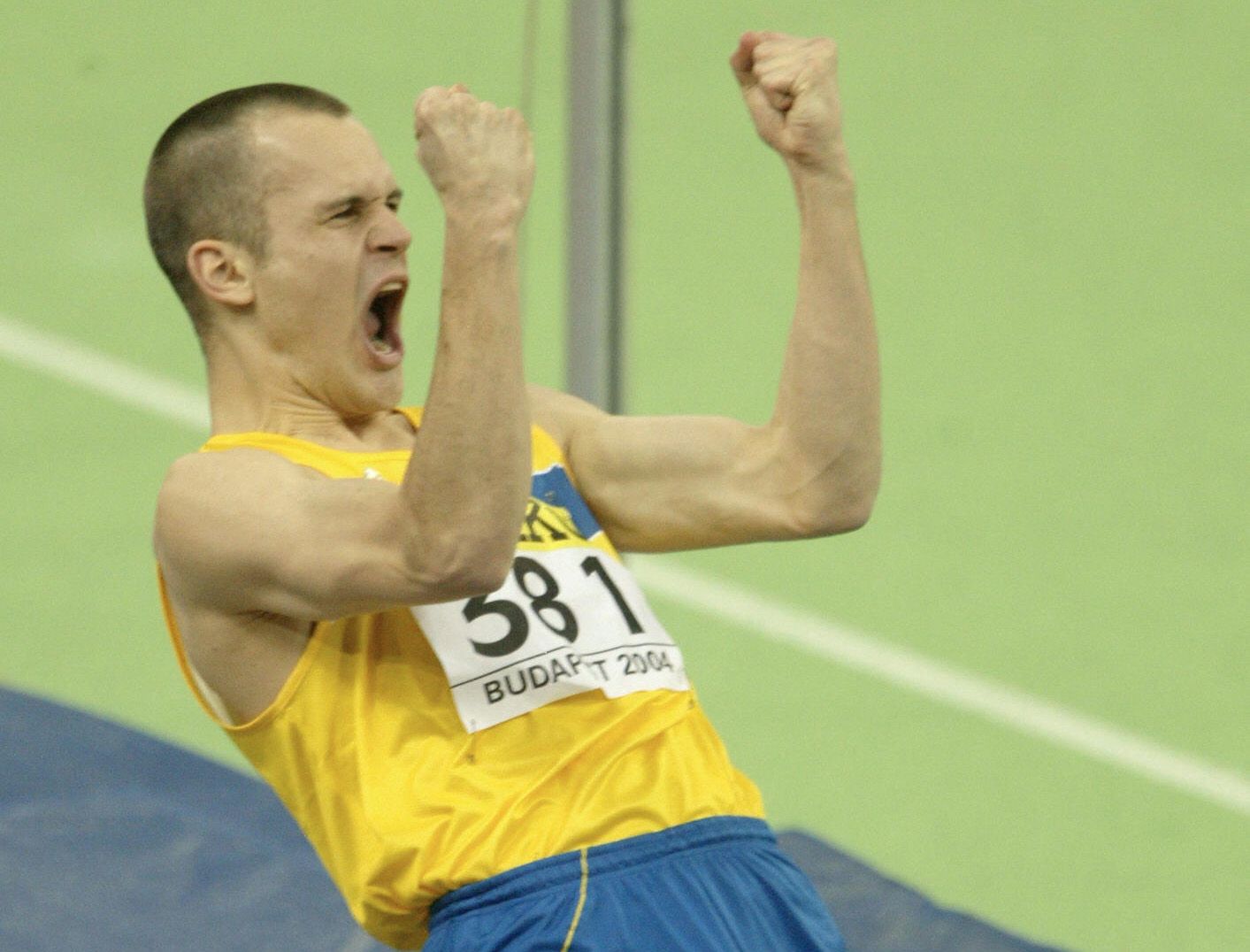 Stefan Holm reacts to his success at the 2004 World Indoor Championships in Budapest (© AFP / Getty Images)
It took until 2008 for Holm to finish at the top of a global championship pile again. He and Rybakov were the only men left standing after the bar was raised beyond 2.32m in the world indoor final in Valencia.
The Russian, who had taken the title from Holm in Moscow in 2006, took the lead with a second time success at 2.34m. The cool Swede passed to 2.36m and his first-time clearance earned him the title for a fourth time.
"That year was my last as a professional high jumper, so Valencia was my last ever indoor competition," Holm reflected. "It was an all or nothing jump that won it.
"It was a very special moment for me. On my way from the track to the mixed zone, I met Javier Sotomayor. He congratulated me, which was really nice." And historically apt.
In the years since he matched up to the all-time giant of the high jump, Holm has served as a member of the International Olympic Committee (from 2013 to 2021) and followed in his father's footsteps as an international high jump coach, guiding Sofie Skoog to fifth place at the World Indoor Championships in Portland in 2016 – and seventh spot at that year's Olympic Games.
Holm is currently guiding his prodigiously talented 18-year-old son. Melwin Lycke Holm high jumped 2.18m this year.
The cerebral, engagingly idiosyncratic Swede has also written a book about his lifetime love of Lego building.
In Svenska sportbitar, byggt ocht berattat av Stefan Holm (Swedish sports bits, built and told by Stefan Holm), published in 2018, he recreated 21 of the most iconic moments in Swedish sporting history – including Anders Garderud's 1976 Olympic 3000m steeplechase victory, Bjorn Borg's epic 1980 Wimbledon victory against John McEnroe and Carolina Kluft's 2003 world heptathlon triumph.
"I was a lonely kid," Holm said. "When I was five the only thing that existed in my world was Lego, Lego and more Lego.
"Over the years, I made the Olympics and the World Championships out of Lego. I even made Finnkampen!"
And, when it came to his other great indoor passion, Karlstad's celebrated Lego-maniac built himself into a true legend of the high jump.
Simon Turnbull for World Athletics Heritage