Austria's Liese Prokop (second from right) in 1964 (© SPORTUNION St. Pölten)
Being a world record-holder, Olympic silver medallist and European champion, Liese Prokop is one of the greatest Austrian athletes of all time. The former pentathlete, who died in 2006 aged just 65, has always remained a popular figure. After her sports career she entered politics, where her trajectory culminated in becoming her country's Minister of the Interior.
Becoming a successful pentathlete was not easy. Her path first led to winter sports, a trajectory not uncommon for sportspeople in this Alpine republic. Initially, she worked as a ski instructor in Annaberg in the county of Lower Austria, at the ski school owned by Gunnar Prokop, who would later become her husband. High jump initially seemed like a mere hobby.
In the winter season of 1963/64, however, she began to dream about participating in the 1964 Tokyo Olympics. Gunnar Prokop, who was Liese's athletics coach, would not have been able to finance a trip to Japan. However, the Austrian ambassador in Tokyo secured him a contract as a ski instructor in Japan for the six months following the Olympics. This secured him a plane ticket to Tokyo even before Liese qualified for her first Olympics the following summer.


Tokyo Olympics were a learning curve
Liese's jacket from her team uniform for the opening and closing ceremonies of the Tokyo 1964 Games is a valuable piece that embodies lots of emotional memories. Gunnar Prokop has guarded it at home for years and now has entrusted it to the World Athletics Heritage Collection and the Museum of World Athletics (MOWA). It is a symbol of the beginning of her successful career.
Tokyo represented a learning curve for both Liese and Gunnar. Liese (starting under her maiden name Sykora) failed to progress beyond the high jump qualification stage with a 1.65m jump. A competitor had stepped on her foot with a spike shoe during the warm-up. And Gunnar was inexperienced as a coach.
"But on the warm-up field, I saw the American and Russian heroes of athletics for the first time. I witnessed how the athletes yelled at and fought with their coaches – but three days later they were Olympic champions," confirmed Gunnar. From this he took for his future coaching relationships that an iron fist and discipline were the key to success, earning him the nickname of the 'slave driver' of Austrian athletics.
To this day, Gunnar remembers a specific moment from the closing ceremony of Tokyo 1964 when he looks at Liese's jacket. "When the letters 'Sayonara Mexico 1968' appeared in the stadium, we swore to each other that we'd become Olympic champions there!" he said.
"We trained absolutely single-mindedly, we trained like mad. Now it was for the pentathlon. It wasn't enough for gold, but we did manage silver."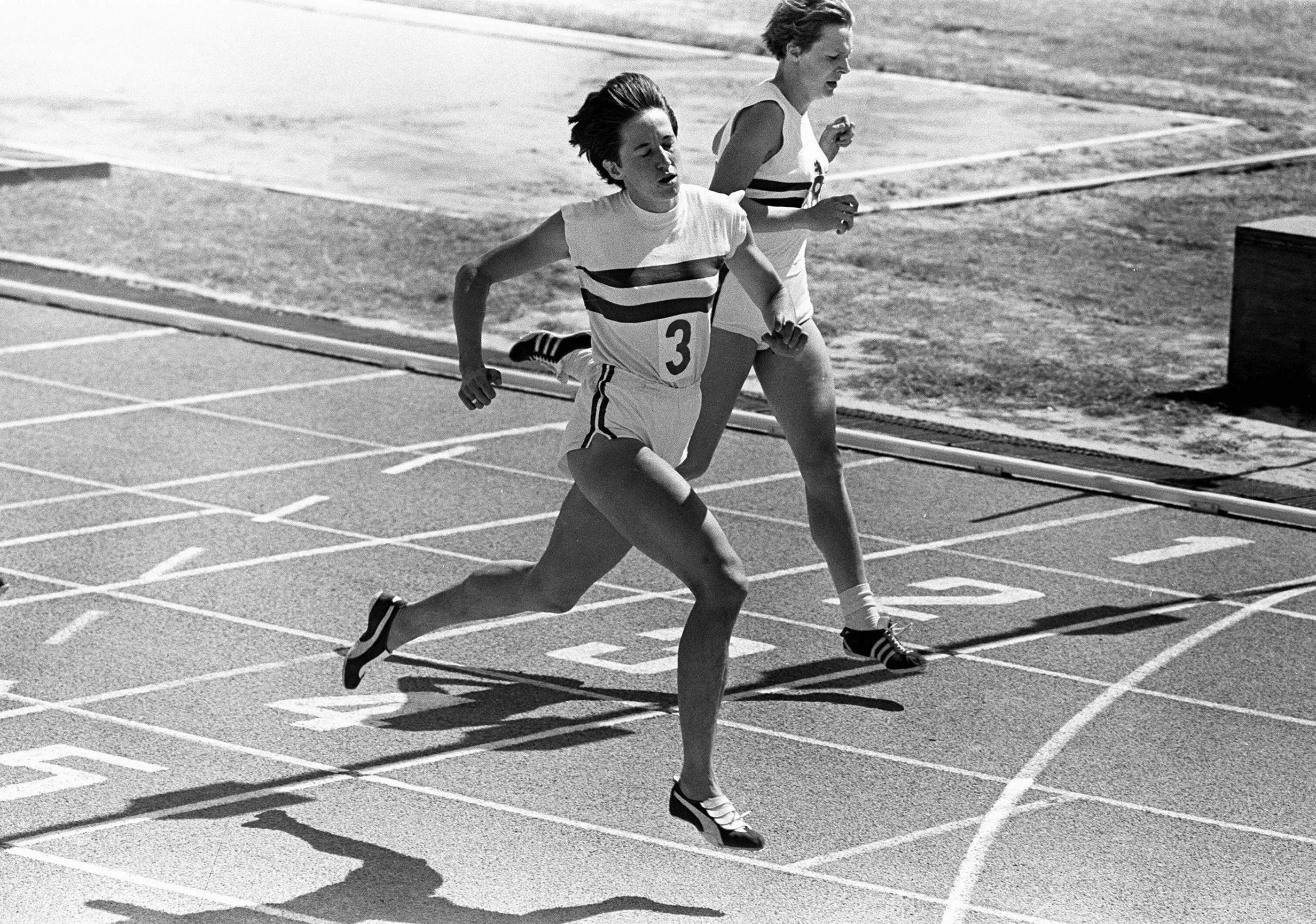 (© IMAGO)

Dry shoes
Liese herself also told the story hundreds of times. At Mexico City 1968 (having married Gunnar in the meantime) she took second place in a memorable pentathlon with 4966 points, behind the West German Ingrid Mickler-Becker (5098). These two athletes remained close friends until Liese's untimely death. Mickler-Becker was even a surprise guest at Liese's 60th birthday celebrations.
In Liese and Gunnar's reports of Mexico 1968, one anecdote about the shotput was repeated often. There had been a torrential downpour, the ring was under water, and Mickler-Becker was slipping around so much that Liese lent her her own shoes. There was one important detail: the Germans had a contract with 'Adidas', but Liese wore 'Puma' shoes.
Gunnar remembered: "The picture of Becker with those Puma shoes went around the world at the time. Who knows, maybe or even probably, Ingrid might not have become Olympic champion without Liese's help."


Austrian, not Australian!
Before the final 200m run, Liese was in the lead by 22 points ahead of Mickler-Becker, who was known as a strong sprinter. Still, the Austrian was worried that she might once again be left behind on the track. "But suddenly I noticed that I was just about able to keep up with the others," she said.
She made it to the finish line in 25.1 and was awarded silver ahead of the Hungarian Annamaria Toth (4959). At the medal ceremony, Liese was briefly close to tears when the Australian flag was raised for her instead of the Austrian flag.
Final results from Mexico 1968: 1. Ingrid Mickler-Beckler 5098 (80m hurdles 10.9; shot put 11.48; high jump 1.71; long jump 6.43; 200m 23.5), 2. Prokop 4966 (11.2; 14.61; 1.68; 5.97; 25.1).


European title and two world records
One year later, however, Liese finally reached the top of the podium. In 1969, she was in the form of her life. In Athens, she became European champion with an emphatic win (5030 points) ahead of the Swiss athlete Meta Antenen (4793). In this year, the pentathlon hurdle distance had changed to 100m, and Liese's results were now: 14.0; 15.20; 1.68; 6.14; 25.6.
In Austria, Liese's fame reached new heights with her legendary pentathlon world record on 4 and 5 October 1969 in the Sudstadt stadium near Vienna. She had set a world record earlier that year in Leoben (Austria) with 5089 points, which Heide Rosendahl (GER) bettered with 5155 points. Liese was so sure that she could beat this result that she announced her intention to set another world record in advance. This led to an unprecedented and frenzied enthusiasm for athletics in Austria. Gunnar Prokop thought that Liese could achieve 5300 to 5400 points, and turned out to be correct: in the end she achieved 5352 points.
Liese was on course for a world record after the first day, after the 100m hurdles (13.5), shotput (14.95m) and high jump (1.75m). This led to 6000 spectators turning up on the second day to watch the last two disciplines.
"No Austrian athlete has ever had this effect", wrote the Austrian paper Kronen Zeitung about that Sunday.
Liese jumped 6.62m in the long jump. When it came to the 200m, spectators stood next to the running track and formed a wall to shield her from the wind. Liese finished in 24.6.
Kronen Zeitung celebrated her on the title page, proclaiming in big letters: "Liese Prokop is the Best: A Dream World Record!"
This was the final word in Prokop's great athletics career, which is still celebrated in Austria. Some of her national records remained for decades. Her shot put record of 16.04m is still the second-best result in Austrian history.
Shortly after the big record in the Sudstadt, in 1969, Liese started her successful politics career. She became Deputy Governor of the county of Upper Austria and was eventually named Austrian Minister for the Interior in 2004. Of course, she also went on to support sports as a politician, especially her beloved athletics.
Olaf Brockmann for World Athletics Heritage