Willi Wulbeck in action in 1979 (© IMAGO)
"Willi, Williiiii!" The sound of thousands of fans shouting this name has stayed in the memory of anyone who heard it in German or international stadiums.
This legendary scream was directed at Willi Wülbeck, a living legend, who rose to fame through his victory in the 800m at the 1983 World Championships in Helsinki. Then, too, the cry of "Williiiii, Williiii" resonated around the stadium.
Wülbeck's victory was a sensation in the world of athletics, and it is a real honour that he has donated one of his spikes from Helsinki to the World Athletics Heritage Collection and the Museum of World Athletics (MOWA). A shoe which his aunt once painted gold. Wülbeck and his shoe are a part of athletics history, so naturally they belong in the museum.
High time for 800m running
The now 66-year-old is still popular not just because of his countless successes, such as his World Championship gold, his fourth-place finish at the 1976 Olympics or his third places at the World Cups of 1977 and 1979. He is also still well-known in Germany because of his exemplary character. Always honest, forthright, likeable, and humble. A real spectator favourite who achieved the world title at a high time of men's 800m running.
Wülbeck was one of the leading runners in the field for 10 years, a decade that was shaped by big names like Alberto Juantorena, Mike Boit, Ivo van Damme, Rick Wohlhuter, Sebastian Coe, Steve Ovett, Steve Cram, and Joaquim Cruz. Not only was Wülbeck part of this elite group; for some time he was at the very top of it.
Wülbeck repeatedly crossed paths with these stars in the 1970s and 80s, starting at the 1973 European Junior Championships, which took place in Duisburg, only a few kilometres from his home in Oberhausen.
"That was a real home game for me," he recalled. "20,000 spectators in the stadium, and I was ahead until just before the finish!" Ovett overtook him right at the end, winning by 0.04. "Steve and I ended up having a friendly relationship, he was always a fun guy, but he managed to reach a higher level than me – he had those world records and the rivalry with Seb Coe."
No painful memories
Duisburg, however, opened a path for him to the wider world of athletics. From then on, he knew that he could hold his own in the highest echelons of the sport.
"I had the potential to do more at the European Championships," he reminisces now, but it is not a painful memory. Nor is his fourth-place finish at the 1976 Olympics in Montreal, where he finished behind Alberto Juantorena, Ivo van Damme and Rick Wohlhuter. "Today, in retrospect, I am very proud of this fourth place. After all, how many people can say they got such a high ranking at the Olympics?"
A year later, Wülbeck once again played a part in making 800m history. At the World Cup in Düsseldorf he came in a celebrated third in the epic duel between Juantorena and Mike Boit (the Cuban won), a feat he repeated in 1979 in Montreal.
"Year after year, I was one of the top five in the world," Wülbeck remembers proudly as he looks back on a long and successful career. But he also knew that he had it in him to aim even higher. Not just in Europe, but on the world level.
Today he admits: "For a long time, my coach Hans Raff's very strict training programme put a strain on me." Maybe it even hindered his development. "But it was a very authoritarian time. There was no talking back."
In 1983, however, he increasingly went his own way in training, listened to himself, and parted ways with his coach, although he still stresses that he continues to be "very grateful to him for everything".
An optimal age
In the summer of 1983, he sensed that he had a chance to win the World Championships. "At least by the time of the Meeting in Stockholm, where I only narrowly lost to Cruz. That is when I knew that, with some better tactics, I could beat him."
He kept thinking about this in the 24 hours before the final. Luckily, he slept well before the day of the final, 9 August 1983. "I initially had trouble sleeping at the time," he says. "We wouldn't talk about this stuff as freely then as we do now. But I took a sleeping pill and managed to get a great night's sleep." And in the final, he was wide awake.
"For me it was an exemplary race, with a fast pace right from the start. I consciously got in the line around the fifth place and just paid attention to not losing the connection to the leaders. At 29, I had reached an optimal age. I had enough experience and was in top shape. I knew that it might be my last chance to do something really remarkable."
Overwhelming desire to win
"Before the last curve, I worked myself up from fifth to second place. That's when I knew I'd be able to win the race." Wülbeck had held back enough for the fight on the home straight. "That's when I gave everything, and it all worked out. My desire to win was overwhelming."
Carried by an inner euphoria, he finally took the gold in 1:43.65, a German record that still stands to this day. Once again, the cry of "Williiiiii, Williiiii!" could be heard from the spectators.
With this race, Wülbeck continued a long tradition of top German 800m runners, joining the ranks of athletes like Hanns Braun, Otto Peltzer, Rudolf Harbig, Josef Kemper, and Walter Adams.
When Wülbeck thinks back to the 1983 World Championships today, he is proud and happy, but always in his own humble way. Big statements and loud challenges were never his style. Of course, he is happy that he became so popular in Germany. "People always recognised that I was one of them."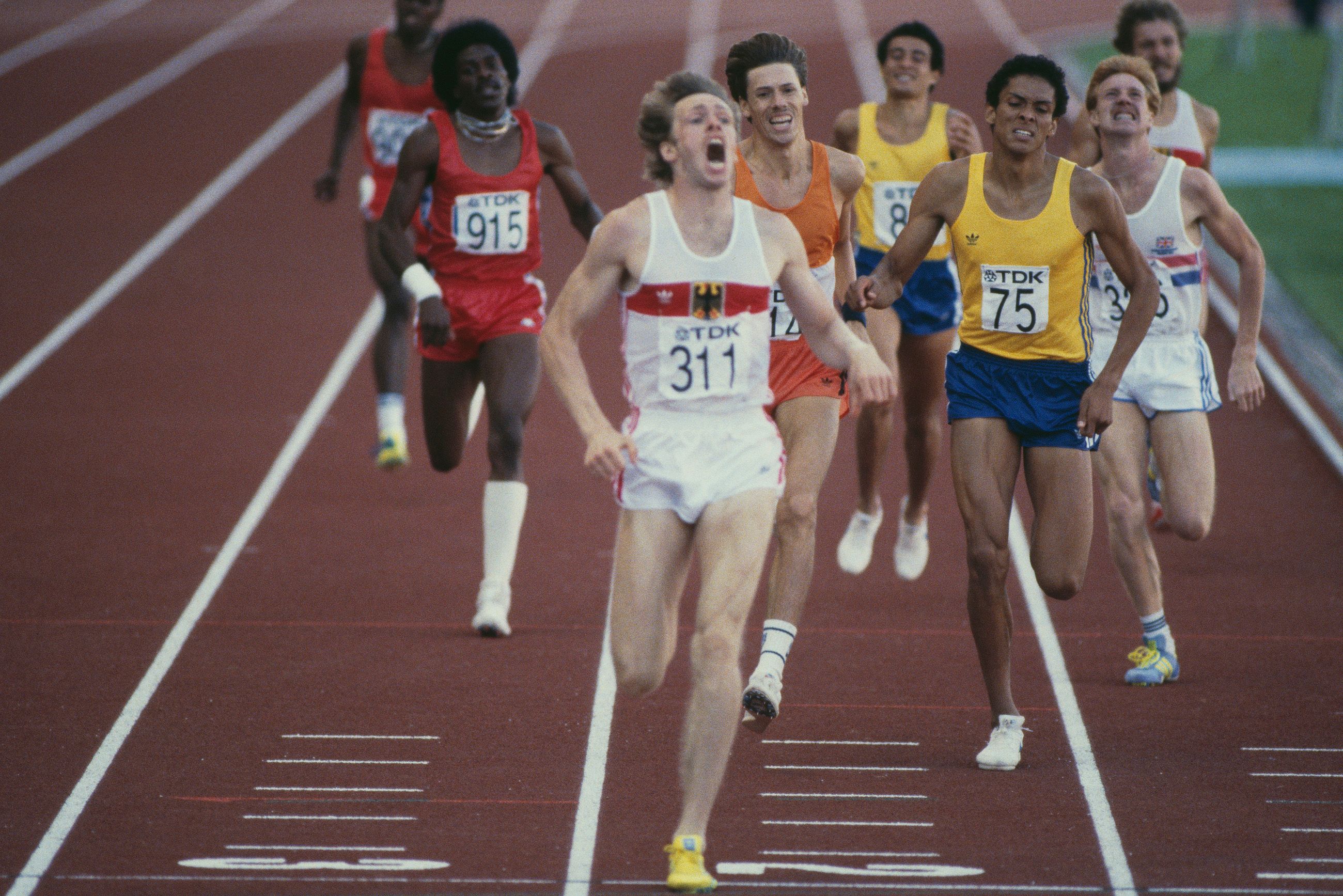 The first time that he really noticed his rising fame was at the end of the 1970s, when the "Williiiii, Williiiiii" shouts started.
One time, he remembers, it was particularly extreme. The start of the 800m at the ISTAF in Berlin had to be interrupted and delayed by two minutes, because 50,000 fans were yelling his name. That's how long it took to restore silence in the Olympic Stadium.
"It was an emotional rollercoaster, a real event. I had to leave the start line and wave at people repeatedly, try to calm them down. It was nice, but still a bit of a burden." The burden of great expectations.
He lived up to those expectations for an entire decade. For 10 years in a row and with predictable consistency between 1974 and 1983, he was national champion in the 800m, becoming the first German to accomplish such a streak of successes in an individual discipline.
His legendary runs are still part of German athletics. His records over 800m in 1:43.65 (Helsinki, 1983) and 1000m in 2:14.53 (Oslo, 1980) stand unbroken in the annals of German athletics.
His 1000m record is in fact the oldest German men's record and it came when finishing second to Coe's world record run of 2:13.40 - another occasion in which he crossed paths with the greats.
But that one time in Helsinki, Wülbeck led them all.
Olaf Brockmann for World Athletics Heritage