Austrian high jumper Ilona Gusenbauer (© Kristian Bissuti)
Four international successes five decades ago mark the great career of high jumper Ilona Gusenbauer.
In March 1970 she won the European indoor title in Vienna, a year later she took gold at the European Championships in Helsinki and earned Olympic bronze in Munich in 1972. But she became a legend of Austrian athletics in the land of winter sports with her world record when she dethroned Iolanda Balas with 1.92m in Vienna on 4 September 1971.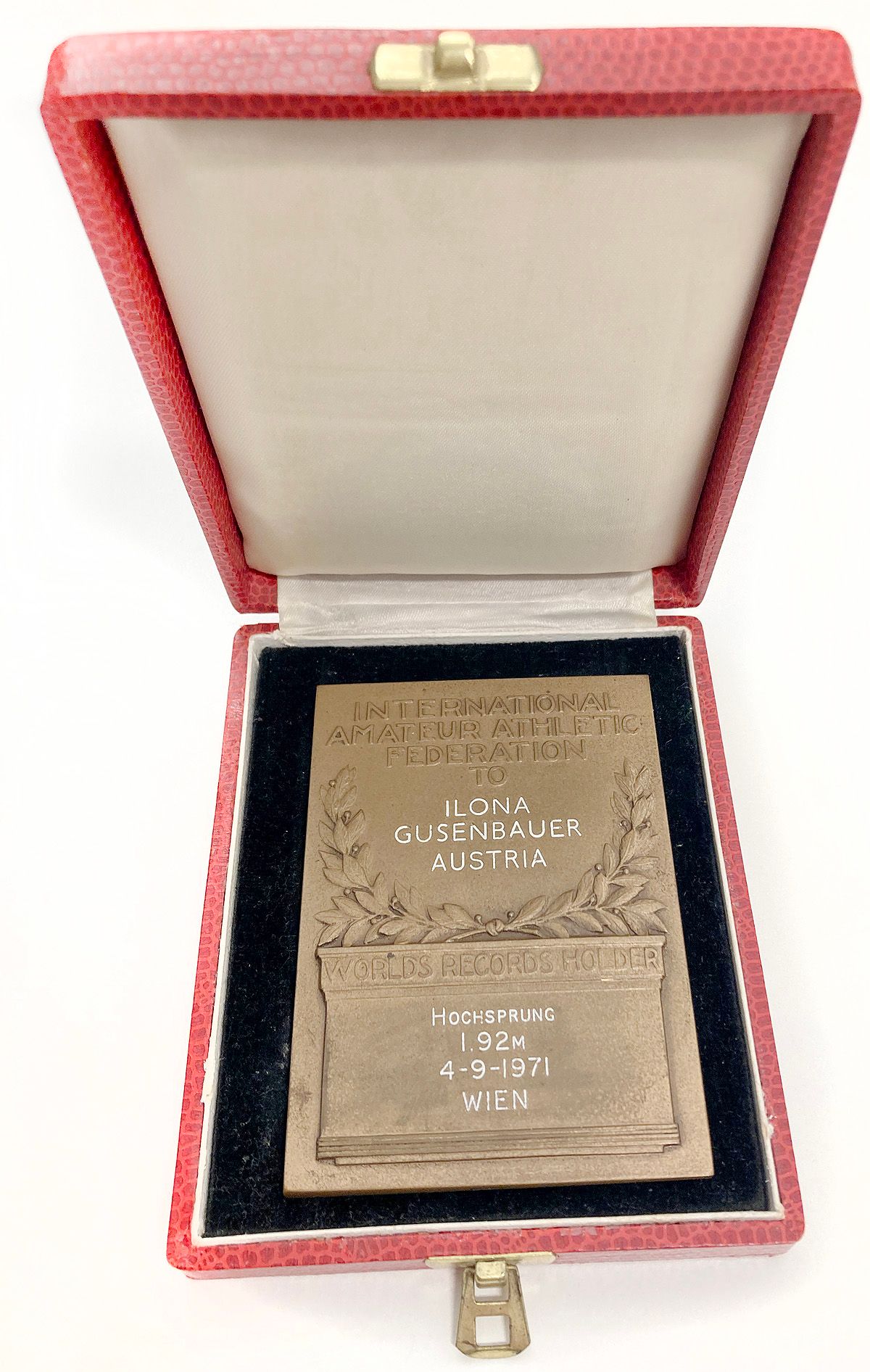 On the anniversary of that world record, World Athletics Heritage is delighted to announce that Gusenbauer has generously donated her world record plaque to its collection for its safe keeping and display in the Museum of World Athletics (MOWA).
Even die-hard Austrian football fans who have no interest in athletics remember this world record. The older fans might have been in the Vienna stadium themselves on that memorable afternoon, while younger fans may be aware of it because 1.92m is always talked about in connection with football; Gusenbauer jumped her world record during the pre-match programme of the European Championship qualifying match between Austria and Sweden (1:0).
A short time later, she received the traditional world record plaque from World Athletics (then the IAAF) in recognition of her achievement. She has now bequeathed this rare memento to World Athletics Heritage. Her donation now has a place of honour in the Museum of World Athletics.
A world record made to order
The 1.92m was a world record made to order. A high jump competition with three participants had been set up especially for Gusenbauer. The declared goal was the world record and she agreed, because she felt she was in the form of her life.
Before the competition on 4 September, she had attempted the world record height of 1.92m in five competitions – a total of 15 attempts – throughout the 1971 season. She had also won the European title just a few weeks before with 1.87m. Iolanda Balas's world record of 1.91m had stood for 10 years, but Gusenbauer felt she was due to break it.
The high jump competition started about one-and-a-half hours before the kick-off of the international football match. About 30,000 spectators were already in the stadium for the announced world record attempt. Many a football fan will have been annoyed afterwards not to have arrived in time.
Everything was set for Gusenbauer's flight of fancy that afternoon – in the truest sense of the word. At that time there was only one cinder track in the stadium, even the run-up in front of the high jump was made of cinder. However, Roland Gusenbauer, Ilona's husband and coach, always had a plastic carpet in his car, which he also rolled out for Ilona in the Vienna stadium. This was a better jumping base for the planned jumps at the world record.
Gusenbauer, aged just 23 at the time and mother of three-and-a-half-year-old daughter Ulli, started the competition at 1.70m. She had no problems there, nor with the following heights of 1.74m, 1.77m and 1.80m, getting over them on her first attempts. Then, as she had feared, came the critical heights of 1.83m and 1.86m, which she mastered with her second attempt. Then she jumped 1.89m again in her first attempt. The bar was set at 1.92m.
Austrian newspaper 'Kronen Zeitung' recorded the world record jump: "Concentrated run-up, a powerful jump, energetic stretching over the bar – and Ilona had done it. Then another incredulous look at the bar, which wobbled slightly in the wind but stayed up. New world record!"
With another first-time clearance, Gusenbauer had finally succeeded in clearing 1.92m.
"It was a great, a crazy day," she recalls. "My pulse was crazy high before the jump. It shouldn't be too high, but I had the will to jump a world record that day."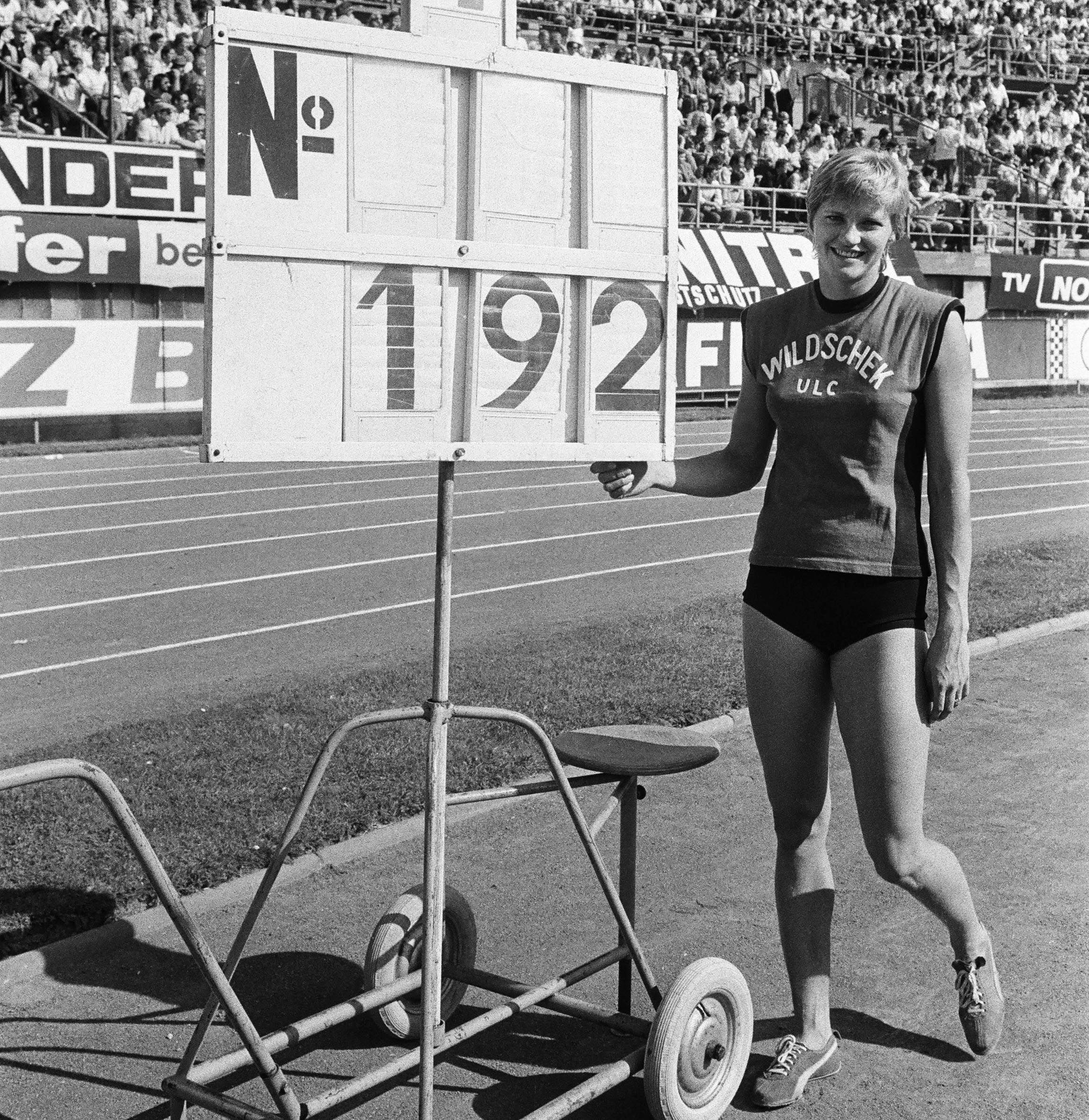 Ilona Gusenbauer with her world record figures (© Kristian Bissuti)

Balas dethroned
The legendary Balas was dethroned. From 1956 to 1961, the Romanian was the all-time high jumper. She set 14 world records, the first in 1956 with 1.75m, the last on 16 July 1961 in Sofia with 1.91m. Balas celebrated 150 victories in a row and was Olympic champion in 1960 and 1964.
The winter before, Gusenbauer had also broken Balas's world indoor record, clearing 1.87m in Vienna on 6 February 1970 to add one centimetre to Balas's nine-year-old record. At the first European Indoor Championships one month later, also in Vienna, Gusenbauer raised her record to 1.88m and then one year later she increased it to 1.89m.
After her record-breaking 1971 campaign and her strong 1972 indoor season, Gusenbauer was one of the favourites for the Olympic Games in Munich. At the same time, she fuelled the debate that had been raging since 1968 as to whether women could jump higher with the Fosbury flop or the straddle.
The first answer came in Munich when 16-year-old Ulrike Meyfarth sensationally won gold as a flop jumper, equalling the world record of 1.92m – exactly one year after Gusenbauer's record leap. In an unforgettable competition, Gusenbauer took bronze with 1.88m. Yordanka Blagoeva came second, also with 1.88m, then the Bulgarian improved the world record to 1.94m three weeks later.
Gusenbauer's brilliant forecast
Even though Meyfarth jumped using the flop, the straddle was far from dead. In 1971 Gusenbauer predicted that women would one day jump 2.00m with the straddle and 2.10m with the flop. In fact, Rosemarie Ackermann was the first woman in the world to jump 2.00m with the straddle on 16 August 1977 in Berlin, while the current world record has been held by Bulgaria's Stefka Kostadinova since 30 August 1987, when she flopped over 2.09m at the World Championships in Rome.
Fifty years have flown by since Gusenbauer's successes. Gusenbauer, who enjoys her peace and quiet in the countryside of lower Austria and is passionate about painting, will remain one of Austria's greatest track and field athletes.
Before the Second World War, sprinters like Maria 'Mitzi' Keller, Hilde Lahr and Adele Bierbrauner or throwers like Hilda Köppl and Lisl Perkaus (shot and discus), most of whom had unfortunately already been forgotten, had set world best performances or official world records. After 1945, however, only Herma Bauma in the javelin (1947 and 1948) and Liese Prokop in the pentathlon (1969) set world records in athletics for Austria – and Gusenbauer, whose world record plaque has now returned to World Athletics Heritage for display in the Museum of World Athletics.
Olaf Brockmann for World Athletics