Dave Bedford and Leo Winkley with Shrewsbury School's Heritage Plaque (© Shrewsbury School)
During the last fortnight, ISTAF Berlin (1921), the world's oldest invitational track and field meeting, and The Royal Shrewsbury School Hunt (1819), where the origins of cross country running began over 200 years ago, unveiled their World Athletics Heritage Plaques.
The World Athletics Heritage Plaque, a location-based recognition, is awarded for "an outstanding contribution to the worldwide history and development of the sport of track & field athletics and of out of stadia athletics disciplines such as cross country, mountain, road, trail and ultra-running, and race walking."
In the German capital on Friday 21 October, ISTAF Berlin unveiled their plaque in the Olympiastadion Visitor Center where it will be permanently displayed. The plaque, which was awarded in May 2019 in the category of 'Competition', was last year ceremonially received in Berlin's Olympic Stadium by the Mayor of Berlin, Michael Müller, during the 80th edition of the meeting.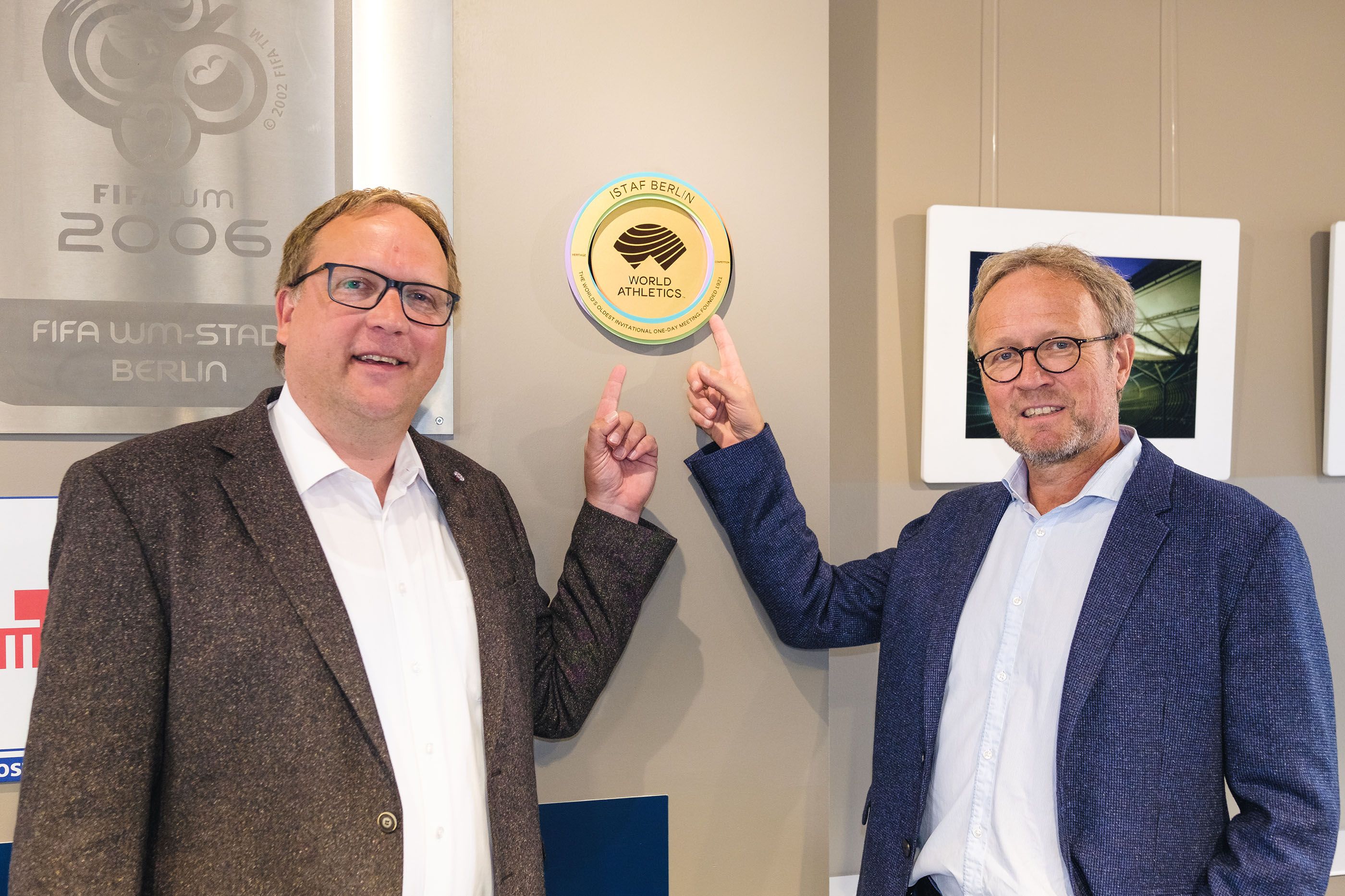 The ISTAF Berlin Heritage Plaque is unveiled (© ISTAF Berlin)
ISTAF meeting director Martin Seeber said: "The award is a great honour for all the contributors, all the partners and all the fans who make the ISTAF an extraordinary event with worldwide appeal and a true athletics party. Together with the Olympiastadion Berlin, the ISTAF has been writing positive sports stories for many years. ISTAF and Olympiastadion, they simply belong together."
Olympiastadion Berlin GmbH managing director Timo Rohwedder said: "The ISTAF in Berlin is the key annual athletics meeting in Germany. We are proud to host this and are delighted that the ISTAF's historic achievement has been appropriately recognised by the world federation."
A week before, on Friday 14 October in Shrewsbury, England, David Bedford, the two-time international cross country champion and former world record-holder for 10,000m, together with headmaster Leo Winkley, unveiled the plaque that was awarded in the category of 'Culture' to Shrewsbury School in December 2021.
The boys of The Royal Shrewsbury School Hunt, the school's cross country club, are credited in 1819 with the creation of the paperchase game run across country, from which the modern sport of cross country running was born.
Later during his visit, Bedford officially started this year's edition of The Tucks, the school's oldest cross country race which itself dates back virtually 200 years.
The permanent location of the plaque in front of the main school building was carefully chosen as this is where the historic race originally started.
Winkley said: "We are delighted and honoured that World Athletics has recognised Shrewsbury School's unique place in the history of athletics as the birthplace of cross country running. It was a great pleasure to welcome distance running legend Dave Bedford, former director of the London Marathon, to unveil the World Heritage Plaque.
"The sport continues to have such a central role in our sporting programme. As the whole school participates in The Tucks, it is wonderful to celebrate this prestigious award and Shrewsbury's rich running history."
Bedford commented: "I'm delighted that Shrewsbury School has received this award. Over the years I've been aware of the school's position in the sport and what you had started, but never thought I would get the chance to be part of it. It's a pleasure to be here and thank you for your great welcome."
Chris Turner for World Athletics Heritage