Bernard Lagat wins the 2010 world indoor 3000m title in Doha (© Getty Images)
When Bernard Lagat lined up in the Aspire Dome in Doha for the 2010 World Athletics Indoor Championships 3000m final, he was a 35-year-old veteran with a decade of global championships behind him.
The Peter Pan of the middle distances had been 25 when he made his debut on the international stage for his native Kenya at the Sydney Olympics in 2000.
Back then, at the dawning of the new millennium, he took the bronze medal in a thrilling 1500m tussle behind compatriot Noah Ngeny and Morocco's reigning 1500m world champion and world record-holder Hicham El Guerrouj.
Dramatic denouements became a familiar feature of life in the fast lane for Lagat as he proceeded to rack up a further eight global medals in the 'noughties,' four more as a Kenyan and four as a star earning his stripes in the United States team.
In the Qatari capital on 14 March 2010, he was proudly sporting "USA" on the chest of the uniform of his adopted homeland – a singlet and competition numbers he has generously donated to the Museum of World Athletics (MOWA) at today's opening ceremony of the MOWA Track & Field Heritage Exhibition Oregon22, which is being hosted at the Erb Memorial Union, University of Oregon in Eugene.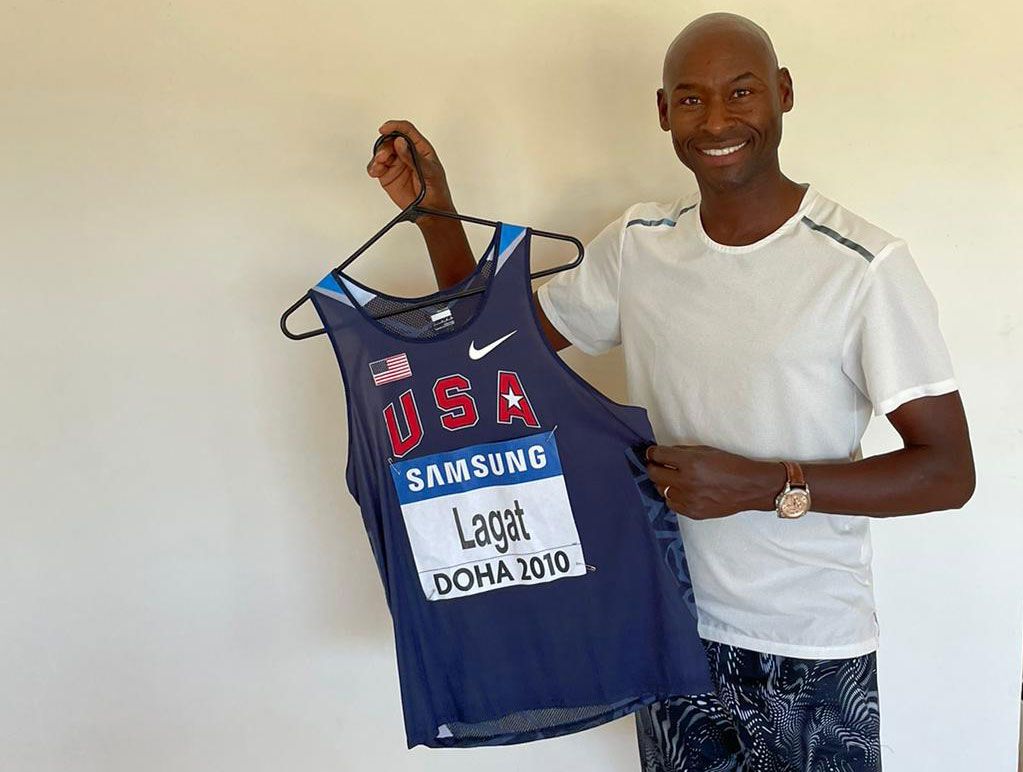 Bernard Lagat with his singlet from the 2010 World Indoor Championships
An age of experience
Winner of the title in his Kenyan days in Budapest in 2004, Lagat brought all of his experience, nous and pace judgement to Doha, sitting back when 2010 world leader Augustine Choge of Kenya cut out the early pace and then defending champion Tariku Bekele (brother of Kenenisa) hit the front with 1000m to go.
Lagat kicked at the bell, covering the final lap in 28.39 and finishing a clear winner in 7:37.97 – 1.58 ahead of runner-up Sergio Sanchez of Spain, with the Ethiopian Bekele down in fourth and Choge trailing home 11th.
In the process, Lagat became the first man to win world indoor titles representing two countries and, at 35 years 92 days, the oldest men's gold medallist in the history of the championships.
Champion again at 37
Not that the supremely consistent, supremely gifted graduate of the Jomo Kenyatta University of Agriculture and Technology and Washington State University was finished with the school of international track and field.
After making it 10 global medals in 10 years in Doha, he went on to claim three more.
At the 2011 World Championships in Daegu, Lagat had to veer into lane three to maintain his attempt to charge down Mo Farah. He finished 0.28 adrift in the silver medal position, matching the Briton's closing lap of 52.6.
At the 2012 World Indoor Championships in Istanbul, Lagat was too quick for Farah and the rest of the field, following in Haile Gebrselassie's hallowed footsteps as a three-time winner of the 3000m title. He finished three meters clear of Choge, with Farah back in fourth, becoming the oldest men's world indoor champion at the age of 37.
Lagat was 39 when he captured what was to be his final global medal: 3000m silver behind Kenya's Caleb Ndiku in Sopot in 2014. He was the oldest ever men's world indoor medallist, and indeed finalist.
There were near misses, too, in this prolonged twilight period of Lagat's lengthy, distinguished track career: fourth in the 5000m at the 2012 Olympics in London; sixth in the World Championships 5000m in Moscow in 2013; fifth in the 5000m at the 2016 Olympics in Rio.
Lagat was 41 when he contested his fifth Olympic campaign in Brazil, ending his track career a month later with a second-placed finish over 3000m at the ISTAF meeting in Berlin.
"I have no regrets," he said, with absolute justification.
Six years on, one glance at the world all-time lists attests to that.
There, ranked second in history at 1500m, lies the 3:26.34 Lagat clocked in Brussels in 2001. Only El Guerrouj stands above, courtesy of his 3:26.00 world record in Rome in 1998.
First US global gold since 1908
Then, among Lagat's haul of 13 global medals, alongside his three world indoor 3000m gold medals, there are a priceless pair of golds from the 2007 World Championships in steamy Osaka.
Eleven years after moving to the United States to study business management at Washington State, Lagat represented the US for the first time in Japan's 'Third City,' having served a three-year eligibility period following his last competition for Kenya at the 2004 Olympics in Athens.
He proceeded to run his way into the record books in the oppressive heat and humidity of the Nagai Stadium.
In the 1500m final, Lagat struck with perfect timing, sweeping past Kenyans Asbel Kiprop and Shedrack Korir 60m from the line and winning by 0.23 from fast-finishing defending champion Rashid Ramzi of Bahrain. It was the first victory by a US athlete in a global men's 1500m final since Mel Sheppard won Olympic gold in London in 1908.
Sheppard, who had been rejected by the New York City Police department because he had a weak heart, went on to complete the 800m-1500m double - the third man in history to do so, after Australian Teddy Flack in Athens in 1896 and Jim Lightbody of the US in St Louis in 1904.
"I ran a smart race"
Lagat became the first man to achieve the 1500m-5000m double at the World Championships – emulating a feat accomplished in the Olympic Games of 1924 and 2004 by the great Finn Paavo Nurmi and by his own great rival El Guerrouj.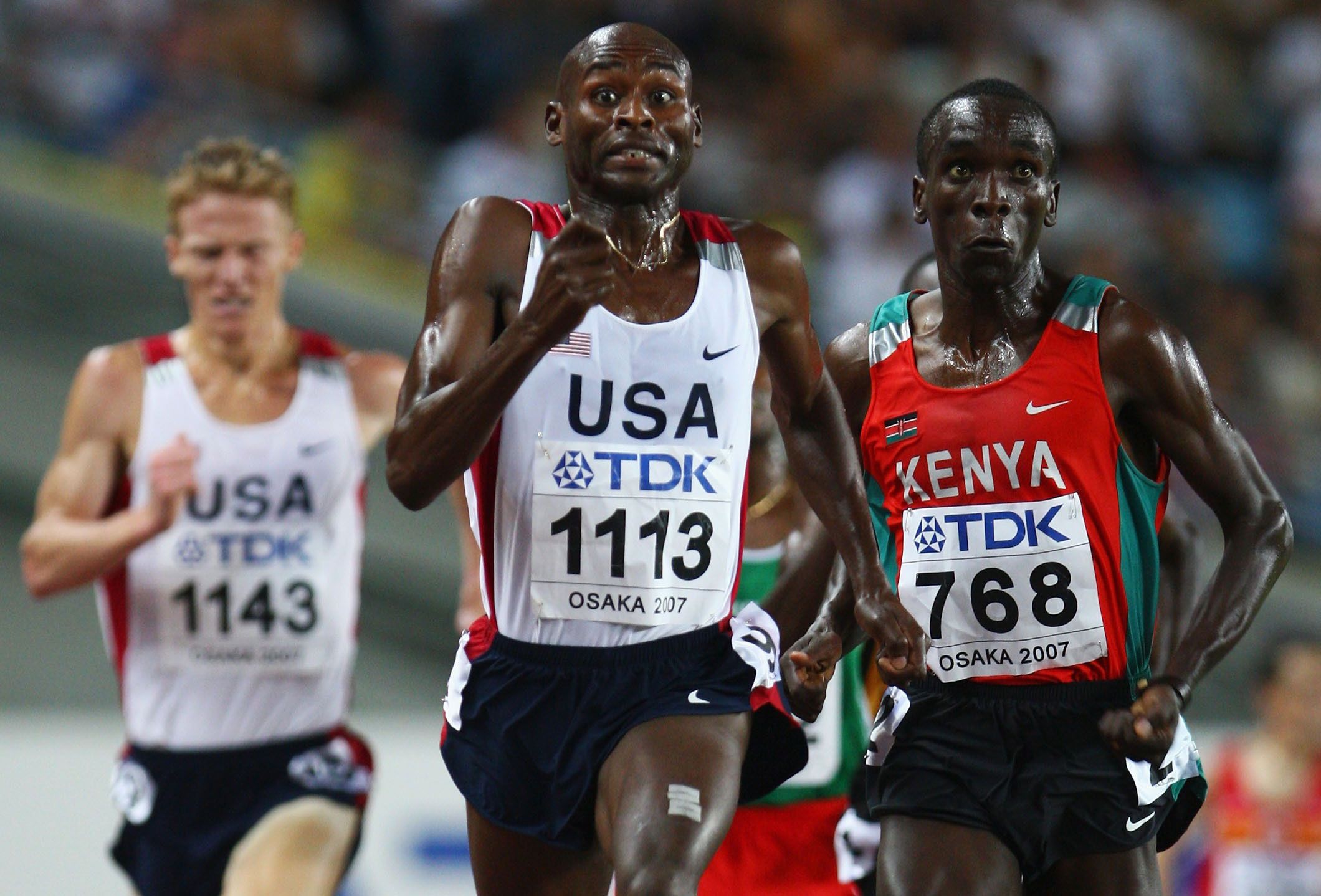 Bernard Lagat on his way to the world 5000m title in 2007 (© Getty Images)
In the 5000m final in Osaka, the newly-crowned 1500m champion could afford to engage in cruise control while his rivals were unable to challenge his finishing kick in sapping heat and humidity.
Farah led at the bell and Lagat was still in fifth when Kenya's 2003 champion Eliud Kipchoge (whatever happened to him?) made his move with 200m to go. Lagat bided his time, finally striking 60m out and holding off Kipchoge by a metre.
"That was good for me," he said. "Everybody waited for the last lap. I think I ran a smart race. I waited until the last 100m."
He was timed at 52.3 for the final circuit.
Reflecting on his track career in an interview with Spikes in September 2016, Lagat said: "The two gold medals in 2007 was the best performance ever for me. I was able to represent the United States for the first time and I didn't come home with just one medal but two. Two gold medals."
In the outdoor world championship arena, he also earned three silver medals (behind El Guerrouj at 1500m in Edmonton in 2001, at 5000m behind Kenenisa Bekele in Berlin in 2009, and at the same distance behind Farah in Daegu in 2011) – plus a 1500m bronze in the wake of Yusuf Saad Kamel of Bahrain (son of Kenya's two-time 800m champion Billy Konchellah), and Ethiopian Deresse Mekonnen.
At the World Indoor Championships, in addition to his hattrick of 3000m titles, Lagat also claimed a 1500m silver behind Driss Maazouzi in Birmingham in 2003.
At the Olympic Games, gold remained tantalisingly out of reach. Bronze in that three-way tussle in Sydney in 2000 was followed by silver in a gripping head-to-head with El Guerrouj in Athens four years later.
Lagat stuck to El Guerrouj's heels when his long-time nemesis started to wind up the pace with 800m to go. A week before the Games, he had beaten El Guerrouj in Zurich but, after falling in Atlanta in 1996 and being thwarted by Ngeny in Sydney, the Moroccan was on a personal redemptive mission.
The pair covered the final 200m in 26.2, Lagat moving ahead by a stride 50m from the line – only for El Guerrouj to sweep past, collapsing in tears after crossing the line. The Moroccan master of the middle distances finally had Olympic gold, winning in 3:34.18. Lagat took silver in 3:34.30.
"Danke!"
After Olympic campaign No.5 in Rio twelve years later, it was perhaps fitting that Lagat chose to run his final track race in Germany. The country had become a third home to him, after Kenya and the United States, having made Tubingen his European summer base.
On the bright blue track at Berlin's Olympiastadion, the 41-year-old finished runner-up to Choge over 3000m in 7:43.63. He crossed the line with a huge smile wreathed across his face, mouthing "Danke!" to the crowd.
Not that it was the absolute finish line for Lagat as an athlete.
Switching to the roads, he finished 18th in the 2018 New York City Marathon, clocking 2:17:20.
In February 2020, two months past his 45th birthday, he ran in the US Olympic Marathon Trial race in Atlanta, placing 18th in 2:14:23.
The key to his exceptional longevity, Lagat maintained, was the stability provided by his coach James Li (his mentor since he arrived in the US in 1996) and his wife Gladys Tom, a conditioning trainer and dietician, whom he met at Washington State.
The couple have a son, Miika, and a daughter, Gianna. They have homes in Tuscon, Arizona and in Tubingen in south-west Germany.
They also have a glittering collection of global medals, and a vast array of golden memories upon which they can happily reflect.
Simon Turnbull for World Athletics Heritage