The ASICS display in MOWA's Reception Hall (© MOWA)
The Museum of World Athletics (MOWA) is delighted to announce that World Athletics Official Partner ASICS has today (23) opened a display in the central area of MOWA's Reception Hall.
The ASICS display has taken over the temporary exhibition area at the entrance to the online virtual museum. The display, which opens to mark the forthcoming World Athletics Championships Oregon22 (15-24 July), will remain in situ until later this year, when many new artefacts donated this year will be added to MOWA's displays across the museum's four galleries.
Five exceptional ASICS artefacts have gone on display. Three were worn by victorious athletes in the World Athletics Championships and are permanently part of the World Athletics Heritage Collection, which is displayed in MOWA. The other two artefacts are Olympic gold medal-winning running shoes, which are currently on loan to the collection from ASICS.
The new display launches a few weeks ahead of the opening of an entire new wing to MOWA, which will feature a permanent ASICS room.
Log in or register here to enter MOWA.
Five featured athletes and artefacts
Liz McColgan (GBR) – 10,000m, pair of running spikes from Tokyo 1991
In Tokyo, McColgan's relentless early pace had shaken off all her rivals by 7000m and she went on to finish in 30:41.31, 20 seconds clear of her nearest challenger.
The autographed shoes on display are McColgan's training spikes from the championships. They were permanently donated to the World Athletics Heritage Collection at the end of 2019 in replacement of her actual race shoes. Those had been on temporary loan from the ASICS museum in Kobe, Japan, for the duration of the 2019 Heritage World Championships Exhibition in Doha.
Christian Olsson (SWE) – triple jump, pair of running spikes from Paris 2003
Olsson, the 2002 European champion and silver medallist at the 2001 World Athletics Championships, had won all 10 of his outdoor competitions prior to arriving in Paris and accompanied these victories with a series of superlative performances.
Opening in the final with 17.72m, he laid down the gauntlet for the rest of the field and no one could pick it up. It proved to be the gold medal-winning effort, 44cm better than anyone else could manage. In fact, Olsson was so dominant that his jumps in the next four rounds would also have won.
Dani Samuels (AUS) – discus throw, Australian team singlet and numbers from Berlin 2009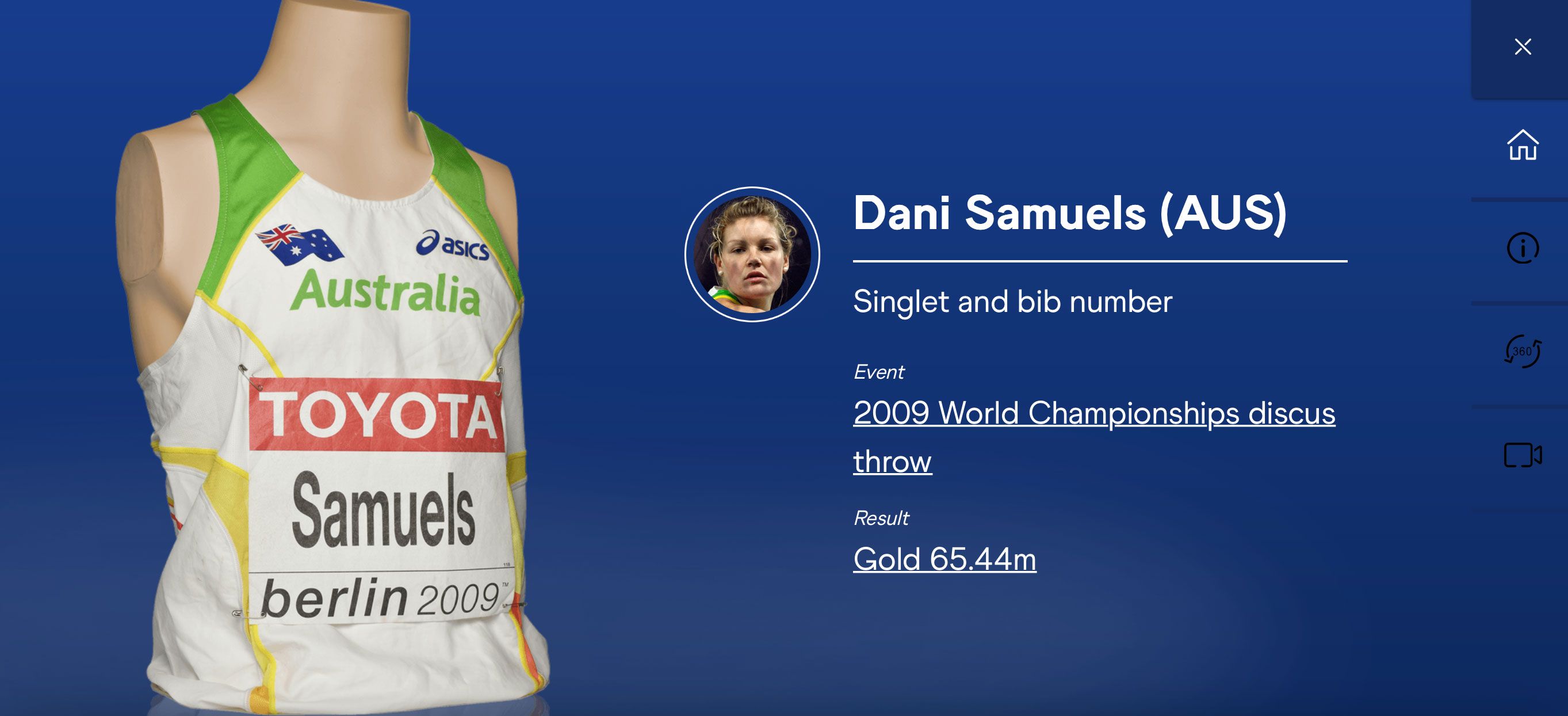 Dani Samuels' singlet and bib number on display in MOWA (© MOWA)
In the competition of her life, Samuels (now Stevens) threw 62.71m in the third round – just 23cm short of her personal best – then made a huge improvement to 64.76m with her fourth effort to move up to second. She then took the lead with 65.44m in the fifth round.
One by one, her rivals entered the circle for their final throws, but no one could match her, although Cuba's Yarelis Barrios went very close with an effort of 65.31m to go from third to second.
Naoko Takahashi (JPN) – marathon, single road running shoe from Sydney 2000
This right shoe was worn when Takahashi won the Sydney 2000 Olympic Games marathon. In Sydney, Takahashi attacked and went away from the leading group at 17km with just Romania's Lidia Simon for company, but the latter couldn't stay with her rival from 35km onwards.
Takahashi crossed the line in an Olympic record of 2:23:14 to win by eight seconds from Simon, who had recovered and started to close the gap on the Japanese athlete over the final two kilometres.
Lasse Viren (FIN) – 5000m/10,000m, single running spike from Montreal 1976
Viren was the winner of four gold medals at the 1972 and 1976 Olympics Games, where he had back-to-back double triumphs in the 5000m and 10,000m.
The left track spike on show is the one Viren wore in Montreal, firstly winning the 10,000m on 26 July 1976 and then four days later taking the fourth Olympic gold medal of his career – and arguably the most difficult – after a hectic sprint finish at the climax of the 5000m.
Chris Turner for World Athletics Heritage