Brianna Lyston in action at the World Athletics U20 Championships Nairobi 21 (© Roger Sedres)
It was at an early age that a young sprinter from the parish of Saint Catherine in Jamaica garnered attention from around the world thanks to her eye-catching performances.
Meet Brianna Lyston, who has had her fair share of setbacks since her breakthrough season but is hoping to stamp her mark at the World Athletics U20 Championships Cali 22 in August.
Her confidence is the result of some remarkable success this season, winning all but one of her races. Two of those performances earned her PBs of 11.14 (0.7m/s) in the 100m and 22.53 (-2.2m/s) in the 200m.
"I'm not sure of how fast I can go," says Lyston, who prefers the 200m. "But, I think for the World U20 Championships, I'd like to go sub-23 seconds again."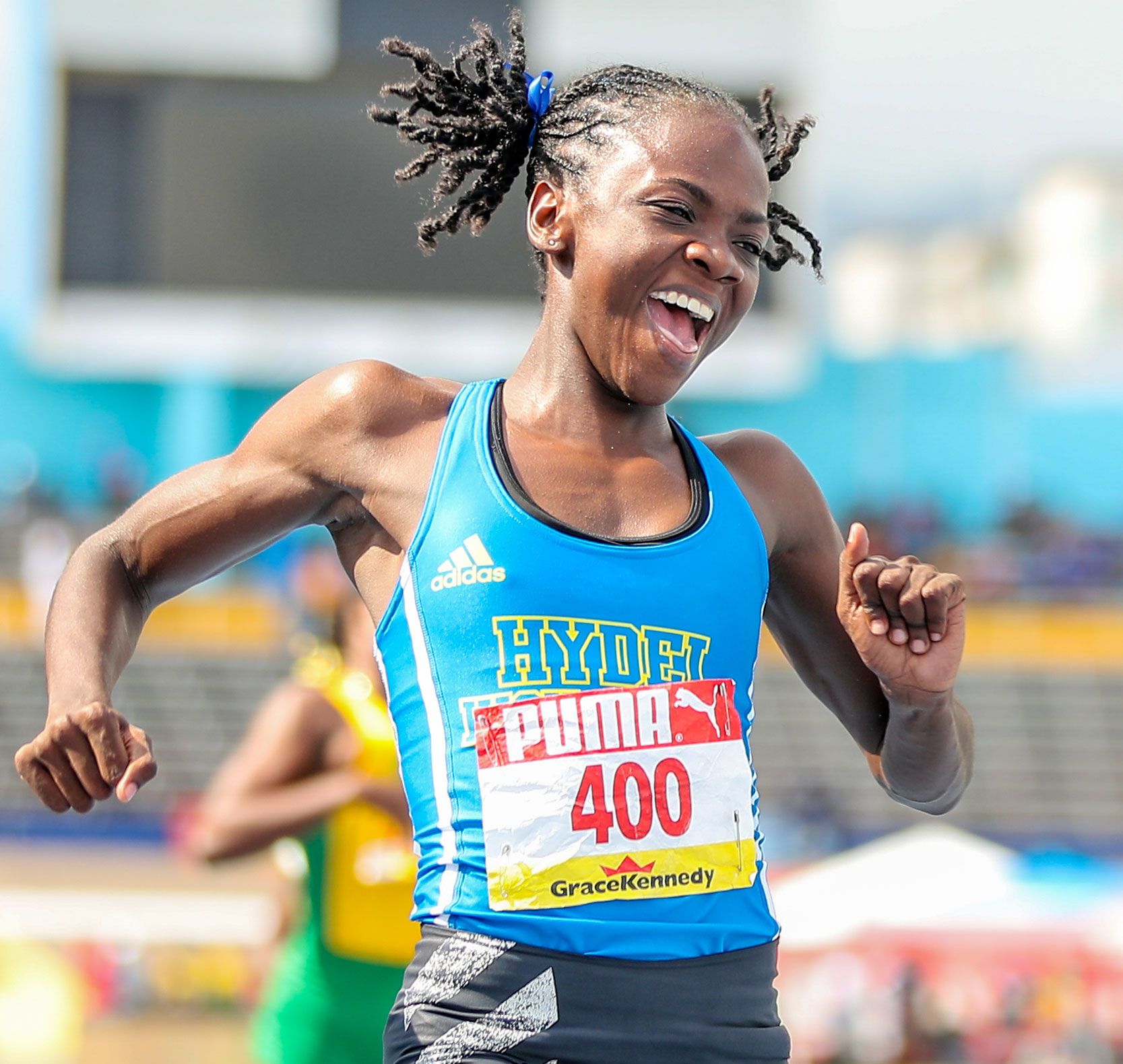 Brianna Lyston celebrates breaking the Champs 200m record (© Athelstan Bellamy)
Lyston's rise to prominence started in 2017, two months out from her 13th birthday, at the ISSA/Grace Kennedy Boys and Girls Championships (Champs). There the fiercely competitive sprinter established a world U13 best and was a member of the championship record-breaking 4x100m team. Five years later, those records remain untouched.
When Lyston ran a wind-assisted 23.46 (+2.2m/s) in the semifinals to signal her arrival, many spectators shifted in their seats, while others stood up. Two days later, she stormed to a 23.72 (-0.6m/s) championship record in the final to complete a magnificent Champs sprint double. She had no idea how the achievement would suddenly affect her life. After all, it was the fastest any 12-year-old had darted around the half-lap event in athletics history. It created an unexpected euphoria.
In an instant, she became an overnight sensation. Not even the legendary Usain Bolt, with whom comparisons surfaced, drew so much attention at that age. Ultimately, it was too much for Lyston, who was not accustomed to celebrity status.
An emotionally drained Lyston went into a shell. "I was very young and it had me shaken up," she says with a tinge of sadness.
The following year at Champs, Lyston lost to rising stars Tia Clayton and Serena Cole in the class three 100m final and was fourth in the 200m final.
In 2019, the talented Clayton twins (Tina and Tia), who were once in Lyston's shadow, were now occupying the front row and they finished 1-2 in both the 100m and 200m, with Lyston third on both occasions. While acknowledging the quality of the twins, Lyston reveals that she was unhealthy during those two seasons.
"After my first year in high school, I picked up a few injuries, such as hamstrings and quad," Lyston explains. "I overcame the quad injuries, but the hamstring injuries persisted into class two. I always competed but not at my best. It was devastating because I was not getting better or performing how I wanted to."
The cancellation of Champs, and by extension the track and field season in 2020, provided many athletes with more free time than usual. It was during this period of inactivity when nothing interesting was on Netflix that Lyston reflected on her past as well as planned her future. She and her two confidantes decided it was time for a new environment.
"During the pandemic, I was sitting down and thinking about how I'm going to advance myself and decided I should switch schools and see if things would work out better for me," she says. "I spoke to my mom and my best friend and we agreed on Hydel High as the best option. It is a school that I admired over the years."
However, the decision came with consequences. She had to sit out a year based on the Jamaican high school transfer eligibility rule, which states that athletes below 12th grade who have switched schools during the year must miss the next edition of Champs.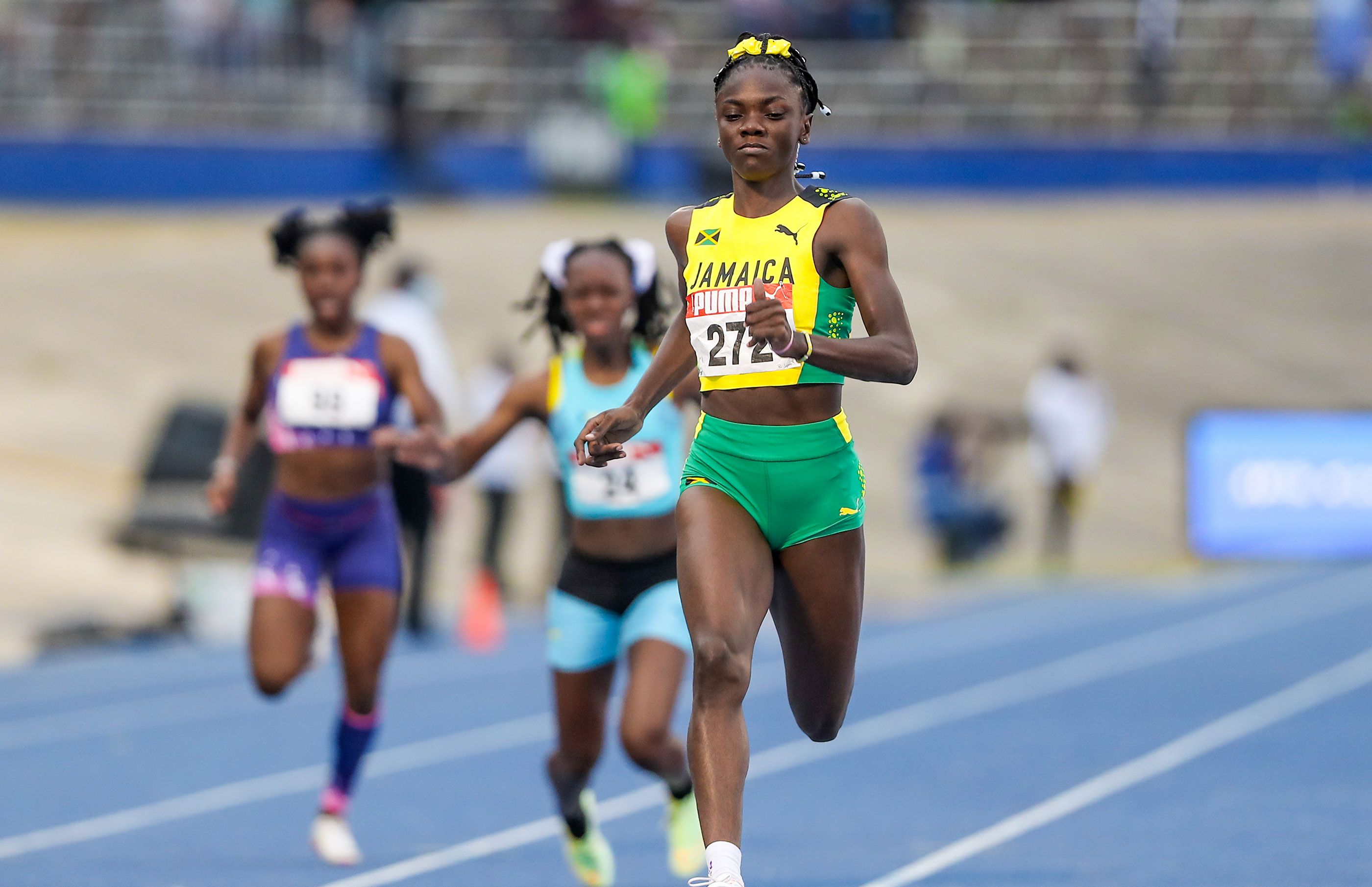 Brianna Lyston in the heats at the CARIFTA Games (© Athelstan Bellamy)
She spent the time away preparing for the World U20 Championships in Nairobi, Kenya.
"I was still battling injuries, but I was far better than I was before," declares Lyston, who was relishing the opportunity to compete in Africa, a continent she had read and heard so many stories about.
While she embraced the Kenyan culture, the weather conditions were a different matter. "The people made you feel at home, the food was good, but I never expected Kenya to be that cold. So, it was hard to adapt to the weather, we had to do extra stuff to get our bodies warm for the competition."
Lyston loves competing against the best and the Nairobi championships offered her that opportunity. "It was my first U20 championships and it was amazing," she says. "The competition was good as you met some talented athletes like Christine Mboma, Beatrice Masilingi and Favour Ofili, and it was a really good experience competing with them."
Lyston ran a PB of 23.18 in her 200m heat, which she equalled in the semifinals when finishing second behind Olympic silver medallist Mboma, who set a championship record.
In a fast final, she crossed the finish line fourth behind Mboma, Masilingi and Ofili, but a lane violation resulted in her disqualification. It was a learning moment and in the ensuing months, Lyston went about correcting that error and reinventing herself.
"Seeing the mishap that happened at World U20s, I went back to training and worked on fixing how I ran the curve," she says. "Also, I have been thoroughly going through my warm-ups and eating better, especially a lot of protein and drinking milk after workouts, and I have improved massively in the gym."
There is proof of those adjustments this season with a few fast times in her pet event. First, she clocked 22.66 at the CARIFTA Trials in March, followed by her stunning lifetime best of 22.53 into a 2.2m/s headwind at Champs, competing for her new school. The time erased Simone Facey's 18-year-old championship record of 22.71.
"It was my most memorable performance to date," says Lyston, who was returning after a two-year hiatus.
"I went into Champs injury free and went for the record," adds the 17-year-old, who now owns the girls' 200m records for classes one and four.
Her association with record-breaking performances reached its peak at the 49th CARIFTA Games on 18 April. The dream quartet of Cole, Tina Clayton, Lyston and Tia Clayton – in that running order – triggered unrestrained celebrations inside Jamaica's national stadium when they broke the women's world U20 4x100m record with a 42.58 run. It improved on the previous record of 42.94 also set by a Jamaican quartet last year at the World Athletics U20 Championships in Nairobi.
"It was an overwhelming feeling that we could do it for our country," says Lyston.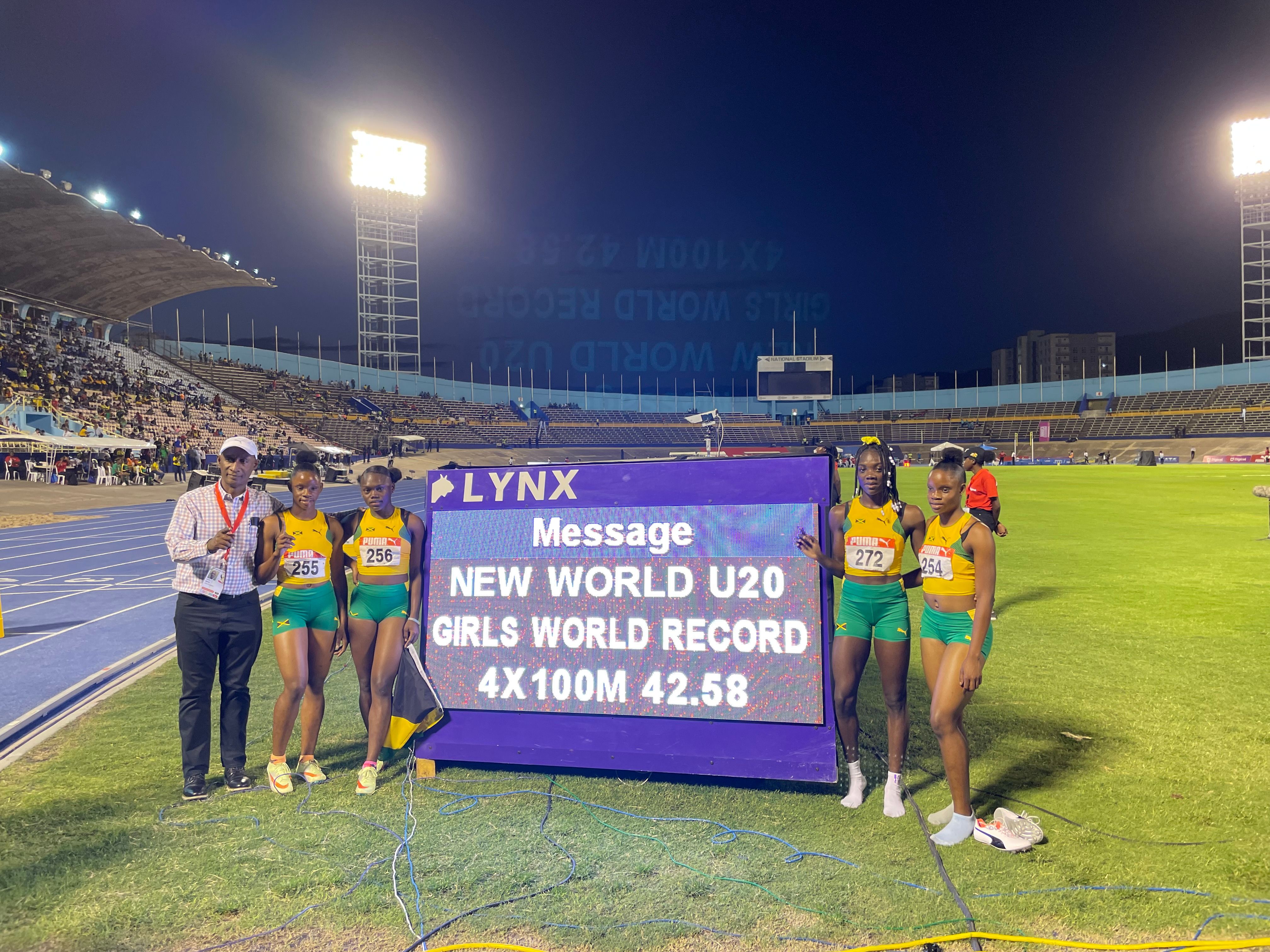 Tina Clayton, Serena Cole, Brianna Lyston and Tia Clayton celebrate their world U20 4x100m record at the Carifta Games
Nowadays, Lyston is more mature and prepared for interviews and press conferences. However, her biggest challenge is resisting the urge to read what detractors are saying on social media. She draws inspiration from her role model in managing high pressure situations while remaining true to herself and her supporters.
"From a tender age, I've always looked up to Shelly-Ann Fraser-Pryce," says Lyston. "I love her personality and how she conducts herself. She knows how to mix it up, she's outgoing and has a lot of vibes off the track but once she's in the zone, she's switched on."
In anticipation of the World U20 Championships in Colombia, Lyston expresses optimism.
"I've learned a lot from the Nairobi championships," she says. "I've been working on a few things and been progressing really well.
"I am banking on my speed endurance, which is my strongest asset, and hoping to put everything together and deliver in Cali."
Noel Francis for World Athletics