Erwan Konate at the World Athletics U20 Championships Nairobi 21 (© Dan Vernon)
It was the leap that affirmed his ambition.
Soaring 8.12m at the World Athletics U20 Championships in Nairobi last August, Erwan Konate surpassed the eight-metre mark for the first time in his career to get gold, roaring with delight when the French U20 record figures flashed up on the scoreboard.
That moment made the talented teenager certain that his future lay in the long jump.



Winning at the age of 18, and with two editions of the global U20 event taking place in consecutive years due to the pandemic, means that Konate has the chance to defend his title at the World Athletics U20 Championships Cali 22 in August. That's one of many targets this season, with his win in Kenya acting as the catalyst.
"After I jumped eight metres in Nairobi, I said 'okay, that is a good choice!'" smiles Konate, who is also a business student and model. "Last year was totally crazy. My performance was so crazy for my age – it was a world lead for U20, a French U20 record. Now it is a new time with new goals."
That jump in Kenya added 21cm to Konate's previous best, set when claiming European U20 bronze in Tallinn in July.
Opening with a leap of 7.75m, his consistent series also included jumps of 7.80m, 7.90m, 8.00m and 7.98m, as well as his fourth-round 8.12m. He won by 15cm ahead of Jhon Andres Berrio, whose 7.97m was a Colombian U20 record, while Jamaica's Kavian Kerr bagged bronze thanks to a 7.90m PB.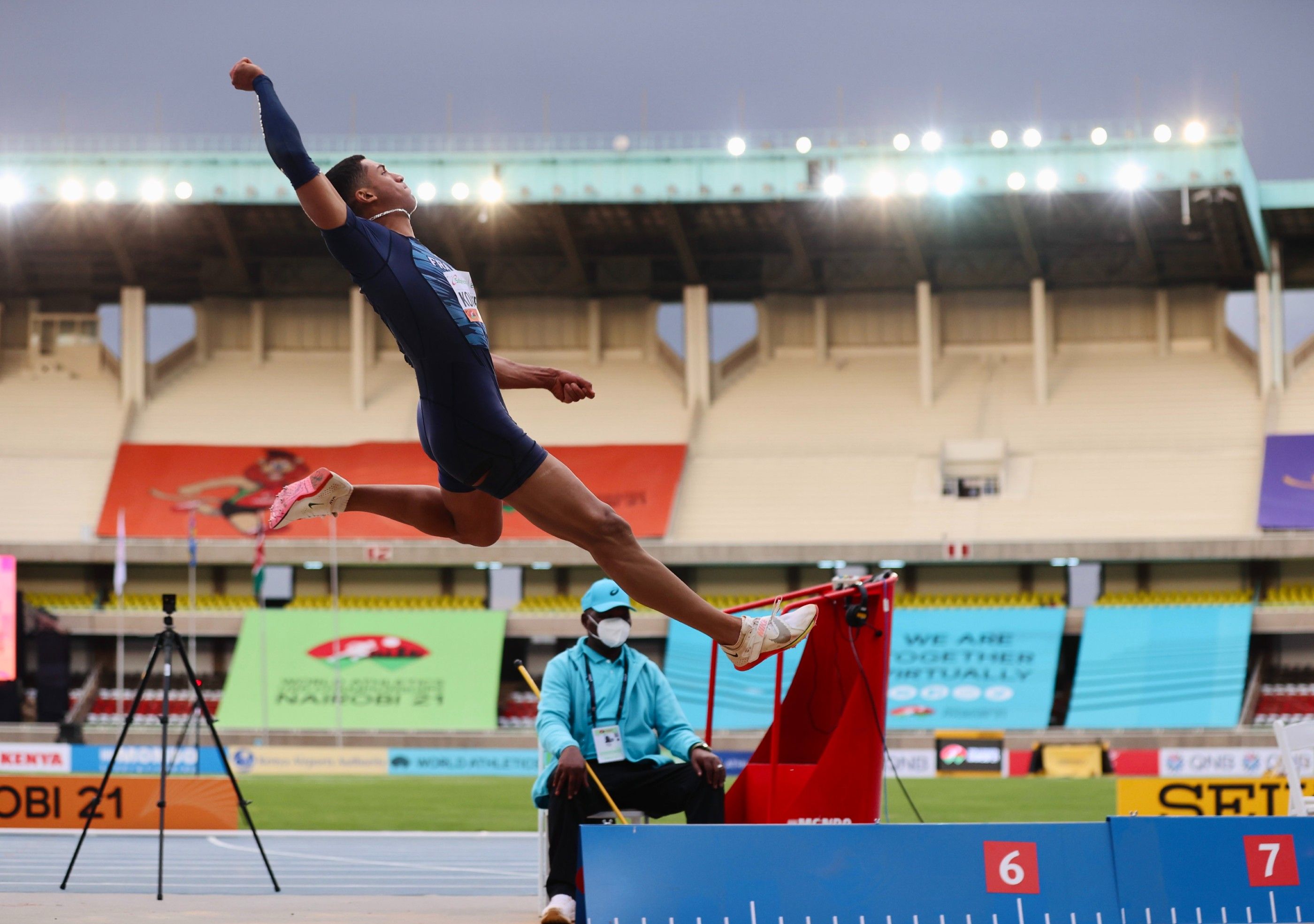 Erwan Konate soars to world U20 long jump gold in Nairobi (© Dan Vernon)
After that competition, Konate went on to make his Diamond League debut in Brussels in September, the same month he teamed up with a new coach – 1987 world long jump silver medallist Robert Emmiyan.
That also gave Konate another target to shoot for – Emmiyan's European record of 8.86m, a mark that places him fourth on the world all-time list.
"It's another level, another world!" says Konate, who further proved his record-breaking ability earlier this year when he leapt 7.98m to finish second at the INIT Indoor Meeting Karlsruhe in January. That added 5cm to the ratified European indoor U20 record that had been set by Emmiyan in 1984.
While a performance like Emmiyan's 8.86m is a long-term goal, Konate currently has two significant figures in mind – first the 8.22m qualifying standard for the World Athletics Championships Oregon22, taking place the month before the U20 event in Cali, and also the world U20 record of 8.35m that has stood since 2012.
"Those are my goals, but my first goal is to live my life and enjoy my life," Konate adds. Happy in his current set-up, the French rising star appears to be doing just that.


View this post on Instagram

Born in Amiens in northern France in 2003, Konate has spent his whole life in athletics. His father Papa Ladji Konate is a former triple jumper while his mother Virginie Scribe Konate specialises in the hammer throw.
"All the time, I have been in the stadium with my parents," he says. "After their wedding, my parents went to the stadium! It is our life."
Early on, he showed strength in the discus throw but was most passionate about the long jump. Konate gives great credit to his former coach Erwan Mouaddib but felt that joining Emmiyan and being based at France's National Institute of Sport, Expertise and Performance (INSEP) in Paris was an important next step in his career.
From the three sessions per week training he did in the lead up to the European and World U20 Championships, Konate says he now trains "like a professional athlete". He recently joined Emmiyan and his training partner Jules Pommery on a camp in Corsica to prepare for his busy outdoor campaign.
"He is so talented," says Emmiyan, who is also president of the Armenian athletics federation. "I was so happy that he won the World U20 Championships last year in Kenya and that this year he broke my European U20 record. Now this season is very important because he can become a two-time world U20 champion.
"He also has the capacity to qualify for the senior world championships and has a lot of different invitations regarding international competitions."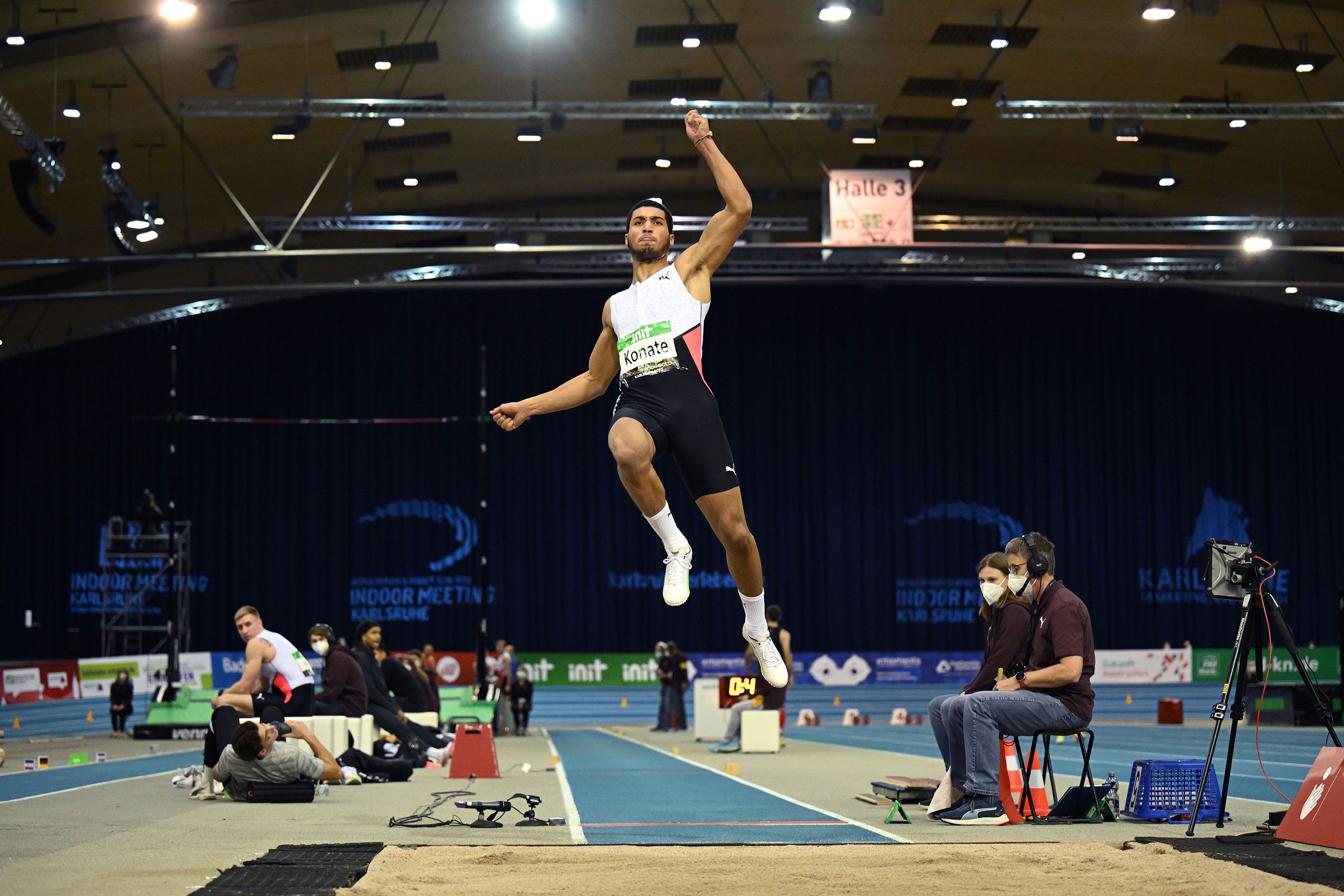 Erwan Konate competes at the INIT Indoor Meeting Karlsruhe (© Getty Images)
During the camp, Konate was training twice a day, five times a week, with a focus on speed and transition.
"Erwan comes from a wonderful athletic family," Emmiyan adds. "They support at all times. His mother writes the power training programme. We cooperate very well. This is important."
And Konate's relationship with Emmiyan means they too have become like family.
"Erwan is also speaking a little bit of Armenian!" Emmiyan laughs. "The relationship between coach and athletes is so important. We stay like family.
"I trust him, I see his motivation, and he trusts me. We feel comfortable together and with the group."
Konate agrees. "It's very important for me. I live my life all the time with one guy – my coach and my partner. For me he is an inspiration."
With so much to aim for – including a home Olympic Games in Paris in 2024 – that support network will remain key as Konate prioritises his happiness.
"I trained very hard on my mentality because it was tough after Nairobi, because I had a lot of pressure," he says.
"I try, with my body and with my head, to jump far. I don't have a barrier in my mind, I just say jump. Maybe you win, maybe you lose, but you jump."
Jess Whittington for World Athletics