Valarie Allman and Kristjan Ceh (© Getty Images)
Women's discus
Timetable | world rankings | 2023 world list | world all-time list | how it works
At the Tokyo Olympic Games, the hopes held by Sandra Perkovic of Croatia of winning a third consecutive title were ended by a breakthrough victory by Valarie Allman of the United States, who claimed gold with 68.98m.
Perkovic ended up in that most painful position – fourth – with a best of 65.01m.
There was a further blow for the hugely competitive Croatian in April 2022 as Allman threw a massive personal best of 71.46m, five centimetres farther than Perkovic's best and enough to bump her out of the world all-time top 15.
But later that year the 32-year-old Croatian offered startling evidence that she was still a serious contender at the top level as she produced a season's best of 68.45m to beat her US rival at the World Championships in Oregon.
Gold, however, went to China's Feng Bin, who produced a personal best of 69.12m to upset the form book. Allman took bronze with 68.30m, becoming the first US woman to win a world medal in the event.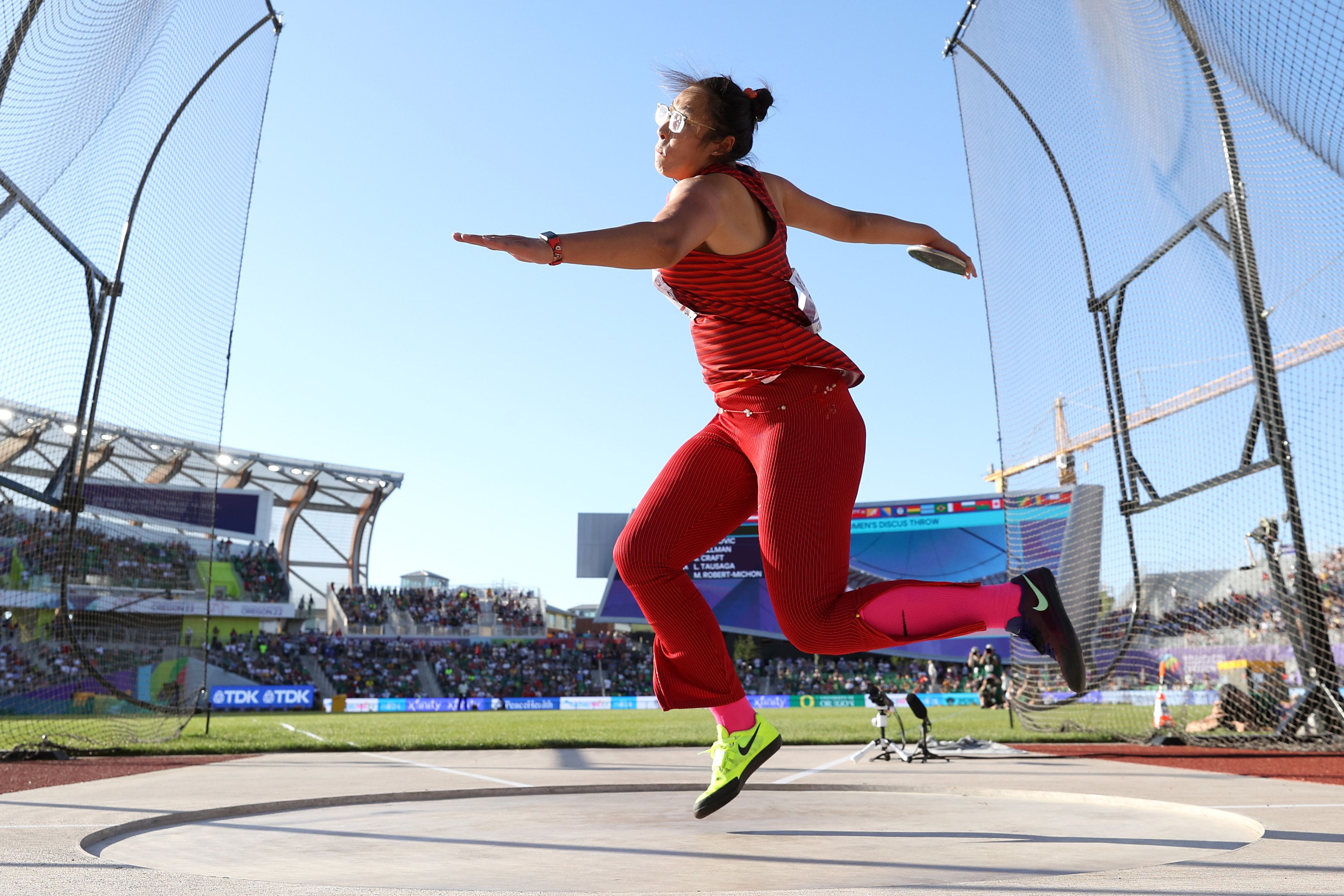 Feng Bin in the discus at the World Athletics Championships Oregon22 (© Getty Images)
This year, however, the 28-year-old from Delaware produced another stellar effort at the same Triton Stadium in San Diego where she had thrown her personal best, recording 70.25m, which puts her top of this year's world list.
Feng, however, will defend her title from a place of strength, having thrown a best of 66.81m this year. She has won five of her six competitions this season, throwing beyond 66 metres in four of those. She also won the Asian title last month in her last competition before heading to Budapest.
European bronze medallist Jorinde van Klinken has a best this year of 67.05m, set in the throws-friendly venue of La Jolla, but she backed it up with a 66.77m victory at the Diamond League meeting in Oslo.
Olympic silver medallist Kristin Pudenz was disappointed to place 11th in Oregon last year, but she rebounded to take European silver on home soil with a PB of 67.87m. Her best throw this season, 66.84m, came when winning at the European Team Championships.
She is one of three Germans to have thrown beyond 66 metres this year; teammates Shanice Craft and Claudine Vita will be aiming to at least feature in the final.
Melina Robert-Michon will be competing at her 10th World Championships. The 44-year-old from France has reached eight World Championships finals to date, taking silver in 2013 and bronze in 2017. Her best this year is 65.49m, the sixth-best throw of her career.
Chioma Onyekwere will be aiming to make her first World Championships final, having missed out in 2019 and 2022. Earlier this year the Commonwealth and two-time African champion set a continental record of 64.96m.
Men's discus
Timetable | world rankings | 2023 world list | world all-time list | how it works
Sweden's Daniel Stahl, world and then European silver medallist in 2017 and 2018 respectively, broke through for world gold in Doha in 2019 and followed up by winning the Olympic title in Tokyo two years later.
But another talent was rising; Slovenia's Kristjan Ceh, who had finished fifth in the Tokyo Olympic final, earned the world title in Oregon last year with a championship record of 71.13m.
Another talent was also rising in the form of Lithuania's 19-year-old Mykolas Alekna, son of the double Olympic champion Virgilijus. He took silver in Oregon with 69.27m, becoming the youngest world discus medallist.
And a month later, even more extraordinarily, he beat Ceh and all three Olympic medallists – Stahl, his Swedish teammate Simon Pettersson and Lukas Weisshaidinger – to take gold at the European Championships in Munich with a championship record of 69.78m.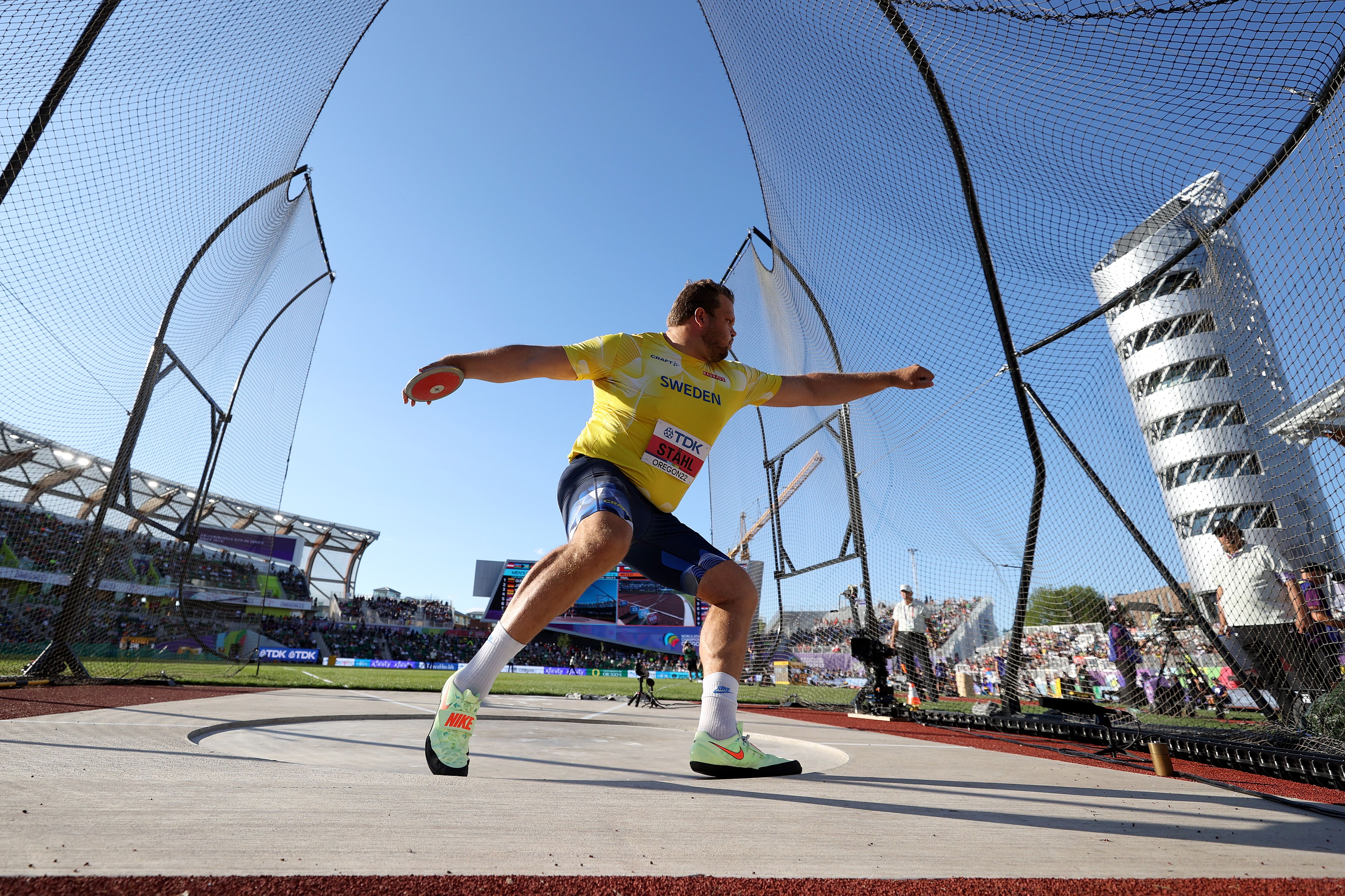 Daniel Stahl at the World Athletics Championships Oregon22 (© Getty Images)
This year the rivalry has been renewed in earnest.
In California in April, Alekna became the youngest discus thrower in history to throw beyond 70 metres, moving up to 18th on the world all-time list with 71.00m, a European U23 record and an early leader on the 2023 world list.
Only another 3.88m to match his dad's best, set in 2000, which puts him second on the world all-time list behind the world record of 74.08m set in 1986 by East Germany's Jurgen Schult.
Ceh has taken the initiative in the Diamond League, winning in Doha – with a meeting record of 70.89m – Rabat and Stockholm.
In June in the Estonian town of Johvi, Ceh and Stahl put together a monumental contest which ended with the Slovenian winning in a personal best of 71.86m, the best seen in 2023, which saw him join Stahl and Russia's Yuri Dumchev at joint fourth place on the world all-time list.
But Stahl will have taken huge encouragement in Estonia from finishing second with 71.45m, which leaves him second on this year's world list.
And at the London Diamond League meeting in July, the Olympic champion served notice that he is not to be underestimated in Budapest as he won with 67.03m, with Matt Denny of Australia finishing second with 66.77m and Ceh third with 66.02m.
Meanwhile Olympic bronze medallist Weisshaidinger is fourth on the 2023 list with 70.68m, with Alex Rose of Samoa next on 70.39m. It's the first season in 40 years in which five or more men have thrown beyond 70 metres in the discus.
Lithuania's 2017 world champion and 2018 European champion Andrius Gudzius has thrown 67.66m this year and should not be underestimated.
Nor indeed should another Alekna, Mykolas's 22-year-old brother Martynas, who is 12th on the world list with 67.23m, one place above Olympic fourth-place finisher Denny (66.84m).
Like Lithuania, Jamaica also boasts three strong challengers: Roje Stona, who threw 68.84m in May, 2018 Commonwealth champion and 2019 world silver medallist Fedrick Dacres, and national champion Traves Smikle.
Mike Rowbottom for World Athletics