Wojciech Nowicki and Brooke Andersen (© Getty Images)
Men's hammer
Timetable | world rankings | 2023 world list | world all-time list | how it works
The last time that Pawel Fajdek did not finish on top of the men's hammer podium at the World Championships was 2011, when Japan's Koji Murofushi took the title. Now, at the World Athletics Championships Budapest 23, the Polish great goes for a sixth successive victory, one that would match the record number of world titles won in a single event achieved by Sergey Bubka in the pole vault between 1983 and 1997.
But it is another Polish global gold medallist – Olympic champion Wojciech Nowicki – who is the clear world No.1 in the event right now. Fajdek and Nowicki have clashed a total of 123 times in their career so far, with Fajdek leading that head-to-head record, 90-33. But Nowicki has finished ahead of Fajdek in their last eight competitions and he also got the upper hand at the Olympic Games in Tokyo, when he threw a PB of 82.52m to win his first global gold. That came after he gained bronze in Rio, and medals of the same colour at the World Championships in Doha in 2019, London in 2017 and Beijing in 2015.
While Nowicki leads this season's top list with his 81.92m throw from the Oslo Diamond League, and goes into the competition in Budapest as the favourite, the 34-year-old is not unbeaten this year and there are some strong contenders if he is not in top form come 20 August.
Nowicki has eight wins to his name so far in 2023, but he has finished second on two occasions – first to Rudy Winkler at the Irena Szewinska Memorial in Bydgoszcz on 6 June and then to Mykhaylo Kokhan at the Gyulai Istvan Memorial in Szekesfehervar on 18 July.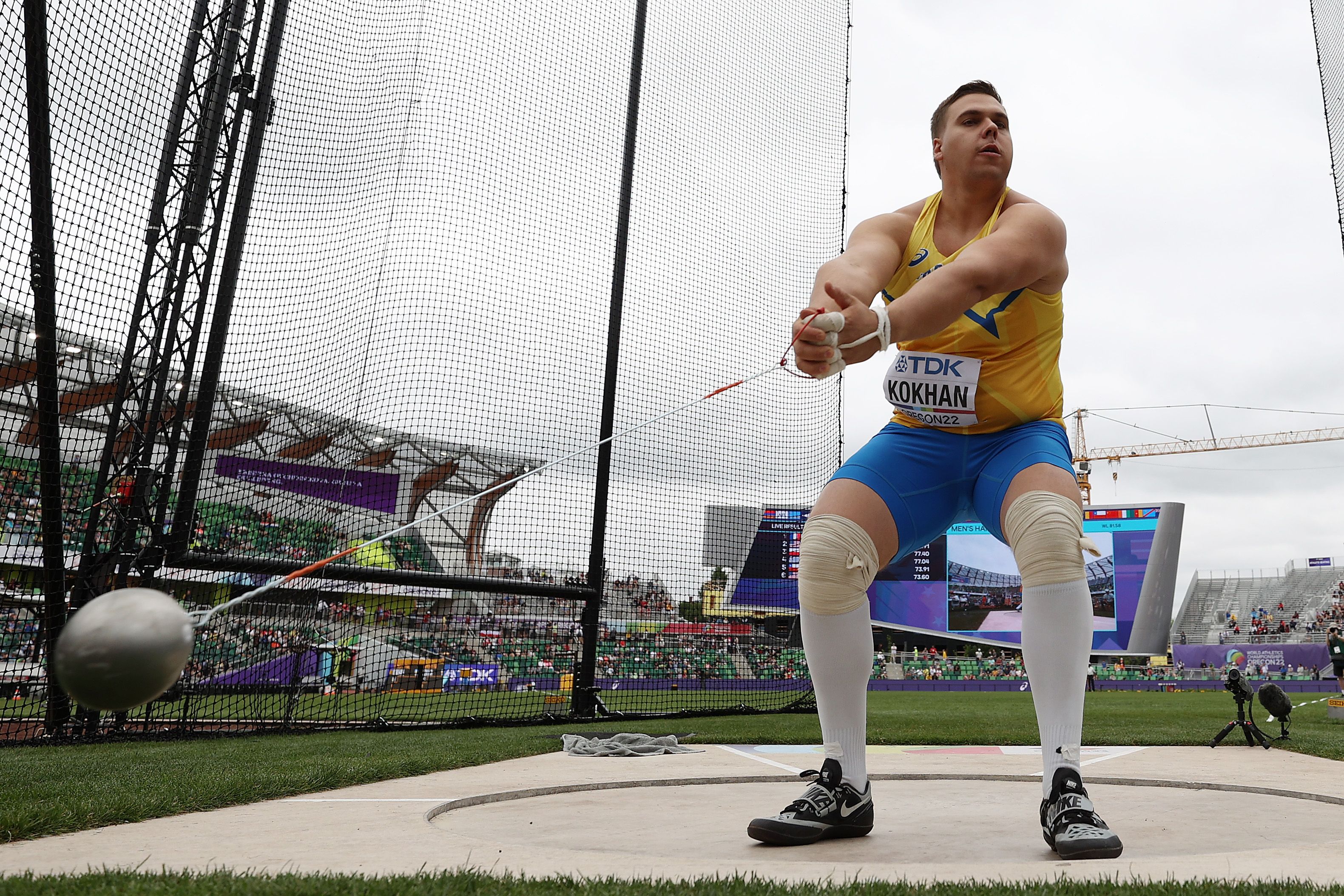 Mykhaylo Kokhan in Oregon (© Getty Images)
USA's Winkler finished seventh at the Tokyo Olympics and sixth at last year's World Championships on home soil in Oregon, but this season he sits second on the world top list behind Nowicki with his 80.88m throw at the USATF Throws Festival in Arizona in May.
Ukraine's 22-year-old Kokhan set his PB of 80.78m in Szekesfehervar in 2021 and he recorded 79.37m – his farthest throw in two years – to win again in the Hungarian city last month. That performance came three days after Kokhan's European U23 title win in Espoo and he will be hoping for more success on his return to Hungary as he targets a first senior world medal after his world U18 gold in 2017 and world U20 silver in 2018.
Bence Halasz carries home hopes. The Hungarian 26-year-old, who claimed world bronze in Doha in 2019, finished fifth in Oregon last year and set his PB of 80.92m when finishing second to Nowicki at the European Championships last August. He has a best of 78.27m in 2023, achieved in his most recent competition – on home soil in Szombathely – on 30 July.
One place above him on the entry list is Ethan Katzberg, who threw a PB of 78.73m to win the Canadian title at the end of July. Along with Fajdek, who has a best of 78.10m in 2023, Mexico's Diego del Real and Denzel Comenentia of the Netherlands have also surpassed 78 metres so far this year, with respective marks of 78.05m and 78.01m.
Women's hammer
Timetable | world rankings | 2023 world list | world all-time list | how it works
In May Brooke Andersen became the third athlete in history to surpass 80 metres in the women's hammer, throwing 80.17m in Tucson. Now the 27-year-old aims to become the third athlete in World Athletics Championships history to become a multiple gold medallist.
Andersen claimed her world crown with a 78.96m throw on home soil in Oregon, winning by more than three metres ahead of Camryn Rogers. But Rogers is also in PB form in 2023 and threw a Canadian record of 78.62m in Los Angeles in May.
Andersen has this season's top five winning performances to her name, backing up her 80.17m with marks of 79.80m, 78.79m, 78.69m and 78.65m, and she has won all bar one of her 10 competitions. Rogers has six of the top 12 this year and has also contested 10 competitions so far, winning eight of them. One of those wins was at the Los Angeles Grand Prix on 26 May, when she handed Andersen her single defeat.
Sitting ahead of Andersen on the world all-time list are world record-holder Anita Wlodarczyk, who threw 82.98m in 2016, and her US compatriot DeAnna Price, who recorded 80.31m in 2021.
Both Wlodarczyk and Price are also in action in Budapest. For Wlodarczyk, who has four world titles and three Olympic gold medals to her name, it is a return to the world stage after she missed last year's edition in Oregon due to injury sustained while apprehending a thief who had broken into her car.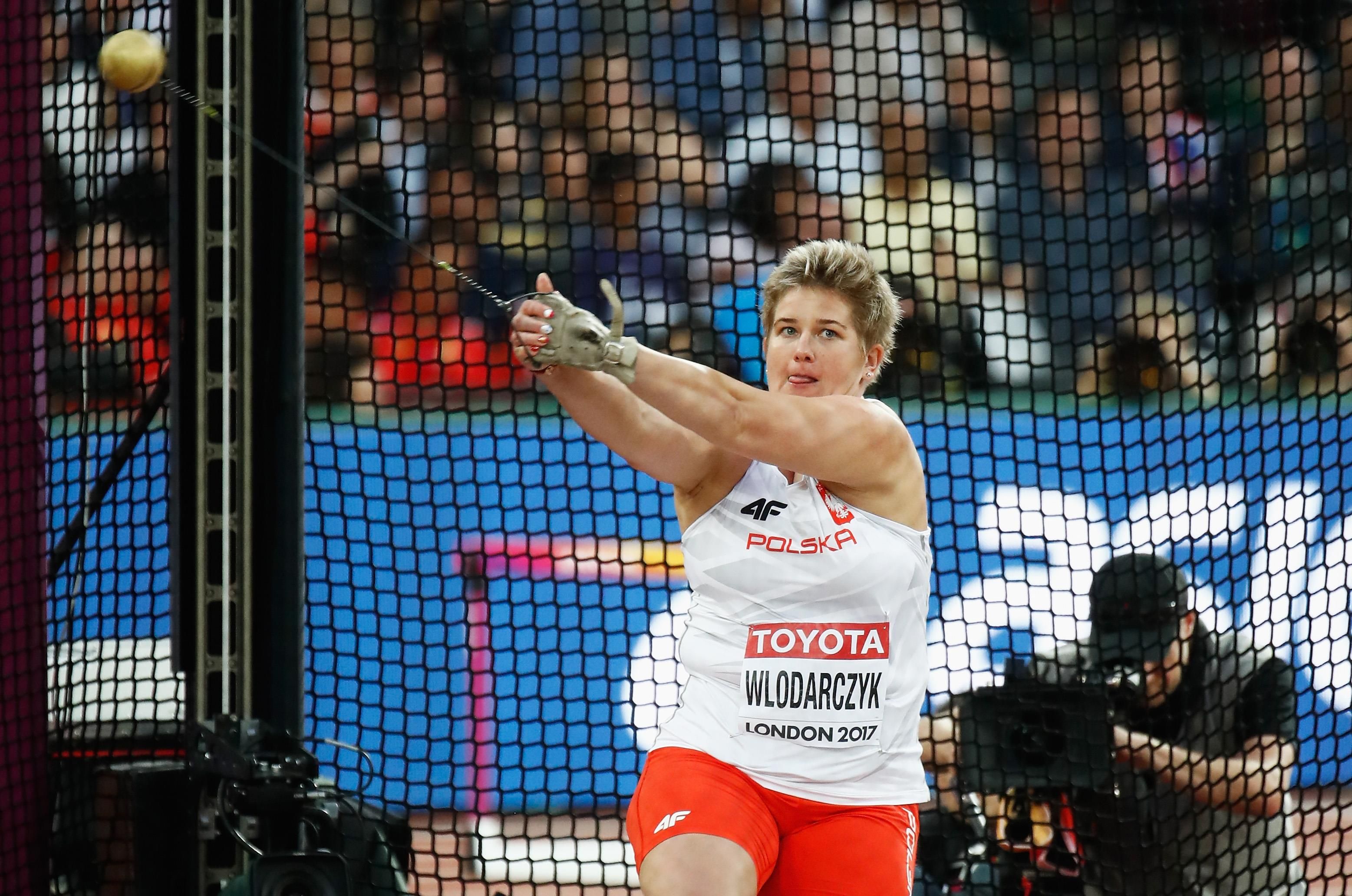 Anita Wlodarczyk in action in the hammer in London (© Getty Images)
Price sits third on this season's top list with the 78.18m throw that got her the runner-up spot behind Andersen at the US Championships and she also has the chance to become a multiple world gold medallist following her 2019 victory in Doha. In Doha she took the title ahead of Poland's Joanna Fiodorow, who is now coach to men's Olympic champion Wojciech Nowicki, and China's Wang Zheng.
That is one of three world medals claimed by Wang so far and the 35-year-old, who also claimed Olympic silver in Tokyo, will be looking to improve on her season's best of 74.12m to again put her in medal contention.
Wlodarczyk is one place ahead of Wang on the entry list, the Polish legend having thrown 74.81m in Banska Bystrica on 20 July.
USA's Janee' Kassanavoid claimed bronze in Oregon and will be aiming for the podium again. She goes into the competition at No.4 on this season's top list with a best of 76.60m from May.
Jillian Shippee is the fourth member of the US team in Budapest and she has thrown a 74.93m PB this year.
Finland's 20-year-old Silja Kosonen claimed the world U20 title in 2021 and she contests her second senior World Championships after finishing seventh on her debut in Oregon last year.
Jess Whittington for World Athletics