Ryan Crouser and Chase Ealey (© Getty Images)
Men's shot put
Timetable | world rankings | 2023 world list | world all-time list | how it works
Ryan Crouser is an enigma.
The last time the US shot putter recorded a throw that was shorter than 22 metres was in April last year. Since then, he's broken his own world record and currently owns 17 of the 21 throws beyond 23 metres.
And unfortunately for his rivals, the 30-year-old insists he's still got a lot left in his tank.
When Crouser recorded his historic performance at the USATF Los Angeles Grand Prix in May by setting a world record of 23.56m, improving on his mark of 23.37m from 2021, the two-time Olympic champion stated: "I'm really excited because it didn't feel polished. It felt like I had a tonne of power and I caught a big one."
One can only wonder what a 'polished' throw from the defending world champion would look like, but that's for his rivals to find out.
Crouser led the US to their first ever shot put sweep in Oregon last year, taking the crown with a championship record of 22.94m, with 2019 world champion Joe Kovacs taking silver, and Josh Awotunde (22.10m) the bronze. Thanks to Crouser's wildcard as defending champion, the USA will field four men in the shot put, so their chances of another medal sweep will be improved with the inclusion of Payton Otterdahl.
The battle for medals will be intense, though. Two-time gold medallist Kovacs comes with a season's best of 22.69m set during his first outdoor competition in 2023. Tom Walsh, meanwhile, has a best of 22.58m, but the New Zealander has finished ahead of Kovacs in three of their four clashes this season. Having finished fourth in Oregon last year, Walsh will be keen to make it back on to the podium.
Joe Kovacs in Oregon (© Getty Images)
His compatriot Jacko Gill has reached the final at the past six global championships, and after setting a PB of 22.12m earlier this year, the 28-year-old should fancy his chances of improving on his seventh-place finishes from 2019 and 2022.
Jamaica's Rajindra Campbell sits in fourth on the world lists with the national record of 22.22m he set in Madrid, more than two metres farther than his pre-2023 best. The 27-year-old has the ability to compete for medals, but this will be his first global championships.
Earlier this month, Olympic fifth-place finisher Zane Weir posted a PB of 22.15m to win in Vicenza. His teammate Leonardo Fabbri beat Walsh and Tomas Stanek at the Rome Diamond League with 21.73m, and improved his season's best to 21.81m two weeks later. The Italian duo will hope to put up a formidable performance in Budapest.
World indoor champion Darlan Romani, the last man to beat Crouser at a major championships, has competed just once this year, throwing a best of 21.58m. But the Brazilian has finished in the top five at the past six global championships he has contested, so can never be ruled out.
Stanek, the 2021 European indoor champion, has a best this year of 21.90m, set when taking silver at the European Indoor Championships.
Other potential contenders include European champion Filip Mihaljevic, five-time Mexican champion Uziel Munoz multiple African champion Chukwuebuka Enekwechi and Luxembourg's Bob Bertemes.
Women's shot put
Timetable | world rankings | 2023 world list | world all-time list | how it works
One year on from Chase Ealey winning her country's first world title in the women's shot put, the US squad heads to Budapest with strong medal chances once again.
Ealey has been working on a new technique this year, which she hopes will be the key to her improving on her PB of 20.51m. While she has been working on ironing out the kinks of her throw, she has lost some of the consistency she enjoyed in 2022 when she was undefeated for the entire outdoor season.
Nevertheless, she remains one of the best throwers in the world, and she goes into Budapest with the second-best mark in the world this year.
Teammate Maggie Ewen goes to Budapest as the world leader and perhaps the most consistent performer on the circuit, having finished in the top two in eight of her past nine competitions. She smashed her PB with 20.45m in Westwood in May, then went on to win the US title in Eugene.
Ewen finished fourth at the 2019 World Championships and fifth at last year's World Indoors, but it looks as though she could finally claim her first global medal in Budapest.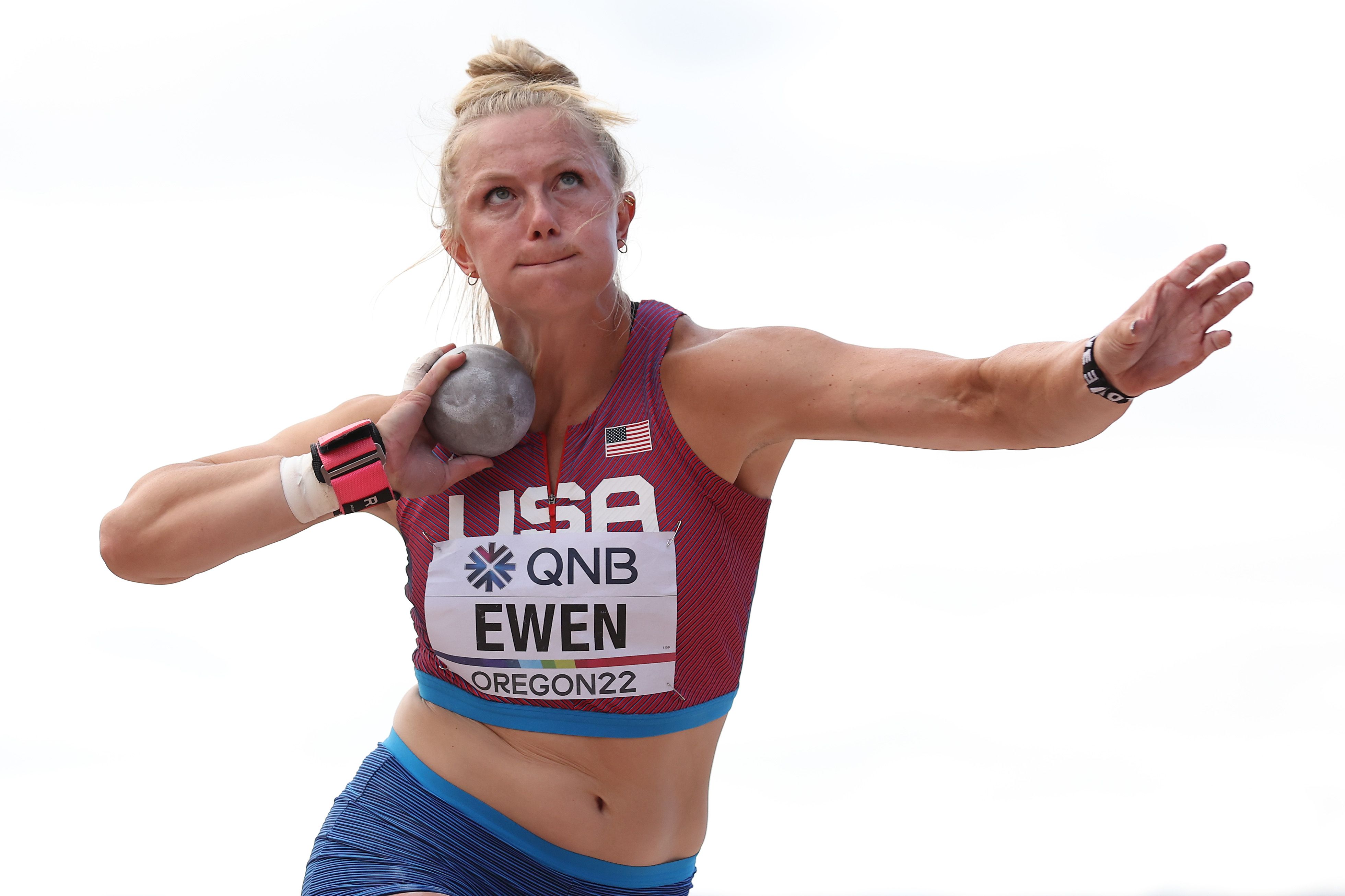 Maggie Ewen at the World Championships (© Getty Images)
Ealey and Ewen have gone head-to-head in 10 meetings this season (indoors and outdoors) and tied at 5-5. Teammates Adelaide Aquilla and Jalani Davis will also aim to impress.
With 12 global medals to her name – including two world titles and an Olympic gold – Gong Lijiao is the most decorated athlete in the line-up. She hasn't competed outside of China so far this year, but has displayed good form with a season's best of 20.06m at the end of June.
Teammate Song Jiayuan, a world and Olympic finalist in recent years, heads to Budapest off the back of victories at the Asian Championships and World University Games.
Portugal's Auriol Dongmo has also enjoyed a strong season so far, winning at the Diamond League meetings in Rabat and Paris. Having finished fourth in Tokyo and fifth in Oregon, the world indoor champion will have a strong desire to win her first outdoor global medal.
In Oregon last year, Jessica Schilder of the Netherlands beat Canada's Sarah Mitton to the bronze medal on countback, both throwing 19.77m. Mitton then went on to win the Commonwealth and NACAC titles. Mitton has thrown consistently beyond 19 metres this year, while Schilder has managed that feat just twice outdoors.
Danniel Thomas-Dodd, the world silver medallist in 2019, has this year improved her own Jamaican record to 19.77m. She followed that with 19.66m two weeks later, the second-best mark of her career, and then won at the Diamond League meeting in Stockholm.
Fanny Roos, the fourth-place finisher at the 2022 World Indoors, is joined on the Swedish team by NCAA champion Axelina Johansson, the rising talent who has this year broken Roos' national records, indoors and outdoors.
Germany, meanwhile, will be represented by Yemisi Ogunleye and Sara Gambetta, both of whom have surpassed 19 metres for the first time this year.
Yemi Olus-Galadima for World Athletics