Check out these currently active contests, events, or newest activity additions! For all currently available activities and resources visit the Activity Library.
Take Part in the Summer Read-athlon!
May 16- Summer Break

Need some inspiration for encouraging your kids to read this summer? Join the Making Tracks Read-athlon, a challege to read at least 10 minutes a day this summer, kicking of May 16th!
CHOOSE FROM 3 WAYS TO TRACK YOUR MINUTES READ:
1) Paper Activity- Download the printable read-athlon brochure here, print, and start tracking your reading minutes! (Printing on 11x17 inch paper recommended).
2) Digital File Activity- To track your minutes on a digital copy of the read-athlon activity brochure, download the fillable .pdf version of the read-athlon brochure here.  Download the file and save your OWN copy on your device in order to fill it in. Continue to track your minutes on your copy and don't foreget to re-save it every time you add more minutes!
3) Digital Beanstack Challenge- We have worked with the Eugene 4J School District to also create a version of the read-athlon challenge in Beanstack! f you are a Eugene 4J educator or parent using Beanstack, join the Beanstack Challenge! Sign in with the Clever app and your Clever badge then click on the Beanstack icon on the Clever homepage, or from your computer using the 4J Clever link under the 'Student" tab on the 4J website. If you need help accessing please contact us at makingtracks@worldchampsoregon22.com.
GET YOUR READ-ATHLON OFF TO A STRONG START AND ALSO ENTER TO WIN A PRIZE FROM MAKING TRACKS!
Independent Reading Contest:
Open to any K-12th grade youth located in Oregon. 
Can you read at least 10 minutes a day to log 200 minutes of reading by July 5th? Begin logging your individual reading minutes on or after May 16th using our Summer Read-athlon tracking map (print or digital version available) or in Beanstack. Read 200 minutes by July 5th and submit proof of your minutes read via photo/screenshot of your activity brochure or Beanstack to be entered into a drawing to win one youth and one adult chaperone ticket to the opening session of the World Athletics Championships Oregon22 on the morning of July 15, 2022 at Hayward Field at the University of Oregon! Multiple drawing winners will be selected! Contest entry submission form here!

Making Tracks to Careers in Sports, A Webinar with WCH Oregon22 
Streamed Live on May 25, 1-2 pm PST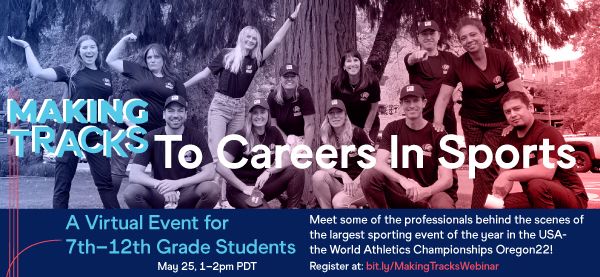 It takes thousands of employees and volunteers working together behind the scenes to present an event like the World Athletics Championships. Professionals in event management, marketing, finance, technology, security, medical, media, health and sports medicine, and more will all come together to bring the 10-day event to life for over 2,000 athletes from around the world!
In this free virtual webinar presented by Making Tracks, we heard from a variety of members of the Oregon22 Local Organizing Committee about their current and past experiences making a career connected to sport and what it is like to work for a global sporting event! Find our panelist and their bios here and hear about their roles within Oregon22 in an introduction video here. 
Missed the event? No worries! You can view the webinar recording here.