Check out these currently active contests, events, or newest activity additions! For all currently available activities and resources visit the Activity Library.
Take Part in the Summer Read-athlon!
May 16- Summer Break

Need some inspiration for encouraging your kids to read this summer? Join the Making Tracks Read-athlon, a challege to read at least 10 minutes a day this summer, kicking of May 16th!
CHOOSE FROM 3 WAYS TO TRACK YOUR MINUTES READ:
1) Paper Activity- Download the printable read-athlon brochure here, print, and start tracking your reading minutes! (Printing on 11x17 inch paper recommended).
2) Digital File Activity- To track your minutes on a digital copy of the read-athlon activity brochure, download the fillable .pdf version of the read-athlon brochure here.  Download the file and save your OWN copy on your device in order to fill it in. Continue to track your minutes on your copy and don't foreget to re-save it every time you add more minutes!
3) Digital Beanstack Challenge- We have worked with the Eugene 4J School District to also create a version of the read-athlon challenge in Beanstack! If you are a Eugene 4J educator or parent using Beanstack and need help accessing, please contact us at makingtracks@worldchampsoregon22.com.
GET YOUR READ-ATHLON OFF TO A STRONG START AND ALSO ENTER ONE OF THESE CHANCES TO WIN A PRIZE FROM MAKING TRACKS!
Classroom Contest:
Open to K-8th grade classrooms in Lane County, Oregon.
How many minutes can your class read together by June 3rd? Log your collective minutes read as a class in Beanstack or using the Summer Read-athlon activity brochure (print or digital version) between May 16th and June 3rd. Submit proof of minutes read via photo/screenshot of activity brochure or Beanstack by 11:59 pm PDT on Monday June 6th to be entered into contest. Your collective number of minutes read will be divided by the number of students in your class to determine an average minutes read per student. One winning classroom (classroom with the highest average minutes read per student) will be selected in each of these three categories: K-2nd grade class, 3rd-5th grade class, and 6th-8th grade class to win a visit to your class from a special guest. Contest entry submission form will be posted here begining May 23rd.
Independent Reading Contest:
Open to any K-12th grade youth located in Oregon. 
Can you read at least 10 minutes a day to log 400 minutes of reading by July 1st? Begin logging your individual reading minutes on or after May 16th using our Summer Read-athlon tracking map (print or digital version available) or in Beanstack. Read 400 minutes by July 1st and submit proof of your minutes read via photo/screenshot of your activity brochure or Beanstack to be entered into a drawing to win one youth and one adult chaperone ticket to the opening session of the World Athletics Championships Oregon22 on the morning of July 15, 2022 at Hayward Field at the University of Oregon! Multiple drawing winners will be selected! Contest entry submission form will be posted here begining May 23rd.
POSTCARD CONTEST! Win a Visit to Your Classroom or After-School Program from the WCH Oregon22 Mascot! 
Entry deadline:  May 24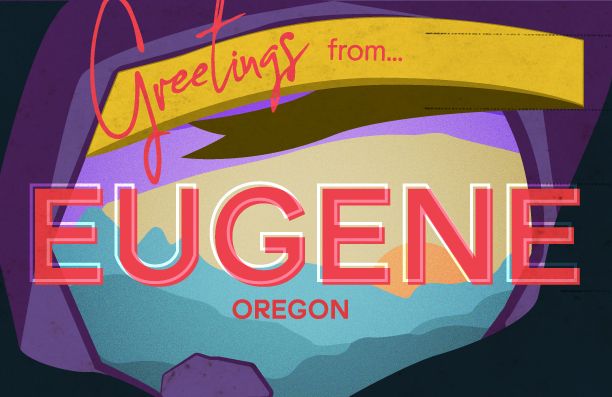 Are you ready to meet the mascot of the World Athletics Championships Oregon22? Rumor has it that they will emerge from their cave this summer, but maybe you can help us coax them out a little sooner… We're planning a one-of-a-kind tour of Oregon for our mascot. Should your hometown and school be a stop? Send us a postcard from your community for the chance to win a WCH Oregon22 mascot visit presented by the Making Tracks Youth Engagement Program to your K-8th grade classroom or after-school program!
How to Participate:
·       Download this postcard template to distribute to your students.
·       Print the template to be filled in by hand with illustrations and a written message, OR fill in the template digitally by clicking on the spaces to upload photos and text (Adobe Acrobat Reader will be needed to fill in digitally).
·       In the postcard message space, tell us what the mascot could see or experience if they visited your hometown! What makes your hometown a special place to call home?
·       Submit your class/group postcards and enter to win here! For digital postcards, once you have filled in the template, save it as a .pdf or .jpeg, and upload it to the online entry form. For printed and hand written postcards take a photo of both sides and upload the photos to the online entry form.
Entry form must be submitted by a school or program representative to be considered for the prize of a mascot visit. you may enter one to six postcards to represent your class or group. Contest open to schools and after school programs in Oregon primarily serving k-8th grade students. Mascot visits will take place May 26-June 17. If your class is a selected, you will be contacted between May 20 -24 to confirm and schedule your site visit!

FREE VIRTUAL EVENT FOR 7th-12th GRADE STUDENTS! Making Tracks to Careers in Sports, A Webinar with WCH Oregon22 
 May 25, 1-2 pm PST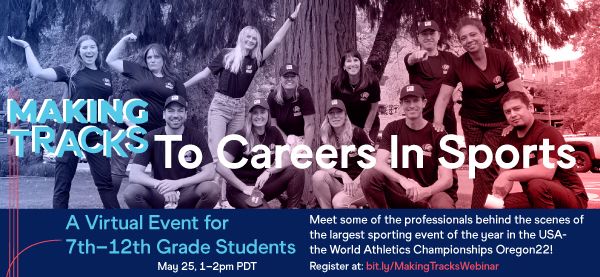 It takes thousands of employees and volunteers working together behind the scenes to present an event like the World Athletics Championships. Professionals in event management, marketing, finance, technology, security, medical, media, health and sports medicine, and more will all come together to bring the 10-day event to life for over 2,000 athletes from around the world!
In this free virtual webinar presented by Making Tracks, hear from a variety of members of the Oregon22 Local Organizing Committee about their current and past experiences making a career connected to sport and what it is like to work for a global sporting event! Find our panelist and their bios here and hear about their roles within Oregon22 in an introduction video here. It is recommended that you review the panelist material before the event.