U20 Athlete Refugee Team athletes with coach Arcade Arakaza in Kapsabet
To mark World Refugee Day on Tuesday (20), World Athletics highlights the courageous path taken by four determined young refugee athletes whose lives have been transformed through the U20 refugee programme.
Not too long ago, Alice Samuel Ilam, Esterina Julius Irino, Jean Mfite-Umukiza Jules and Perina Lokure Nakang were afflicted by poverty, living in substandard housing, and surviving as best as could be expected in the arid average 40°C Kakuma Refugee Camp in northern Kenya.
Today, they see a light at the end of the tunnel in their new boarding school, the All4Running Shoes4Africa Secondary School in the agricultural town of Kapsabet, Kenya. The contrast is not just in the landscape but also in their persona, which has been interesting to observe particularly in the eyes of their mentor, assistant coach and confidant, Arcade Arakaza. He is the man that has stood by them from the beginning of their athletics careers and continues to coach five fellow refugee athletes still training in the camp.
Although a drop in the ocean, the World Athletics U20 refugee programme is a catalyst of hope and opportunity for young people in refugee camps. The programme is a partnership between World Athletics, the African Higher Education in Emergencies Network and Youth Education and Sports (YES). The inaugural group left behind overcrowded classes of 80 to 100 students, each coming with their own level of education. Their new environment offers many advantages: smaller classes (12 to 25), higher academic standards, greener fields, cooler temperatures, three meals a day (a luxury for some who used to go to bed hungry) and, from the social angle, an opportunity to integrate with their Kenyan peers.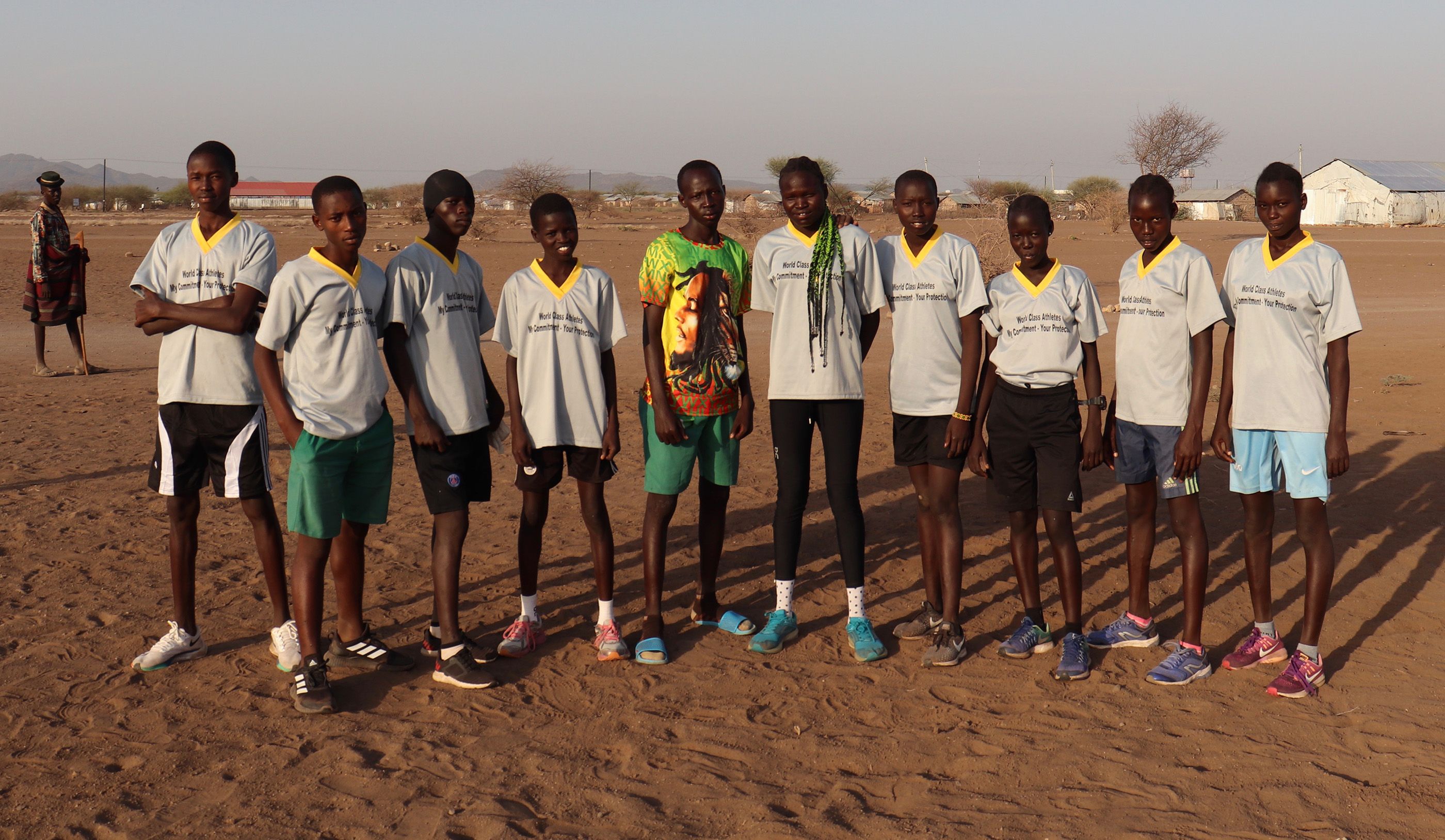 The first U20 refugee team selection in Kakuma in February 2022
It has not been an easy transition, considering their personal traumatic journeys, the adjustment to a boarding school structure including the discipline and rules that go with it, and, of course, leaving their families behind. But it is a golden opportunity where World Athletics is offering schools fees, full board, school uniforms, training and competition kits, professional coaches, coaching materials, a nutrition programme, and local, regional, or international competition opportunities.
It is a happy group, one that enjoys learning and appreciates the time available for training with U20 head coach, Janeth Jepkosgei Busienei. In a short span of time, their English and Swahili (the national language in Kenya) have already considerably improved thanks to joint efforts of the project's innovative combination of online and on-site learning support. They have gained confidence, improved their communication skills and made new friends. When asked what their current needs are, at the top of the list are sports and everyday shoes, more competition opportunities and interestingly, English and Swahili dictionaries. David Langat, one of their teachers, describes them as good students that have integrated well. Perina has become a star due her brilliant performances in the 800m and 400m, boosting her new school to rank third at a recent regional competition.
This weekend, Arakaza successfully coached his team of Kakuma-based refugee athletes at the Lake Turkana Half Marathon, where they ran the 5km. For the first time ever, all of them came back with prize money. With rations in the camp limited, it meant they could help their parents with food.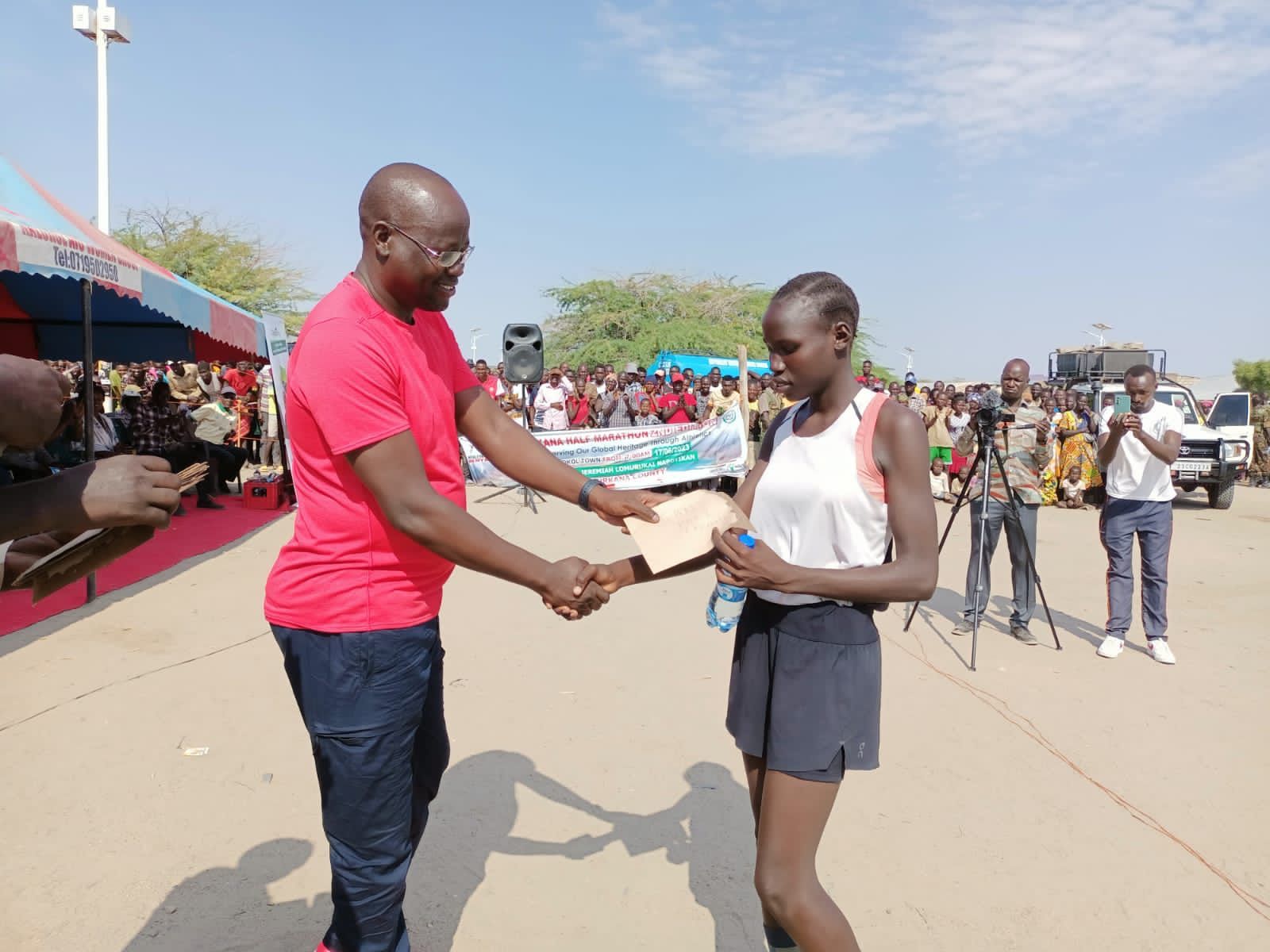 Zinad Joseph receives her prize money
Coach Arakaza, who is a refugee himself, says: "It is not about me but about them. If I can help even just one of them to have a better future, I am fulfilled."
Football dominates refugee camps, yet there is room for more sports to engage as there is no physical education (PE) in schools. There is recognition that sport is important for the physical and mental wellbeing of youngsters in the camp, but there is also a need for professional coaches at grassroots level. So Arakaza is grateful to World Athletics and the African Athletics Development Centre in Nairobi for sponsoring him and five other refugee and non-refugee members of the World Athletics-AHEEN partnership last year to enable him to participate in the level 1 coaching training course, Kids' Athletics training in March this year and, soon to come, level 2 coaching courses before the end of 2023. He is adamant that "refugee athletes can be champions; they only lack competitions and exposure."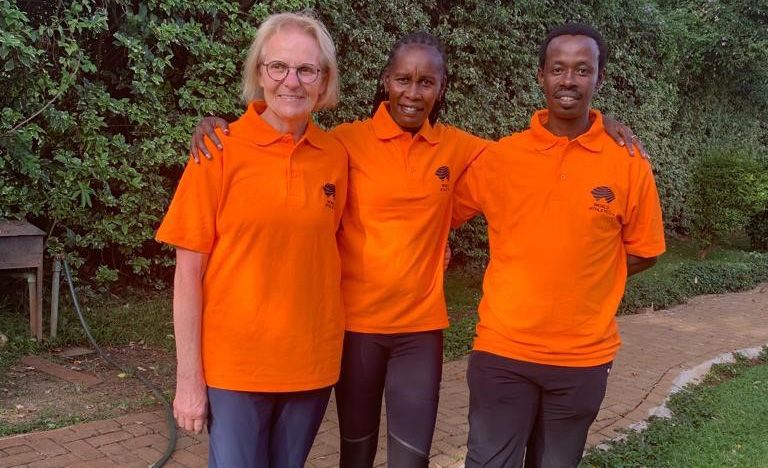 Barbara Moser Mercer, Janeth Jepkosgei Buisenei and Arcade Arakaza, who head the U20 refugee programme
Standing six feet tall with an ever-present smile and trimmed moustache, Arakaza is a man of multiple talents. A former amateur 200m runner, he is also a telecommunications major, gym instructor and blue belt karateka. He recently created his own website and is fluent in French, English, Swahili and his native Kirundi. In short, he describes himself as "a motivational and change partner with the purpose to empower, inspire and guide youth in their transition."
He and his wife Mugisha Anitha are parents to five-year-old Abielle Hadassa and two-year-old Tiana Arianna, both born in Kakuma where Arakaza arrived in 2016 after fleeing his native Burundi. First he went to Uganda and then to Kenya. Arakaza recently received news that his mother and five family members were unjustly imprisoned. After seeing posts from Arakaza about it on social media, a human rights organisation intervened and all were released. Arakaza has contemplated returning home, however this latest incident shows that his life is still in danger.
On a normal working day in Kakuma, Arakaza wakes up at 5:40am and arrives at the sports field at 6:25am for 40 minutes of coaching the U20 athletes. The athletes then head to school while Arakaza returns home for breakfast before going to his office at YES until lunchtime, and then returning home due to the heat. At around 5:30pm, he leads an hour session of gym for nationals working at the camp and then retires for the day.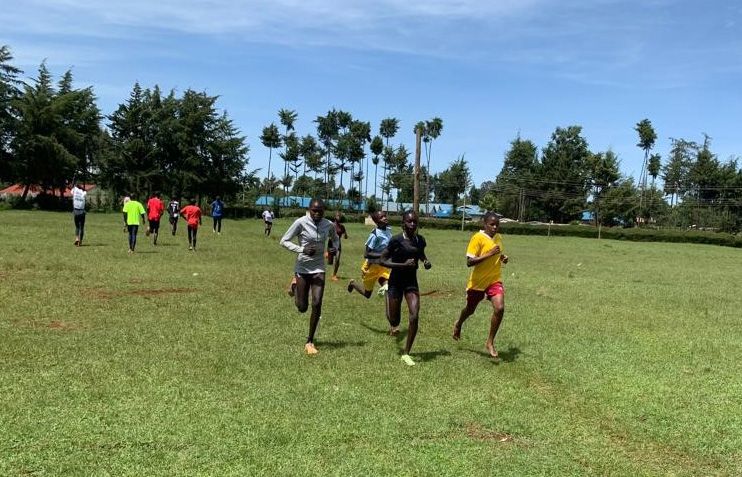 Athlete Refugee Team athletes training in Kapsabet
As we mark World Refugee Day in 2023, we salute our inaugural group of four brave young refugee athletes who are trailblazers for others to follow. We also recognise Arakaza who, though working far from the limelight in difficult conditions, is a key pillar in our U20 refugee programme.
Resilient, he remembers once being told by his mentor when he arrived at the camp: "What you have can still help the community, do not overlook it." Let us continue to support 'silent' heroes like Arakaza and keep the light shining at the end of the tunnel.
Alice Annibali for World Athletics

According to the UNHCR, the number of displaced or stateless population is estimated at 117.2 million. Source: UNHCR