Air quality monitor at Hayward Field (© Dan Vernon)
Last year at the USA Olympic Trials in Eugene, an unprecedented heat wave scorched the Pacific Northwest, causing the original schedule to undergo multiple changes. At the same time, the country's largest wildfire raged through southern Oregon.
Wildfires have plagued the state through recent summers and left Oregonians to deal with smoke and air quality issues. It's an issue that affects the entire state, and the concern grew as the World Athletics Championships Oregon22 neared.
In addition to being the first World Athletics Championships in the United States, it is also the first time the competition has been held in an area that annually deals with forest fires and wildfire smoke. That combination lent itself well to a project that put air quality monitoring sensors at Hayward Field to help researchers reach a deeper understanding of the impacts of air quality on preparation and planning of large events.
"It was a natural collaboration," said Paolo Emilio Adami, the medical manager of the World Athletics Health & Sciences Department, of the year-long partnership between World Athletics and the University of Oregon.
"The sort of work that the University of Oregon environmental sciences department is doing around wildfires and smoke — it's something that complements what we're working on. And it's something that we have never investigated because we've never faced the situation of having an event where smoke and wildfires are so relevant."
The purpose of the monitors is multi-faceted, according to Heidi Huber-Stearns, a University of Oregon assistant research professor and director of the Ecosystem Workforce Programme at the university's Institute for a Sustainable Environment. Huber-Stearns said the monitors, which scan for a variety of pollutants and gasses, allow researchers to collect real time data before, during and after events at Hayward Field. This reaches a greater understanding of the air quality at a given time which can then be shared with the public.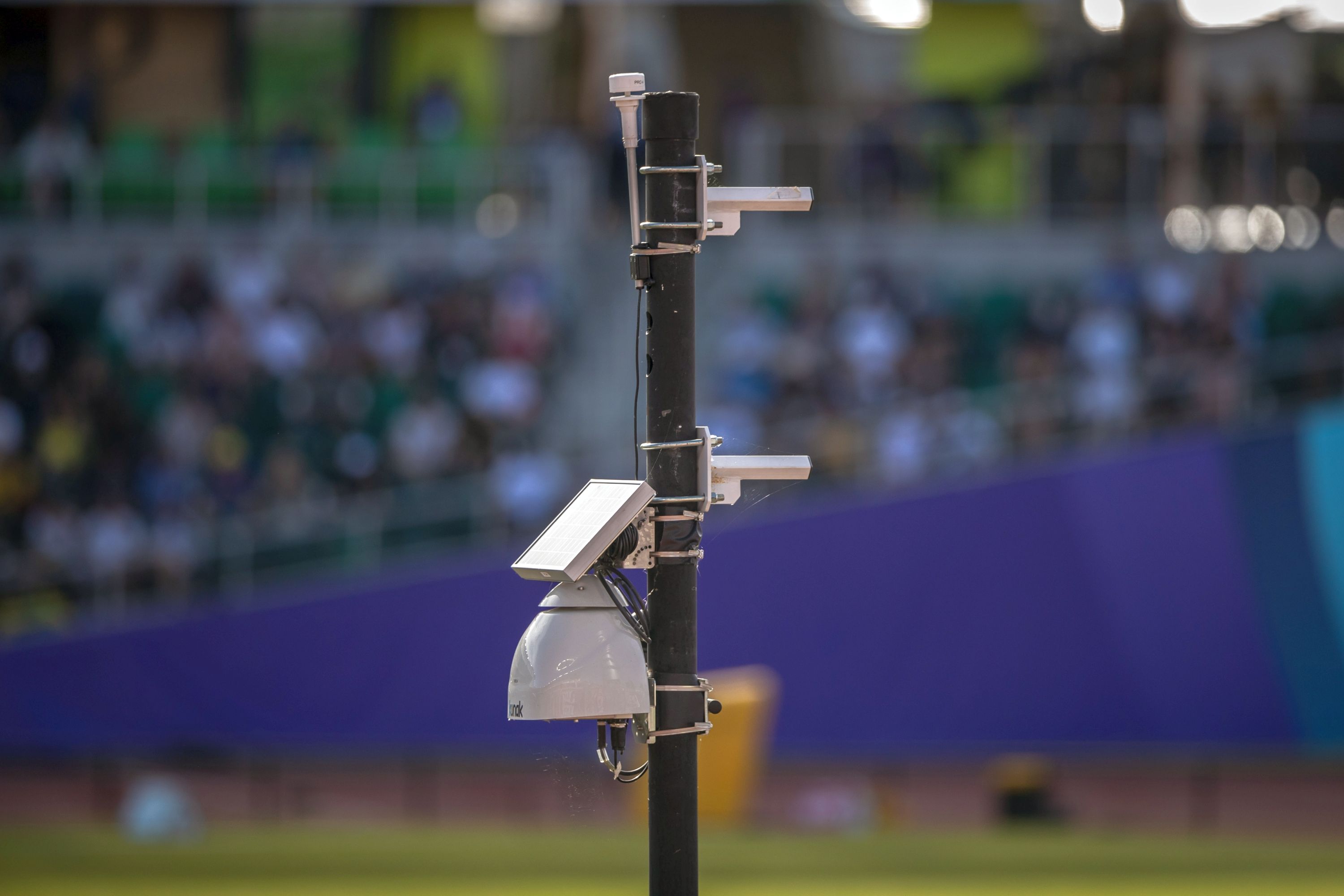 The research is also helping the University of Oregon team learn more about the type of information and resources people would need prior to attending events where poor air quality could have an impact. Huber-Stearns said this includes athletes, event attendees and event staff. The research includes finding new ways to inform people about air quality and creating plans to better equip them for poor air quality events when they happen.
"The other piece that is increasingly important - locally, as well as globally – is that we see air quality impacts affecting athletic events around the globe, from Athens to Australia and Beijing," said Huber-Stearns. "We've seen this affect sporting events in California as well as here in Oregon, and so we're trying to think about ways to deal with not just athletic events, but other outdoor events and air quality concerns."
The university has also been applying its research to the broader Eugene community, such as rural communities like Oakridge, about 65 kilometres southeast, that deal with controlled burning, and a year-round set of issues with air quality.
This marks the first year the World Championships has been hosted on a research campus. It allows the university and World Athletics to combine their research, with each organisation bringing its own area of expertise, and applying it to a local event.
"We think one of the other things that's really exciting about this is there's a lot of value in having a World Athletics event on a research campus," said Huber-Stearns.
Adami said that having a complete overview of air pollution impact is only a small part of World Athletics' commitment to sustainability and its sustainability strategy, which was published in 2020.
"All the data collected is transferred on an online platform," said Adami. "We're able to monitor live data from all the devices that we have installed all over the world in locations that will host a world championship."
Elias Esquivel for World Athletics