The Oslo Bislett Games offers one of our sport's best examples of sustainable delivery
Since World Athletics launched its sustainability strategy in 2020, a large part of our work has centred around efforts to reduce the environmental impact of our events, to strengthen their social impact and to involve other stakeholders in our efforts to use the sport of athletics to create a better world.
In 2021 we developed and released two tools to help organisers deliver more sustainable events - a Sustainable Events Management System available in 16 languages, which offers best practice guidance that covers 15 key areas of event planning and delivery, and our Athletics for a Better World Standard, a certification that measures and scores an event's achievement in sustainable delivery in alignment with our sustainability strategy. Organisers of our one-day meeting series and Label road race events began piloting the system in 2022, and several more are giving it a go in 2023 ahead of its implementation in 2024.
At the same time, other stakeholders – athletes, sponsors, partners, suppliers and fans – are also becoming increasingly involved in those efforts and their own to have a meaningful impact.
Highlighting some of those efforts and sharing some of the creative ways that organisers are improving the impact of their events is what will drive this bi-weekly blog that kicks off today with a brief update from our recent behind-the scenes tour of the Oslo Bislett Games, which offers one of our sport's best examples of sustainable delivery.
***
We've highlighted the sustainability credentials of the Oslo Bislett Games in the past, detailing its hugely successful 180 degree turn from its long-time association with a fossil fuel company to the world's most sustainable one-day athletics competition. It's a journey that meeting director Steinar Hoen began in 2017, a foundation he continues to build upon, both at the meeting he directs and at the stadium the Bislett Alliance operates.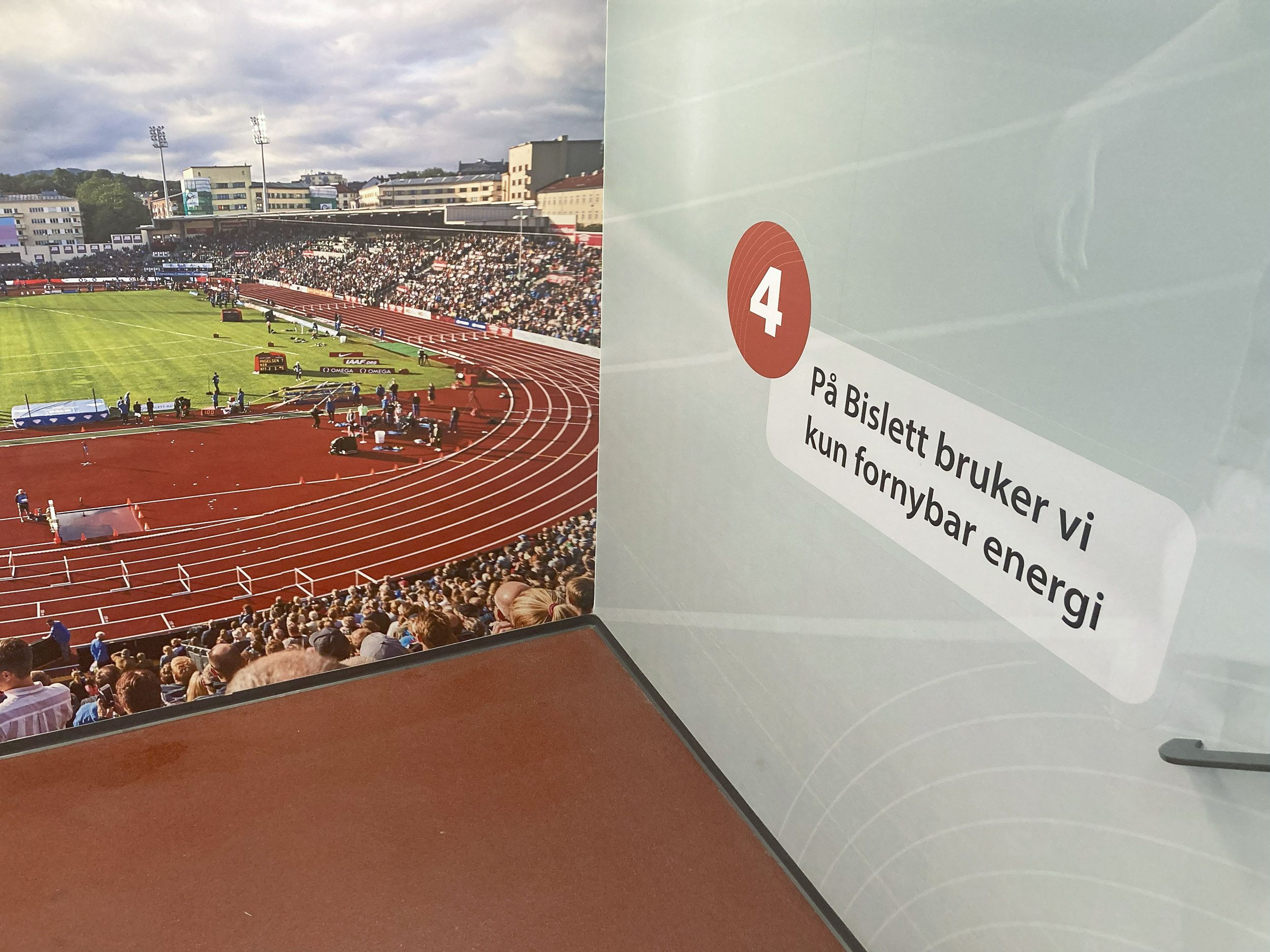 One of Bislett Stadium's sustainability commandments: Pa Bislett bruker vi kun fornybar energi. At Bislett, we only use renewable energyy
At the moment, Hoen is particularly proud of what he calls Bislett Stadium's 'Ten Commandments'. More precisely, the historic stadium's sustainability commandments that greet the hundreds of people who visit and use the stadium facilities each day. Presented as a series of wall coverings that line each side of a descending walkway to the track level, the first sets the tone: Pa Bislett bryr vi oss om baerekraft. At Bislett, we care about sustainability. And next to a larger-than-life photo of a javelin thrower, Spydspiss innen idrett & baerekraft. Spearheading sport & sustainability.
Others include Pa Bislett reiser vi kollektivt, syker eller gar. At Bislett, we travel by public transport, we bicycle or walk. Pa Bislett bruker vi kun fornybar energi. At Bislett, we only use renewable energy. And Pa Bislett star vi for mangfold og inkludering. At Bislett, we stand for diversity and inclusion.
"We rent the stadium to the biggest chains of gyms in the morning for three days a week for special running groups," Hoen says. "After that it's open to the public. We have a lot of public schools who use the stadium for three hours each day because their facilities are very small, so it's used a lot by schools and kids. And when they walk in this is the first thing they see."
Hoen also directed our attention to an updated waste management system that is now in place at the stadium, which includes a refrigerated storage unit for compostable waste. The refrigeration eliminates odour which in turn requires less frequent pick-ups from the waste hauler. Bislett Stadium is powered entirely by renewable energy sources so the unit doesn't add to the venue operation's carbon footprint. Hoen's team also added new collection bins for the event this year at both the track levels and athlete areas.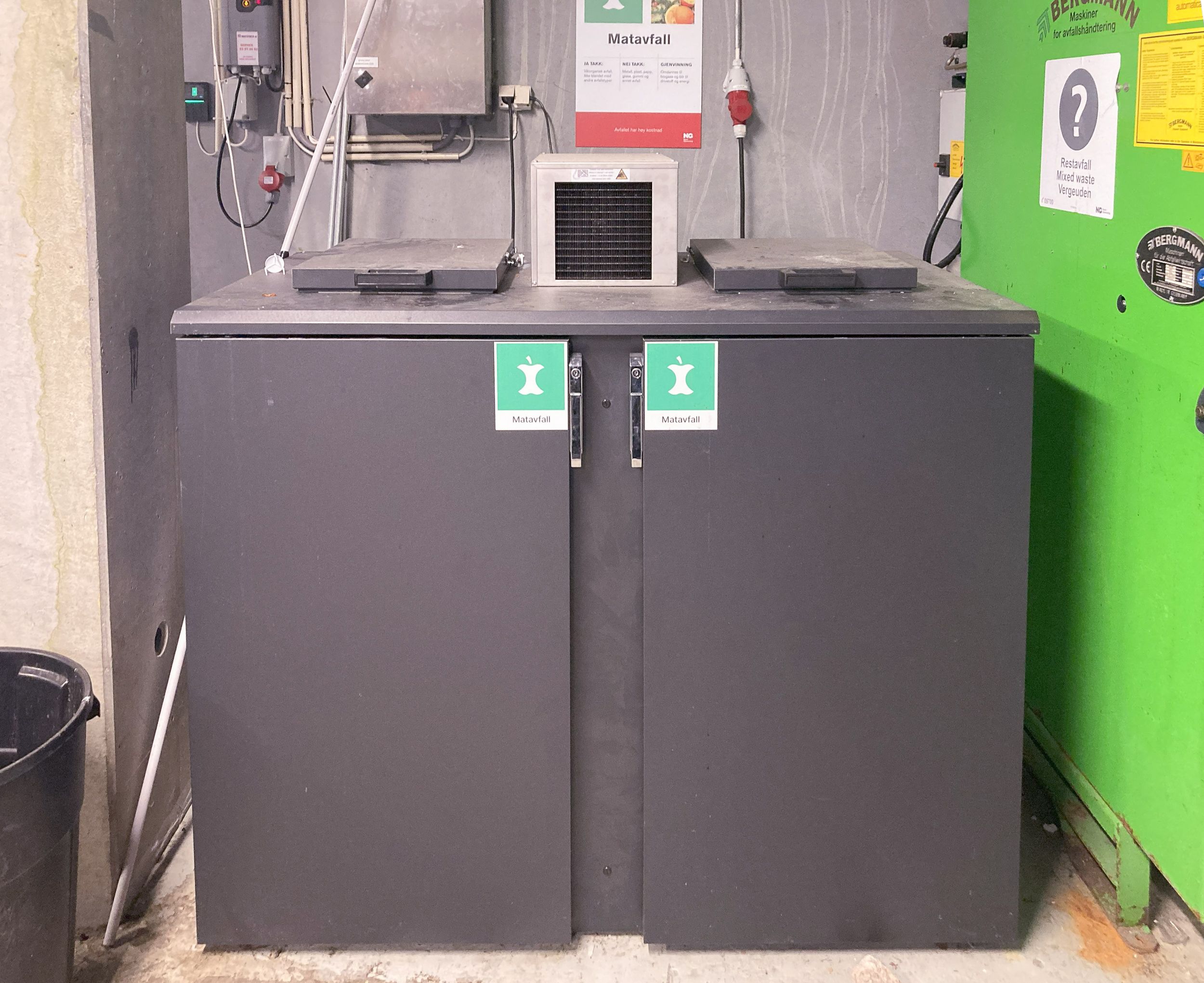 Refrigeration for compostable waste at Bislett Stadium
Over the course of the first three editions (2017-2019) since its shift, the Oslo meeting has managed to reduce its total carbon emissions by nearly 40% and its travel costs by a third. Progress stalled when the pandemic disrupted the 2020 and 2021 editions, but organisers have nonetheless managed to achieve zero emissions on all meeting-related transport in Oslo by using the airport train (all accredited for the meeting are provided with round-trip tickets) and electric cars and buses. Hoen is targeting reductions of 50% next year when the Oslo and Stockholm legs of the Diamond League will fall on the same weekend. Athletes competing at both events will be travel by train, eliminating the need for at least some flights.
***
The world's lowest emission sneaker
There's been a lot of news around running shoe technology in recent years - but have you heard about the world's lowest CO₂e emission sneaker?
That would be the ASICS GEL-LYTE™ III CM 1.95 that the World Athletics World Partner unveiled in 2022 and which will be, upon release later this year, the sneaker with the lowest carbon footprint on the market, emitting, as its names suggests, just 1.95kg CO₂e per shoe across its entire life cycle.
What does that figure mean?
Consider that production of the average running shoe emits about 13kg of CO₂e – about 6.6 times the carbon footprint of the GEL-LYTE™ III CM 1.95 – then you'll see how far ASICS designers and engineers have managed to move the needle.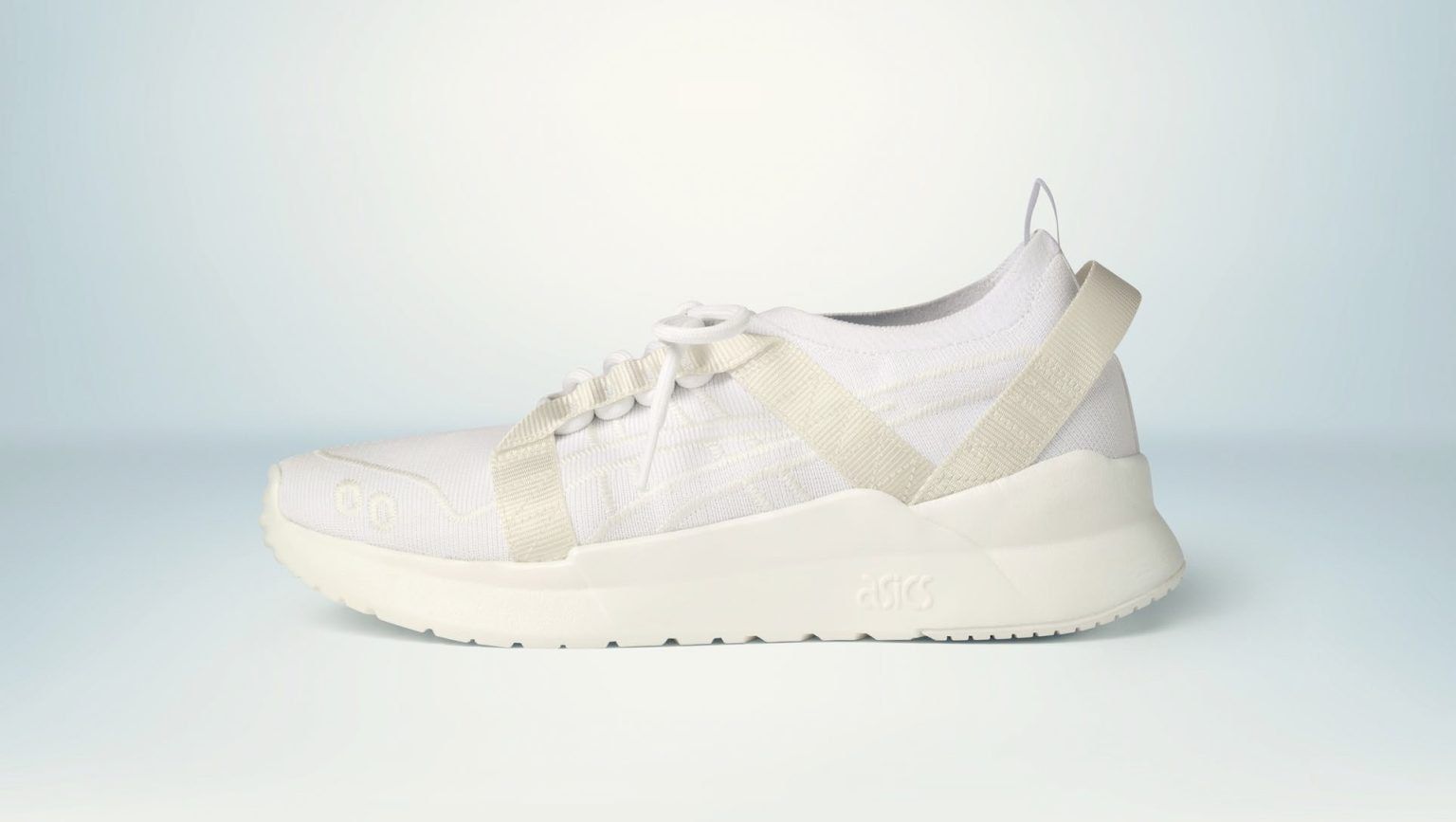 The ASICS GEL-LYTE™ III CM 1.95
The shoe's evolution began in 2010 with a Lifecycle Assessment (LCA) study of a pair of running shoes, conducted jointly with the Massachusetts Institute of Technology (MIT), that considered the potential environmental impacts of the shoes during their entire life cycle - a proverbial cradle to grave analysis.
In the decade since and informed by that research, the ASICS and MIT teams made adjustments and changes to the shoe's design and manufacture, considering the materials used, the transportation of raw materials and finished products, the shoe's ultimate use and where they wind up end-of-life.
The shoe features a midsole and sock liner of a carbon-negative foam that's made from a fusion of bio-based polymers partly derived from sugarcane. Recycled polyester is used in the upper fabric and its innovative 'tape' construction means it requires fewer materials to make, which results in less textile waste. Throughout the manufacturing process, ASICS used 100% renewable energy to keep its footprint even lower.
The shoe is scheduled for release later this year. You can find its carbon footprint report here.



The release of the GEL-LYTE™ III CM 1.95 was among the product highlights mentioned in the ASICS 2022 Sustainability Report that was released last month. It also highlighted other notable strides the company has taken towards reaching its near-, mid- and long-term social and environmental sustainability objectives. Those included:
- The percentage of female managers in the company increased from 33.7% to 38.3% in 2022 to already surpass its goal of 35% by 2023.
- The company developed 'ASICS Human Rights Policy3' and established a Human Rights Committee to define expectations and guidance for its suppliers to ensure ASICS takes responsibility for its impacts throughout the value and supply chains. As part of human rights due diligence, ASICS recognises the impact of purchasing practices on workers in the supply chain and promotes responsible purchase practice to improve suppliers' working conditions.
- Working to achieve net zero emissions by 2050, ASICS reduced the CO2 emissions of its direct operations by 22% compared to its 2015 baseline level. ASICS is also making progress towards its goal of replacing 100% of the polyester used in their products with recycled materials by 2030. More than 30% was replaced in 2022. It's also working more closely with partner factories to implement its Green Procurement Policy, which includes transitions to renewable energy sources.
- And finally, ASICS announced the results of its global 'ASICS State of Mind Index2', which indicates a direct positive link between exercise and mental wellbeing. The research found that just 15 minutes and 9 seconds of movement may be all it takes to begin feeling the mood-boosting effects.
Download the ASICS 2022 Sustainability Report here.
***
Beating the heat
No matter where on the planet you are at the moment, chances are good that you are feeling the heat. The seven hottest days ever recorded all happened last week, according to an analysis by the European Union's Copernicus Climate Change Service, and were quite likely the hottest in the last 125,000 years, according to data from the University of Maine's Climate Change Institute.
As The New York Times reports, the planet experienced the warmest June ever recorded (breaking the previous record set in 2019), "with deadly heat waves scorching Texas, Mexico and India. Off the coasts of Antarctica, sea ice levels this year have plummeted to record lows. And in the North Atlantic, the ocean has been off-the-charts hot. Surface temperatures in May were 2.9 degrees Fahrenheit, or 1.6 degrees Celsius, warmer than typical for this time of year, breaking previous records by an unusually large margin."
That spike in temperatures is likely to continue, fueled by the continued burning of oil, gas and coal and the return of the cyclical El Nino weather pattern which warms ocean surface temperatures in the Pacific, a phenomenon that impacts large parts of the world.
That means that learning to keep cool is increasingly becoming part of our new normal. We'll explore this in further detail in future blogs but for now, some resources and advice to explore:
- The World Athletics Health & Science team co-authored this guide, specifically with recreational runners in mind.
- Euronews offers this practical guide, which includes advice on taking charge of your living space's air flows, and drinking cool cucumber (non-alcoholic) cocktails.
- From The New York Times, How to Stay Cool and Safe in a Heat Wave.
- And some safety tips for hot weather exercise from The Mayo Clinic.
Bob Ramsak for World Athletics