Race walkers Rhydian Cowley and Evan Dunfee at a beach clean-up in Muscat (© Dan Vernon)
Nearly three dozen athletes, volunteers and World Athletics staff kicked off their day at El Hail North Beach in Oman on Thursday to help out with a beach clean-up and show their support to the UN Clean Seas campaign.
The clean-up was one of several sustainability initiatives planned around the World Athletics Race Walking Team Championships Muscat 22 that kick off tomorrow morning in the Omani capital. But that didn't keep several athletes from taking part, including Olympic 50km race walk bronze medallist Evan Dunfee, Australia's Rhydian Cowley, Quentin Rew of New Zealand, and Dunfee's teammate Ben Thorne.
"It was part of World Athletics wanting to do the smallest thing we possibly could do to have a positive impact and I can get behind that for sure," Dunfee said. "I was happy to do that and rally some of my teammates to come out. It literally is the smallest possible thing we can do to have a positive impact but you have to start somewhere."
Indeed, the morning's activity, a joint initiative between World Athletics, Race Walking Team Championships Muscat 22 LOC partner Oman Sail and the Environment Society of Oman, may have been just a drop in the proverbial bucket in the battle against plastic pollution, but it did make a noticeable impact. In just under an hour, participants collected more than 30 bags of trash, most of it plastic, along with two tyres and five large discarded fishing nets from the beach.
But perhaps the biggest impact were the discussions that resulted among the group as they combed through the sand.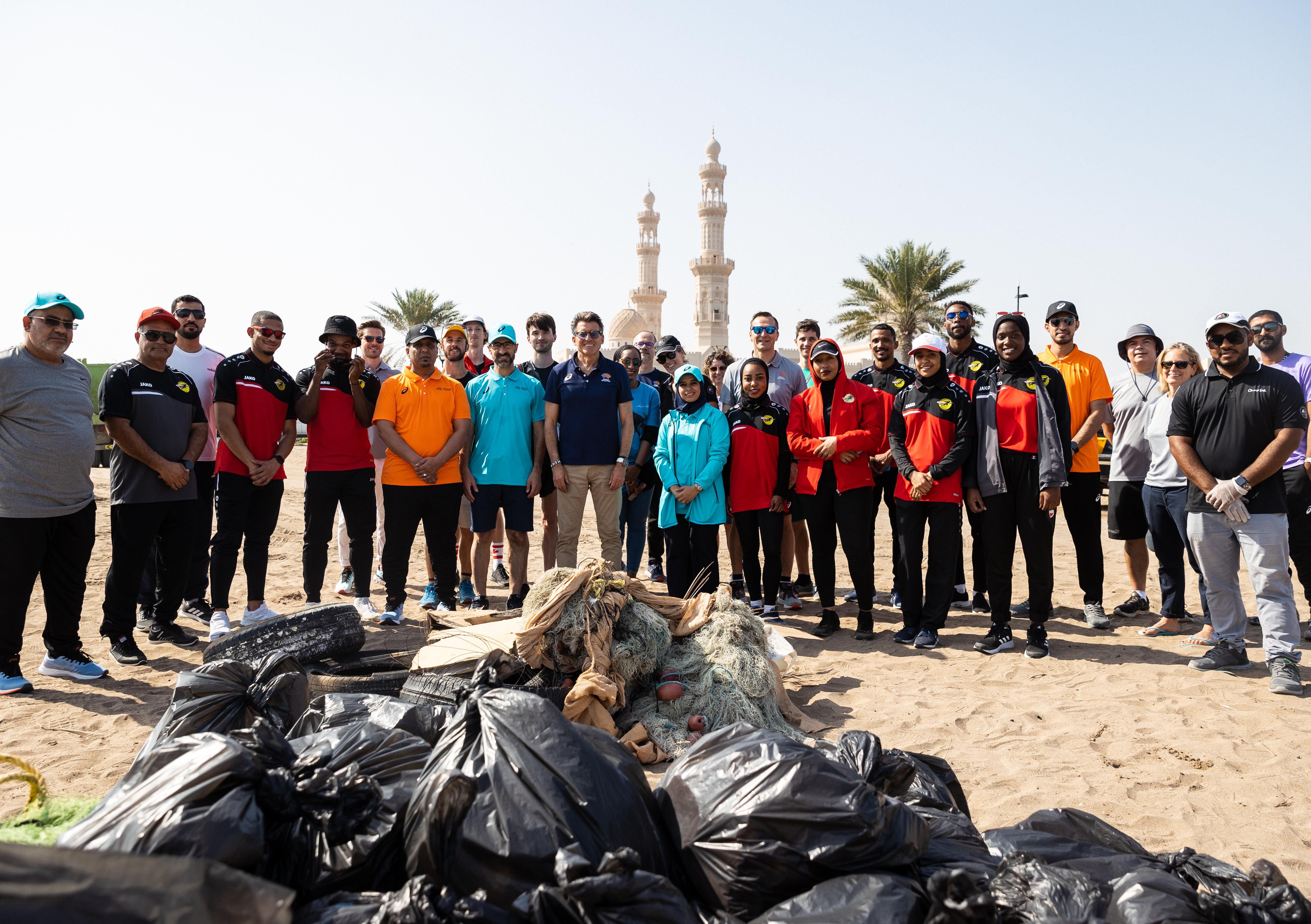 "I think one of the valuable parts of it was being able to have these conversations and talk about what sustainability means to each of us and what we do in our own lives and share ideas," Dunfee added. "I think race walkers in general are already on the lower end of carbon footprint so it was fun to share ideas."
Cowley, who is part of the Australian squad competing in the 20km race on Saturday, agreed.
"It's important for athletes to use the platforms we have to show things we care about," Cowley said. "Climate change and pollution are really big issues facing the entire planet – so it's important to think about what our impact is and take actions to address that. Cleaning up the beach here isn't going to solve the plastic pollution problem on its own, but it's certainly galvanizing people to think about it and address the root causes."
Rew, a seven-time national champion, concurred, but said he also revelled in the morning get-together's camaraderie.
"You do the stuff that your friends are doing, so I was happy to come down," he said. "If we could make a beach clean-up cool again, if we can make sustainability great again, then that's great. In some ways sustainability is kind of worse than ever and in some ways people are making a bit of a change. So things like this are good things to support."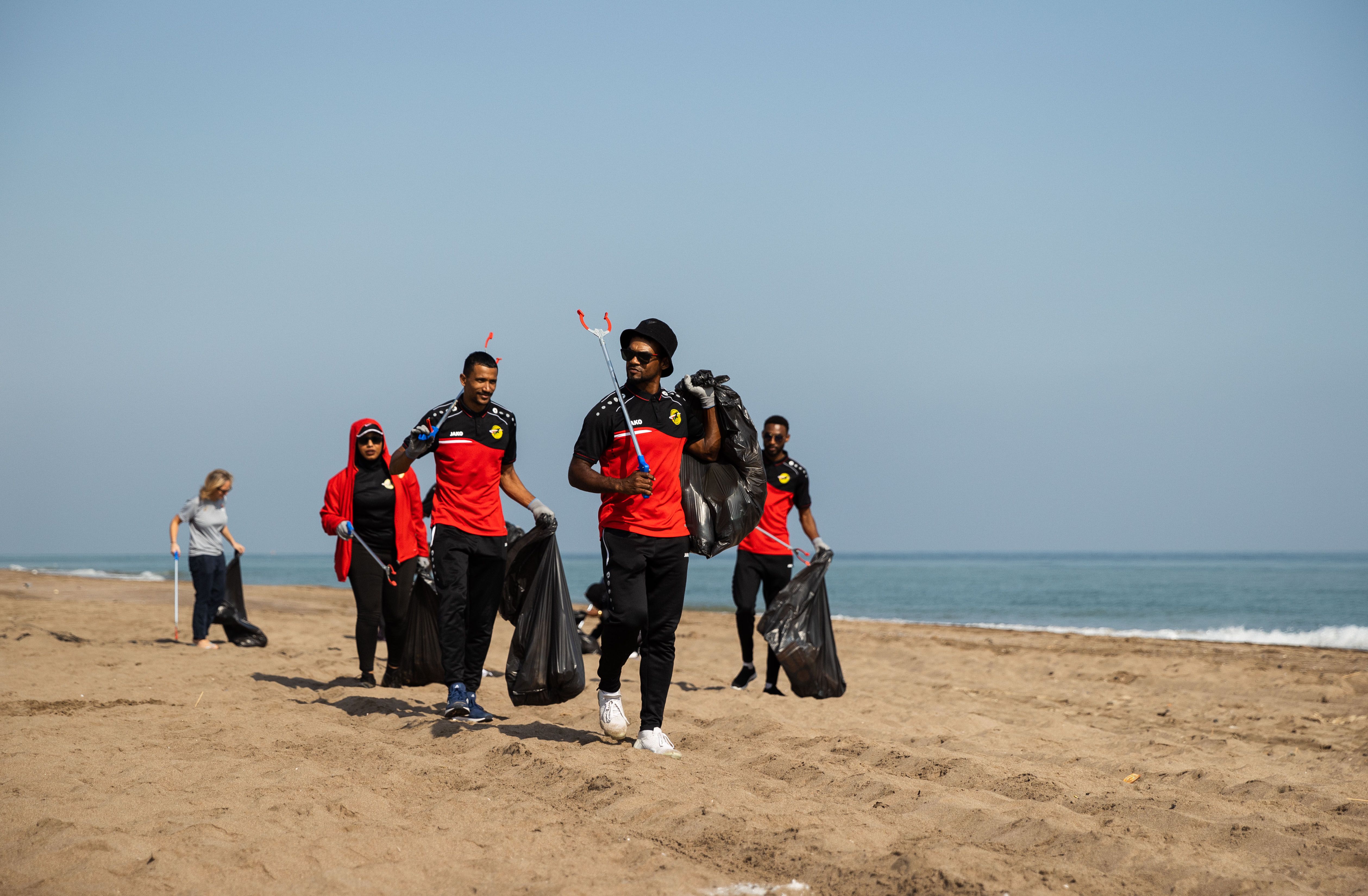 Barakat Al-Harthi is a sprinter, a three-time Olympian and Oman's fastest man, so he won't be taking to the start line this weekend. But he was eager to join about a dozen of his national team colleagues at the beach.
"We are very proud and feel so good when we're cleaning our country," Al-Harthi said. "It's so appreciated that we have athletes from other countries here helping us. I feel so happy today. It's a very good morning."
The clean-up took on an added significance, coming the day after 175 nations endorsed a historic resolution at the UN Environment Assembly in Nairobi to end plastic pollution and forge an international legally binding agreement by 2024. The resolution addresses the full lifecycle of plastic, including its production, design and disposal.
The Clean Seas campaign, which World Athletics joined in 2018, asks participants to take the UN Clean Seas Pledge, a commitment to reduce or eliminate single-use plastics from their daily lives.
Bob Ramsak for World Athletics