Barbara Moser-Mercer and Janeth Jepkosgei with World Athletics U20 Athlete Refugee Team athletes (© Barbara Moser-Mercer)
On a hot day in the north-western region of Kenya, a group of visitors tour Kakuma, one of the world's largest refugee camps.
Among them is an educator: Barbara Moser-Mercer. She is struck by the "wealth of capacity", very rare first impressions from a refugee camp.
Most people visiting the camp, founded in 1992, are seemingly moved by the appalling living conditions, inadequate water and sanitation and substandard housing of the over 200,000 refugees and asylum seekers. Moser-Mercer looked beyond the chaos of the displaced people and the simplicity of their ultimate cause – poverty.
"What propelled me forward was seeing refugees, just being people like you and me," she said. "But, unfortunately, they've got that label or unfortunately, they weren't as lucky as we were to escape so they had to flee."
It was a great opportunity for Moser-Mercer, a professor focusing on researching the role education plays in offering hope and providing opportunities in fragile contexts and displaced people. Through the African Higher Education in Emergencies Network, AHEEN, she came up with a programme to offer university diplomas with a strong employability focus to refugees.
"We were filling a gap that nobody had been very aware of, which started because of the youth," she explained of the project that they began in 2019 in Kenya, drawing from a similar one launched among refugees in Jordan fleeing the civil war in Syria.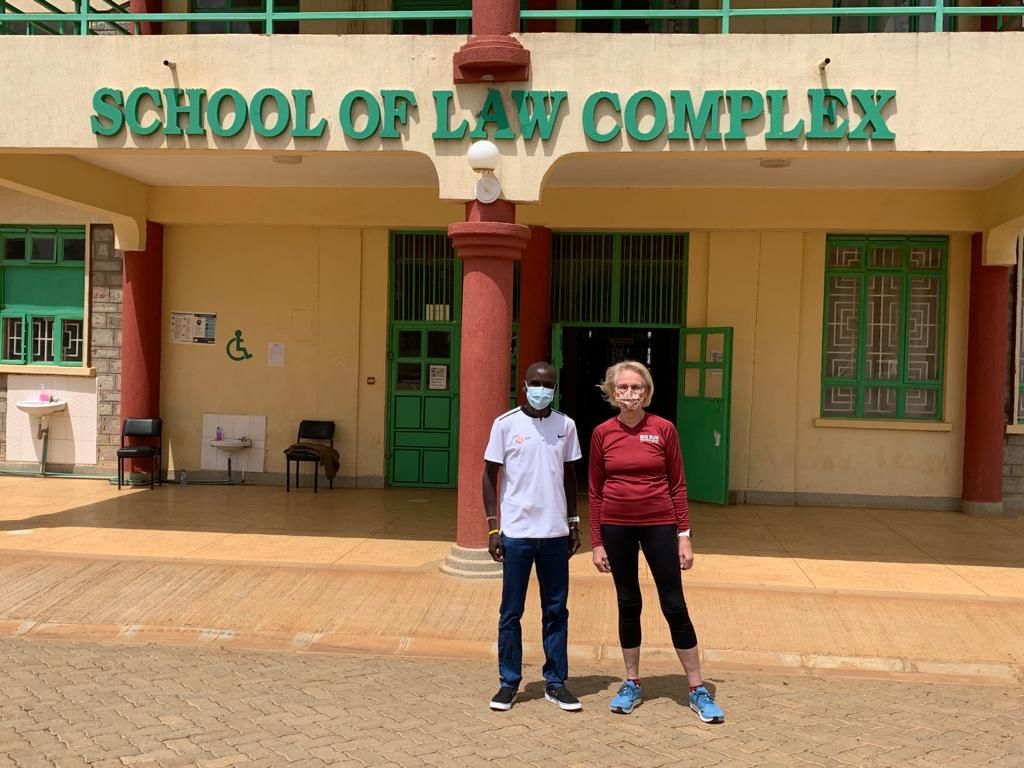 Barbara Moser-Mercer with Kenyan marathon great Eliud Kipchoge
Blended learning model: education and athletics
Although the programme appeared perfect, there was an important element the trained cognitive psychologist felt was missing.
"That's because we need to engage the whole brain for learning. We need to have physical fitness. We need to have cognitive fitness. So, this is how the concept of this social, emotional learning programme came about."
Moser-Mercer, an ardent marathon runner, infused education with athletics to improve mental health and increase academic performance. It was an ideal fit for the refugees who are mainly from South Sudan and have already won their races for life.
"I saw my connection with running and the (refugee) host country Kenya go together," she reckoned.
In 2020, the integrative social-emotional learning approach was adopted by the Emergencies Network, AHEEN, and they began working with the Kakuma/Kalobeyei running programme.
The pilot programme among 50 primary school children had 22 youth runners, who were trained by a Kenyan coach and a refugee assistant coach. Since its inception, the programme has grown extensively, with some of the refugees competing in local running meets. This culminated in their participation at the World Athletics U20 Championships in Nairobi in August 2021.
World Athletics in collaboration with AHEEN, Athletics Kenya and the UNHCR, adopted the refugee project mainly to train five women and five men for the World Athletics U20 Athlete Refugee Team (ART).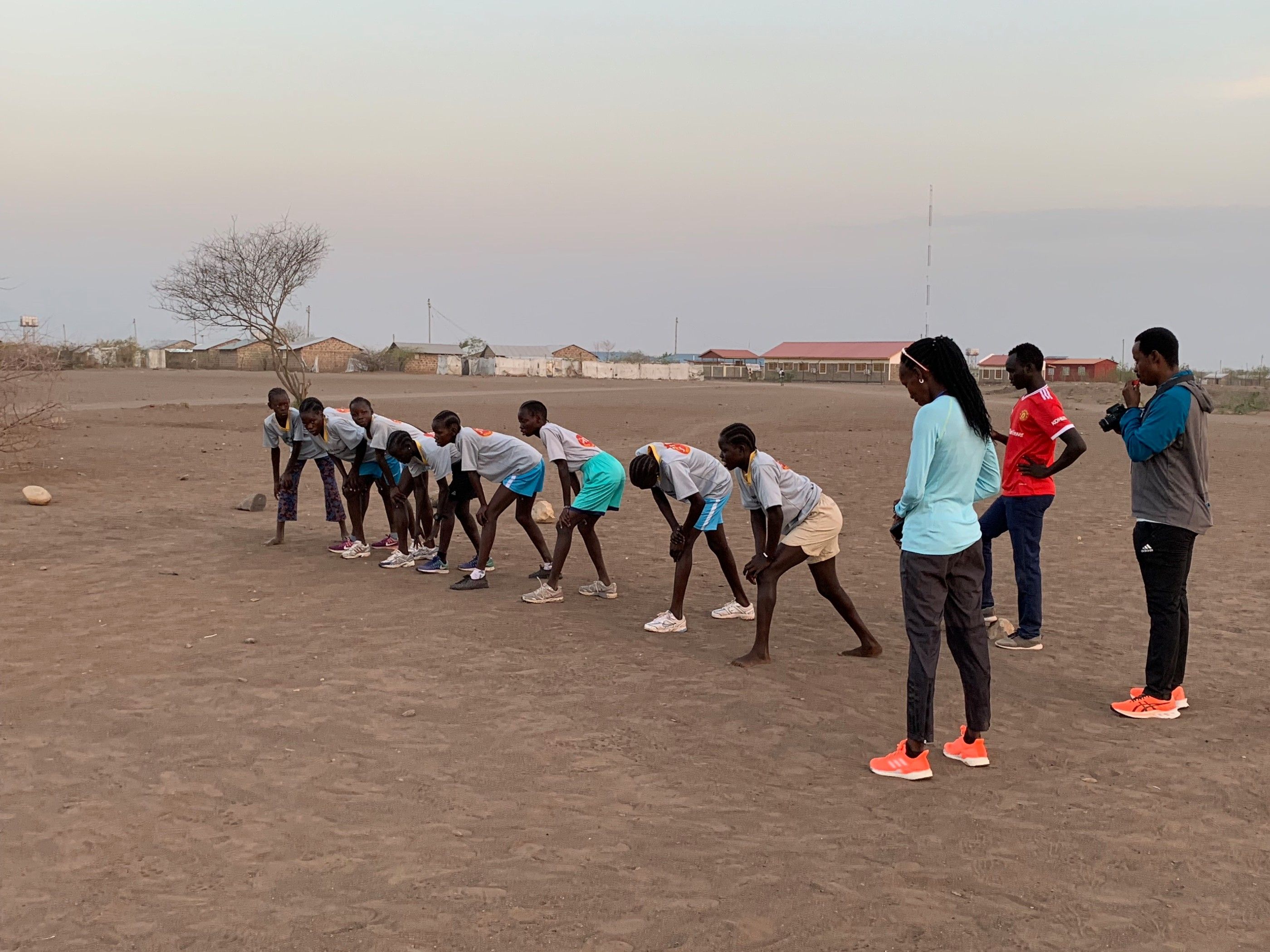 Head coach Janeth Jepskogei training members of the World Athletics U20 Athlete Refugee Team
Women championing a cause
Two of the best runners from the World Athletics U20 Athlete Refugee Team at that time will compete at the 2024 World Athletics U20 Championships in Lima, Peru. With this goal in mind, World Athletics engaged retired Kenyan track star Janeth Jepkosgei to lend her support to the dynamic young talents.
"When I went to Kakuma I found a group of very happy kids who still have big dreams despite their situations," said Jepkosgei, the World Athletics U20 Athlete Refugee Team head coach. "They believe in the ability of sports and education to change their lives, which was a very important starting point for me.
"They were even more excited with having a female coach. I remember one of the kids wondering whether I was a teacher or a coach. I told them: 'I am coach, a former athlete, a former world champion.' You could see they were very impressed," explained the world 800m champion from 2007, now a trained level one athletics coach who has been mentoring and training at her training camp in Kapsabet.
Her past international success helped with especially getting consent from some of the girls' parents. There is widespread ignorance in attitudes towards girls practicing sports among the refugees, like in some parts of Africa.
"The girls there in the camp don't practice sports and it was even harder to convince the parents," Jepkosgei said. "They believed that girls should avoid sports because it can affect their reproductive systems and affect their childbearing abilities.
"It was easier for me to convince them as a female coach, who is now a mum, and when I showed them my running videos there was acceptance and admiration."
Having two women championing the cause also paved the way for approval.
"It was an interesting dimension, and there was reassurance on the part of parents (of having two women)," added Moser-Mercer, who hopes that sport can offer the much-needed hope.
"They don't need to be world champions to feel good about themselves, but sport can help them realise that despite what fate has thrown their way, there are opportunities that they can pursue."
Although the focus, for now, is to train the athletes at Kakuma and, during the school holidays, at Jepkosgei's training camp that produced several medallists at the World U20 Championships in Nairobi, World Athletics is keen to learn and understand from the research how integrating running with the programme impacts the lives of the traumatised young athletes.
Evelyn Watta for World Athletics