Noelie Yarigo (© AFP / Getty Images)
Noelie Yarigo is no stranger to leading races.
It's because she has primarily focused her efforts on being a pacemaker on the international racing circuit in recent years. The middle-distance runner from Benin has built up a reputation as one of the best in the business, and can often be seen at the front of the pack in 800m and 1500m races on the Wanda Diamond League and Continental Tour.
Yarigo has played a key part in many record attempts and world-leading performances by the biggest names in the sport over the past few seasons, and it has been a rewarding experience – both financially and in terms of satisfaction.
"It's simple: I needed to earn a living," she says. "By pacing, I earned some money to spend in my daily life. Running PBs is great, of course, but I'm also very keen on helping other athletes achieve superb performances."
But when she joined Valentin Anghel's training group last year, the Romanian coach persuaded Yarigo that she still has plenty of unfulfilled potential as a contender in her own right.
"He told me, 'You're not pacing any more'," Yarigo recalls with a laugh. "I've put that role aside at least for some time to do my very best as an athlete.
"My new coach has a different approach and my training sessions are quite different to what I used to do before; I'm sure that has helped me a lot," added Yarigo. "I have some training partners like Romania's Claudia Bobocea and my compatriot Soulatou Saka. I also think it's a matter of believing in yourself."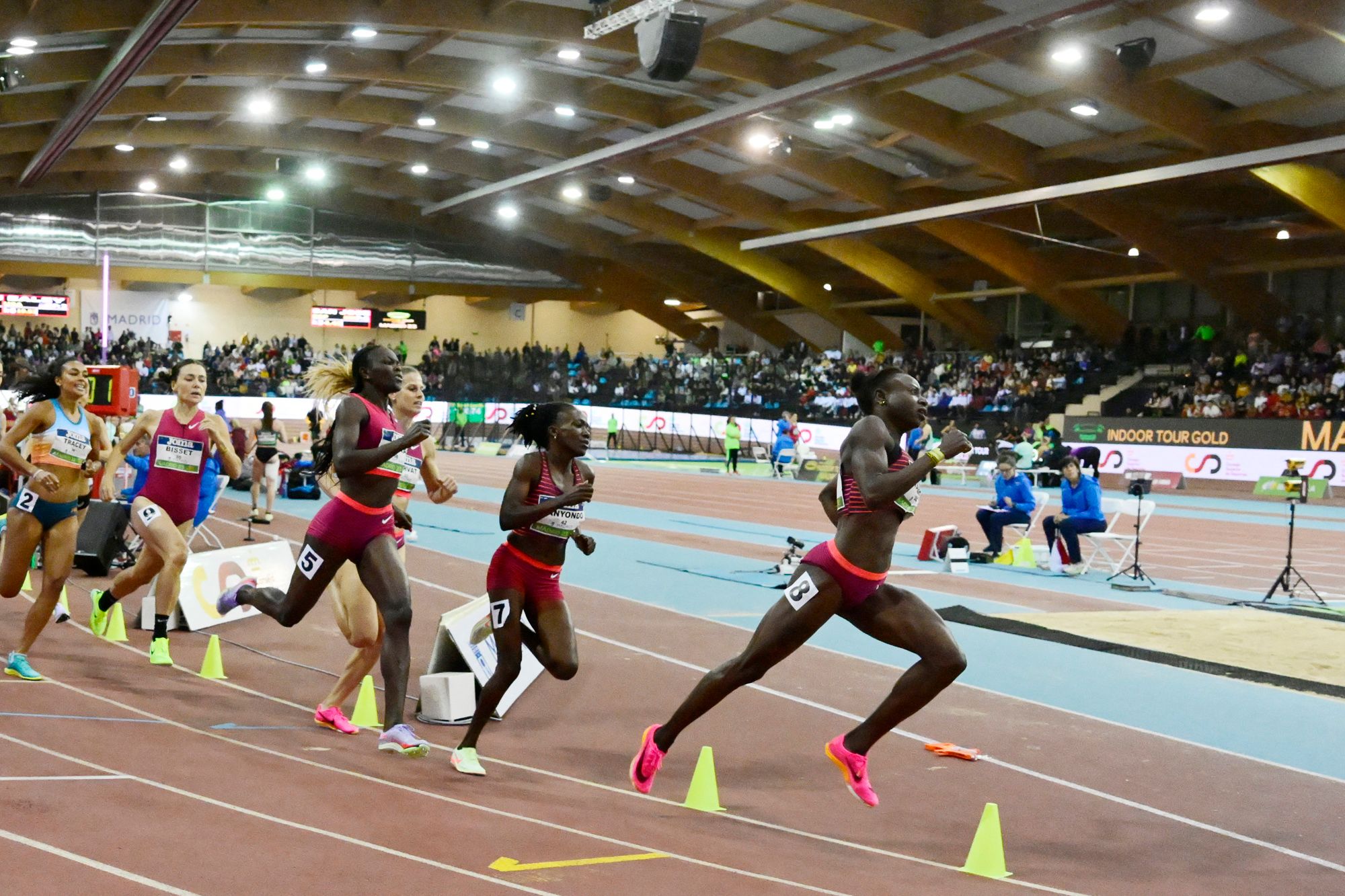 Noelie Yarigo in the 800m at the World Indoor Tour meeting in Madrid (© AFP / Getty Images)
That's exactly what she has done in her races this year.
She opened her season in Val-de-Reuil, where she won the 800m with an indoor PB of 1:59.29. Just four days later, she lined up in Torun and stayed near the front of the pack for most of the race – not an unusual sight for someone who has been a prolific pacemaker. But this time, instead of stepping off the track at 400m or 600m, Yarigo held on for the duration and was only overtaken in the closing stages by Keely Hodgkinson.
The world and Olympic silver medallist won in 1:57.87, and Yarigo was second in 1:58.48 – an outright lifetime best and national record, and enough for second place on the 2023 world indoor list.
"I wasn't surprised by my time in Torun," says Yarigo. "I just believed in myself and tried to follow the pacemaker."
After her performance in Torun, she went on to finish third in Lievin and first in Madrid before bringing her season to a close in Birmingham with a 2:01.18 clocking. She feels her experience as a pacemaker is beneficial when racing as a competitor.
"Whether I'm pacing or racing, I like to be in the front because it means I can control the pace," she says. "I have learned to do my own racing, to be a front-runner and not to fear being in the lead."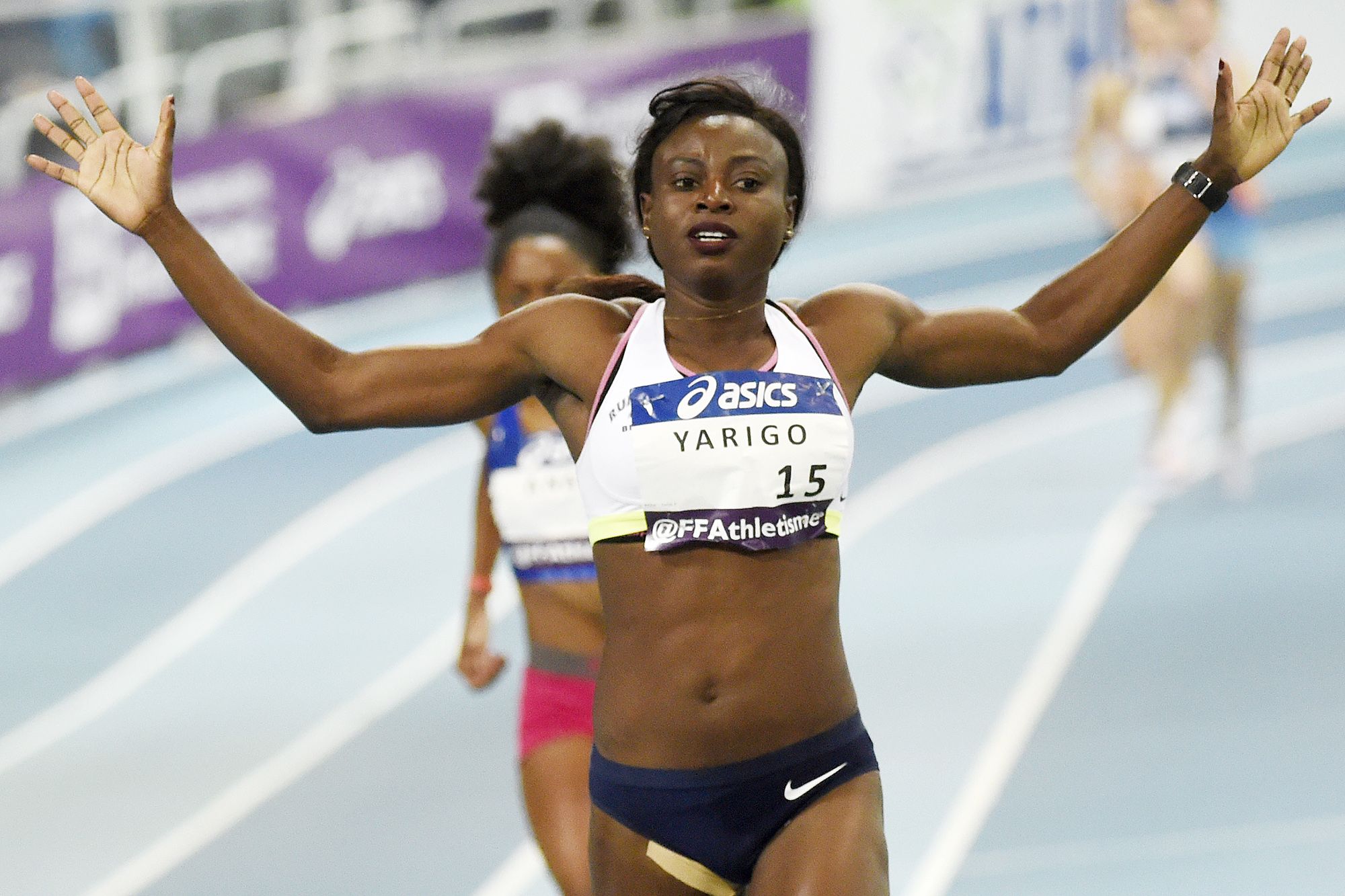 Middle-distance runner Noelie Yarigo (© AFP / Getty Images)
Back from a break
Yarigo, who turned 37 at the end of last year, has been involved in athletics since the age of 10.
She represented her primary school in local races in her hometown of Natitngou, dreaming of becoming the next Maria Mutola, her idol at the time.
Her progression was promising and she set her first national 800m record in 2003 at the age of 17, reducing it to 2:11.61 in 2005 while still a teenager. But she then took a long break from the sport, and only returned in 2012 at the age of 26.
"I simply was not in shape and I couldn't train regularly," she says of her long hiatus.
Within a year of getting back into the sport, Yarigo moved to the French city of Blois, where she finally had access to a good track as well as forest trails to train on.
Just one year later, Yarigo started to reap the rewards. She reached the 800m final at the African Championships, and reduced her national record several times throughout the season, taking it down to 2:00.51.
She made her global championships debut in 2015, competing at the World Championships in Beijing, and she broke the two-minute barrier for the first time in the heats of the Rio 2016 Olympic Games, clocking 1:59.12.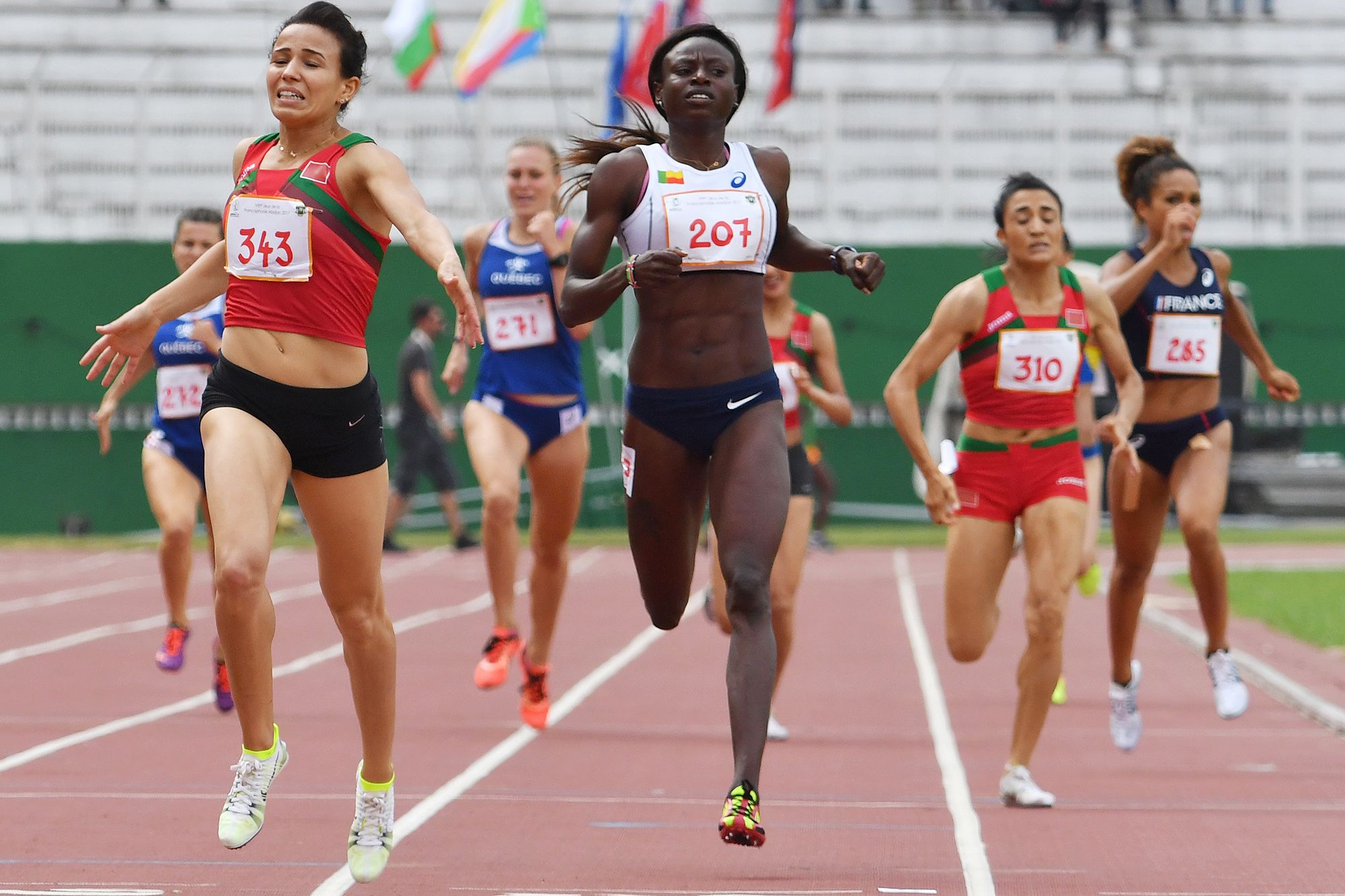 Noelie Yarigo in action at the 2017 Francophone Games (© AFP / Getty Images)
It was enough to advance to the semifinals, where she placed fifth in 1:59.78. Although she didn't quite reach the final, she already made history simply by lining up for the semifinals. No other athlete from Benin had ever advanced beyond the first round at an Olympic Games.
"Rio was wonderful as they were my first Olympic Games," she says. "I really enjoyed the experience because of the nice atmosphere and great hospitality."
Testing times in Tokyo
Five years later at the Tokyo Olympic Games, Yarigo hoped to improve on her Rio performance. She ran well in her heat, clocking a season's best of 2:00.11 to finish second, but she twisted her ankle just before crossing the line, which meant she wasn't at her best for the next round. She placed seventh in her semifinal in 2:01.41.
"It was so heart-breaking for me," she recalls. "I felt really disappointed as I had much more in my body and I couldn't prove it."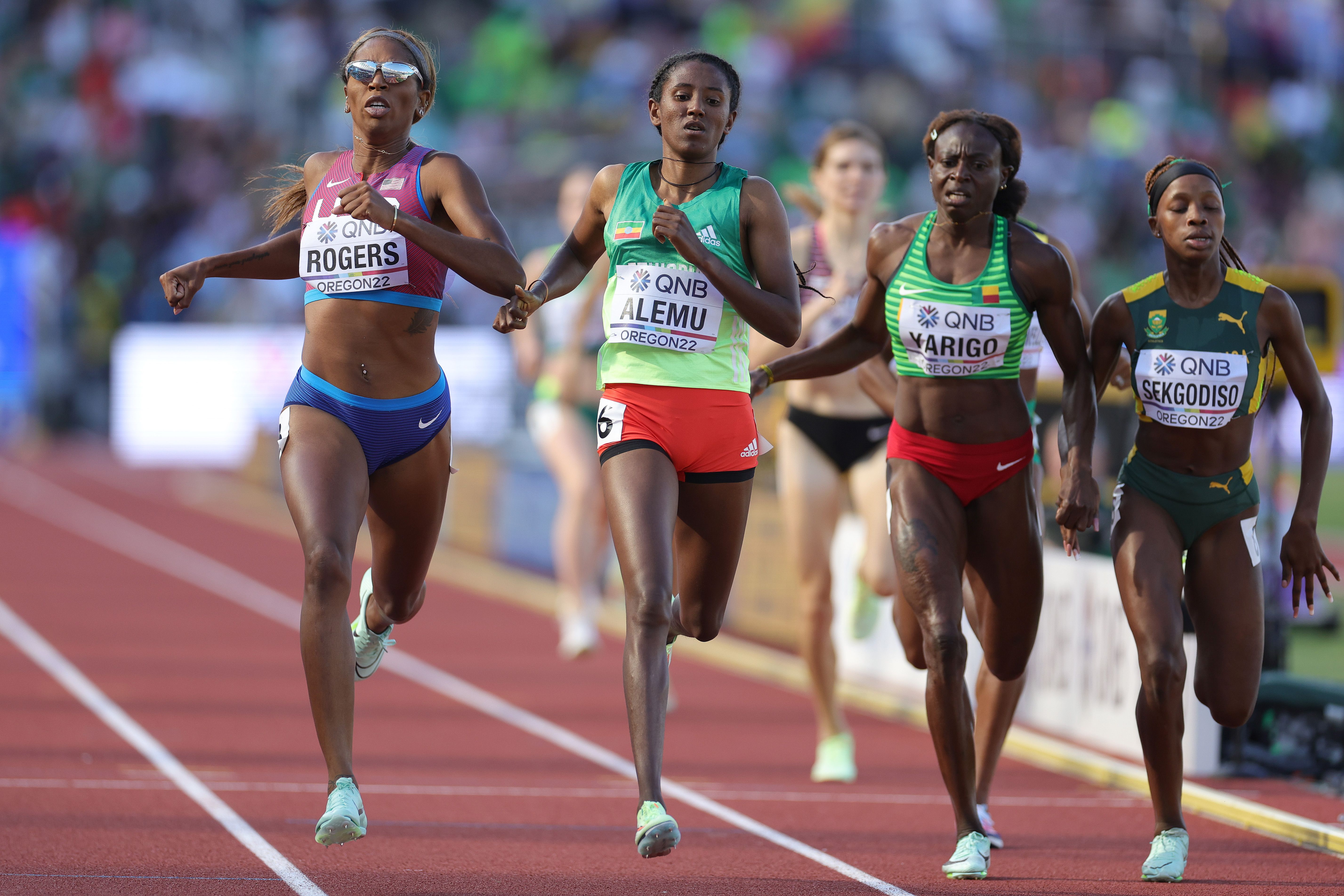 Noelie Yarigo in action at the World Athletics Championships Oregon22 (© Getty Images)
The silver lining is that it has provided Yarigo with a huge source of motivation for the Paris Olympics. Although she will be 38 at the time of the Games, the seven-year break in her career essentially means her 'training age' is a lot younger.
Yarigo's vast racing experience – having racked up an average of 25 races per season – could also work in her favour.
"I love my sport, and athletics is all about competing and racing," she says.
After running 1:58 indoors, Yarigo hopes to run even faster outdoors, but she is reluctant to state what her time targets are.
"I have no predictions," she says. "I prefer to take things race by race and just enjoy what I do."
Her big goal for the year is to simply reach the 800m final at the World Athletics Championships Budapest 23.
For the past five global championships – three World Championships and two Olympic Games – Yarigo has made it to the semifinals, but she is yet to reach a final. Everything she does this year will be focused around that goal.
"This season I just want to work on lowering my times and giving my best in Budapest," she says.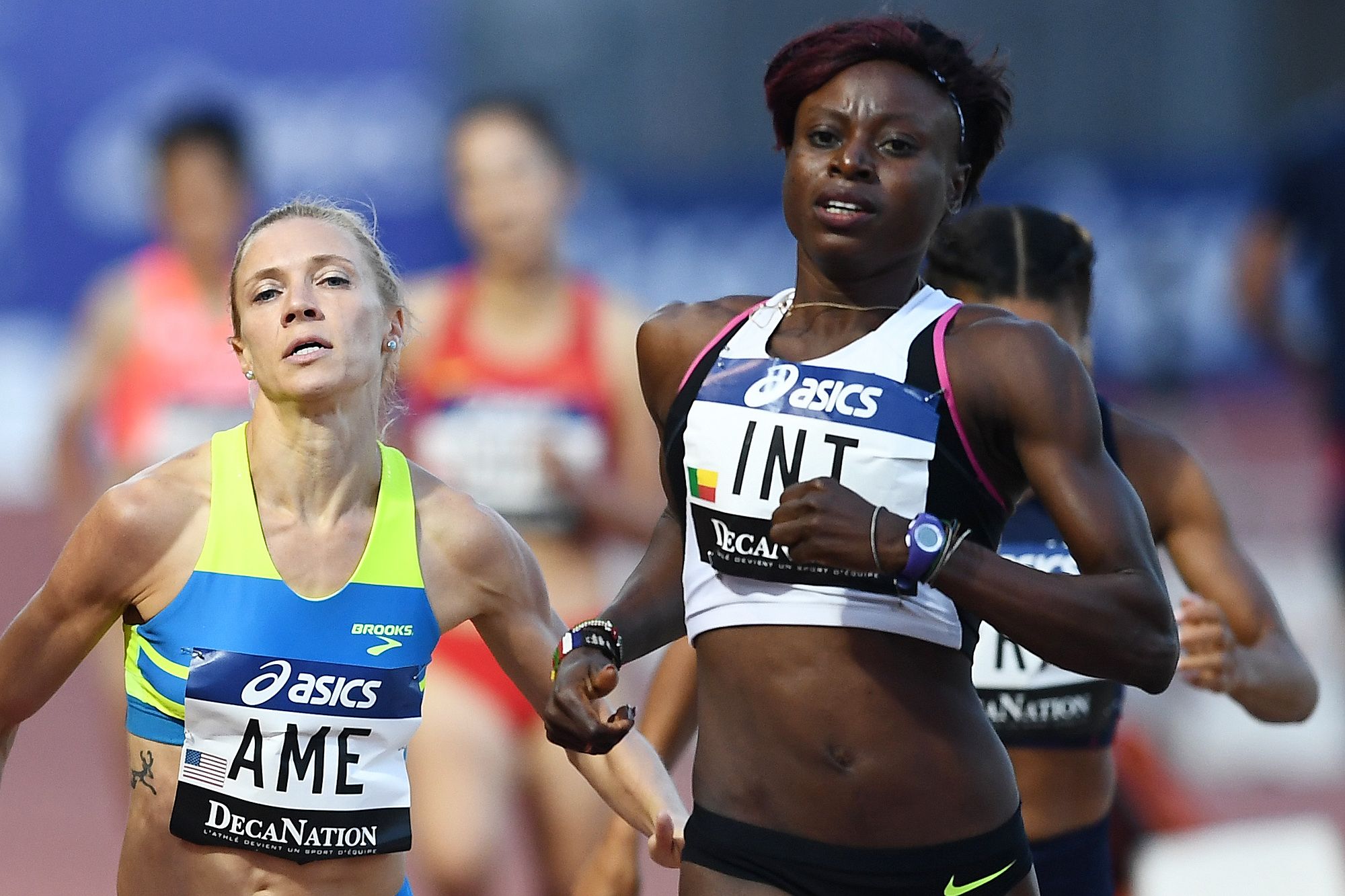 Noelie Yarigo in the 800m at Decanation (© AFP / Getty Images)
Most athletes who become pacemakers will do so either at the start of their career or towards the end. And while it's highly unusual for an athlete at this stage of their career to make the reverse move, Yarigo simply wants to make the most of her peak form.
"Every process is a matter of ups and downs; that's life and that is sport," she says. "I'm happy with my athletics journey and where I'm now."
Emeterio Valiente for World Athletics