Athlete mothers (© Christel Saneh)
No story about Fanny Blankers-Koen winning four gold medals at the 1948 London Olympic Games is complete without describing the Dutchwoman as a mother of two.
And while that is applauded today, it wasn't universally accepted at the time.
Nicknamed 'The Flying Housewife', the 30-year-old was actually chastised for leaving her young children in Amsterdam while she and husband Jan Blankers, who was also her coach, went to London.
"I got very many bad letters," Blankers-Koen recalled, "people writing that I must stay home with my children."
They didn't care that she was one of the world's greatest athletes. Blankers-Koen won the 100m, 200m and 80m hurdles in London and anchored Netherlands' victorious 4x100m team. She was also the world record-holder in the high jump and long jump, but women were restricted to three individual events.
Despite these achievements, Blankers-Koen was treated more like a maternal curiosity than a magnificent champion.
One writer said Blankers-Koen ran "like she was chasing the kids out of the pantry". Imagine if the public knew she was three months pregnant with her third child at the time.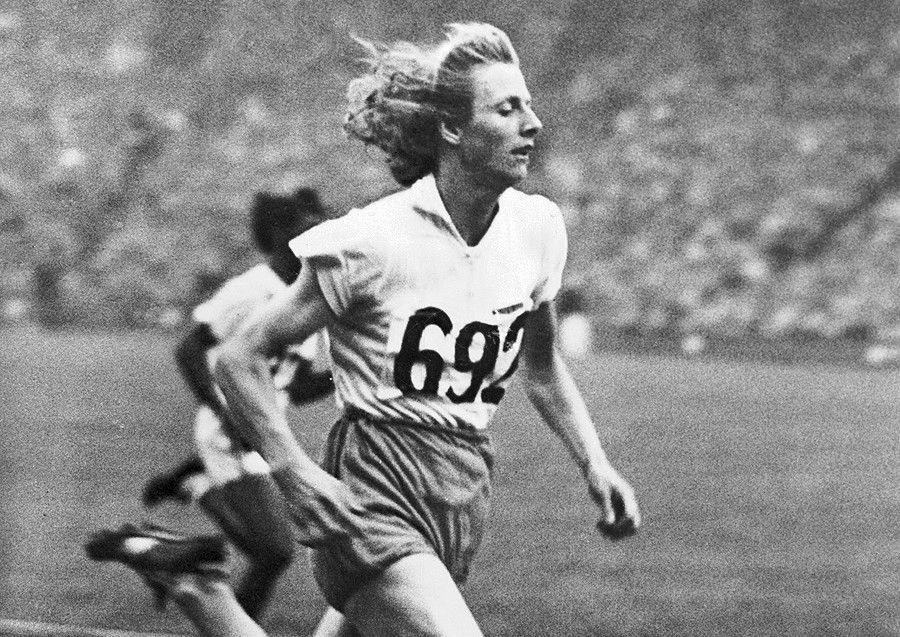 Fanny Blankers-Koen in the 200m at the 1948 Olympic Games in London (© Getty Images)
Blankers-Koen, who was voted female athlete of the 20th century, later wrote that "my winning those medals was good propaganda for all women."
Yet as sportswomen made significant strides over the next few decades, the perception of mothers on the fields of play was slow to change.
Female athletes faced sometimes agonising decisions about pausing their careers to have children or waiting to start a family until they retired. They had contracts that reduced their income if they got pregnant and agents who discouraged them from taking time off during their prime prize-money-earning years to have a baby.
Besides the financial considerations, there were physical ones. Women faced doubts – both internal and external – about regaining their form after having a child.
Now, 75 years after Blankers-Koen's tremendous feats, female athletes are finally seeing changes that make it easier for them to juggle a family with a career.
When Nia Ali won the 100m hurdles at the 2019 World Championships, the US athlete celebrated on the track in Doha by carrying her 16-month-old daughter Yuri in her arms as her four-year-old son Titus ran beside her.
Ali said she wanted people "to see that just because you're a mom doesn't mean you can't get out there and continue to be a top world-class athlete."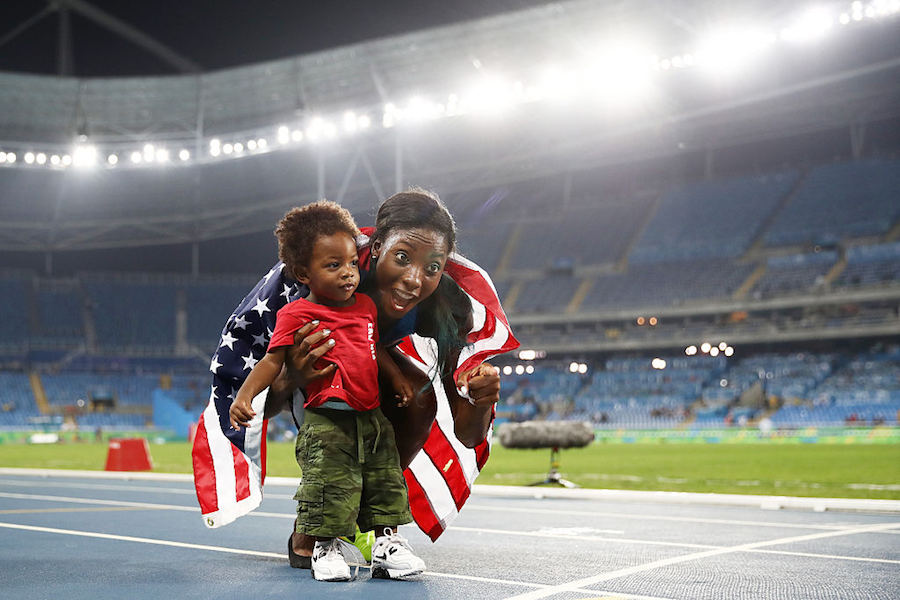 Nia Ali and son Titus Maximus celebrate in Rio
And mothers are becoming increasingly visible in the sport.
Allyson Felix, who also won two gold medals in Doha just 10 months after having a baby, has become a high-profile catalyst for change. After the five-time US Olympian was dropped by her shoe sponsor, she launched a public campaign for women's and mothers' rights, adding the title 'activist' to her roles as athlete and mom.
"There have been so many women before me who had to stay silent about their fight," Felix said in Tokyo after becoming the most decorated US athlete in her sport with 11 Olympic medals, including seven gold. "So for me to be able to step out – and I think my daughter gave me the courage to do that – I hope that we're really changing things now."
Jamaica's Shelly-Ann Fraser-Pryce didn't just miss defending her 100m world title at the 2017 World Championships due to pregnancy; she actually gave birth to son Zyon as the event was taking place.
"I was excited to welcome my son, but it was definitely a rough time for me because I wanted to compete," Fraser-Pryce told NBC Sports. "I was watching the World Championships on the TV and screaming for my girls.
Fraser-Pryce made a triumphant return to the world stage in Doha, blazing to victory in the 100m.
"When I crossed that line, I knew it was a victory, not just for me but for so many other women, for so many other mothers," said the 36-year-old, who retained her world title in 2022 in Oregon for a total of 10 world golds to go along with her eight Olympic medals.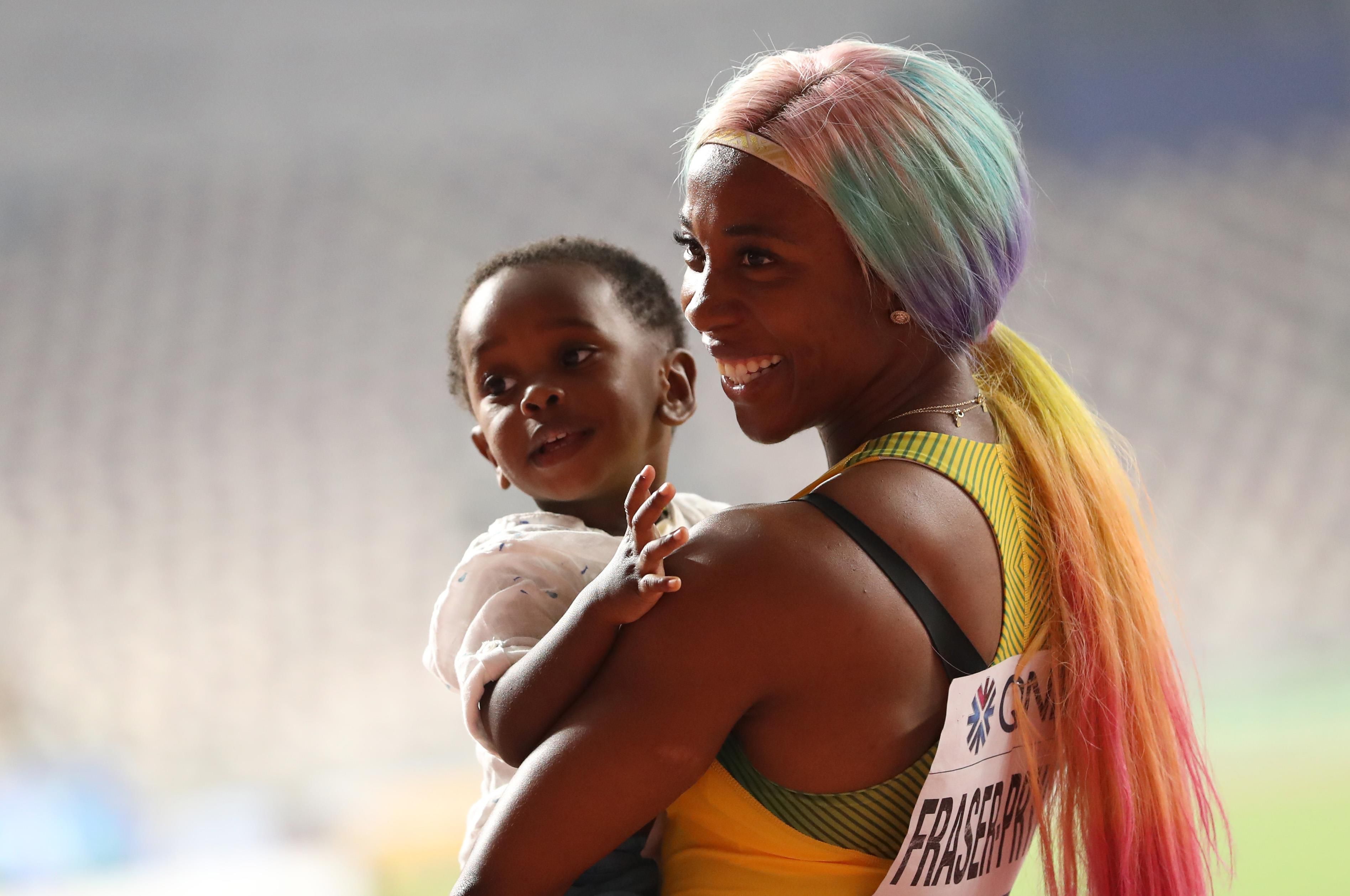 Shelly-Ann Fraser-Pryce after winning the 100m at the World Athletics Championships Doha 2019 (© Getty Images)
"When we were younger, they told us motherhood will have to wait 'til after you stop running because it's going to ruin your career. There's this constant fear in your head when it comes to motherhood and starting a family, so crossing that line was a moment not just to be celebrated for me as a Jamaican woman but for an athlete, someone who became a mom after 30."
Fraser-Pryce, whose nickname evolved from 'Pocket Rocket' to 'Mommy Rocket', said she remembered telling the audience at a speaking engagement that 2019 was going to be "the greatest comeback ever".
"I knew it in my heart and soul," she said, "that motherhood was going to be an advantage, a superpower."
And the moms in athletics have become superheroes to each other.
"It's been such an inspiration," Ali said in Doha, "to see everyone come together and feed off each other."
Not that long ago, it was more common for women to hide their pregnancy or retire from the sport when they become mothers.
A surprise pregnancy
In 1983, the year the World Championships began, Norwegian distance runner Ingrid Kristiansen felt unusually tired. She was disappointed in her racing performances, especially a 35th-place finish at the World Cross Country Championships. Kristiansen, then 27, went to a doctor and found out she was four months pregnant.
The Norwegian continued doing two workouts a day. She gave birth to son Gaute and upon her return to competition discovered she was even faster than before. Kristiansen set world records in the 5000m, 10,000m and marathon, becoming the first person to hold all three simultaneously. She went on to win the 10,000m at the 1987 World Championships and was the 1988 world cross country champion.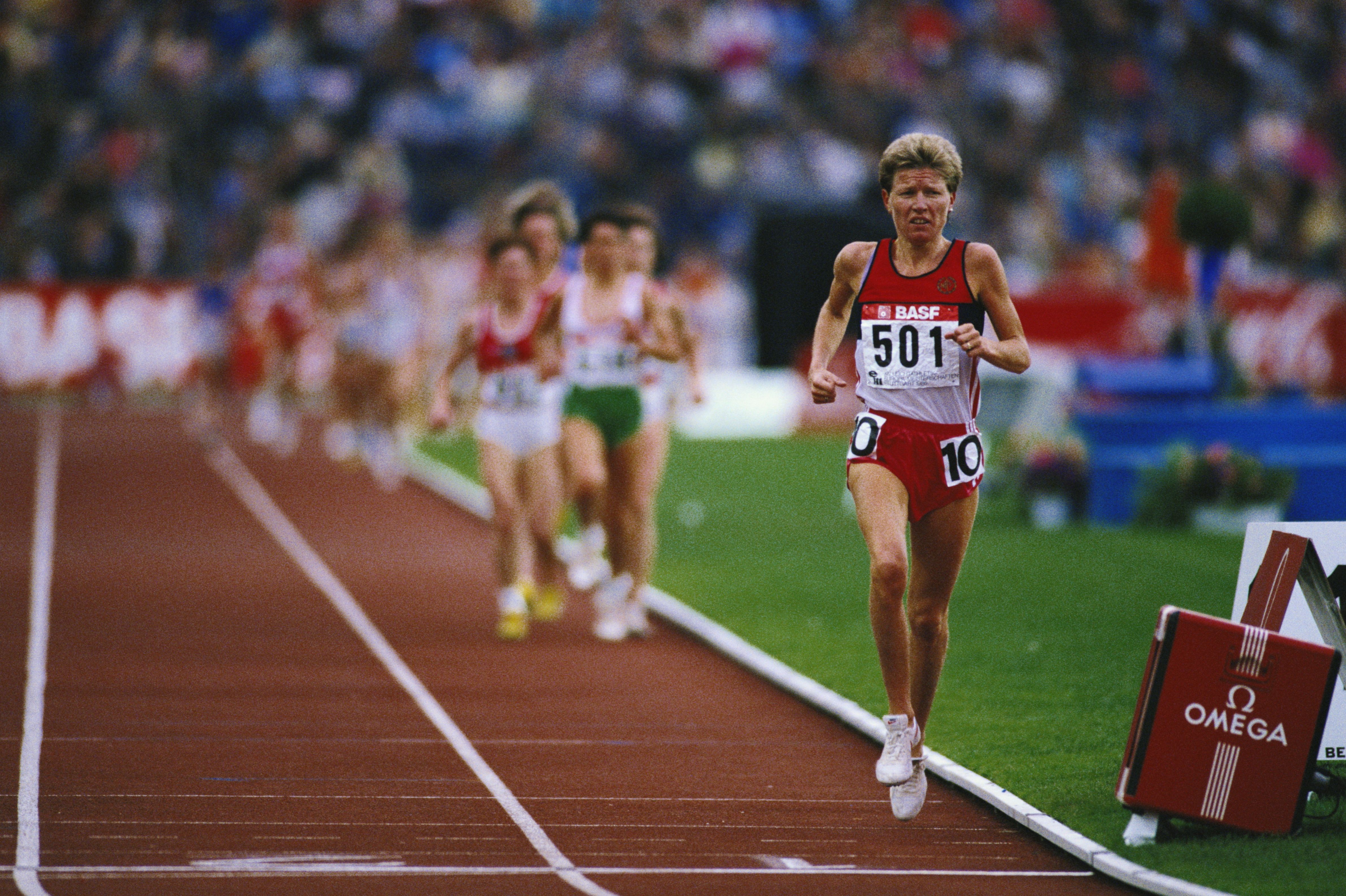 Ingrid Kristiansen at the 1986 European Championships (© Getty Images)
"It was very important for me to keep running," Kristiansen told The Chicago Tribune. "So many girls, so many good ones, are dropping out when they have children. No men are stopping when they are having a child.
"I said to myself, 'If I get a baby who is not sick, I will go on training and be one of the best again'. Am I a role model? I hope so."
Kristiansen said having a son changed her outlook on training. "I'm more relaxed from feeling that running is my life, but not my whole life."
Family planning
Five-time Olympian Gail Devers purposely waited to start her family until after the 2004 Olympics. The two-time Olympic 100m gold medallist was 39 when she had daughter Karsen.
"I didn't want to be that mom that was all over the place and my daughter was with my mom and they'd tell me, 'Oh, she took her first step'," said Devers. "I wanted to be there."
She was also cognizant of the contracts at the time. "If you don't produce whatever you're supposed to, they'd reduce you," Devers said. "I just didn't want anybody telling me what I can and cannot do with my own life, my own kids. I decided that I want to go through my career, and then I want to have kids."
However, she came back at age 40, winning the 60m hurdles at the 2007 Millrose Games in 7.86, only 0.12 off her North American record.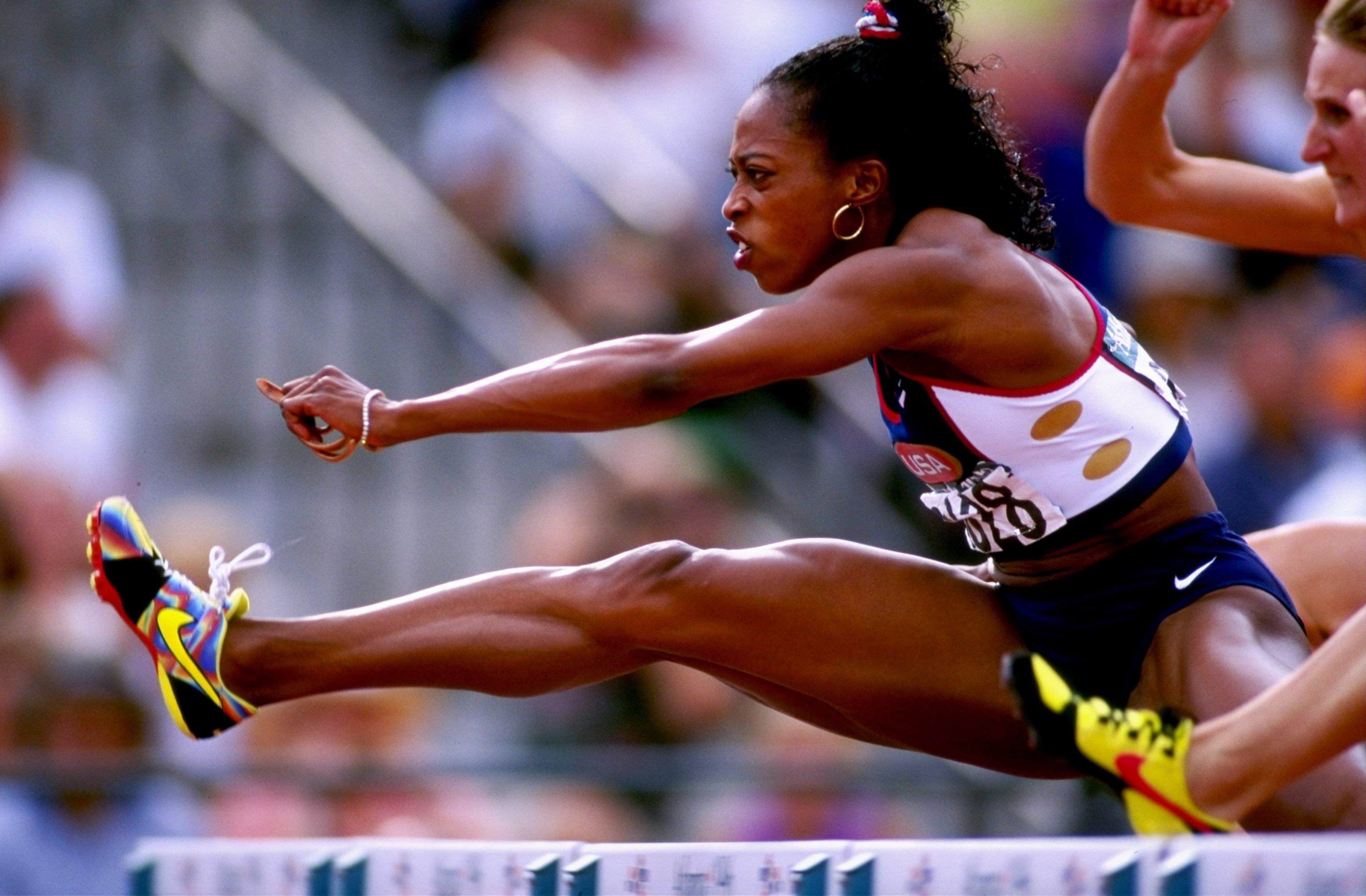 Gail Devers competes in the 100m hurdles at the 1996 Olympic Games in Atlanta (© Allsport / Getty Images)
While Devers, who is also mom to daughter Legacy, had heard women come back stronger after having a child, she said, "I think a lot of people say that, but that's an idea and a hope and a belief until it actually happens. Because some people could have complications and they're ripped in their stomach and they can't come back from that."
Or in the case of New Zealand's two-time Olympic shot put champion Valerie Adams, they can. "To get your gut cut open to take a baby out then to compete six months later at the Gold Coast Commonwealth Games – and win silver – is quite a big call," Adams told LockerRoom, which dubbed her 'our most iconic mum athlete'. "A lot of women are still recovering a year later."
Adams gave birth to daughter Kimoana and son Kepaleli after IVF treatment. She thinks sports federations should encourage athletes to undergo tests in case of fertility issues.
"It definitely goes through athletes' minds, that they put off having kids because they don't want to disappoint people," Adams said. "However, they get to the end of their career and the regret of not having done it is more detrimental to them. Hopefully, I can keep pushing and encouraging them."
Adams said she enjoyed support from Athletics New Zealand that was "phenomenal, and whoever comes through next wanting to have a baby and continue to do sport, they can see that it can be done."
But some members of the public were critical of videos showing Adams training while pregnant, bringing back reminders of the 1960s when officials told Kathrine Switzer that her uterus would fall out if she ran the Boston Marathon.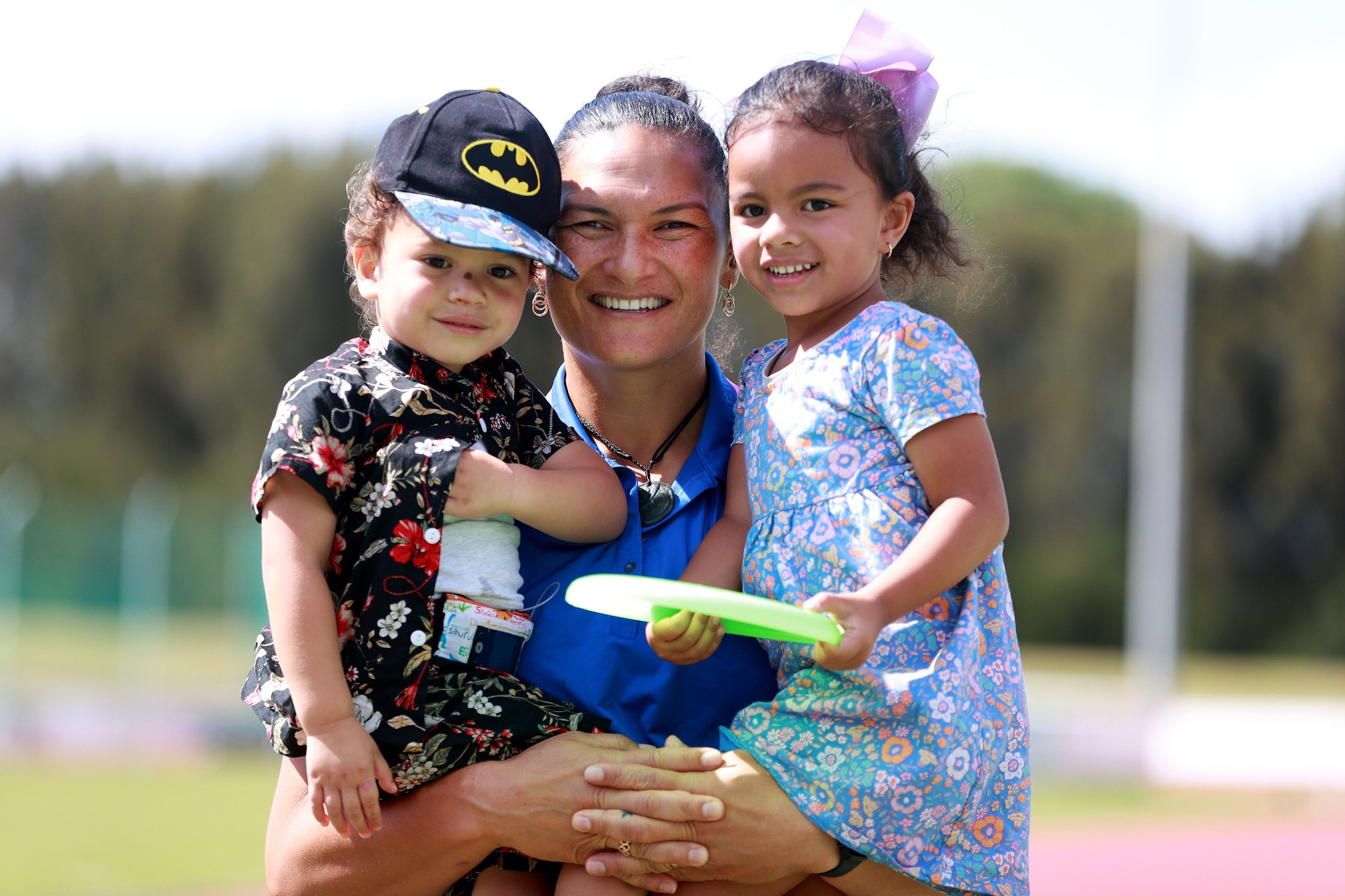 Valerie Adams with her children (© Getty Images)
"People telling me I was endangering my baby, that I was going to kill my baby if I continued doing what I was doing," Adams said. "But I was like, 'All you people relax; I'm fine, the baby's fine'. My body was used to doing it and everything was very modified and very light."
Making the big decision
Former marathon world record-holder Paula Radcliffe also had to contend with what she called "silly comments from people" when she exercised while pregnant. The mother of two wrote in 2015 for the BBC that she wanted to be a mother before she aspired to become an athlete. "Most women are aware of their biological clock and know the decision to have children or not is a choice they will have to make," she said.
Radcliffe and her husband Gary, who was also her coach, wanted to start a family in the midst of her career. After Radcliffe won the marathon at the 2005 World Championships, she became pregnant with enough time to come back for the 2008 Olympic Games.
Radcliffe sought out advice from other mothers: Liz McColgan, who won the 1991 world title for Great Britain in the 10,000m the year after her first child Eilish, now an outstanding runner in her own right, was born; Ireland's Sonia O'Sullivan and Kristiansen.
"Liz told me to just drop the intensity a little and to listen to my body more," Radcliffe said.
A doctor she consulted told her that exercising while pregnant was good for the baby. "I lost that competitive instinct," Radcliffe said. "It wasn't about running certain times in training anymore; it was about making sure running was a comfortable experience for the baby."
She resumed running about 12 days after having daughter Isla, but lamented that it was too soon. Radcliffe suffered a stress fracture and was not able to run for three months, although she did win the New York City Marathon 10 months after giving birth.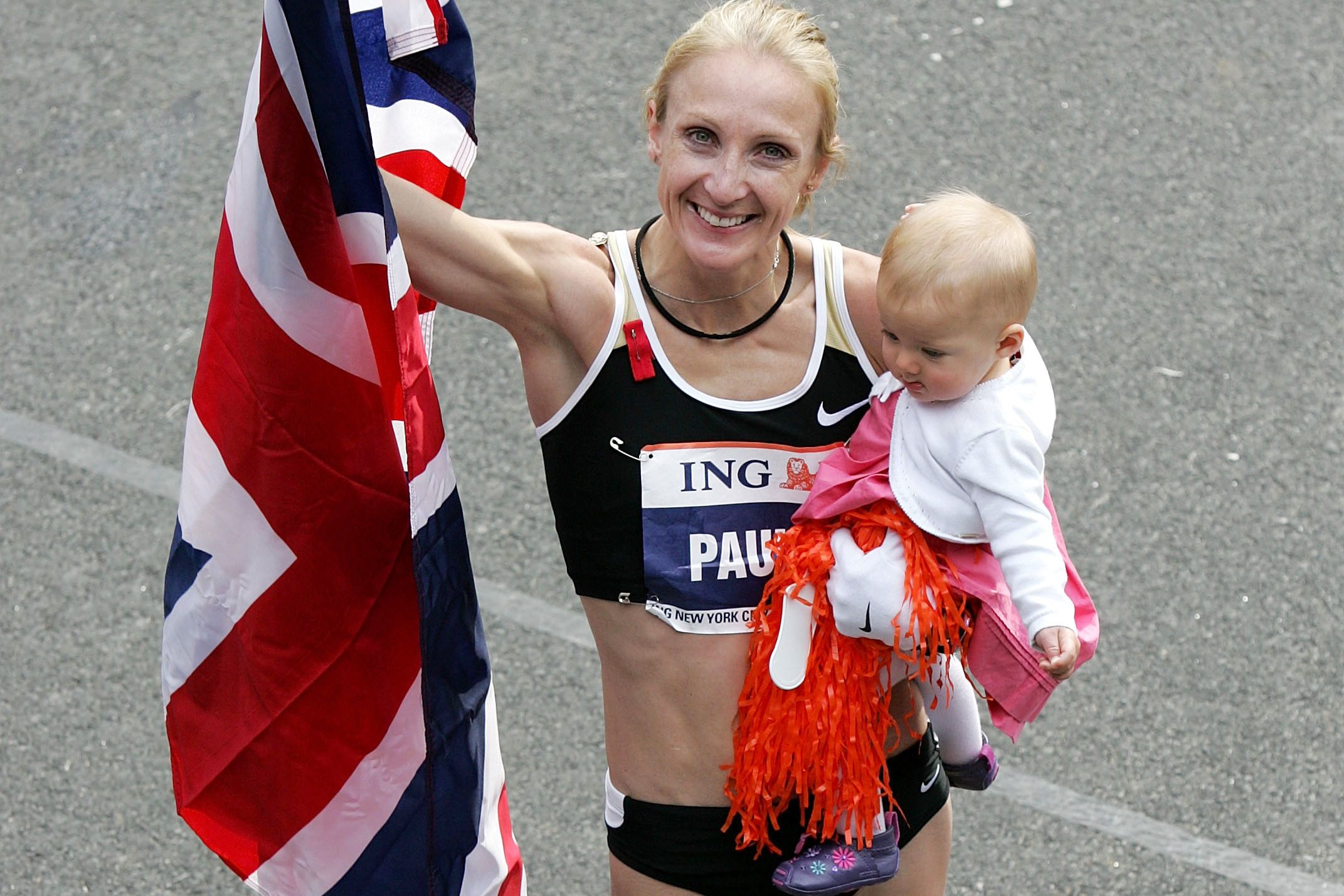 Paula Radcliffe after winning the 2008 New York Marathon (© Getty Images)
Radcliffe said she was fortunate that her profession allowed training to mix with parenthood. "I'd go training in the morning, play a little with them and then we'd nap in the afternoon," she said.
Although Radcliffe felt guilty leaving her children to spend five weeks at a camp in Kenya while training for London 2012, she said she was motivated to "make every second of the training count."
She added: "Honestly, when you're happier, I think you race better, you train better, and you compete better."
Different training philosophy
Kenyan superstar Faith Kipyegon was in her prime as reigning Olympic, world and Diamond League champion in the 1500m when she decided to start her family at age 23.
She told Runners World that she was afraid, thinking, "Maybe I will not come back, I will just disappear. Every lady, their mind goes like that. But I was very strong-minded. I said: 'Let me do this'. It's the joy of every human being to start a family."
Kipyegon followed her doctor's advice of no formal exercise for the last four months before giving birth to daughter Alyn via an emergency C-section.
"In Kenya [the professionals' advice] depends how the body of the athlete is," Kipyegon said. "The doctor might advise you to stay home and have a break for one year. If you have that, you come back strong."
And 12 months after giving birth, Kipyegon won the 1500m at the Prefontaine Classic in 3:59:04. She earned silver at the 2019 World Championships and successfully defended her title at the Tokyo Olympics.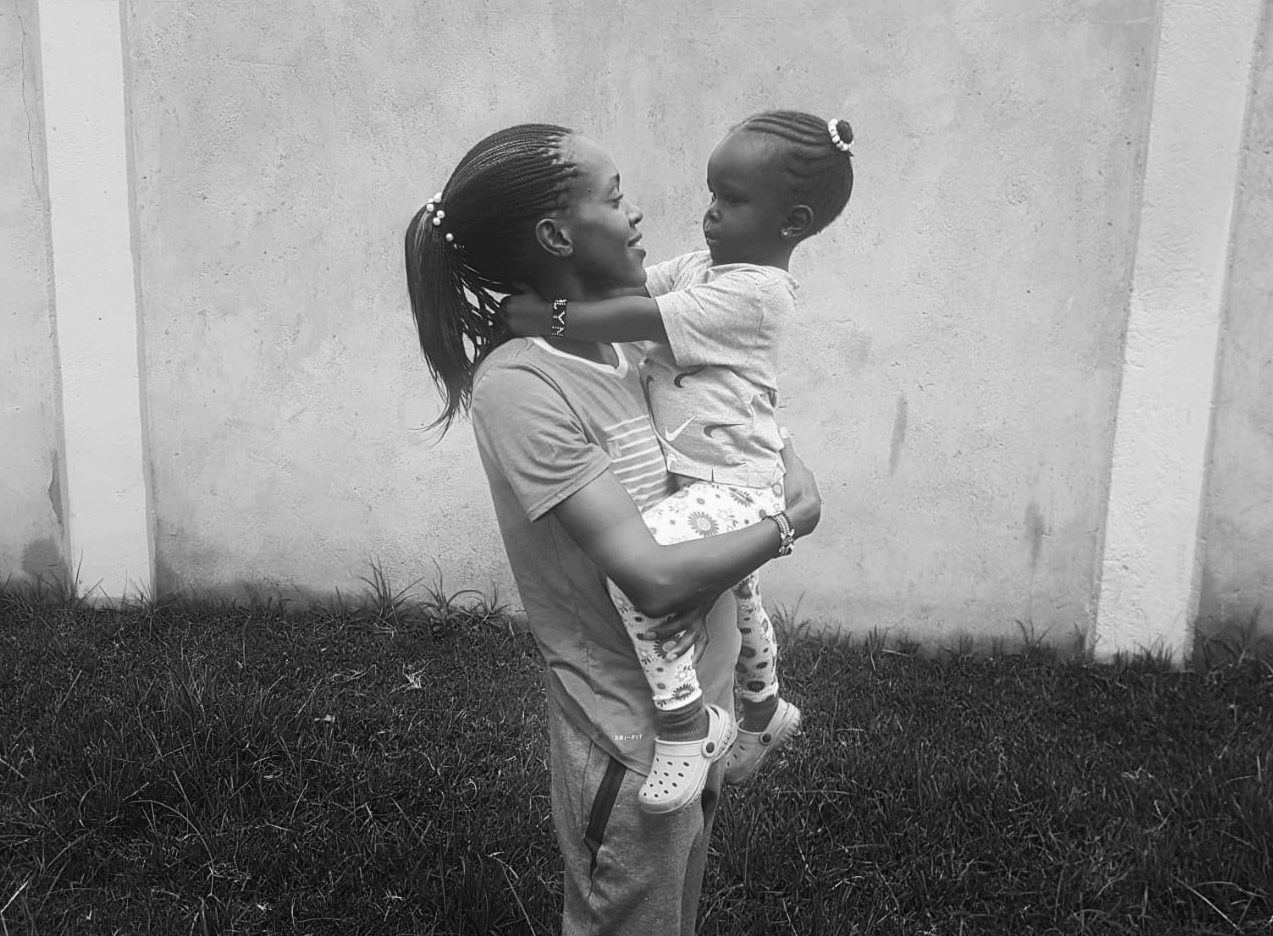 Faith Kipyegon
Kipyegon said her daughter slept through the night, which was a blessing.
"Maybe she knew Mama had to train the next morning," Kipyegon said with a laugh. "It was easy for me.
"Many athletes think it is something that will end your career, but I see it's just the start of your career," Kipyegon said. "I can say it's helped me. When you see your child running around, it gives you motivation. I became stronger and stronger."
Hard work on two fronts
Compatriot Hellen Obiri said that becoming a mother means "you need to work extra hard. Because you have somebody who looks for you." She gave birth in 2015 to daughter Tania and went on to earn silver at the 2016 Olympics.
Obiri said she has discussed the challenges of coming back from maternity leave with athletes such as Vivian Cheruiyot.
"I think the most difficult thing is to shed off the weight because when you go one year you have to put on a lot of weight."
Obiri said she added 22kg with the pregnancy and post-pregnancy, then managed to lose 23kg.
She went on to win the world 5000m title in 2017 and 2019, as well as the world cross-country title in 2019.
"I'm looking forward to having a second child," Obiri said, "but I can't tell you which year."
Olympic and world javelin champion Barbora Spotakova of Czech Republic and 2012 Olympic heptathlon champion Jessica Ennis-Hill of Great Britain are other examples of women who have come back after giving birth to win major titles.
Running for two
A six-time US champion, Alysia Montano garnered more publicity in years she finished last.
That's because the Olympian and two-time world bronze medallist has twice run the heats of the 800m at the US Championships while pregnant. The first time in 2014, she was 34 weeks along. In 2017, Montano was "just" five months pregnant as she ran in a Wonder Woman top while daughter Linnea, who was in the stands, wore a 'Strong Like Mom' T-shirt.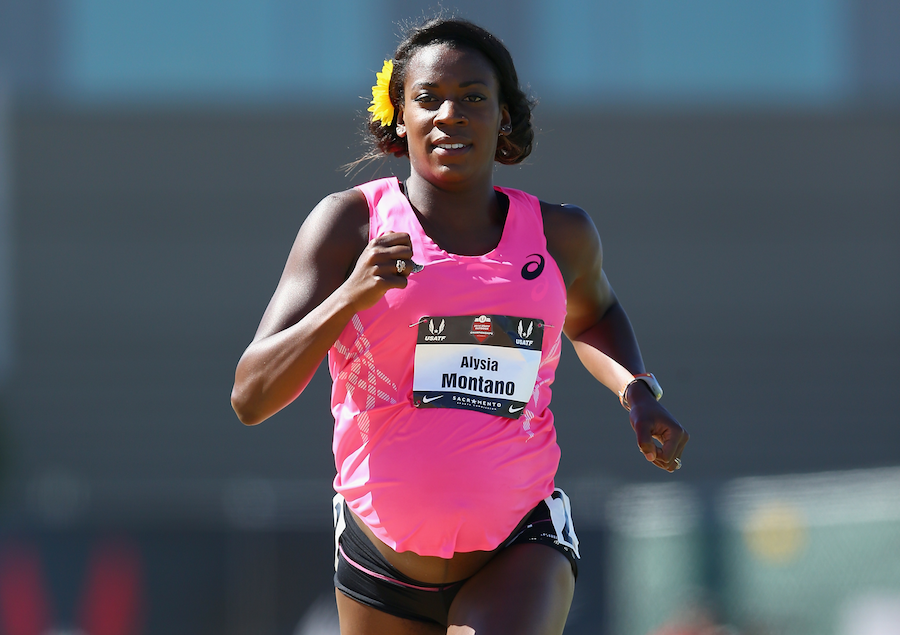 Alysia Montano
Montano said she wanted to demonstrate that pregnant women could run without harming themselves or their child. "It's still a conversation that needs to be had," she said. "I represent so many different people: women, black women, pregnant women. It's my responsibility to make sure I'm a voice and an advocate for them."
Yet with the temperature about 43C, even her competitors were a bit worried. "I just hope she's careful," said Brenda Martinez. "She seems really happy and I'm happy for her."
Montano wore shoes of her own design after being dropped by her shoe company, which she said knew she wanted to have another child.
Montano has become a leading campaigner for maternity protection in the sport as co-founder of &Mother, a US-based non-profit organisation that enables women to successfully blend a sports career with a family.
"After my awful experiences, I've been on a mission to find companies who will back and showcase the 'whole person', not just the athlete," Montano told CNN. "We need other brands, other companies to sponsor female professional athletes for their whole career, not just the times that best serve them."
Advocating for change
Montano, Felix and 2007 world 10,000m silver medallist Kara Goucher wrote op-eds for The New York Times that revealed contracts penalising mothers and called out sponsors for rushing them back into training and competition.
"You have the fastest women in the world – if you rush them back to competition, you will shorten their careers because of injuries," Goucher told Sports Illustrated. "It's a chronic pattern. If we give them more time to recover, maybe then it's six or seven more years of having this athlete working with you."
Their advocacy has led various companies to ensure protections for moms-to-be and working moms.
Felix said that her shoe company wanted to pay her 70% less after childbirth. She had a difficult pregnancy in which she was diagnosed with severe preeclampsia and Camryn was born eight weeks early via emergency C-section.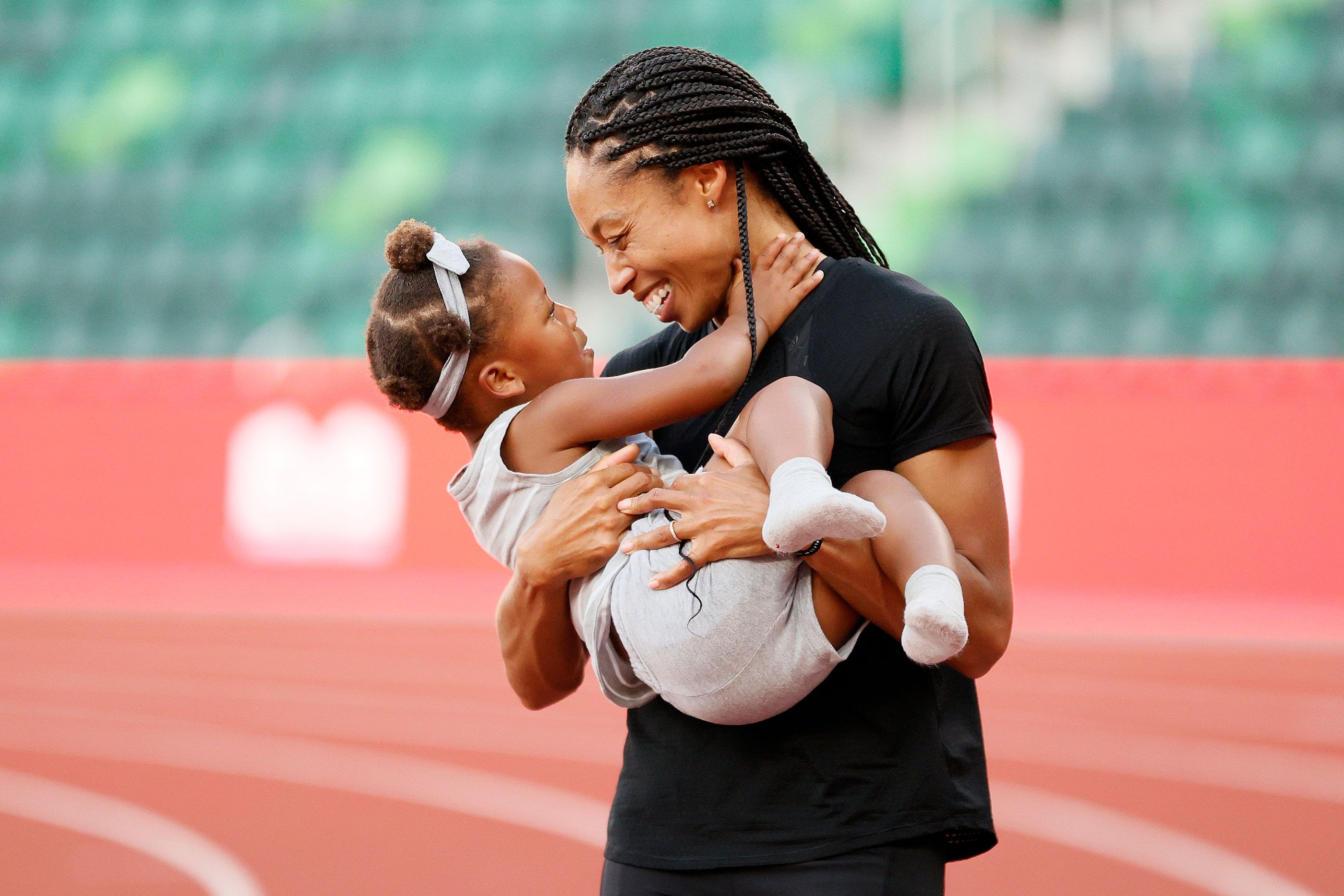 Allyson Felix with her daughter Camryn (© Getty Images)
"In track and field, the culture around pregnancy was silence," Felix told NPR. She said athletes would hide their pregnancies while securing new contracts, or existing contracts were put on hold as if they had an injury.
Montano also has a podcast called 'Keeping Track' with fellow Olympians Molly Huddle and Roisin McGettigan that discusses issues in the sport. When Ali appeared on the podcast, they talked about nursing and pumping on the road and USATF policies for accommodating families at competitions.
Dawn Harper Nelson, the 2008 Olympic 100m hurdles champion, came out of retirement after having daughter Harper.
"I felt my body was still capable," said Harper Nelson, who was sponsored by &Mother upon her return. "I was thinking: 'I don't want my daughter to think that mommy had to give up on her other dreams for me'."
Childcare at competitions
In 2022, Felix teamed up with &Mother to provide free childcare to athletes, coaches and staff at the US Championships. In the past, mothers sometimes had to rely on the goodwill of other athletes to look after their children while they were competing.
Felix said paying for childcare is "the biggest barrier" to women continuing to compete at a high level. She and sponsor Athleta – through its Power of She Fund – and the Women's Sports Foundation have provided childcare grants of $10,000 to female athletes so they can train and compete. WSF and Athleta have awarded more than $200,000 in grants.
"There are so many more ways we can support our mothers who are also athletes," Felix said.
One avenue is bringing more women into the decision-making process as elite coaches or executives.
"I just think how would that situation have been different," Felix said, "if there were women at the table."
Devers, who now coaches high school athletes, is impressed by the improvements that allow mothers to continue their careers.
"That's what progression is," Devers said. "So I'm glad that it's different now and I'm glad that if somebody decides they want to have a child, whether they have it or adopt it, that child is theirs and they can take them with them."
Karen Rosen for World Athletics