Mikio Oda's family with his Heritage Plaque
The World Athletics Heritage Plaques awarded to Japanese Olympic champions Chuhei Nambu and Mikio Oda have been put on permanent display in the Japan Olympic Museum in Tokyo's Olympic Park.
The two plaques sit next to each other in a display case by a window which appropriately overlooks the former site of Meiji Jingu Gaien Stadium in which Nambu set a world long jump record of 7.98m in 1931. The stadium was the main venue for the 1930 Far Eastern Games and was demolished in 1956 to make room for the National Stadium that hosted the 1964 Tokyo Olympic Games.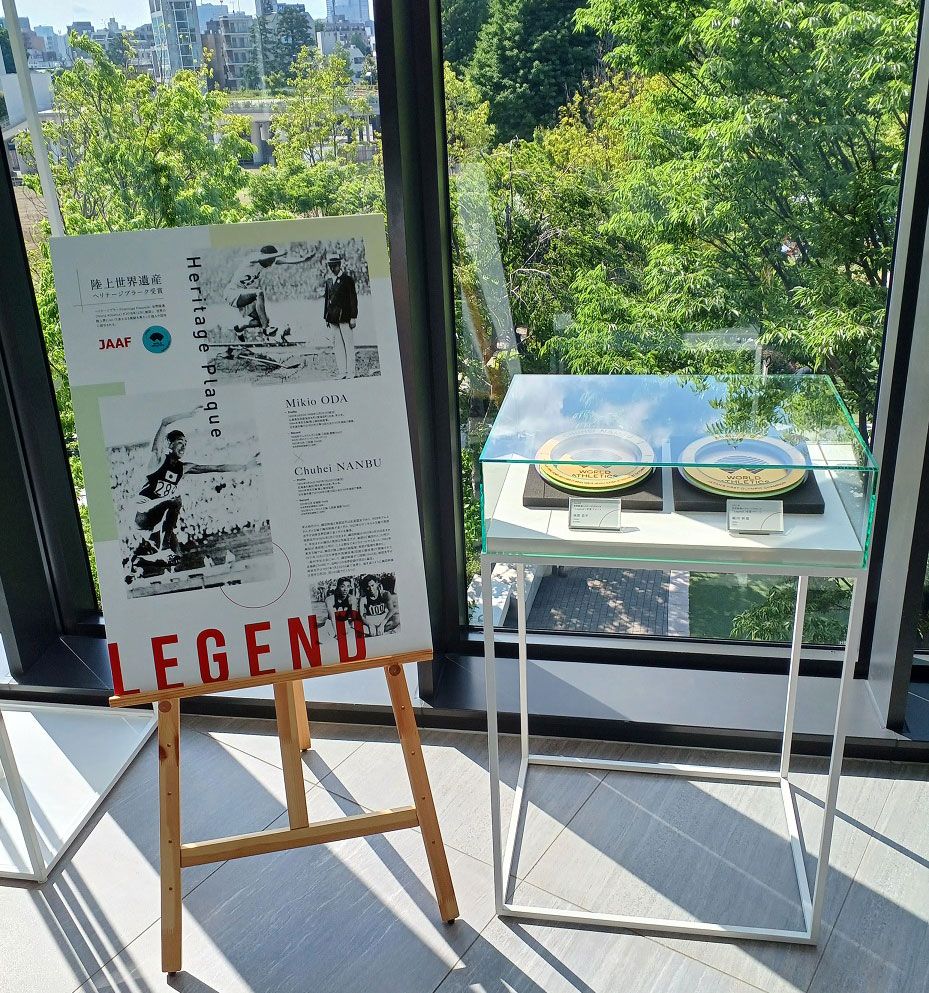 Chuhei Nambu and Mikio Oda's plaques on display in the Japan Olympic Museum
The museum's display opened on 24 May in time for the visit last week of a World Athletics delegation, who were in Tokyo to evaluate the city's bid for the 2025 World Athletics Championships.
The World Athletics Heritage Plaque is a location-based recognition, awarded for 'an outstanding contribution to the worldwide history and development of the sport of track and field athletics and of out-of-stadia athletics disciplines such as cross country, mountain, road, trail and ultra-running, and race walking'.
Nambu, the 1932 Olympic triple jump champion, is the first and to date only man to have held the world record in both the long jump and the triple jump. Nambu was among the inaugural 12 recipients of the World Athletics Heritage Plaque when the creation of the honour was announced by World Athletics President in December 2018.
Oda, who won the 1928 Olympic triple jump gold medal, was Japan's first ever Olympic champion across all sports. The plaque honouring Oda's career, during which he also broke the triple jump world record in 1931, was announced in December last year to mark the staging of the Tokyo 2020 Olympic Games in Tokyo.
On 29 April at the Oda Memorial Meeting in Hiroshima, Mikio Oda's sons Masao and Kazuo Oda, and his grandson (son of Masao), were first presented with the plaque which now rests permanently in the Japan Olympic Museum.
The world's oldest ekiden relay
The World Athletics Plaque, which in 2019 was awarded to the Hakone Ekiden, the oldest ekiden relay (marathon relay) in the world, has also been officially presented in Japan.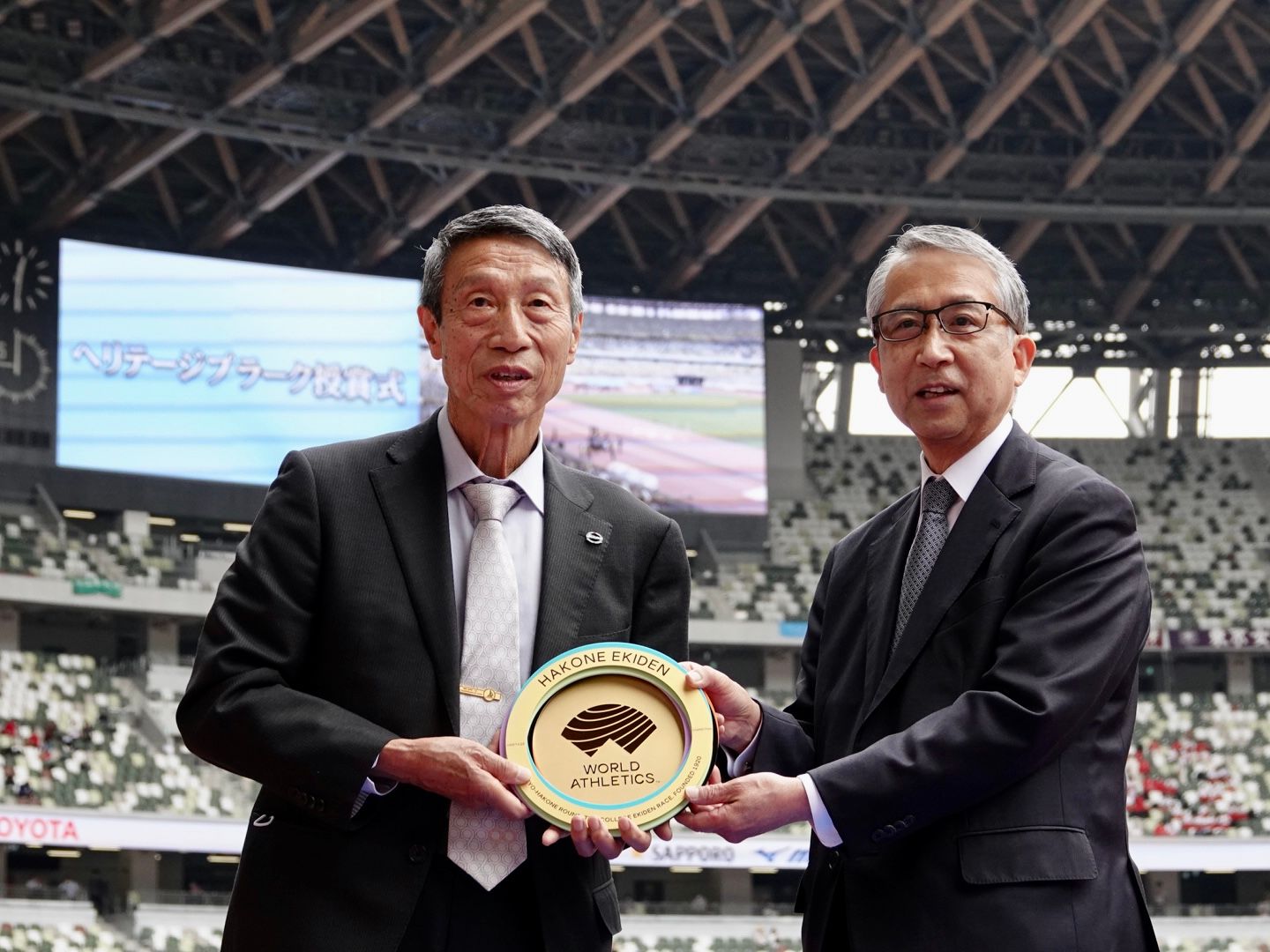 The Hakone Ekiden Heritage Plaque is presented
On 20 May in the National Stadium, Tokyo, World Athletics Council Member Hiroshi Yokokawa made the presentation to Masahiro Ariyoshi, President of the Intern-University Athletics Union of Kanto, the organisation which organises the annual ekiden.
The plaque will now go on permanent display in the Hakone Ekiden Museum in Hakone.
The Hakone Ekiden, which is officially called Tokyo-Hakone Round-Trip College Ekiden Race, was established in 1920. It is one of the most prominent university ekiden races of the year annually held between Tokyo and Hakone in Japan on 2-3 January.
Chris Turner for World Athletics Heritage