Cherry Alexander presents the Heritage Plaque to Andrea Hoffmannova alongside Jan Zelezny and Oldrich Zvolanek (© Pavel Lebeda)
Two Czech athletics legends, long distance runner Emil Zatopek and the annual Golden Spike invitation meeting in Ostrava, were today (30) officially presented with the World Athletics Heritage Plaque. Awarded in December 2018, it jointly honours their illustrious places in history.
The ceremony, which had been delayed due to the Covid pandemic, took place in the Mestsky Stadion - venue for two of Zatopek's 18 career world records. The Czech four-time Olympic champion set two world records at 10,000m (29:28.2 on 11 June and 29:21.2 on 22 October) in the arena in 1949.
The World Athletics Heritage Plaque is a location-based recognition, awarded for 'an outstanding contribution to the worldwide history and development of the sport of track and field athletics and of out-of-stadia athletics disciplines such as cross country, mountain, road, trail and ultra-running, and race walking'.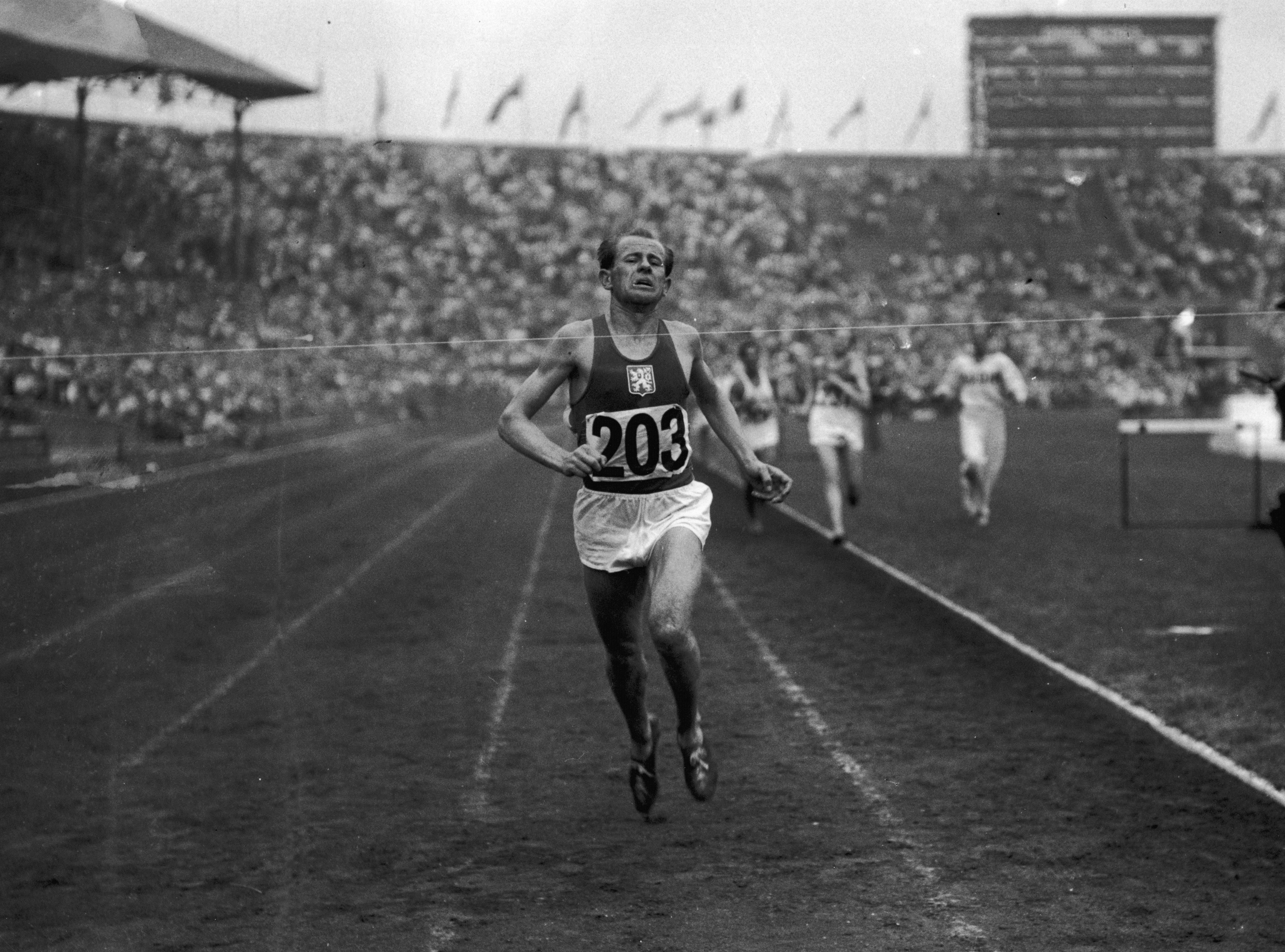 Emil Zatopek (© Getty Images)
On the eve of the 61st edition of the Golden Spike, European Athletics vice president Cherry Alexander, on behalf of World Athletics, presented the plaque to meeting director Jan Zelezny, the three-time Olympic and world javelin champion. They were joined by Andrea Hoffmannova, the deputy mayor of the city of Ostrava, and Oldrich Zvolanek of SSK Vitkovice.
The plaque will be permanently displayed at the stadium, adjacent to the bronze bust that already adorns the thoroughfare in front of the home straight spectator tribune.
Marking the occasion, the meeting organisers donated a crystal Golden Spike Trophy to the World Athletics Heritage Collection, which will be displayed online in the 3D virtual Museum of World Athletics (MOWA).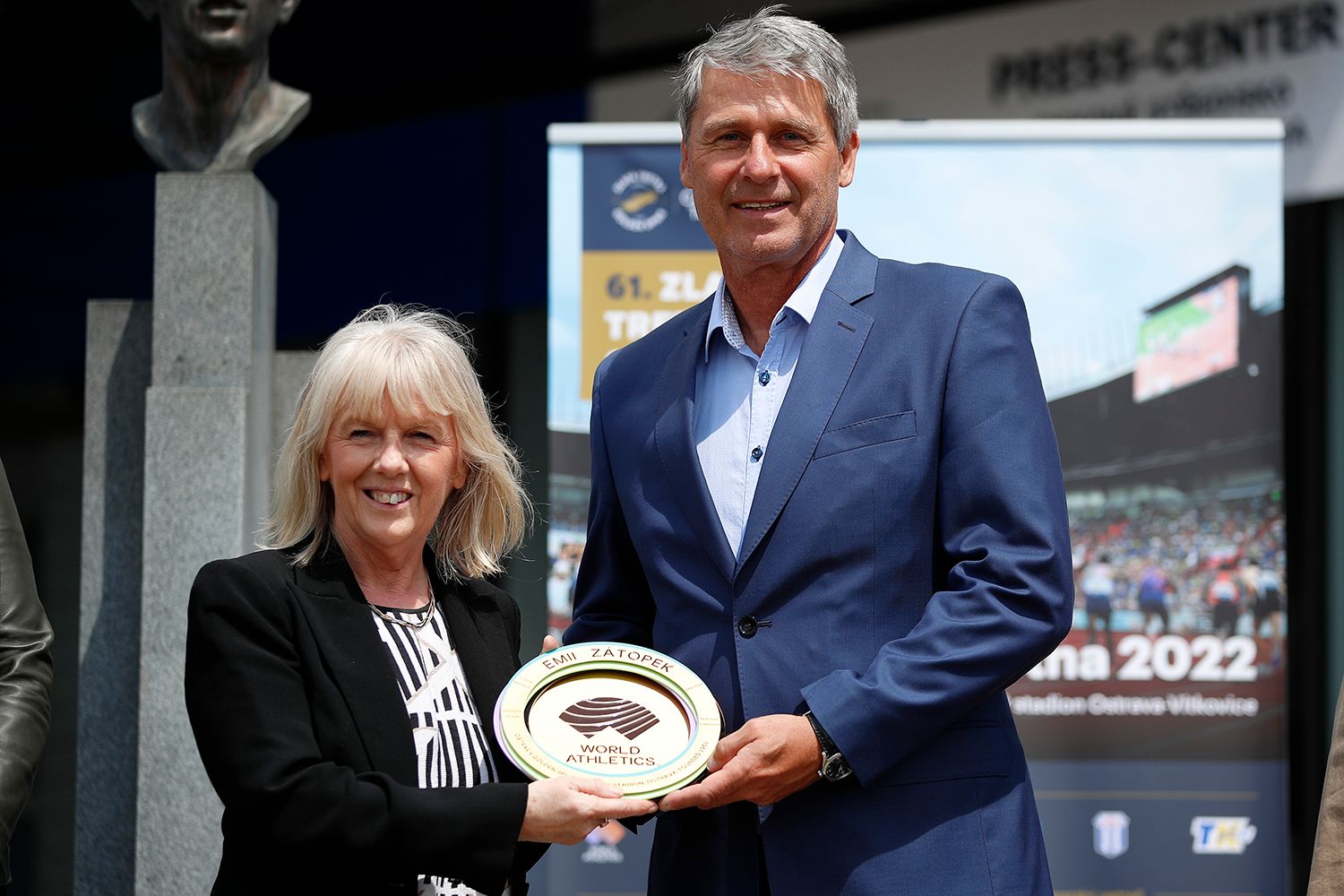 Cherry Alexander presents the Heritage Plaque to Jan Zelezny (© Pavel Lebeda)
The charismatic Czech soldier Zatopek, known to his many fans as 'The Human Locomotive' for his relentlessly hard training and his success at the 1948 London Olympic Games where he won the 10,000m gold and 5000m silver, achieved a unique treble at the 1952 Olympics in Helsinki. He won the 5000m, 10,000m and marathon; a feat that had never been achieved before or since.
Despite never having run a marathon before, Zatopek came home over two-and-a-half-minutes in front of his nearest rival.
The Golden Spike, a World Athletics Continental Tour Gold meeting, has seen a good number of world records broken during its six decades, including those by Ethiopian distance running aces Kenenisa Bekele (10,000m, 2004) and Haile Gebrselassie (20,000m and one hour, 2007).
At Olympic recognised events, Dayron Robles' 110m hurdles mark of 12.87 (0.9 m/s) in 2008 is the most recent world record established at the meeting, which annually plays to packed out enthusiastic crowds.
Chris Turner for World Athletics Heritage