The MOWA Gathering of Champions in Budapest (© Taylor Sims)
More than 200 people, including 22 global champions and world record-breakers, attended the second MOWA Gathering of Champions hosted by World Athletics President Sebastian Coe in Budapest today (22).

The champions at the event – held at the Museum of World Athletics (MOWA) Exhibition at Etele Plaza – were applauded by an attentive crowd featuring journalists, the sport's historians and fans.
The gathering, which was presented by World Athletics Heritage Director Chris Turner, was a ceremonial thank you to the outstanding athletes who have donated personal items from their careers, frequently uniforms – often with identification bibs attached – as well as shoes, equipment, medals, awards, and even training logs.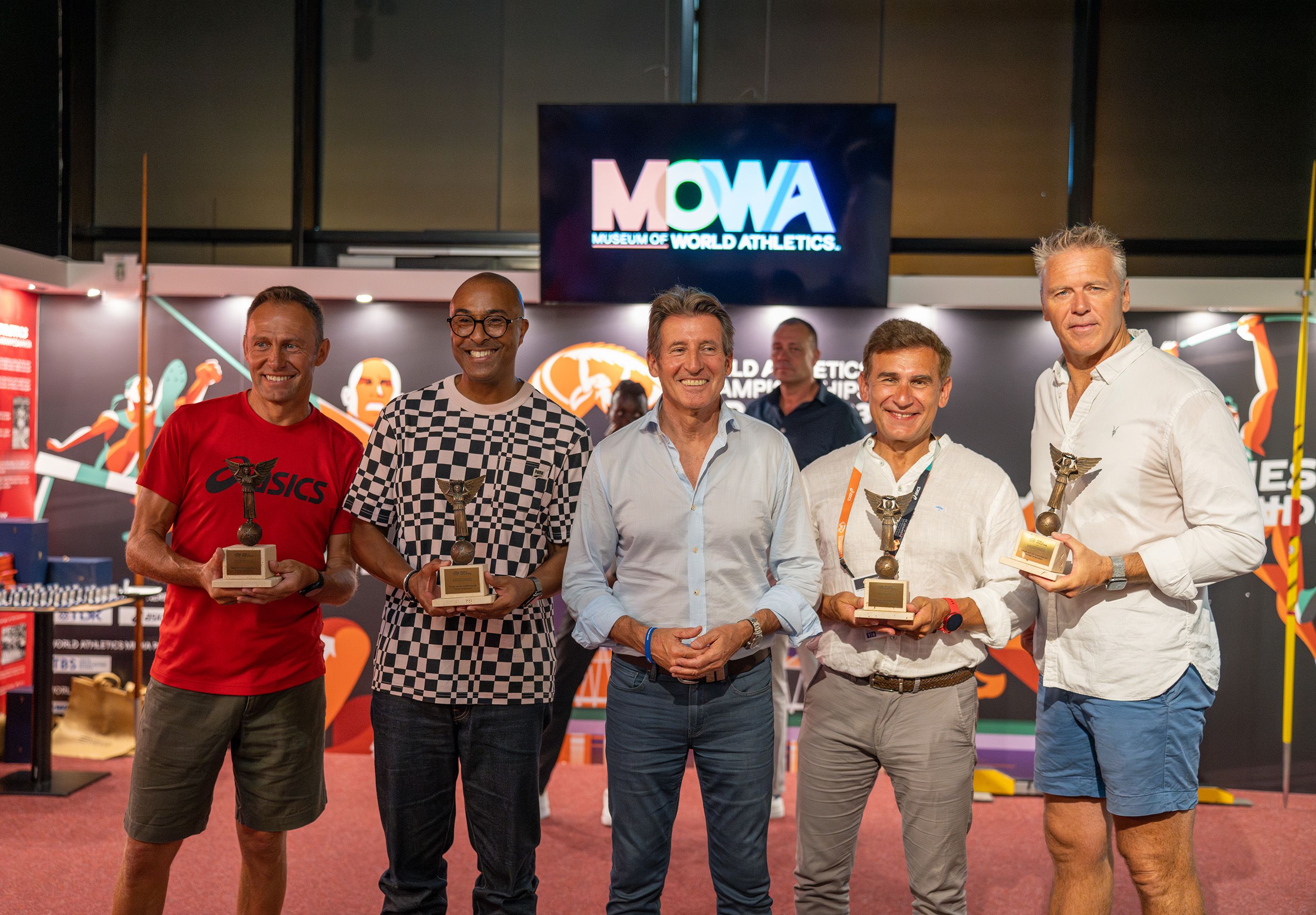 Stefano Baldini, Colin Jackson, Sebastian Coe, Robert Korzeniowski and Steve Backley (© Taylor Sims)
The first MOWA Gathering of Champions took place one year ago at the World Athletics Championships in Oregon. That gathering featured a similar crowd of onlookers to celebrate 15 champions and record-holders.
The Budapest exhibition, which opened in April 2023, has welcomed more than 34,000 visitors through to the first three days of the World Athletics Championships Budapest 23. Some 30 school groups attended in the months leading up to the event, and since Saturday's opening of the championships, the daily number of visitors has risen to a high of 769 on Sunday in the 600-square-metre exhibition space.
Turner began the 30-minute programme by saying: "The athletes are here because they are part and parcel of what we do. This whole collection began in 2018 and we had nothing in terms of singlets, shoes, javelins, or whatever you see. It's all come from the generosity of the athletes. Our heritage programme, the Museum of World Athletics, would not be here without them.
"It's a simple thing we started doing in Eugene, a gathering of champions to say thank you."
Coe, himself one of the honoured athletes, was next to address the crowd.
"I'm delighted to see so many people. My goodness, I thought we had a good start in Eugene, but this is really star-studded, and a great opportunity to meet some new faces and some old faces," he said.
"The celebration of champions is not simply a way of congratulating and celebrating your enormous, extraordinary, unique contributions to history. The reason we want to celebrate here today is just a simple thank you because this collection would not look like it does today had it not been for the generosity of all of you. That's really just huge, massive generosity.
"What you see here today is obviously materially in front of you. What I hope most of you have also seen is the online museum, which I know we can say with great pride, was the first online museum ever in the world of sport.
"We know we have some really solid benefactors; Roberto Gesto de Melo, a former World Athletics Council Member, has been incredibly generous. We know that without you there would be no museum."
Coe also thanked World Athletics Partner ASICS for their tremendous support of the MOWA, including creating their own gallery in the online museum.
Turner then introduced three special presentations, the first to the ASICS-sponsored Athlete Refugee Team's most experienced athlete, Anjelina Lohalith.
Lohalith, who won the European Champion Clubs Cup Cross Country in February, donated her winning singlet.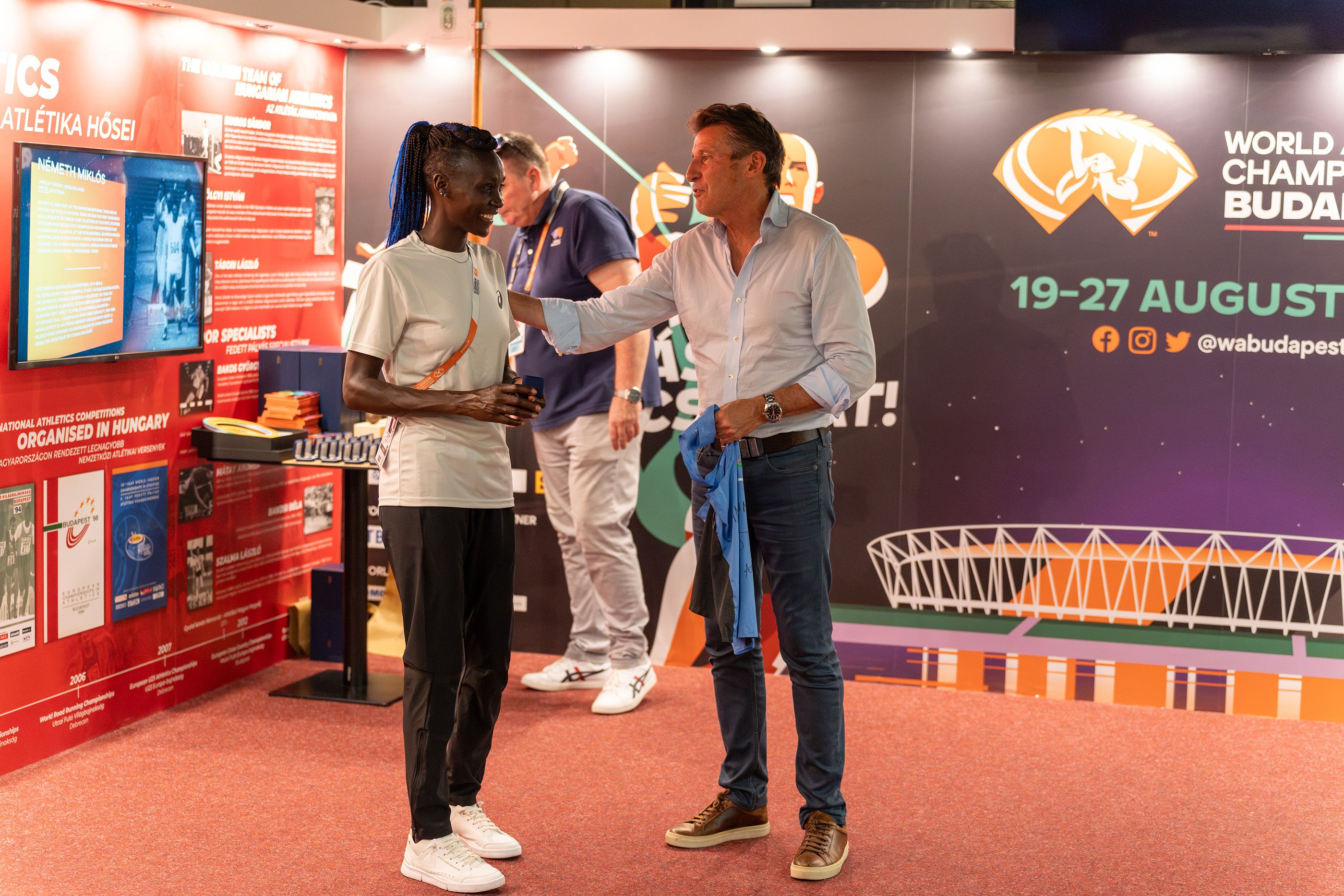 Anjelina Lohalith is greeted by Sebastian Coe (© Taylor Sims)
The second was to remember the presentation of a World Athletics Heritage Plaque memorialising the Gyulai Istvan Memorial meeting and the contributions of Istvan Gyulai, former General Secretary of World Athletics, and Bojidar Spiriev, creator of the international scoring tables, today's basis for the World Athletics World Rankings. The presentation was made by Coe to Hungarian Athletics Association President Miklos Gyulai, the late Istvan's oldest son.
Coe also presented World Athletics Heritage Trophies to four MOWA donors who, 25 years ago, won at the European Championships in Budapest: Steve Backley, Stefano Baldini, Colin Jackson and Robert Korzeniowski.
The MOWA Exhibition includes memorabilia from the greats of Hungarian athletics, including items and photos of father and son Olympic gold medalists Imre and Miklos Nemeth. Also included in the exhibit are virtual goggles, allowing access to the world's first 3D sports museum.
Dave Johnson for World Athletics Heritage

Full list of champions who attended:
Valerie Adams (world and Olympic shot put gold)
Steve Backley (Olympic medallist and European javelin gold, world record-breaker)
Stefano Baldini (Olympic marathon gold)
Willie Banks (world triple jump record-breaker and world silver medallist)
Sebastian Coe (Olympic 1500m champion and world record-breaker)
Constantina Dita (world marathon gold)
Colin Jackson (world 110m hurdles gold and world record-breaker)
Janeth Jepkosgei (world 800m gold)
Robert Korzeniowski (world and Olympic race walk gold and world record-breaker)
Bernard Lagat (world 1500m and 5000m gold)
Elana Meyer (world half marathon gold and world record-breaker)
Rosa Mota (world and Olympic marathon gold)
Nawal El Moutawakel (Olympic 400m hurdles gold)
Renaldo Nehemiah (world 110m hurdles record-breaker)
Christine Ohuruogu (world and Olympic 400m gold)
Wendy Sly (world 10km road race gold and Olympic silver)
Bruny Surin (Olympic relay gold and world 100m silver)
Daley Thompson (world and Olympic decathlon gold, world record-breaker)
Lasse Viren (Olympic 5000m and 10,000m gold, world record-breaker)
Blanka Vlasic (world high jump gold)
Kevin Young (world and Olympic 400m hurdles gold, world record-breaker)
Jake Wightman (world 1500m gold)