Dave Wottle wins the Olympic 800m title at the 1972 Games in Munich (© AFP / Getty Images)
For 50 years now, the men's 800m final at the Munich Olympic Games has been a thing of wonder.
For those of us sufficiently long enough in the tooth to recall watching it live (in my case, on a grainy black and white TV set in the north-east of England) the thrill of those two minutes has never diminished. Since the advent of YouTube, it has become a throwback obsession.
On that day in 1972 – Saturday 2 September – how on earth did he manage to do it? How did Dave Wottle manage to throttle his way from nowhere to the most unlikely victory in Olympic track and field history?
He was some 15m adrift of the field after 200m and still detached in last place at the bell. Even coming off the final bend, having worked his way up to fourth, the US runner was 10m down on the man in the gold medal position, Yevgeny Arzhanov of the Soviet Union.
Arzhanov had not lost an 800m race in three years. Yet, somehow, Wottle found the speed to fly past the Kenyans Mike Boit and Robert Ouko down the home straight and then catch the Ukrainian on the line.
Both men were clocked at 1:45.9, back in the days when tenths of a second were the fractional time limit. Wottle took the gold by 0.03: 1:45.86 to 1:45.89.
'Wottle the Throttle'
Watching the race back again now – as viewer number 3,658,001 of the ABC Wide World of Sports clip on YouTube – it strikes you that, throughout the whole drama, Wottle is the coolest dude in the 'house' of the magnificent Munich Olympiastadion.
In his trademark cream-coloured golf cap, and his white USA vest, he never panics or loses control. Even when he crosses the line, with his remarkable victory secured, he keeps his emotions in firm check.
"He never changes expression," remarks Jim McKay, the legendary voice of ABC's Wide World of Sports. "I think Dave is stunned," suggests McKay's expert summariser, Marty Liquori. "I don't think he's realised what he's just done."
Indeed not. As a 10-year-old in the north-east of England, I grabbed a red cotton cap bearing the name of my favourite football team and ran outside. I raced two laps of the block against the boy whose grandparents lived across the road.
Sadly, the cap didn't have the same magical power as Wottle's. I was a more well-beaten second than Arzhanov. But, then, my friend and rival did go on to become an international runner (while I made a living out of writing about track and field).
Such – in a small, parochial, personal snapshot – was the impact of Wottle's stunning run.
To be fair, the ABC commentary team were not as stunned as Wottle or the rest of the world. They knew all about 'Wottle the Throttle' and his devastating turn of speed.
"I think Dave's in a great position at this point," Liquori said in commentary as Wottle started to rev his engine, moving up to sixth place with 200m to go. "Stand by for the kick of Dave Wottle," added McKay. "If he's got it, he could make it."
What the dramatic denouement didn't reveal to the naked eye was that Wottle's winning performance was actually a triumphant tour de force of even paced running. His 200m splits were 26.4, 27.1, 26.2 and 26.2.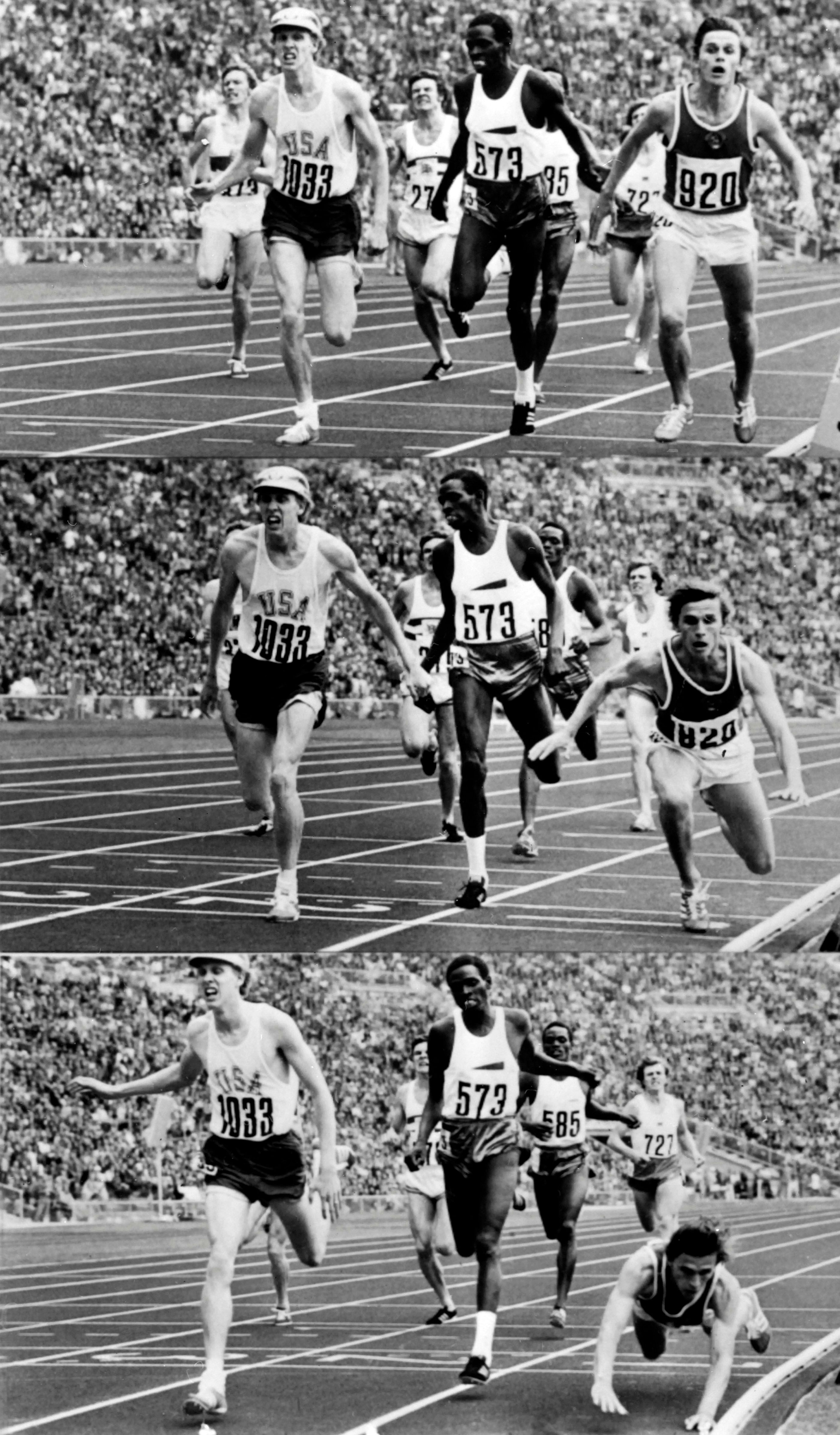 Dave Wottle pips Yevgeny Arzhanov and Mike Boit to 800m gold at the 1972 Olympics in Munich (© AFP / Getty Images)
A meteorite
Liquori, an Olympic 1500m finalist as a 19-year-old in Mexico City in 1968, won the NCAA mile title ahead of the emerging Wottle in 1970. That same year Wottle represented his country for the first time, narrowly missing out on a place in the 800m final at the World University Games in Turin.
A history student at Bowling Green State University in his home state of Ohio, he was held back by injury in 1971 but won the NCAA 1500m title in 1972, the year in which "he came out of nowhere," as McKay put it in the aftermath of the Munich final.
"Dave Wottle has found Olympic gold medal form within the last year from Heaven knows where," pondered the ABC commentator. "A year ago, he simply didn't have this."
"Dave wasn't even ranked in the world last year," Liquori pointed out. "He's just been a meteorite – right into the spotlight."
It was at the US Olympic Trials at the Stevenson Track in Eugene, on 1 July in 1972, that Wottle first made his meteoric mark, equalling Australian Ralph Doubell's four-year-old 800m world record, 1:44.3, ahead of Rick Wohlhuter (1:45.0), Kenny Swenson (1:45.1) and the great Jim Ryun (1:45.2).
He still regarded himself as a miler when he travelled to Munich to contest both the 1500m and the 800m. In the longer event, he failed to advance beyond the semifinals – emotionally drained, no doubt, by the 800m and its aftermath.
Wottle was in such a state of shock after his two-lap victory that he forgot to remove his golf cap at the medal ceremony. He didn't realise what he had done until a reporter asked if he had been making a protest. Having previously been a member of the US Air Force training corps at his university, Wottle was mortified.
He issued a formal apology to the American people. US vice president Spiro Agnew responded with a personal message: "Hat on or hat off, you're the kind of American I respect."
A temporary half-miler
Wottle started wearing the hat to keep his hair out of his eyes, having started to grow it long after completing his service in the air force training corps. It then became a lucky charm, much the same as his habit of eating a Hershey's chocolate bar before his race. That started in high school. After he ate a bar and won a race, he maintained the custom.
It all added to the portrait of Wottle as the unlikeliest of Olympic champions.
In between the Olympic Trials and the Games themselves in 1972, he had been incapacitated for several weeks by tendonitis in both knees.
To the annoyance of US team coach Bill Bowerman, he got married two weeks before the Games, his new bride, Jan, travelling with him to Munich and staying outside of the Olympic Village.
And, as he told Billy Cvecko in an interview on Toadlyfe.com, the man who ran an 800m for the ages only considered himself to be a temporary half-miler.
"I was always a miler," said Wottle. "I was a half-miler only for two and a half months in my whole career, in between the AAU (US) Championships and the end of the Olympic final in 1972."
Wottle only continued to run competitively for two years after Munich before retiring to concentrate on his career initially as a college track coach and then in college administration.
Now 72, he will always be remembered for shifting into full throttle in Munich back in 1972.
"The other guys went out very quickly, 24.9 for the first 200m," he told Cvecko. "I simply couldn't keep up with them.
"You don't go into an Olympic final and say, 'I'm going to give these guys 10m.' It just doesn't work that way.
"But no one wanted to lead so they slowed in the second 200m. They allowed me to gain contact with the back of the pack.
"I always tell people: 'It wasn't so much a kick, as people coming back to me'."
Simon Turnbull for World Athletics Heritage