The start of the first edition of Campaccio in 1957
Campaccio, a World Athletics Cross Country Tour Gold meeting that on Friday (6) celebrates its 66th edition in the Italian town of San Giorgio su Legnano, has been awarded the World Athletics Heritage Plaque.
The World Athletics Heritage Plaque is a location-based recognition, awarded for 'an outstanding contribution to the worldwide history and development of the sport of track and field athletics and of out-of-stadia athletics disciplines such as cross country, mountain, road, trail and ultra-running, and race walking'.
Founded in 1957, Campaccio has built a reputation for excellence that continues to attract many of the world's greatest names in distance running. World cross country gold medallist Hellen Obiri and marathon world record-holder Eliud Kipchoge are among the illustrious roll call of champions who have turned San Giorgio su Legnano, situated 20km from Milan and with a population of less than 7000, into one of the global capitals of cross country running.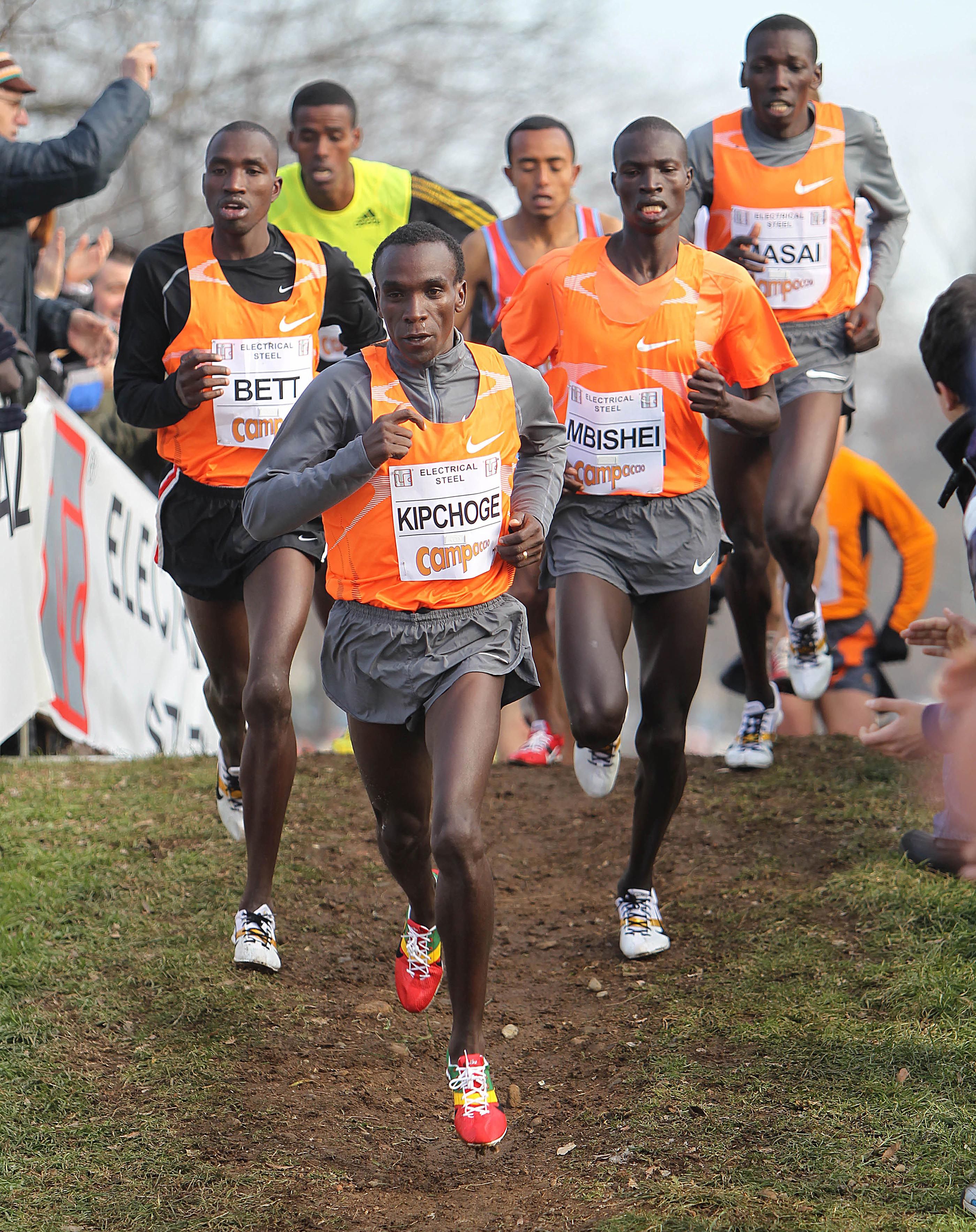 Eliud Kipchoge races in the 2010 Campaccio
Campaccio is a traditional cross country course: undulating and scattered with natural hazards such as ditches and logs for runners to tackle. It offers a true challenge of endurance across the countryside.
The race has often staged the Italian Championships, and in 2006 the 50th edition of Campaccio was host to the European Cross Country Championships.
"Campaccio, which is one of oldest races of the international cross country running calendar, greatly deserves this heritage distinction," commented Italy's World Athletics Council Member Anna Riccardi.

"The small-town venue of San Giorgio su Legnano, and the race organisers, the Union Sportiva Sangiorgese, have successfully nurtured this special event for more than six decades. From Italy's two-time world cross country champion Paola Pigni-Cacchi, who sadly passed away in 2021, to the five-time world cross winners Grete Waitz and Paul Tergat, and six-time long-course world champion Kenenisa Bekele, Campaccio has always attracted the world's best runners and has played a central role in Italy's proud distance running tradition."
In a joint message, Union Sportiva Sangiorgese President Claudio Pastori and Campaccio meeting director Tito Tiberti commented: "The whole family of San Giorgio su Legnano is honoured and humbled. We have reached a few significant milestones in the history of the Campaccio cross country and Unione Sportiva Sangiorgese: our very first edition back in 1957, our first women's race in 1970, our National Olympic Committee Gold Star for sport merit acknowledgement in 1987, and the organisation of the European Cross Country Championships in 2006.

"The award of the World Athletics Heritage Plaque marks a new milestone for our organisation, which celebrates a marriage between a world class competition, an inclusive event for everyone and a small step towards environmental sustainability. It's rewarding and inspiring at the same time."
Italy's Franco Fava, one of the multiple winners of Campaccio, said: "More than my national records on the track, I am proud of my three consecutive victories at the Cross del Campaccio in 1976, 1977 and 1978.

"As a deep lover of cross country with 10 participations in the Cross of Nations and then in the World Cross Country Championships, my victories on the difficult Campaccio course have been my inspiration for the track and the marathon. I still remember with emotion my first success at Campaccio in 1976 when I managed to surprise my close friend and rival at the 3000m steeplechase, the late Bronislaw Malinowski. Thank you, Campaccio."
Chris Turner for World Athletics Heritage