Mine De Klerk celebrates her shot put win at the World U20 Championships in Nairobi (© Dan Vernon)
For Mine de Klerk, a 6:30am start constitutes a lie-in. For the past several months, that's what time the South African teenager would enter the gym at the University of Oregon, lifting weights before her morning classes. Then, at 2pm, she'd head to Hayward Field, completing her throws workouts in one of the most famed athletics stadiums in the world.
If that sounds like a tough routine – and it is – then consider what she'd been used to at her home in Free State, South Africa, in the years before.
"I used to wake up at 4:30am to do lifting and boxing before I went to school," she says.
It was a routine she began in 2020 and, whether it's correlation or causation, De Klerk took one giant leap forward soon after, improving her discus PB by eight metres last year, throwing an African record of 53.50m to win silver at the World Athletics U20 Championships in Nairobi. At the start of 2021 she also improved her shot put best to 17.55m, an African U20 record, and took world U20 gold last August with 17.40m.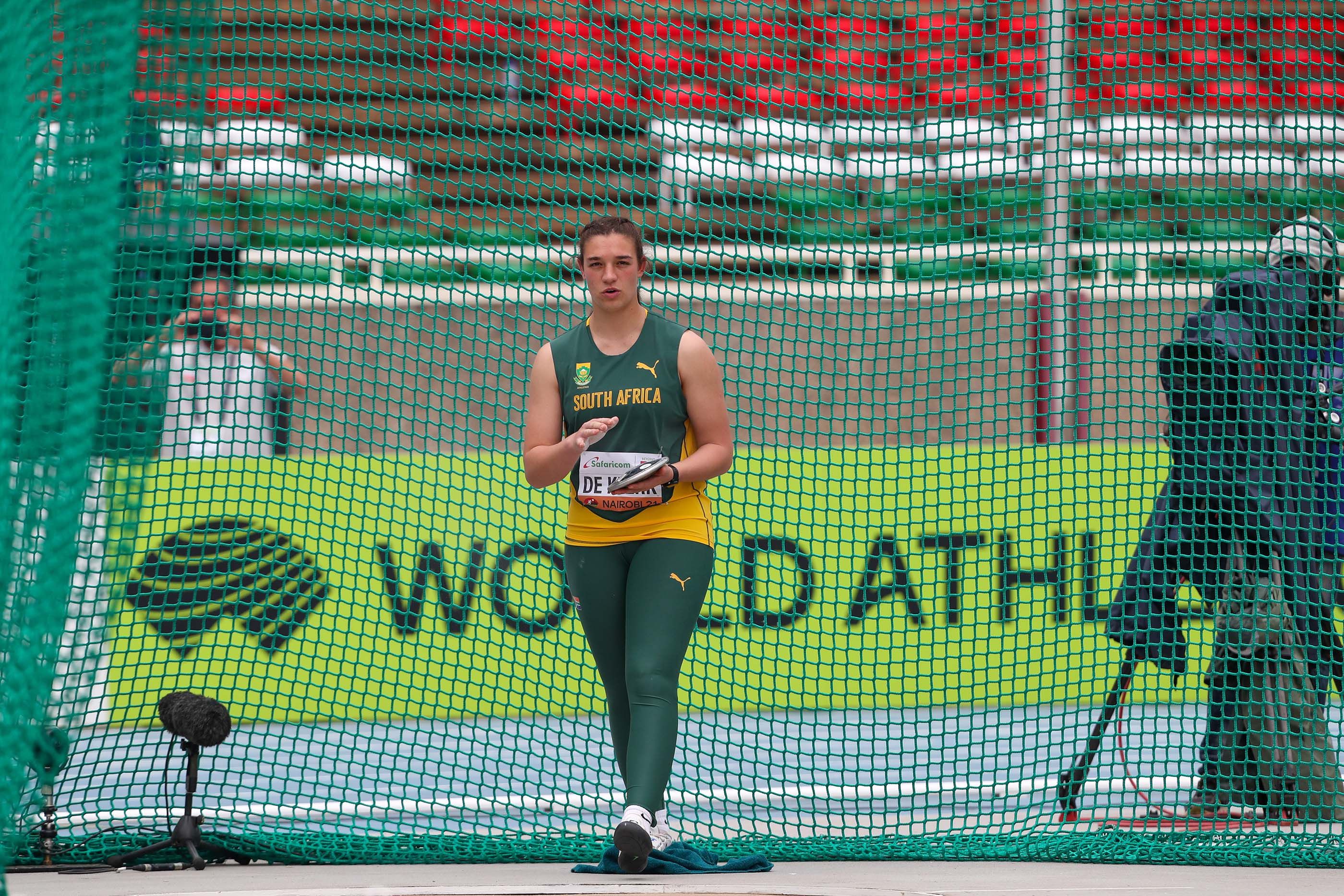 Mine de Klerk contests the discus at the World Athletics U20 Championships Nairobi 21 (© Roger Sedres)
And now the 19-year-old finds herself in Colombia, her first visit to South America built around a singular purpose: to retain her shot put title at the World Athletics U20 Championships Cali 22.
It's set to be a busy few days.
De Klerk will compete in the women's shot put and discus qualification rounds on Monday (1) and, all going well there, she'll be back for the shot put final on Tuesday and the discus final on Wednesday. Her goal this week?
"I really want to win the gold again, defend my title in the shot put," she says. "The discus is going to be harder, everyone is really close. I just want to throw a PR, make the final and do my best. If I win a medal, that's a bonus."
Training for two events, especially at the level she's reached, is not easy. "Because I don't do the same technique," she says. "I do the glide in the shot put and then the discus is rotational."
Nonetheless, De Klerk has long seemed a natural fit for both, ever since taking up throwing events at the age of 10. "My primary school had a little mock meet and me and my dad decided I should do the shot put," she says. "I actually threw really far for my age and then we were like, 'let's do this'. I've been doing it ever since."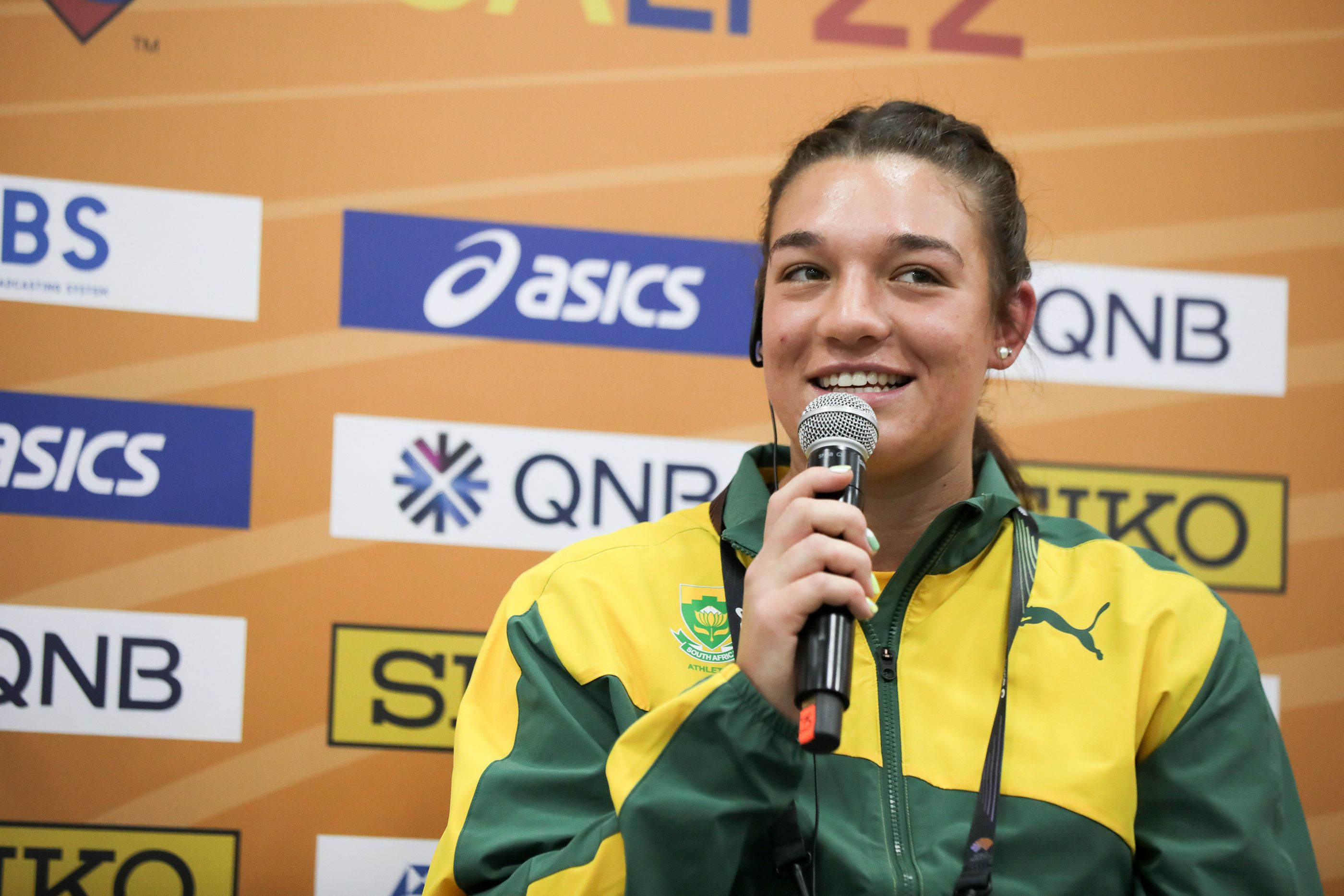 Mine de Klerk speaks at the pre event press conference ahead of the World Athletics U20 Championships Cali 22 (© Marta Gorczynska)
De Klerk's family is steeped in sport. Her dad had thrown the javelin here and there, but he's mainly a rugby player. Her mother plays hockey, her brother plays cricket, while her younger sister is also a shot putter.
Success for De Klerk came early, and often.
"Since I was 11 I was national champion," she says. "I started doing discus at 12 and when I got to high school it was bronze the first year, then gold and then silver when I was 16, and then gold since."
As she came towards the end of her school days in South Africa, De Klerk set her sights on a move to the US. "There's so many more opportunities than back home," she says. "I chose the University of Oregon because of the people – I got along very well with the coach and the facilities are amazing."
She moved to Eugene at the start of this year, where she's coached by Erik Whitsitt, juggling training with her studies in human physiology. Walking into Hayward Field every afternoon for training still feels a little surreal.
"It's very hard to believe I get to train there, watching Worlds and being like, 'I train there.' But it's a very big privilege and an opportunity," she says.
The hard-knock life of the NCAA has forced her to realign her expectations.
"I was used to being, not the best, but I'd always win, even on a bad day," she says. "It pushes me to be better and it taught me how to handle the pressure. It's all in the mind. Your mind is your biggest weapon and if I don't believe in myself, I'm not going to do as well as I want to."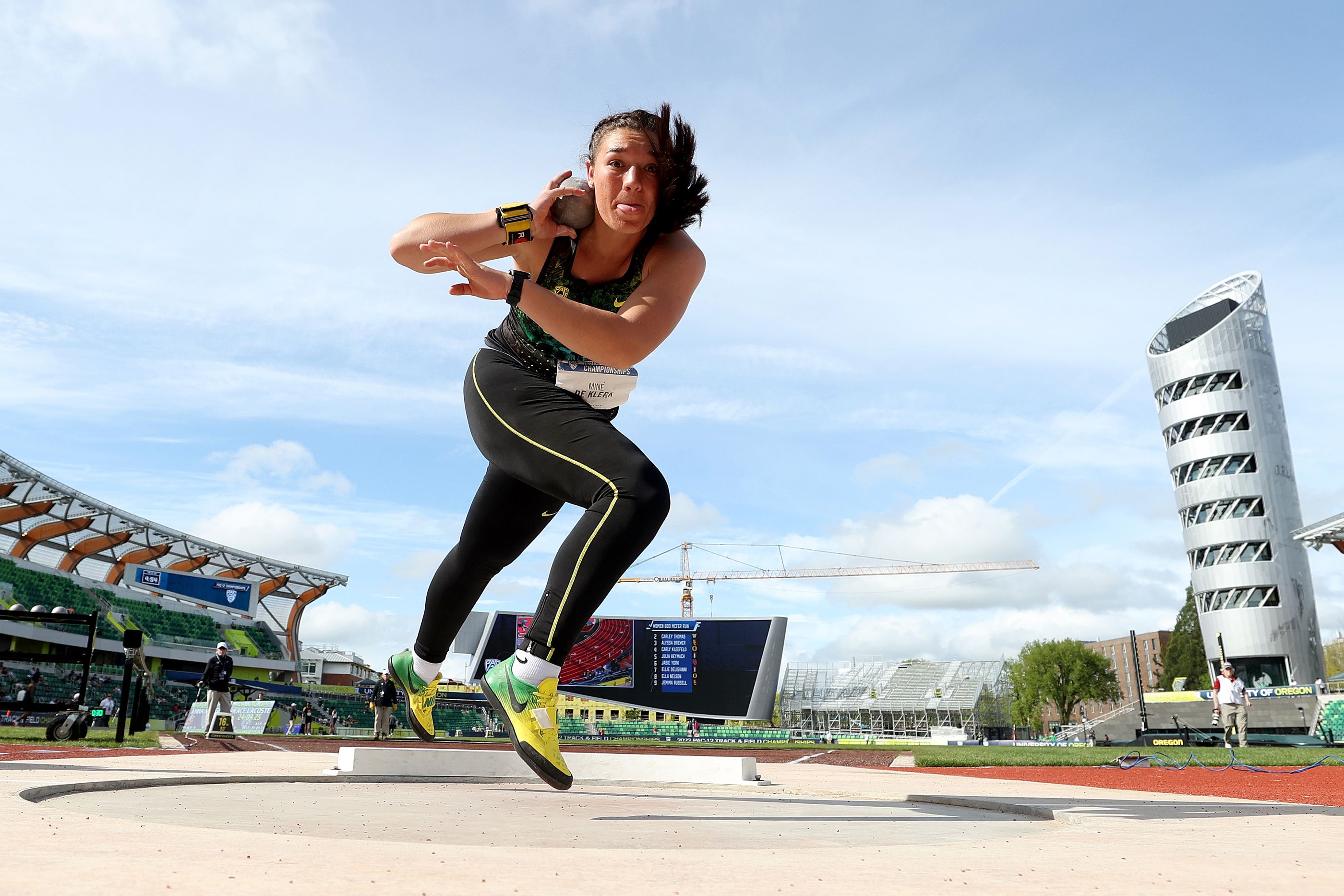 Mine de Klerk competes in the shot put final during the Pac-12 Championships at Hayward Field (© Getty Images)
Given English is not her first language, De Klerk struggled a little at the start with the academic demands, but she's since got to grips with things. As much as she wanted to hang around campus until the World Athletics Championships came to town, De Klerk found herself missing home too much at the end of the semester so she flew home in mid-June to spend the South African winter with her family.
In her spare time, she likes to get out for adventurous hikes, but so much of her life these days revolves around the throwing circle – refining what she does inside it to try and emulate the greats. De Klerk was born in New Zealand and, as such, it's no surprise that Valerie Adams was long a role model. Adams, the two-time Olympic champion, won the world U20 shot put title 20 years ago, throwing a PB of 17.73m to take gold in Kingston, Jamaica.
De Klerk's best now is just 18cm shy of that mark, and only one thrower in the women's shot put in Cali – Turkey's Pinar Akyol – has thrown beyond it. She'd love to follow in Adams' footsteps by making winning a habit at global level, and the first step to doing that at senior level is to do it against the world's best teenagers. Down the line, De Klerk is aiming as high as she possibly can.
"I really want to be in the Olympics, maybe win the gold medal one day," she says. "Not now, but maybe in 2028."
Such goals are all way off in the distance right now, but at the same time, De Klerk didn't go through all those early mornings so she could settle for mediocrity.
She wants to be great – one day – and in Cali she has the chance to take another step on that journey.
Cathal Dennehy for World Athletics