Poland's Patryk Dobek receives the baton from Joanna Jozwik in the 2x2x400m at the World Athletics Relays Silesia 21 (© Getty Images)
There was success for the host nation Poland on an action-packed first evening of competition at the World Athletics Relays Silesia 21, with Joanna Jozwik and Patryk Dobek teaming up to win the 2x2x400m.
It was the first of two finals at the Silesian Stadium in Chorzow on Saturday (1), with Germany winning the shuttle hurdles relay ­and a whole host of competitive 4x100m and 4x400m heats taking place.
Tactical victory on home soil
With two athletes taking it in turns to run their two 400m legs, the 2x2x400m is an event which favours the middle-distance athletes rather than sprinters but in Dobek the host nation had a bit of both. Previously better known as a 400m hurdler, the 27-year-old has stepped up to the 800m this year in superb style, winning the European indoor title in just his fourth competition at the distance.
In Silesia he was joined by his European Indoors teammate Jozwik, who claimed 800m silver in Torun, and together they powered to victory on home soil, clocking 3:40.92.
After a conservative start, Kenya were narrowly ahead after the first lap, with Naomi Korir handing the baton to Ferguson Cheruiyot Rotich and Jozwik passing on to Dobek, who had helped Poland to a fourth-place finish in this event at the last edition of the World Athletics Relays in Yokohama in 2019.
Slovenia is only fielding one team in Silesia and they made their presence felt in this event, with Anita Horvat and Zan Rudolf challenging Kenya on the third and final legs. Kenya had the stronger finish, however, and it saw them secure second place in 3:41.79 as Slovenia were third in 3:41.95.
"I didn't want to get too fired up on my first lap," said Dobek. "I knew the Kenyan was a top-class runner, so I just held his pace.
"I competed in this event in Yokohama and because of this experience, I was better prepared. Since then I gained more endurance, thanks to coach Krol (Zbigniew Krol), who prepared me well."
Germany holds off strong Polish challenge in shuttle hurdles
All-round stronger starts and composure under pressure helped Germany to victory in the mixed shuttle hurdles relay, the final event of the night.
Monika Zapalska began well to give Germany a slight lead on the first leg. Poland's Zuzanna Hulisz made up a bit of ground on Zapalska towards the end of her leg, but Germany's Erik Balnuweit got off to a swift start on the second leg, opening up another metre on Poland.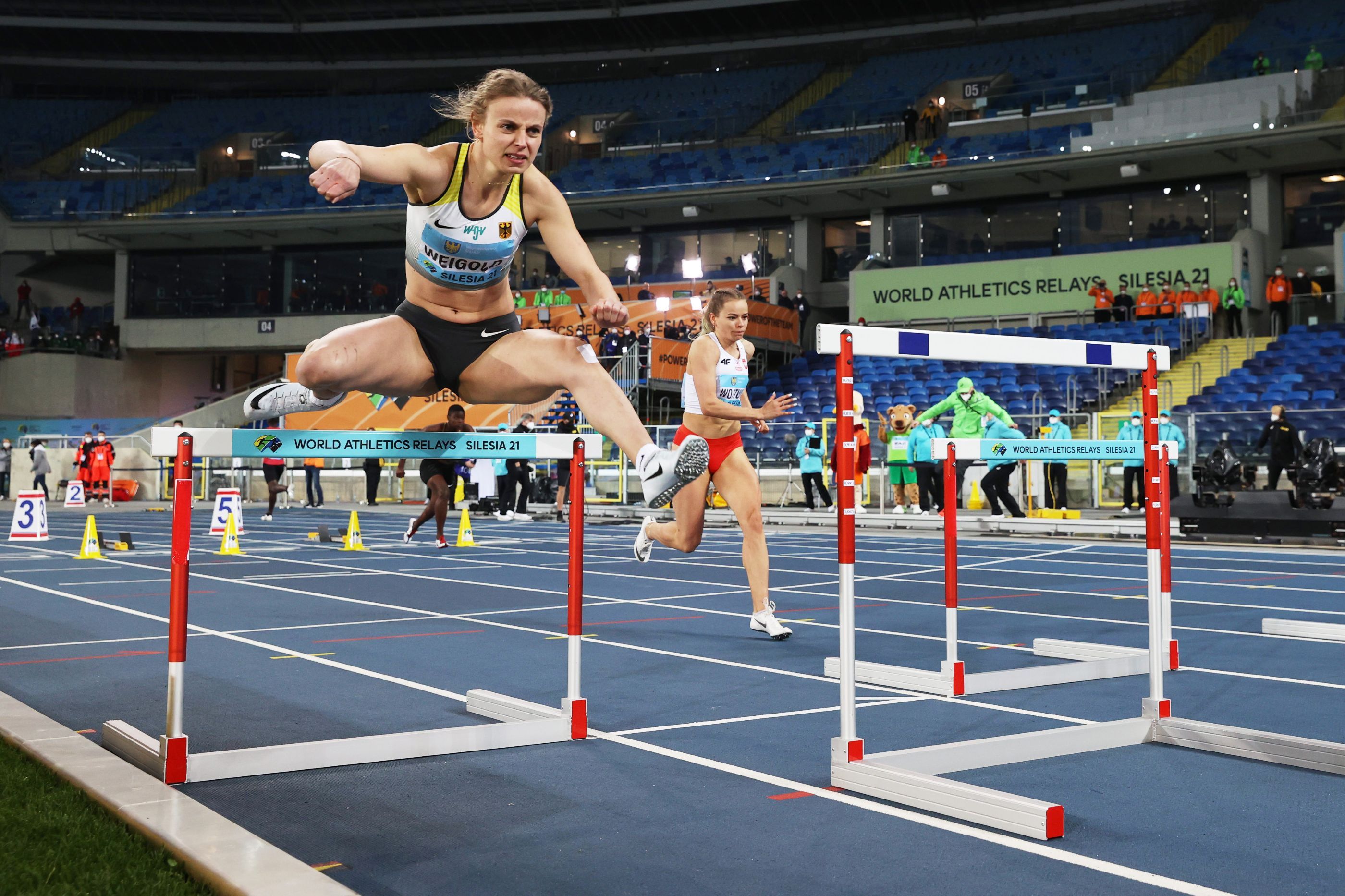 Anne Weigold competes in the shuttle hurdles relay (© Dan Vernon)

Krzysztof Kiljan maintained Poland's second-place position on the second leg as the top two teams continued to pull away from Kenya in third. The positions stayed the same on the third leg with Anne Weigold holding on to the lead for Germany as Poland's Klaudia Wojtunik tried to give chase.
Poland saved their strongest runner, Damian Czykier, for the final leg. At first it seemed as though Gregor Traber's lead was unassailable, but Czykier closed well in the final stages. He clattered the final barrier, though, and so was unable to catch the German before the finish.
Germany won in 56.53 with Poland taking second in 56.68. Kenya took third in 59.89.
"I think we did a good job over the hurdles," said Balnuweit. "For us it was the first time. We trained for the relay a lot during our one week training camp. We stayed cool and focused and could thus beat Poland."
All to race for in qualifying events
Competition was fierce in the heats for the championship events, with qualification for the Tokyo Olympic Games and World Athletics Championships Oregon22 up for grabs.
The women's 4x400m heats were up first and hosts Poland secured a strong start as they won the event's opening race, clocking 3:28.11.
Cuba's quartet of Zurian Hechavarria, Rose Mary Almanza, Lisneidy Veitia and Roxana Gomez went quickest overall, leading from gun to tape to win the second heat in 3:27.90 ahead of the Netherlands with 3:28.40. It was a busy night for European indoor 400m champion Femke Bol as before lining up for the mixed 4x400m, she opened her campaign with a 49.81 anchor split for the Dutch women's team – the fastest overall in the first round.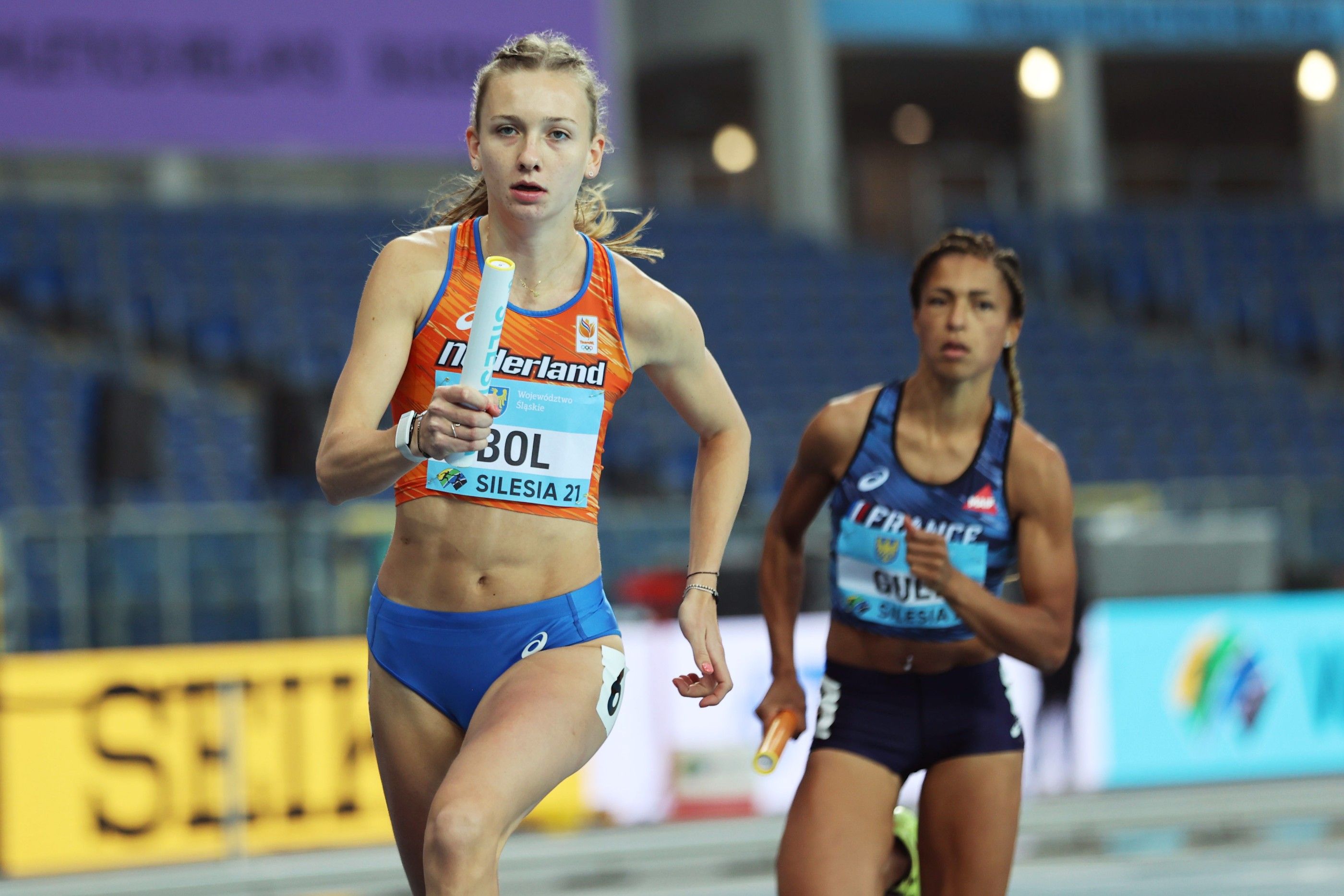 Femke Bol in the women's 4x400m heats (© Dan Vernon)

Like the Netherlands and Poland, who won this event in Yokohama in 2019, Belgium and Great Britain had already qualified for Tokyo as 2019 World Athletics Championships finalists. They all also made the final in Silesia where they will be joined by Germany, Italy and France on Sunday.
Belgium qualified third quickest for the final with 3:28.27, ahead of Great Britain's 3:28.83.
There was joy for the Dutch men's 4x400m team too as Jochem Dobber, Liemarvin Bonevacia, Ramsey Angela and Tony van Diepen combined to clock 3:03.03 and win the second heat, leading the list of qualifiers. But Poland didn't share in the success of their female teammates as they missed out on the final by just one place. Their run did, however, gain them a spot at the World Athletics Championships in Oregon.
In that third heat, which was won by Botswana in 3:04.03, Italy's Vladimir Aceti surged past Karol Zalewski – who was part of Poland's world indoor record-breaking team at the 2018 World Athletics Indoor Championships in Birmingham – with a split of 45.36 to finish second in 3:04.81 and pip the hosts for that place in the final.
The Japanese team ensured that they will also be heading for a home Olympics as Rikuya Ito, Kentaro Sato, Kazuma Higuchi and Kaito Kawabata clocked 3:03.31 to win the first heat.
Colombia's Anthony Zambrano, the world 400m silver medallist, eased over the finish line in 3:04.64 to comfortably anchor his team to second place and a spot in the final along with South Africa, Belgium and France.
As expected, the mixed 4x400m heats provided some thrilling action, with Italy's Edoardo Scotti, Giancarla Trevisan, Alice Mangione and Davide Re storming to a second heat win of 3:16.52 to lead the first round ahead of heat three winners Brazil with 3:16.53 and the Dominican Republic with 3:16.67.
Ireland, Belgium, Great Britain, Netherlands and Spain will be joining them in the final but Colombia and Poland will miss out after placing third and fourth in that high-quality second heat.
Colombia's 3:17.61 was faster than the Netherlands' winning time of 3:18.04 in the first heat, but they were run out of an all-important top two qualifying spot.
In that Netherlands team, Bol ran 50.72 after her earlier 49.81 in the women's event.
Narrow margins in 4x100m
Things were tight at the top and bottom of the list of teams to qualify for the men's 4x100m final, with just 0.001 separating Italy from Brazil to lead the first round and the exact same small margin between Denmark and Ukraine at the bottom, to see Ukraine just miss out.
European indoor 60m champion Marcell Jacobs and Italian record-holder Filippo Tortu both ran storming legs along with Eseosa Fostine Desalu and Davide Manenti to clock 38.45 in winning heat three ahead of South Africa, anchored by African champion Akani Simbine, while 2019 winners Brazil, anchored again by Paulo André Camilo de Oliveira, won heat two in a time just a thousandth slower.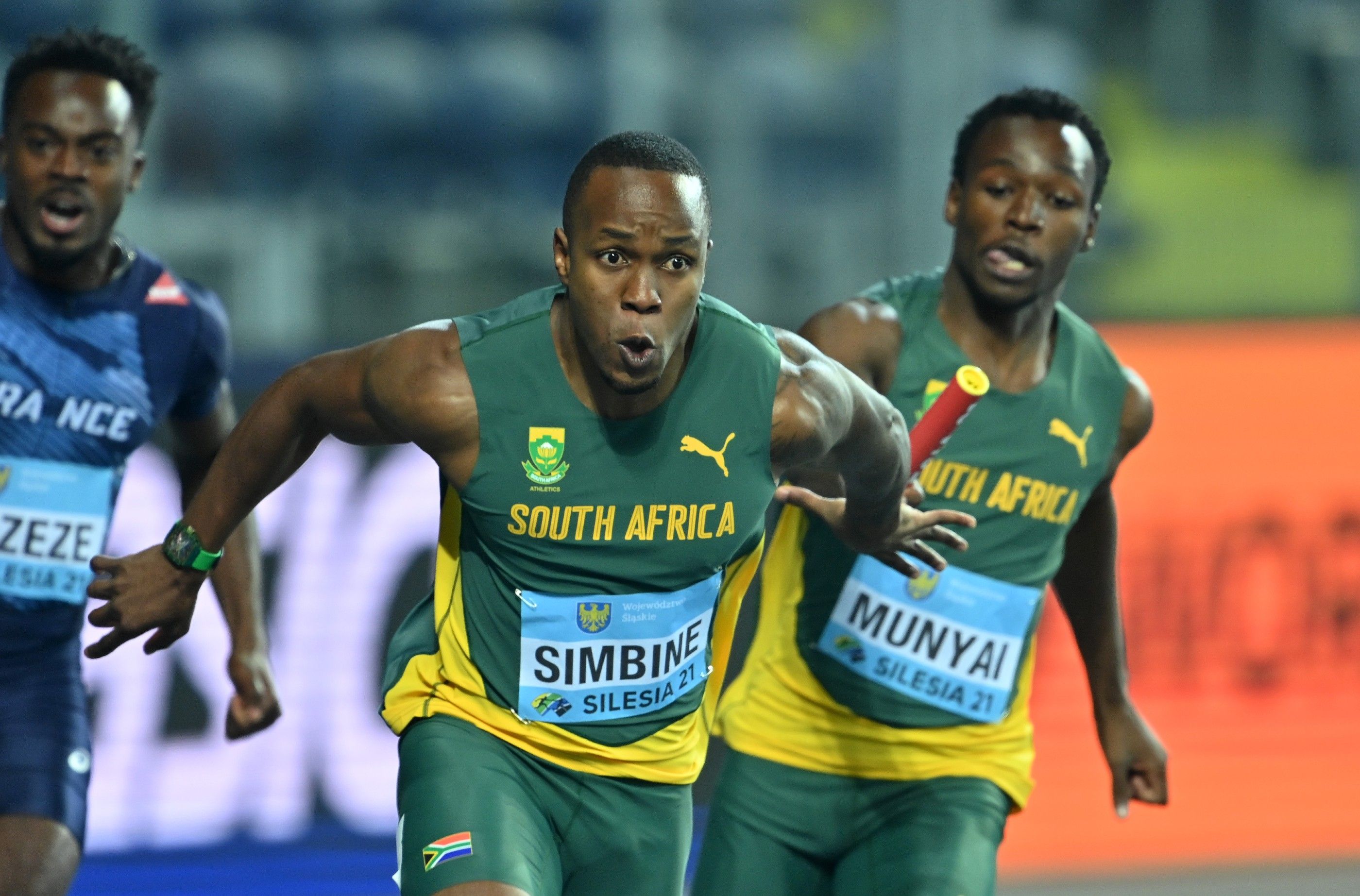 Akani Simbine in the men's 4x100m heats (© Getty Images)

Denmark ran a national record of 39.06 in that race to finish fourth behind Germany and Japan to secure their spot in the final, while the first heat was won by the Netherlands in 38.79 ahead of Ghana.
A strong team of Jamile Samuel, Dafne Schippers, Nadine Visser and Marije Van Hunenstijn led the qualifiers in the women's event to book their place in the final, as well as the major championships in Tokyo and Oregon. Together they clocked 43.28 to win the second heat ahead of Poland.
Just as the Danish team had the race of their lives in the men's event, so too did Ecuador in the women's and the quartet ran a national record of 43.86 in third to advance on time. Brazil was disqualified for a lane violation after originally winning the first heat ahead of Italy with 44.02, while heat three was won by France in 43.51.
They will be joined in the final by Switzerland and Japan.
Competition resumes on Sunday at 19:20 local time with the mixed 4x400m final.
Jon Mulkeen and Jess Whittington for World Athletics