Italy's Johanelis Herrera Abreu, Gloria Hooper, Anna Bongiorni and Irene Siragusa at the 2019 World Athletics Relays (© Getty Images)
It is the fast-paced and unpredictable nature of the 4x100m which adds to the thrill and at the World Athletics Relays Silesia 21 there's even more to play for, with major championships places up for grabs.
The top eight placed teams in the women's and men's 4x100m finals at the Silesian Stadium in Chorzow on 1-2 May will automatically qualify for the Olympic Games in Tokyo, while the top 10 – the eight teams in the final and those with the two next best times in the first round – will qualify for the World Athletics Championships Oregon22.
Women's 4x100m: Tokyo and Oregon places to race for
Of the 16 teams entered, two – Italy and Switzerland – have already secured their spots for Tokyo as world finalists in Doha.
The USA and Jamaica – top two at the 2019 edition of the World Relays in Yokohama and the 2016 Olympics – have decided not to send teams to Silesia, while world silver and Olympic bronze medallists Great Britain and 2017 World Relays winners Germany are not fielding women's 4x100m squads.
Entries for the Swiss squad include Ajla Del Ponte, who won the European indoor 60m title in March and helped the 4x100m team to a world fourth-place finish in Doha along with Sarah Atcho and Salome Kora, who are also entered this time. World 200m bronze medallist Mujinga Kambundji was part of that Doha quartet but is yet to return to competition following a foot fracture towards the end of last year.
Italy's world finalists Johanelis Herrera Abreu, Gloria Hooper, Anna Bongiorni and Irene Siragusa all feature in their team for Silesia as they look to build on their fifth-place finish in Yokohama in 2019. In Doha, the quartet combined to clock 42.90 to break the Italian record.
Also looking to challenge for top honours will be the Dutch team, featuring two-time world gold medallist Dafne Schippers, recent European indoor 60m medallist Jamile Samuel and European indoor 60m hurdles champion Nadine Visser.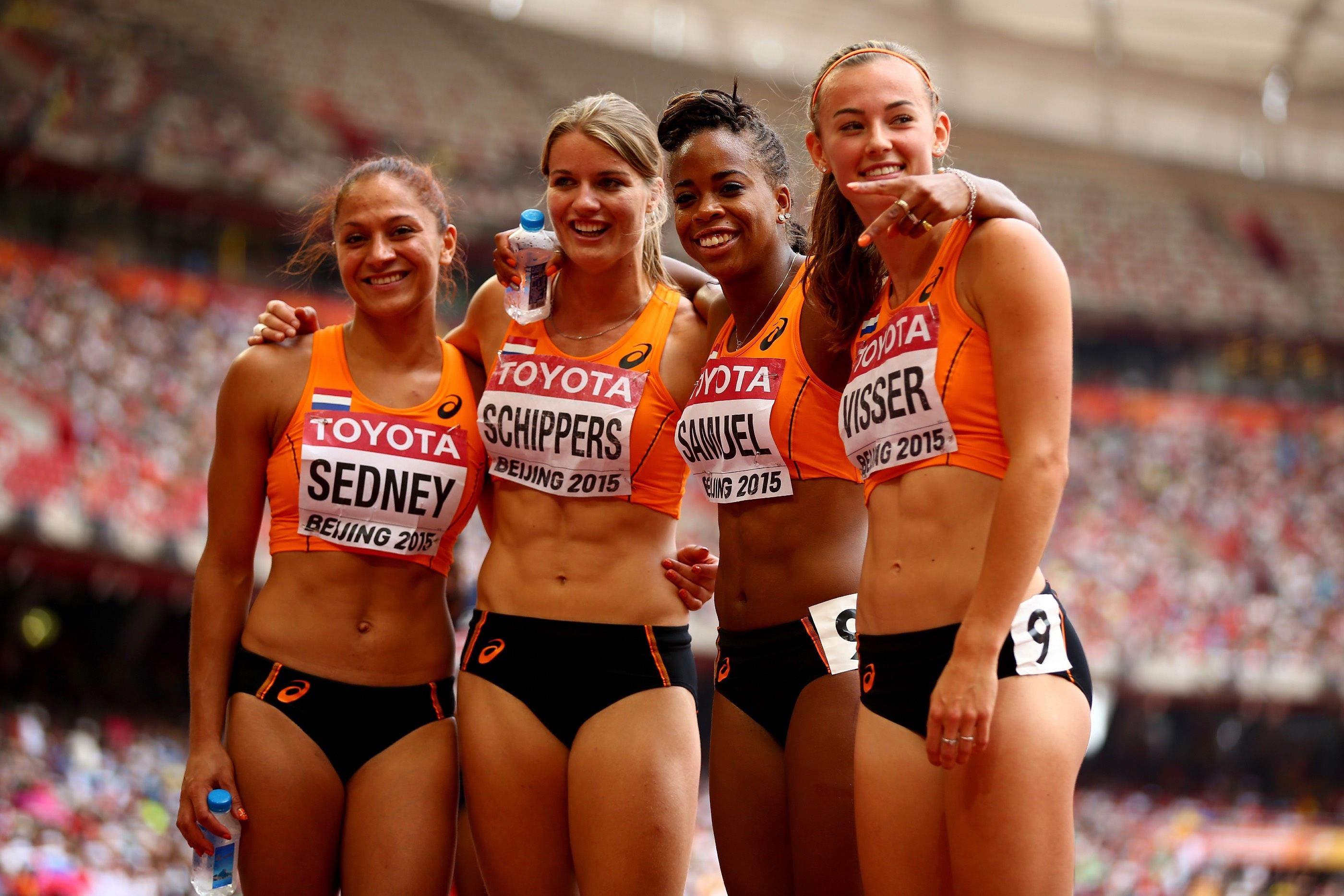 Naomi Sedney, Dafne Schippers, Jamile Samuel and Nadine Visser at the 2015 World Athletics Championships in Beijing (© Getty Images)
Behind US, German and international teams in this season's early rankings, a Brazilian quartet of Bruna Jessica Farias, Vitoria Cristina Rosa, Lorraine Martins and Rosangela Santos has clocked 43.45 and three of those team members – Rosa, Martins and Santos – are set for Silesia.
For the host nation, Ewa Swoboda – who won the 2019 European indoor 60m title – has been named for both the 4x100m and 4x200m.
Also among the entries are Carolle Zahi, who formed part of France's winning 4x200m team in Yokohama two years ago, and 2017 European U20 100m champion Gina Akpe-Moses for Ireland.
The competition record is the USA's 41.88 set at the inaugural edition of the event in 2014.
Men's 4x100m: Strong squads for South Africa and Brazil
Brazil stormed to a thrilling men's 4x100m victory two years ago in Yokohama, as Paulo André Camilo de Oliveira held off the USA's fast finishing future world 200m champion Noah Lyles by just 0.02. Camilo de Oliveira returns to World Relays action in Silesia and he is again joined by his 2019 teammates Rodrigo do Nascimento and Derick Silva. That trio was also part of the quartet which finished fourth at the World Athletics Championships Doha 2019, clocking 37.72, and they will be looking to make a statement once again.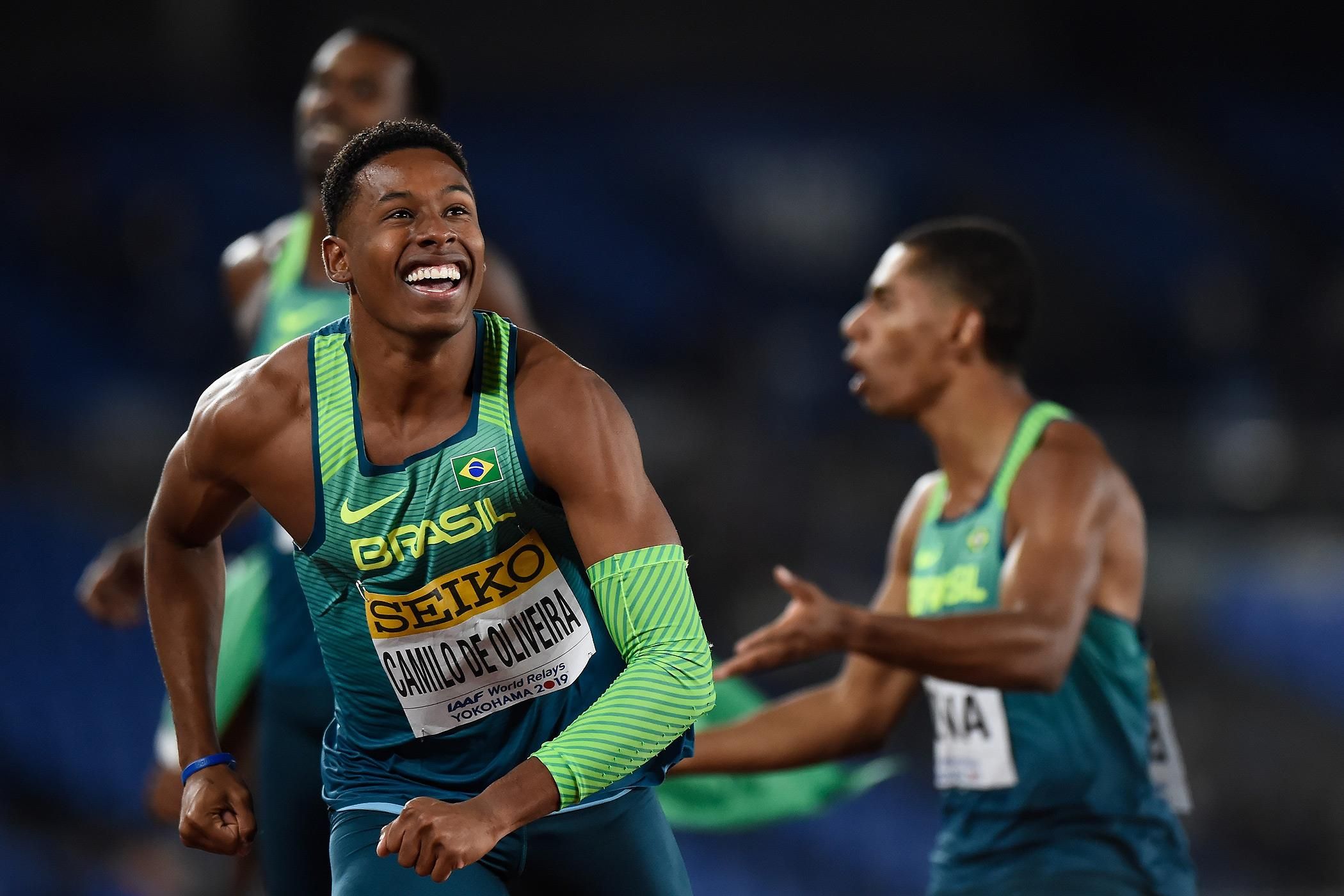 The Brazilian 4x100m team celebrate their win in Yokohama (© Getty Images)
Four other nations that made the men's 4x100m final in Doha are entered for Silesia – France, Japan, the Netherlands and South Africa – so their qualification for Tokyo is also already secured.
Again, the USA, Jamaica and Great Britain are among those not fielding teams, but included in the star names is Commonwealth 100m champion Akani Simbine, who has already dipped under 10 seconds for 100m three times this season. Simbine, Thando Dlodlo, Simon Magakwe and Clarence Munyai combined to clock an African record of 37.65 in the Doha heats, going on to finish fifth in the final, with Dlodlo and Munyai joining Simbine among South Africa's team entries for Silesia, along with Tlotliso Gift Leotlela.
The France squad features 2016 Olympic 200m bronze medallist Christophe Lemaitre, who helped his nation to bronze at the London 2012 Games, while the Dutch entries include Doha team members Joris van Gool, Taymir Burnet, Hensley Paulina and Churandy Martina.
Ahead of a home Olympics, and following silver at the Rio Games and world bronze in Doha, Japan is fielding a largely developmental squad in Silesia including Kazuma Higuchi, Soshi Mizukubo, Ryuichiro Sakai, Ryota Suzuki and Hiroki Yanagita.
Julian Reus, who formed part of European medal-winning teams from 2012-2016, is in the German squad, while European indoor 60m champion Marcell Jacobs has been named on the Italian team along with national 100m record-holder Filippo Tortu.
The host nation squad features Adrian Brzezinski, Dominik Kopec, Karol Kwiatkowski, Rafal Pajak, Mateusz Siuda, Przemyslaw Slowikowski and Lukasz Zok, while 2017 world 200m champion Ramil Guliyev is among the team entries for Turkey.
The competition record is the USA's 37.38 set at the 2015 edition of the event in The Bahamas.
Jess Whittington for World Athletics