Ryan Crouser could well be the most dominant athlete in the world right now, but the US shot put superstar still has some conspicuous gaps in his medal collection.
Because for all of his record-breaking marks and consistency beyond 22 metres, and despite having two Olympic gold medals to his name, Crouser has yet to land a world title – indoors or outdoors.
In seven months from now, he'll return to Eugene's Hayward Field, the site of his world record throw from earlier in 2021, in a bid to secure his first world outdoor title. But his more immediate goal is to win gold at the World Athletics Indoor Championships Belgrade 22.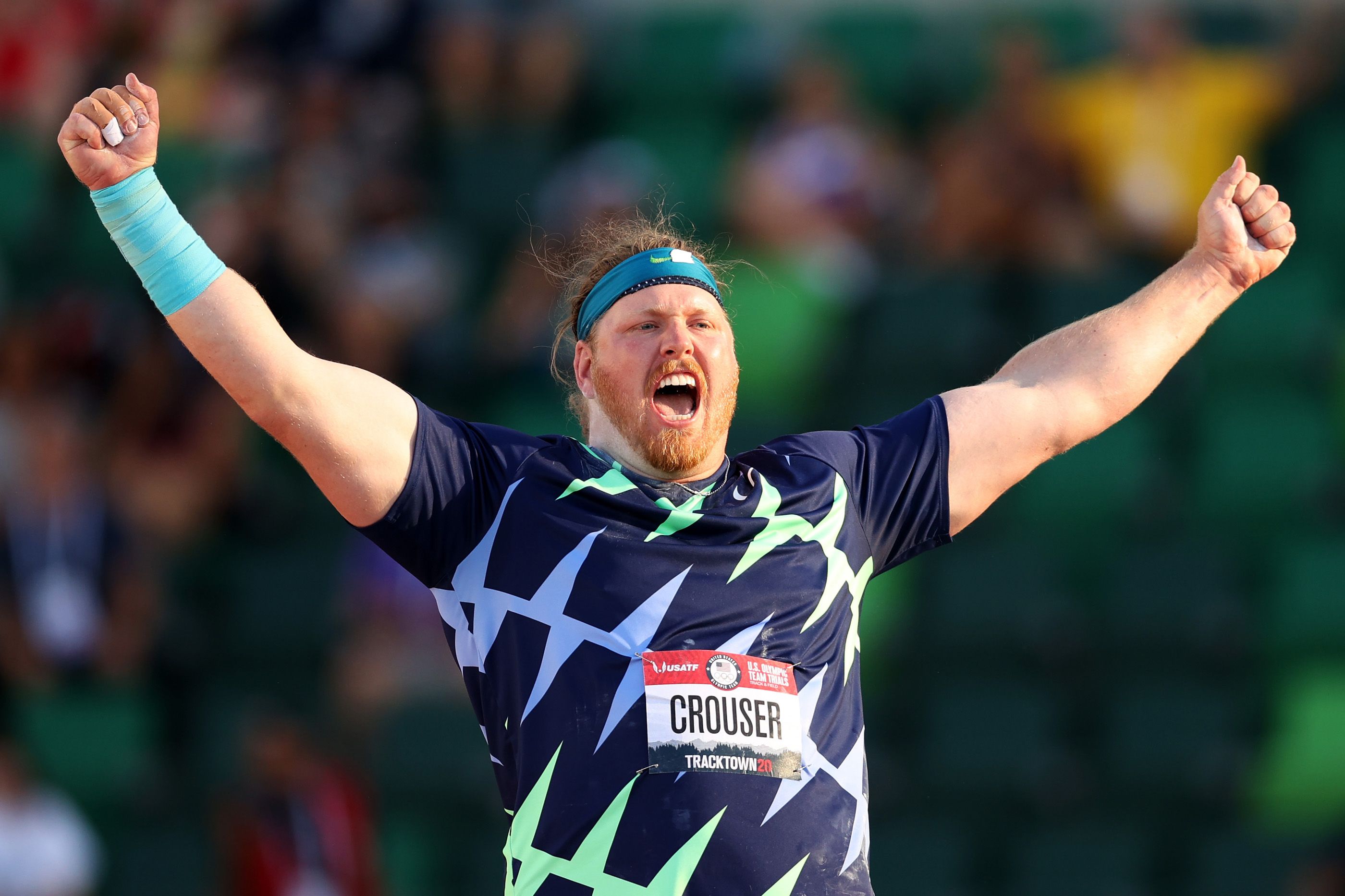 For various reasons, Crouser has not yet had the opportunity to compete at a World Indoor Championships. Back in 2014, aged just 21 at the time, Crouser was starting to make a name for himself as a collegiate athlete – and, naturally, his university commitments precluded him from competing at the World Indoor Championships in Sopot that year.
Fast forward two years, and Crouser's home state of Oregon played host to the World Indoor Championships with the event descending on Portland. But, despite throwing a world-leading indoor mark of 21.73m in February that year, he was still a collegian and therefore unable to compete in Portland.
Crouser had been hoping to finally make his World Indoors debut in 2018, but he picked up a hand injury at the turn of the new year, ruling him out of the indoor season. And in 2020 he won the US indoor title in 22.60m, narrowly missing the world indoor record, but then the coronavirus pandemic struck, forcing the postponement of the World Indoor Championships in Nanjing.
After all of those setbacks, Crouser is determined to compete in Belgrade for the 2022 World Indoors on 18-20 March next year.
"I like indoor track and field in general because it's a controlled environment, so you know the weather's going to be good!" he says. "Reaching the World Indoors just hasn't worked out for me in recent years, but I'm going to continue to hope that I can do one. Hopefully I'll make it to an indoor championships some time before my career is done."
Although he has not yet contested a World Indoors, Crouser knows what it is like to throw in Belgrade as he competed at a one-off city shot put meeting there in September 2020. He won with 22.59m, smashing the Serbian all-comers' record and finishing almost two metres ahead of world champion Joe Kovacs. No one had previously thrown beyond 22 metres on Serbian soil, yet Crouser did so – and comfortably – with all five of his valid marks.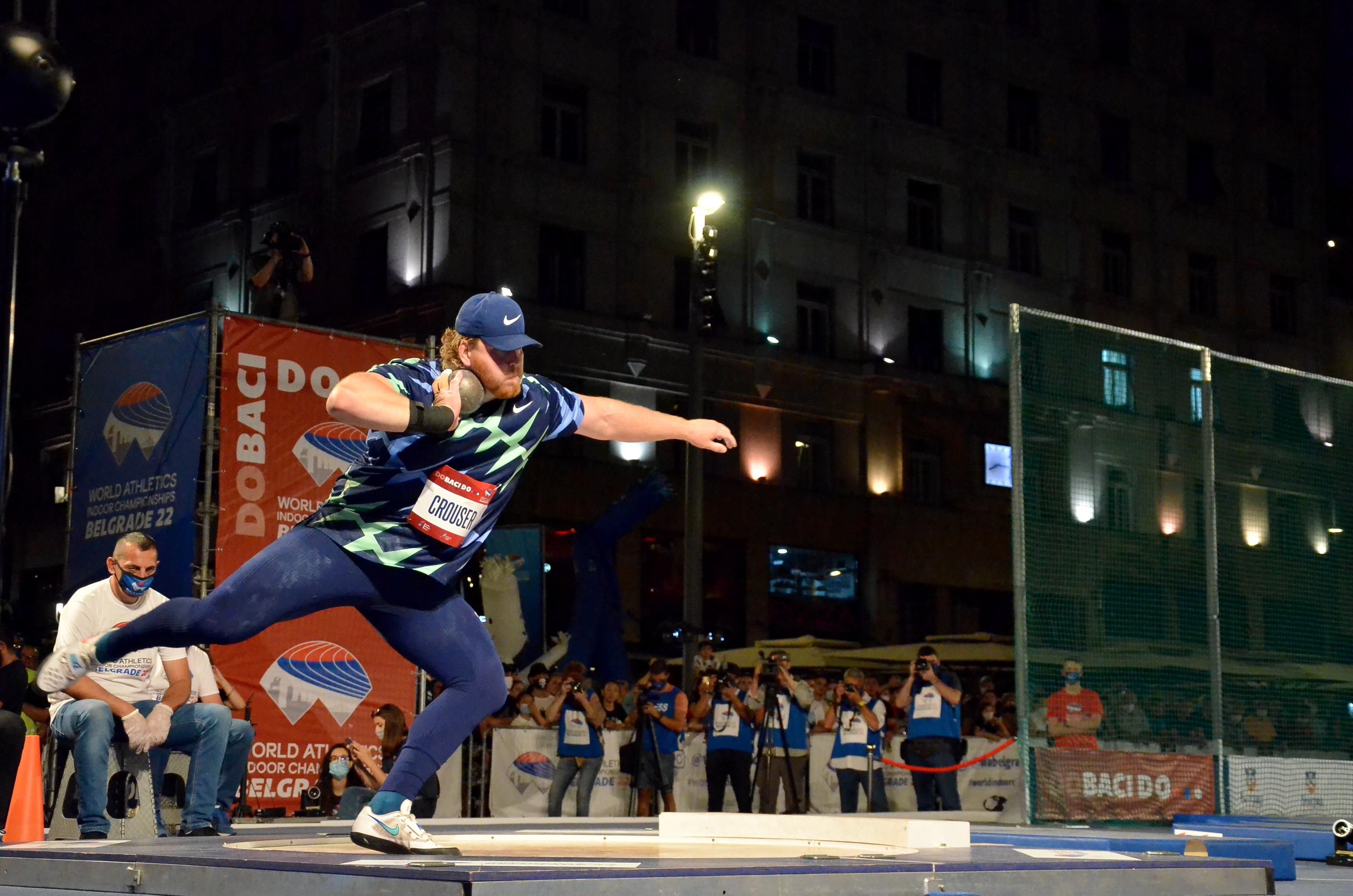 It certainly bodes well for a return to the Serbian capital. Form and pandemic permitting, should Crouser make it to Belgrade next March, he would start as one of the outstanding gold medal favourites.
The 29-year-old has been undefeated for two full seasons. On top of that, he has now surpassed the 22-metre line 163 times – more than a third of all 22-metre throws in history.
But despite his dominance, in sport there is no such thing as a guarantee, and he is aware he can't take anything for granted whenever he lines up against his opponents. At the 2019 World Championships in Doha, for example, Crouser threw 22.90m – a PB at the time and one of the farthest throws in history – but in an incredible competition it was only sufficient for the silver medal. Kovacs took gold with 22.91m, while New Zealand's Tom Walsh matched Crouser's distance to earn the bronze medal on countback.



That competition in Doha was a reflection of the continually improving standards in the discipline in recent years. More men are throwing beyond 22 and 21 metres than ever before, and the event isn't simply dominated by one or two nations. This year's Olympic final, for example, featured athletes from nine different countries, with five of the six continental areas represented.
Armin Sinancevic was one of those Olympic finalists and he finished seventh in Tokyo, having set a Serbian record of 21.88m earlier in the year. With the home crowd behind him, Sinancevic could be one of Crouser's biggest rivals in Belgrade next year.
Crouser welcomes the competitiveness of the event, though, as he knows it helps to keep him on his toes.
"The guys that are out there competing are all very dedicated and are extremely talented," he said. "They push me to be better, and there are multiple guys who – if I'm not working hard – I know are going to pass me. It's a fight to be No.1 in the event.
"I've been lucky to stay near the top this year, but I know I've got to work as hard as I have been to continue to try to be at my best and to win more titles."
Are Crouser's achievements best measured by medals or metres?

A weight lifted
Ever since he won his first Olympic title in 2016, Crouser had been touted as a possible candidate to break the long-standing world shot put record. Having come close in 2019 and 2020, it finally happened in 2021 – indoors and out.
The world indoor record came with his first throw of his first indoor competition of the year as Crouser sent his shot out to 22.82m in Fayetteville.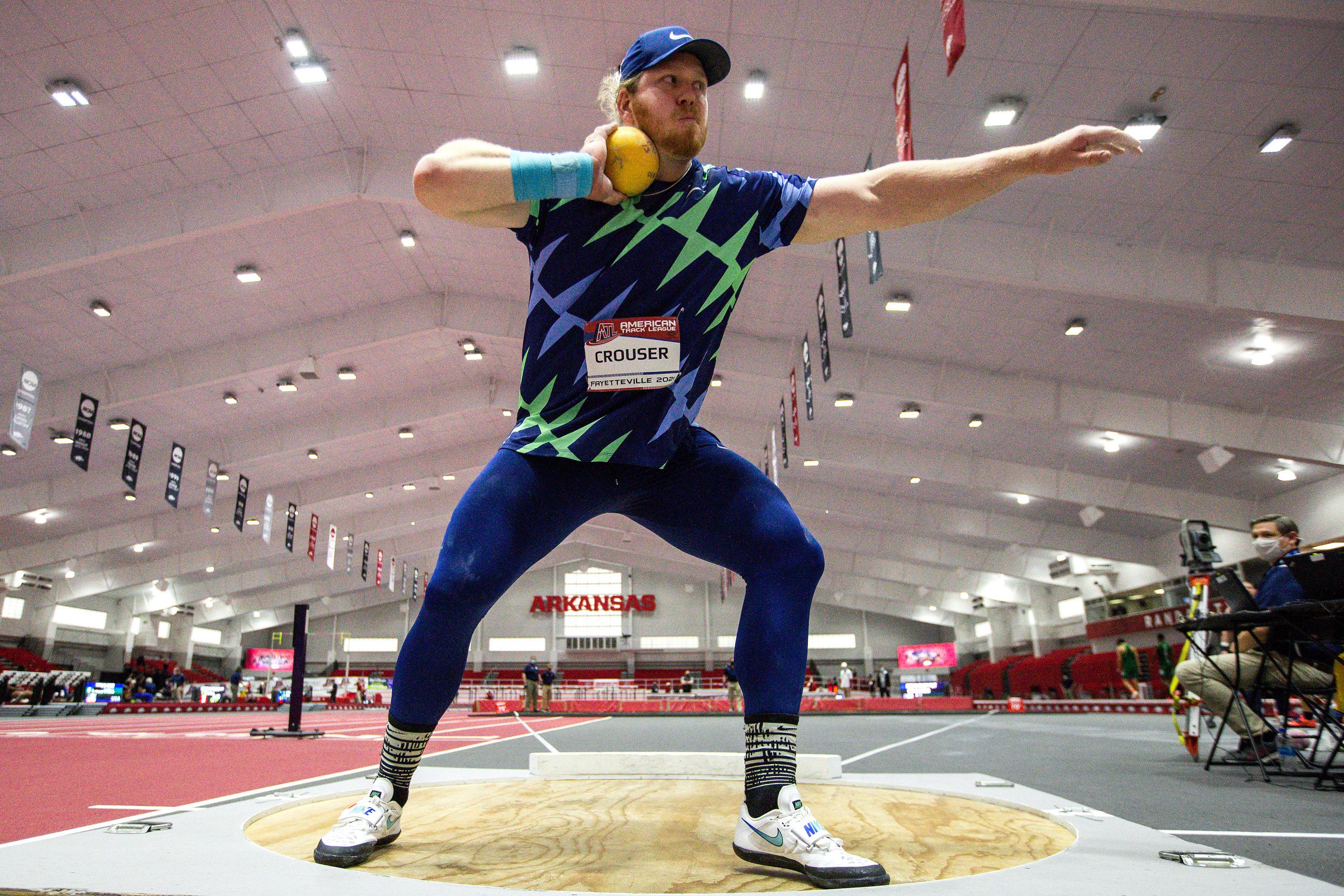 Buoyed by his indoor success, he carried that form through to the outdoor season and went even farther, throwing 23.37m to win at the US Olympic Trials.
Breaking those records, he says, felt as though a weight had been lifted.
"It's been a lot of hard work and dedication, but I feel like the biggest thing to getting to the world record was getting out of my own way and letting it happen," he said. "The thing I've struggled most with is when I know that I can do it and trying to make myself do it.
"I felt really confident heading into the US Trials, but it (the world record) wasn't an expectation. The times that I've expected to throw over 23 or even a world record, I've come up a little bit short because I get a little bit tight and try to force it. At the US Trials, I felt like I stayed loose and relaxed and executed my game plan.
"That was the key for me: not trying to force it, and just letting it happen."
Similarly, if Crouser aims to fill those gaps on his medal stand this year, he knows what he needs to do; just let it happen.
Jon Mulkeen for World Athletics