Mondo Duplantis and Sandi Morris (© Getty Images)
Women's pole vault
Timetable | world rankings | 2022 world list | world all-time list | how it works
In one fell swoop at the Tokyo Olympics, Sandi Morris' pole snapped, her dreams shattered and her hip flexor extended.
The 2016 Olympic silver medallist was finished before the rain-delayed qualifying round was even over. Her US teammate, Katie Nageotte, went on to win the gold medal.
Morris was devastated by her Tokyo experience, but also extremely motivated. She decided to change coaches and move to Atlanta, where one of her training partners is none other than Nageotte.
Morris has called it "fun and interesting" to train in the same group with her main competitor, but points out that their coach, Brad Walker, assigns them to different practice times. However, Morris and Nageotte do their conditioning side by side, which helps push them to new heights on the field.
The situation appeared to be a success in March when they went 1-2 at the World Athletics Indoor Championships in Belgrade. Morris claimed her second straight gold medal by clearing 4.80m to Nageotte's 4.75m.
But that's where their seasons took different directions. Morris is the favourite to win USA's first world outdoor gold in this event since Stacy Dragila won back-to-back titles in 1999 – the inaugural year for women's pole vault – and 2001.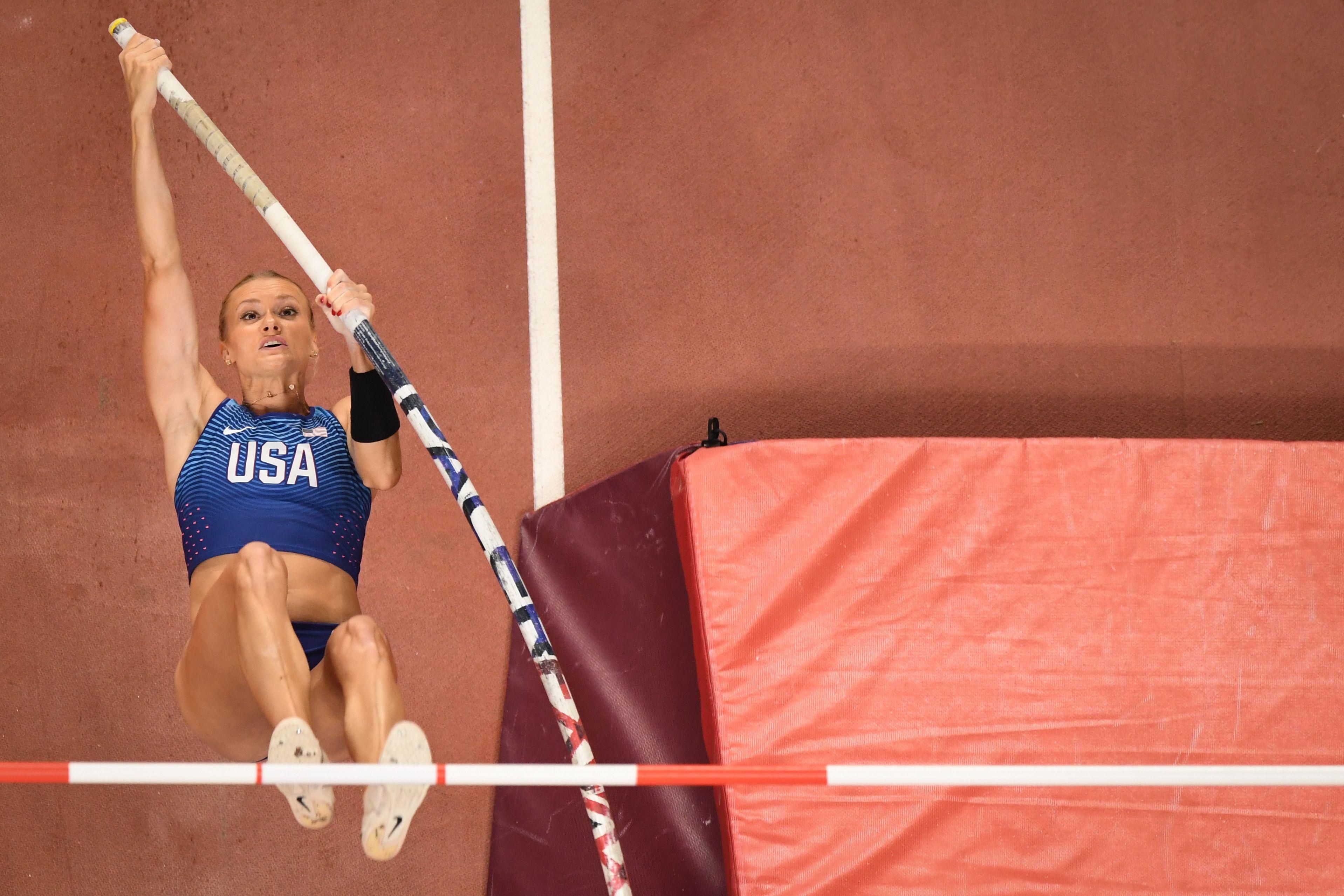 Katie Nageotte at the World Athletics Championships Doha 2019 (© AFP / Getty Images)

Not only did Morris clear a world-leading height of 4.82m to win the US title, she is also undefeated in 11 meets – six outdoors and five indoors.
No wonder Morris, who has won two straight world outdoor silver medals, is primed for an upgrade in Eugene.
"This season has been really kind to me," said Morris, who just turned 30. "I'm inching my way back up to heights I want to see soon."
However, she said she felt a little "off" at the US Championships, which were also held at Eugene's Hayward Field, and needed three attempts to clear 4.60m before finding her rhythm. Morris was eager to jump 4.90m, but admitted she ran out of gas at the end.
"What's keeping me motivated is wanting to jump high and see some bars I haven't seen in a couple of years," Morris said. "I feel like I'm going to peak at the World Championships."
Contrast her path with Nageotte's. The Olympic champion squeaked on to the US team in third place after clearing a season's best of 4.65m. With her placement assured, she opted to retire due to a tightened achilles tendon on her take-off leg.
"This year has been the hardest year of my life," said Nageotte, 31. "Coming off of last year, I didn't realise how hard it was going to be to come back immediately after how amazing last year was."
She said her achilles started to feel tight at the Wanda Diamond League meeting in Rabat, where she no-heighted, and it got worse in Rome, where she cleared 4.60m for fourth. Going into the US Championships, Nageotte didn't vault for a week, but still was nervous to jump off the leg. She used a short approach and admitted the jump was not her cleanest. Still, Nageotte said she "cried more tears of happiness" to make this US team than the Olympic team a year earlier.
"I'm not worried about the World Championships," she said. "I think it is plenty of time to get it to calm down."
NCAA champion Gabriela Leon claimed the third spot on the US team.
Slovenia's world indoor bronze medallist Tina Sutej vaulted 4.72m on 25 June and carries the second-best mark this season of the entrants for Oregon. The 33-year-old placed fifth in Tokyo.
Roberta Bruni of Italy is not far behind at 4.71m, while Nina Kennedy of Australia, Alysha Newman of Canada and Margot Chevrier of France have all cleared 4.70m.
Like Morris, 2016 Olympic champion Katerina Stefanidi of Greece is seeking a third outdoor World Championships medal. Stefanidi, world gold medallist in 2017 and bronze medallist in 2019, has cleared 4.65m this season. The 32-year-old holds a 20-18 edge over Morris in head-to-head competitions.
But this is shaping up as Morris's year. She has a PB of 5.00m from 2016 and has said that breaking the world record would mean more to her than a gold medal. Morris will be hoping for both in Eugene. And for a pole that doesn't snap.
Men's pole vault
Timetable | world rankings | 2022 world list | world all-time list | how it works
Mondo Duplantis has been on top of the world for so long in the men's pole vault that it's easy to forget he's never won an outdoor world title.
When Duplantis sprints down the runway at the World Athletics Championships Oregon22, the question in most peoples' minds won't be whether or not he clears the bar, but by how much.
The 22-year-old Swede is the Olympic and world indoor champion. When winning the latter title earlier this year, he set a world record of 6.20m only 13 days after vaulting 6.19m, also a world record.
Then on 30 June, Duplantis won in Stockholm with 6.16m – the highest ever outdoor vault in history. Duplantis opted not to move the bar higher, even though he had made only six trips down the runway. After all, he expended a lot of energy after he "started to run like an idiot," as he put it.
And Duplantis wanted to whet the public's appetite for the World Championships. "I feel like I am definitely in shape to win the title," he said after the Wanda Diamond League competition, "and maybe to do something special in Eugene."
A world record performance would earn a $100,000 bonus.
There will certainly be a new world champion: Sam Kendricks, who won in 2017 and 2019, will not compete as he continues to recover from knee surgery. The US vaulter has had a stretch of bad fortune since a positive Covid-19 test in the Olympic Village in Tokyo forced him to withdraw from that competition.
Duplantis, who was born and raised in Louisiana, would be the first Swedish vaulter to win a world gold medal. He is riding a 15-meet winning streak, including 12 meets this year in sometimes less-than-ideal conditions. His last loss came on 26 August 2021, when he placed fourth in a Wanda Diamond League meeting in Lausanne won by Chris Nilsen of the US.
To say Duplantis is head and shoulders above most of the field in Eugene would not be an exaggeration.
Nilsen, the Olympic silver medallist, is the only other competitor who has cleared 6.00m this outdoor season, a feat he accomplished in May.
However, the 24-year-old, who set a national indoor record of 6.05m in March (one centimetre off Kendrick's national outdoor record) is not setting a particularly high bar for himself at the World Championships.
"Hopefully just get top five," Nilsen said after winning his second straight US title with a clearance of 5.70m.
Olympic bronze medallist Thiago Braz of Brazil is third on the world list with his 5.93m clearance from Stockholm – his best ever vault outside of a major championships. After the 2016 Olympic champion claimed the silver at the World Indoor Championships, he didn't start his outdoor campaign until June but is rapidly rounding into medal-winning shape.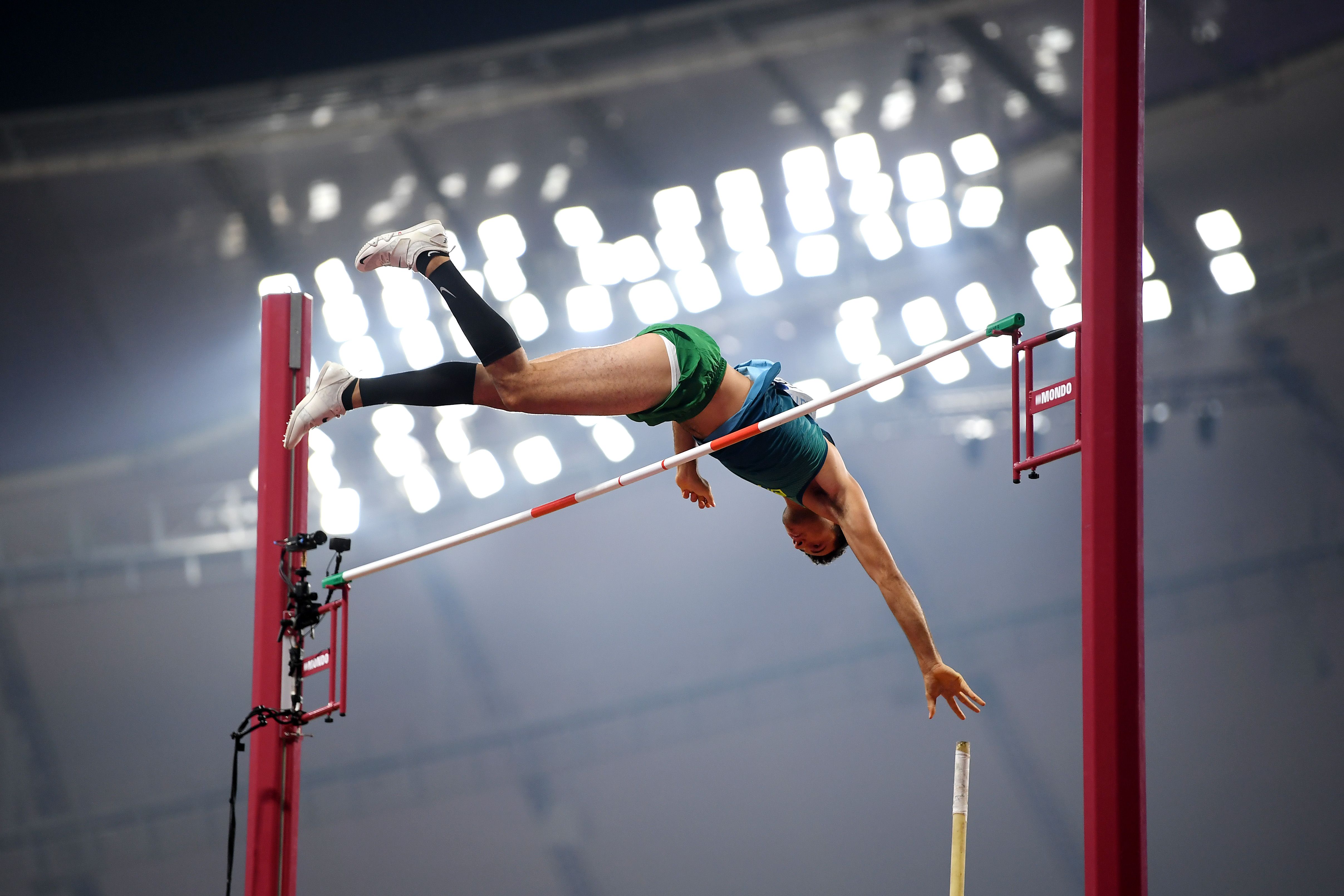 Thiago Braz at the World Athletics Championships Doha 2019 (© Getty Images)

Ernest John Obiena of the Philippines, the Asian record-holder, aspires to become the first Filipino athlete to win a World Championships medal. The 11th place finisher at the Olympics in Tokyo, Obiena has vaulted 5.92m, just one centimetre off his PB.
The event's elder statesman, 35-year-old Renaud Lavillenie of France, cleared 5.83m in Stockholm, but has an uphill battle if he hopes to tie the legendary Sergey Bubka with six outdoor world medals. Bubka's medals were all gold from 1983 through 1997 while Lavillenie, the 2012 Olympic champion, has four bronze medals and a silver.
It's Duplantis who now invites comparisons to Bubka. He was 19 when he competed in the first World Championships in Helsinki in 1983. Duplantis, who is coached by his parents, was just 17 when he made his debut in 2017, placing ninth.
While he has a long way to go to match Bubka's medal haul, Duplantis has already matched Bubka's record tally of six-metre clearances. Both men are currently tied at 46 apiece. Another in Eugene would give Duplantis the edge.
As Duplantis gazes down the Hayward Field runway, he also will be aiming for the World Championships record of 6.05m, set by Dmitri Markov of Australia in 2001. That performance was also a record for margin of victory at 20cm.
The way Duplantis is vaulting, these records are definitely at his fingertips.
Karen Rosen for World Athletics