Yaroslava Mahuchikh and Woo Sanghyeok (© Getty Images)
Men's high jump
Timetable | world rankings | 2022 world list | world all-time list | how it works
Having created one of the enduringly beautiful Olympic memories by agreeing to share the men's high jump title at last year's Olympic Games, friends and rivals Gianmarco Tamberi of Italy and Mutaz Barshim of Qatar have, not surprisingly, struggled to maintain that dazzling intensity in the post-Olympic season.
Both men know what it is like to suffer potentially career-ending injury. For Tamberi, now 30, that blow landed at the 2016 Monaco Diamond League meeting, his last competition before the Rio 2016 Olympics, when, after setting a national record of 2.39m, he tore a ligament in his left ankle while making a third attempt at 2.41m.
He required immediate surgery before becoming a disconsolate spectator at the Games, and it took him several years to regain his full form and fitness.
In 2018 Barshim suffered almost exactly the same injury, also requiring surgery, a year out from the World Championships in his home city of Doha.
Incredibly, Barshim – whose 2014 clearance of 2.43m in Brussels puts him second on the world all-time list behind Cuba's Javier Sotomayor, world record holder since 1993 on 2.45m – recovered to win his first global gold in front of his adoring fans a year later.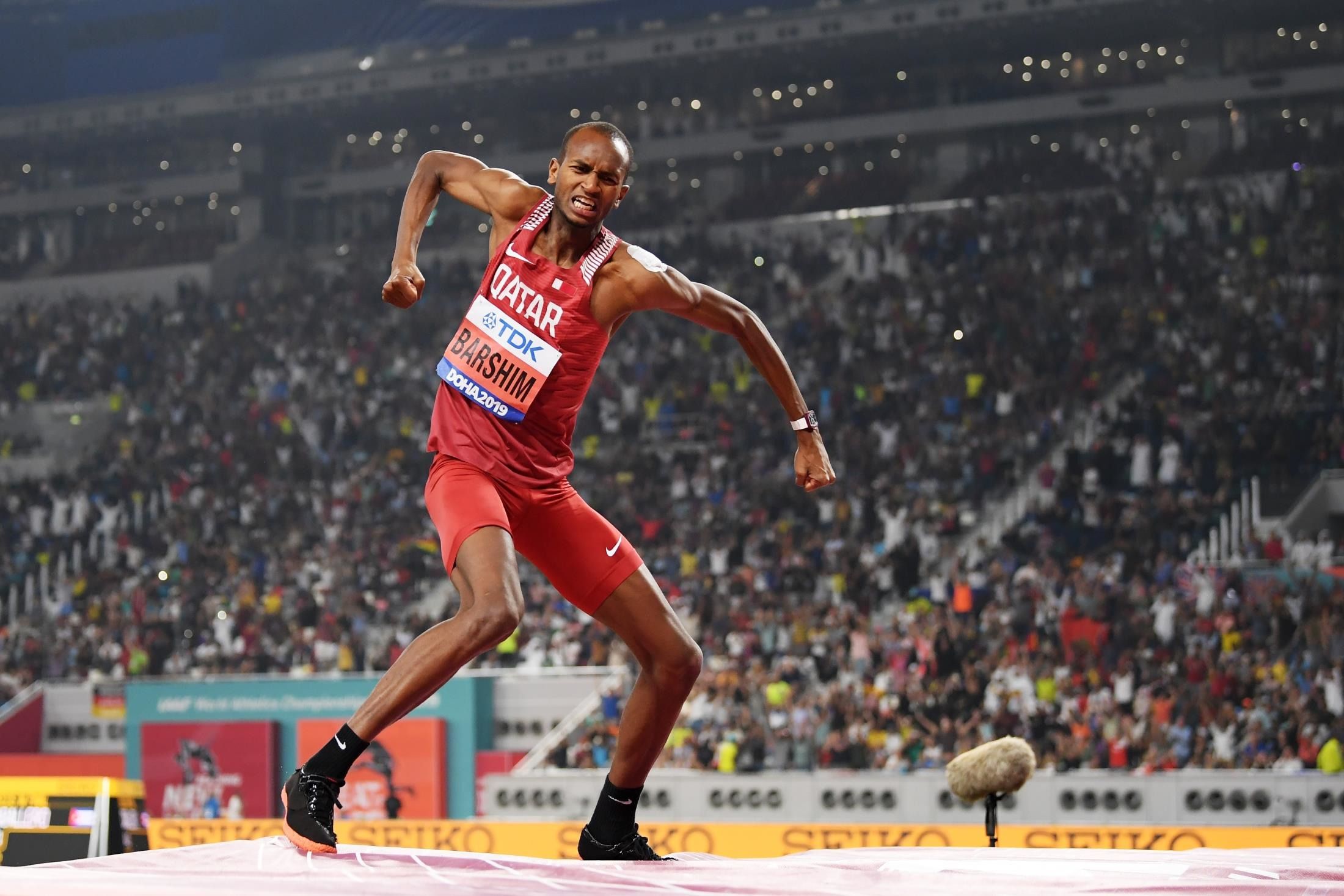 Mutaz Barshim charging up the crowd at the World Athletics Championships Doha 2019 (© Getty Images)

That performance, Tamberi has subsequently revealed, proved of huge importance in his efforts to get over the fear of injuring himself again when he jumped, something which afflicted him for at least two years after his return to competition in 2017.
This year Barshim, 31, has pursued an unsurprisingly conservative course, giving the indoor season a miss before clearing a highly creditable 2.30m in his first big event, the Doha Diamond League.
Tamberi, meanwhile has thrown himself back into competition, securing a world indoor bronze in a highly competitive final in Belgrade with a clearance of 2.31m and jumping 2.30m at the Doha meeting, where he took second place.
All the usual showman's elements are still present in the Italian's performances – he has even returned to the old format of shaving off half his beard before competition.
But while the Olympic co-champions have remained in the centre of most spectators' consciousness as far as the event is concerned, others have taken a significant step up in terms of their performances this year – and no one more so that South Korea's Woo Sanghyeok, who cleared a national record of 2.35m at the Olympic Games but missed the podium by one place.
Woo has been the outstanding men's high jumper so far this year, setting a personal best of 2.36m indoors in Hustopece in February before winning the world indoor title in Belgrade with 2.34m ahead of Switzerland's surprise silver medallist Loic Gasch, who jumped 2.31m.
Woo followed that up by beating the two Olympic champions at the Doha Diamond League meeting, winning with a clearance of 2.33m.
Now he looks ready to earn his first global outdoor medal and he will want it to be golden.
Home jumpers Shelby McEwen and JuVaughn Harrison, who occupied the top two spots at the US Championships with 2.33m and 2.30m respectively, have also shown potential to make it on to the podium in Eugene.
Also in the mix will be New Zealand's Hamish Kerr, who jumped 2.31m to share world indoor bronze with Tamberi in Belgrade and is now joint fourth on this season's outdoor list on 2.30m.
Germany's banner is likely to be carried by 2018 world indoor bronze medallist Mateusz Przbylko and Tobias Potye, who have also jumped 2.30m outdoors this season, while Canada will look to Django Lovett, who has cleared 2.28m this year.
Women's high jump
Timetable | world rankings | 2022 world list | world all-time list | how it works
Despite hugely challenging circumstances, Ukraine's Yaroslava Mahuchikh has established herself this year as the athlete to beat in the women's high jump and she will go into the World Athletics Championships Oregon22 as favourite.
The 20-year-old from Dnipropetrovsk leads the world outdoor standings with her effort of 2.03m in the Czech city of Brno on 22 June, with her next nearest rivals being compatriot Iryna Gerashchenko and Italy's Elena Vallortigara, who have both cleared 1.98m.
Indoors the story was the same as she jumped 2.02m in March to win a stupendous competition at the World Indoor Athletics Championships in Belgrade after facing massive logistical problems to reach the competition venue following the Russian invasion of Ukraine.
Mahuchikh had spent three days getting to Serbia after fleeing her native town following Russian bombardment but maintained her competitive intensity to win a competition she described as her own "front line", overcoming the challenge of Australia's 2014 Commonwealth Games champion Eleanor Patterson, who set a personal best of 2.00m.
"I didn't think I was doing it for myself or my medal, I was doing it for all the Ukrainian nation, to show that we are the strongest in the world," Mahuchikh said.
She has since maintained her competitive edge, winning the Wanda Diamond League meetings in Eugene, Rabat and Paris with respective jumps of 2.00m, 1.96m and 2.01m.
Now an athlete who already stands equal third on the world indoor all-time list after clearing 2.06m in Banska Bystrica last year is seeking to offer another gift to her nation at the rebuilt Hayward Field in a competition that starts on day two of the championships, 16 July.
If Mahuchikh can accomplish that task, it will bring her a first outdoor global title after the silver she won at the last World Championships in Doha three years ago, and the bronze she took last summer at the Tokyo Olympics.
The gold medallist in both those contests – authorised neutral athlete Mariya Lasitskene – has been unable to compete internationally this year following the World Athletics ban on Russian and Belarusian athletes in the wake of the Ukraine invasion which began in February.
There will be strong competition for Mahuchikh from Down Under, however. Patterson has already demonstrated her relish for competition in Belgrade, and she indicated her form at the Wanda Diamond League meeting in Stockholm on 30 June in clearing an outdoor season's best of 1.96m to win a competition involving the Olympic bronze medallist and her compatriots Yuliya Levchenko and Gerashchenko.
Levchenko, the 2017 world silver medallist, has an outdoor best of 2.02m from 2019 and has an outdoor best of 1.95m this year, while Gerashchenko jumped 1.98m to earn world indoor silver in March.
Also well in the frame will be Australia's Olympic silver medallist Nicola Olyslagers (nee McDermott) who won at the World Athletics Continental Tour Gold meeting in Turku in June with an outdoor season's best of 1.96m.
Vashti Cunningham, winner of the US title at the World Championships venue in Eugene last month with 1.93m, has a best of 1.98m this season. The world bronze medallist, coached by her father and former NFL quarterback Randall Cunningham, will be a strong challenger to become a home medallist.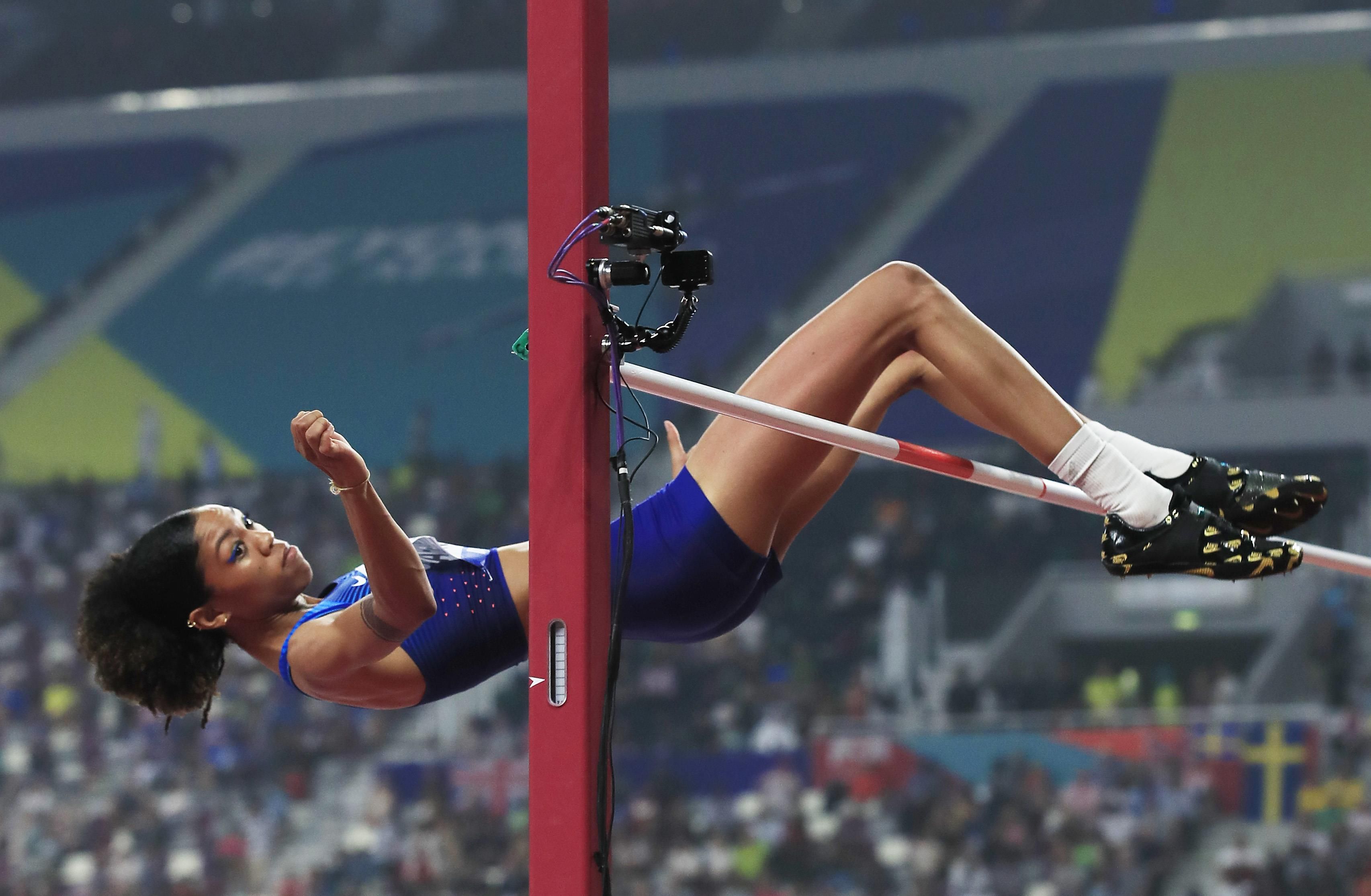 Vashti Cunningham at the World Athletics Championships Doha 2019 (© Getty Images)

Vallortigara is another jumper who is right in form. With a personal best of 2.02m set in 2018, she achieved her season's best of 1.98m in winning at Rieti on 26 June.
Other contenders to keep a careful eye on include Lamara Distin, who stands fourth on this season's outdoor world list with her Jamaican record of 1.97m in Texas in April.
Kazakhstan's Kristina Ovchinnikova and Serbian youngster Angelina Topic have also announced their competitive status by clearing 1.96m outdoors this year.
Mike Rowbottom for World Athletics