Alison Dos Santos and Sydney McLaughlin (© Getty Images)
Men's 400m hurdles
Timetable | world rankings | 2022 world list | world all-time list | how it works
It proved the race of the Olympics in Tokyo – a riveting showdown that produced an unfathomably fast winning time of 45.94 – but the question now is this: can the encore at the World Athletics Championships Oregon22 possibly live up to it?
The answer hinges on another series of questions.
One: how fit is Karsten Warholm after the hamstring injury he sustained in Rabat in early June? When the Norwegian lines up in Oregon, it will have been over 10 months since he last finished a race.
Two: how much will the several weeks of missed training – due to a bad bout of Covid-19 and tendonitis in his upper hamstring – have taken out of USA's Rai Benjamin?
And three: is Alison dos Santos – the 22-year-old Brazilian who's the fastest in the world this year – truly ready to depose the two men who beat him in Tokyo and become the first ever South American to win a medal in this event at the World Championships?
While the heats and semifinals on 16/17 July should throw up some indications, it will likely only be in the final, on the evening of 19 July, that the picture comes into clear focus.
So, back to the first of those questions: how is Warholm's hamstring?
On 4 July, the world record-holder said he was "still undergoing rehabilitation, but it's going the right way." Though he also added: "It's clear that I need the time to be 100% ready for the competition."
His coach, Leif Olav Alnes, said they were "positive but realistic considering this type of injury needs time" and that they did "not want to take any chances of starting too early."
Warholm holds two of the three fastest times in history, and four of the top 10. He hasn't lost a 400m hurdles race that he finished since the 2018 Continental Cup. But no matter what level of fitness he brings to Hayward Field, his opponents are ready to take aim.
Chief among them is Benjamin, who was so painfully denied gold after his astonishing 46.17 clocking in Tokyo last year. "If you would have told me that I was going to run 46.1 and lose," he said then, "I would have probably beaten you up and told you to get out of my room."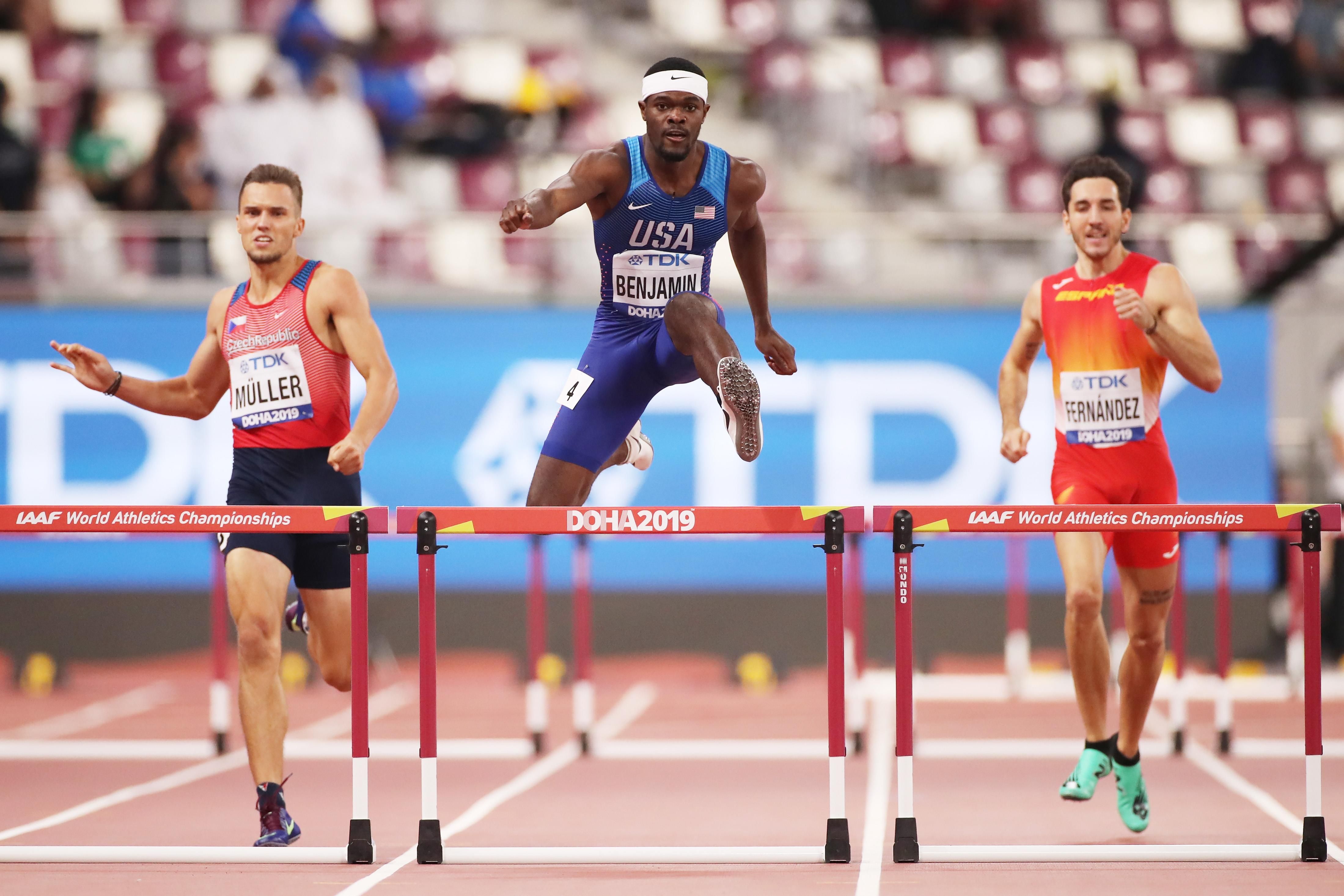 Rai Benjamin in opening round of the 400m hurdles at the World Athletics Championships Doha 2019 (© Getty Images)
Benjamin was defeated by Dos Santos in Doha in May – 47.24 to 47.49 – and things only worsened thereafter, with Benjamin admitting at the recent US Championships that he's been running through pain for several weeks.
"No one really gives a s*** that you're hurt – just come out here and do what you can do," he said after powering to victory in 47.04. "This sport is so unforgiving; it doesn't care who you are or what you're doing. It's a really rough year for the 400m hurdles, but I wouldn't count the event out. I know (Warholm will) be fine. I just won't believe anything until we all show up and line up."
With the two fastest men in history carrying health concerns, Dos Santos could be primed to take advantage and take his first global title. The 22-year-old is undefeated this year at his specialist event and appears to be benefiting from a new stride pattern: last year he ran with 12 steps until the second hurdle; this year he does it to hurdle four.
He's relishing the chance to take on his two big rivals in Oregon.
"Benjamin doesn't like to lose, and Warholm too," said Dos Santos in Eugene in May, where he clocked 47.23 on a cool, damp day. "We all train so hard to win, so we need to have focus and think, 'I'll do my best here.'"
Dos Santos said he "was expecting such (a) time" after running 46.80 in Stockholm and given he took 0.62 off his season's best in Tokyo last year, he has reason to dream of the ultimate goal in Oregon. "I feel ready for the championships now and it will be very exciting," he said.
And what about that mind-boggling time from Tokyo: 45.94?
"I think about the world record every day, every night," he said. "I dream of that."
A look into the three big contenders offers few answers as to who might prevail, and so just one question remains: could anyone else spring a surprise?
US duo Trevor Bassitt and Khalifah Rosser look the most likely if so, particularly on a track they know so well. Bassitt has enjoyed a breakthrough year, the 24-year-old winning world indoor silver over 400m in Belgrade and taking almost a second off his PB to finish second to Benjamin at the US Championships in 47.47. Rosser, 26, took almost half a second off his best when finishing third there in 47.65.
Estonia's Rasmus Magi is enjoying his best season to date, the 30-year-old clocking a national record of 47.82 in Turku, Finland, in June, though of his five races this season that was the sole outing under 48.50.
Turkey's Yasmani Copello took a notable win at the Mediterranean Games in Oran, Algeria, earlier this month in a season's best of 48.27, and in Oregon he could challenge the 47.81 he clocked to finish sixth in last year's Olympic final.
Jamaican champion Jaheel Hyde proved he's in good form by clocking 48.51 to win that title in Kingston last month, while Kyron McMaster – fourth in last year's Olympic final in 47.08 – showed in Stockholm last month that his form is coming around by finishing third in 48.58.
It's been a year of mishaps for Warholm and Benjamin, a year of utter magnificence by Dos Santos, and all the intrigue and uncertainty means this race is still shrouded in mystery. It means the sequel to that Tokyo showdown could prove just as stunning.
Women's 400m hurdles
Timetable | world rankings | 2022 world list | world all-time list | how it works
How to beat the athlete who has it all? For Sydney McLaughlin's rivals, accomplished as they are, that's the key conundrum ahead of the women's 400m hurdles final on 22 July. Something special will undoubtedly be required to keep the 22-year-old superstar from the one thing currently missing from her athletic resume: World Championships gold.
If McLaughlin delivers a performance close to what she did at her national championships last month – where she broke her own world record with 51.41 – then it could prove a pointless pursuit, and given her affinity for Hayward Field few would bet against another all-time mark being surpassed.
"It's TrackTown USA, what do you expect?" she said after that record run at the US Championships. "Every time I come here, I can just feel something amazing is going to happen. It just always brings amazing performances out of me."
She was quick to note after that race that she's still not near her limit. "There's always something to improve upon," she said. "I don't think the perfect race exists."
McLaughlin's career has long been defined by a once-in-a-generation outlying ability that, were she to retire now, would already make her an all-time great. She holds the world 400m hurdles bests at every age from 14 to 19, the world U18 record at 54.15, the world U20 record at 53.60 and since her last defeat in this event – in the 2019 world final – she has taken it into the stratosphere, breaking the world record three times with 51.90, 51.46 and 51.41.
She opened her season with a stunning 51.61 in Nashville – all the more impressive given she had to alter her stride pattern mid-race due to a hurdle being placed on the incorrect mark. At the US Championships she was foot-perfect and had 1.6 seconds to spare over runner-up Britton Wilson (53.08) – who won the NCAA title earlier in the month – while Shamier Little also secured a berth on the US team after finishing third in 53.92. Little was the world silver medallist in 2015 and having run 52.39 last year, she could be a medal threat if she's back to her best.
Former world record-holder Dalilah Muhammad bypassed the US Championships due to a hamstring injury, but the 2019 world champion and 2016 Olympic gold medallist is sure to feature again if fully recovered, although she hasn't raced since May. With the 51.58 she ran in the Olympic final last year, she remains the sole athlete whose best effort could truly trouble McLaughlin.
However, Dutch star Femke Bol could well be on the way to doing so and she seems primed to join the 51-second club in the weeks ahead. The 22-year-old clocked a European record of 52.03 to win Olympic bronze last year and she's been unbeaten in her four races this season at 400m hurdles, most recently clocking 52.27 to win in Stockholm. She also set a world best of 36.86 for 300m hurdles and if McLaughlin does run into any difficulty, Bol looks best placed to take advantage.
"It was a good race, but not perfect," she said in Stockholm. "I am still hoping to do something very special in Eugene. When you see the results from Hayward, I am so excited to go there."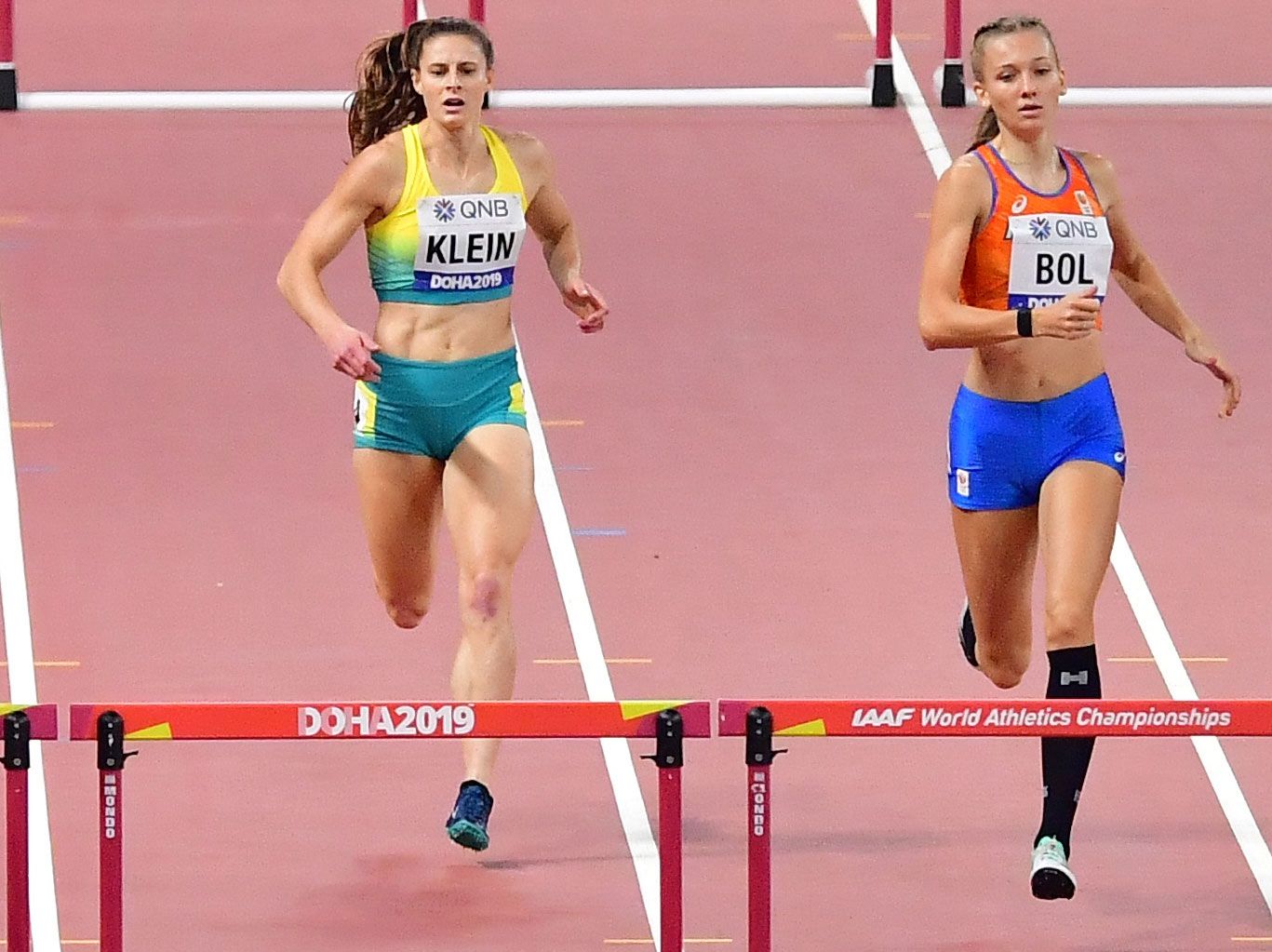 Femke Bol at the World Athletics Championships Doha 2019 (© AFP / Getty Images)
Jamaica has a strong trio in Shiann Salmon, Janieve Russell and Rushell Clayton. Russell is the quickest of them this season, clocking 53.63 to win their national title last month, where Salmon followed her home in a PB of 53.82 with Clayton – the 2019 world bronze medallist – third in 54.20.
Norway's Line Kloster was one of many to produce a breakthrough performance at La Chaux-de-Fonds earlier this month with a national record of 53.91, and she could reach the final in Oregon if replicating that in the lower altitudes of Eugene.
British athletes Jessie Knight and Lina Nielsen, Ukrainian duo Anna Ryzhykova and Viktoriya Tkachuk, Italy's Ayomide Folorunso and Spain's Sara Gallego are others who have run below 55 seconds this season and all could contend for spots in the final. Panama's Gianna Woodruff, who was seventh in the Olympic final last year and who has a season's best of 54.35, should also be in contention.
Cathal Dennehy for World Athletics