Jesse Owens' Ohio singlet in MOWA (© WCH Oregon22)
Less than 400 metres walk away from Eugene's Hayward Field, the venue for the World Athletics Championships Oregon22 (15-24 July), is the MOWA Track & Field Heritage Exhibition, Oregon22.
The latest Museum of World Athletics (MOWA) public exhibition of artefacts from the World Athletics Heritage Collection opened on 23 June.
Hosted at the Erb Memorial Union (EMU), the student's union building of the University of Oregon, MOWA Eugene will remain open to the public until the end of the World Championships.
Two historic artefacts headline the display of over 30 competition items donated or on loan from many of the greatest world and Olympic champions and world record-breakers.
Ohio
On 25 May 1935, Jesse Owens set four world records in 45 minutes in Ann Arbor, Michigan. The tally was in fact six world records, as two of the races he ran accrued him two world records apiece, the 200m/220yd (20.3) and 200m hurdles/220yd hurdles (22.6).
Sports Illustrated described Owens' successful record assault as "the greatest 45 minutes in sports history".
Competing for Ohio State University and wearing a red cotton singlet with 'OHIO' emblazoned on the chest in large white capitals, Owens' record spree that afternoon also included him equalling the 100yd world record (9.4) and becoming the world's first eight metre long jumper in history with his 8.13m leap.
It is that Ohio state singlet, placed on long-term loan to the collection in 2018 by Owens' grandson Stuart Rankin, which tops out the inventory of displays in the MOWA exhibit in Eugene.
Golden shoe
It's very difficult when curating an exhibition that features an artefact from Jesse Owens to decide what, if anything, can credibly be placed next to it. In the case of this display, there was only one item that felt truly worthy, at least in a USA context.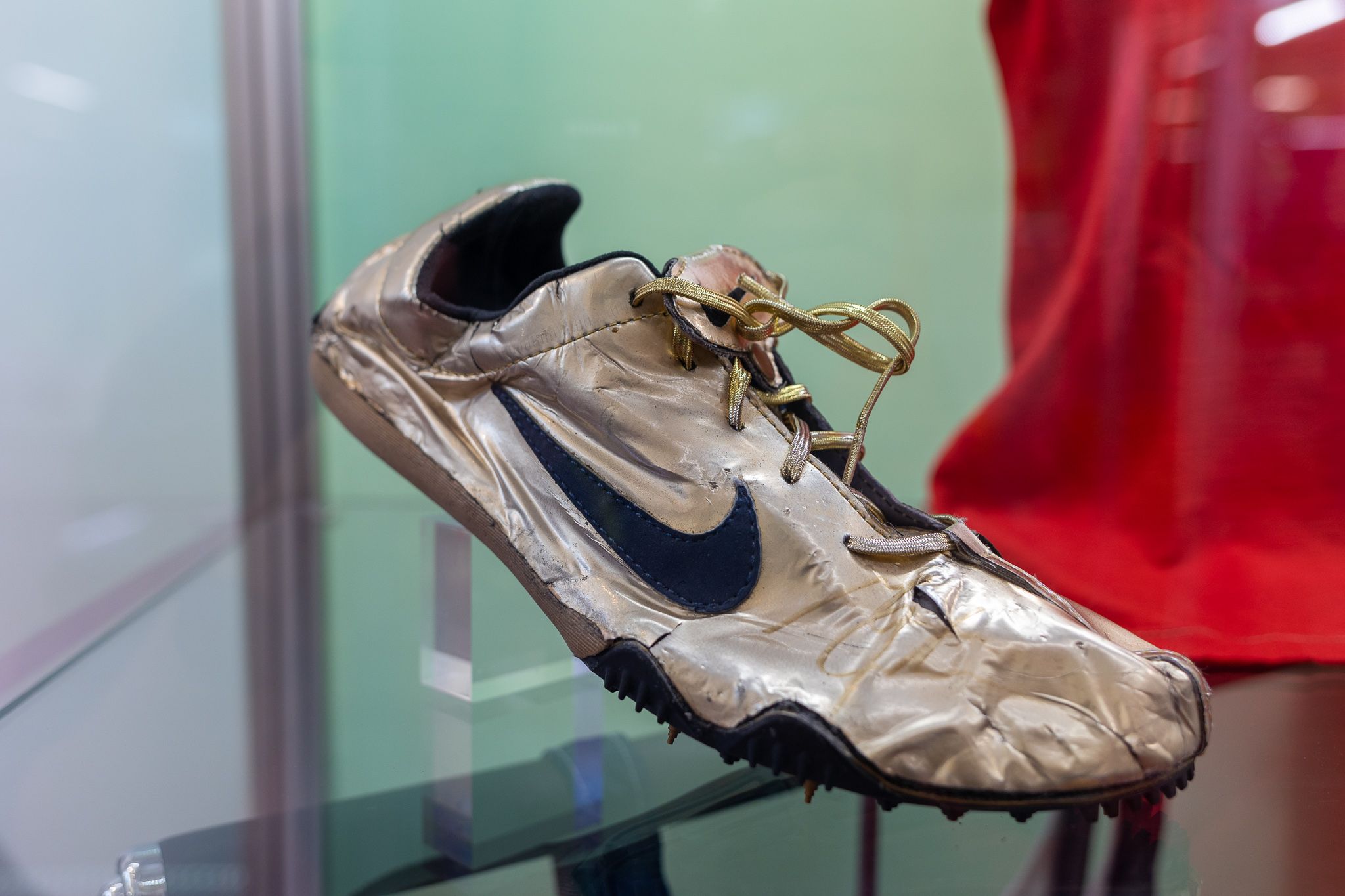 One of Michael Johnson's iconic golden spikes on display in MOWA (© WCH Oregon22)
The chosen neighbour to Owens' singlet was one of Michael Johnson's iconic golden spikes – the right shoe – from the 1996 Atlanta Olympic Games.
Johnson stunned the world of sport in 1996. In Atlanta he won an unprecedented Olympic men's 200m and 400m double. In the process, with a 19.32 clocking, Johnson destroyed his own 200m world record (19.66), which he had set less than two months before the Games on the same track at the US Olympic Trials.
Felix and Bolt… Warholm and Duplantis
Among the other standout items on display in MOWA Eugene are Allyson Felix's winning running spikes from the 200m at the Helsinki 2005 World Championships and Usain Bolt's signed singlet and competition bib from the 200m in Daegu 2011.
The artefacts of two of the most decorated athletes in World Championships history are joined by donations and loans from Marie-Jose Perec (Gothenburg 1995 top), Mike Powell (Tokyo 1991 singlet), Haile Gebrselassie (Seville 1999 singlet), Cathy Freeman (Seville 1999 t-shirt), Jan Zelezny (Seville 1999 singlet) and Valerie Adams (London 2012 shot) to highlight just a few.
Going further back in history, there are artefacts from four athletes that hold iconic status alongside Owens: Paavo Nurmi (1925 Bronze Bust), Fanny Blankers-Koen (London 1948 accreditation card), Emil Zatopek (Melbourne 1956 tracksuit top) and Herb Elliott (Rome 1960 singlet).
Bringing the collection right up to date are two recent world record items from Karsten Warholm (Oslo 2021 running spike) and Mondo Duplantis (Glasgow 2020 pair of spikes).
Chris Turner for World Athletics Heritage
MOWA EUGENE: Erb Memorial Union, University of Oregon, 1395 University St, Eugene, OR 97403. ​Open: 7 days a week - 7am to 10pm (staffed 11am to 5pm). ​