Some of the 800m contenders for Budapest (© AFP / Getty Images)
Men's 800m
Timetable | world rankings | 2023 world list | world all-time list | how it works
The finalists from last year's edition in Oregon are leading the charge in the men's 800m heading into the World Athletics Championships Budapest 23. The sixth-fastest man of all time, Kenya's Emmanuel Korir, took the gold in Oregon, with Algeria's Djamel Sedjati and Canadian Marco Arop taking silver and bronze respectively, while Korir's teammate and namesake, Emmanuel Wanyonyi settled for fourth.
Korir has endured an injury-plagued season and has barely managed to compete in the Diamond League, finishing eighth in both Rabat and Stockholm, and 10th in Paris. Nevertheless, Wanyonyi has held the fort for Kenya and has the second fastest time in 2023, blazing to a new lifetime best of 1:43.27 with which he dominated the race in Paris.
The 2021 world U20 champion will be hoping to take that form to Budapest and ensure that the men's 800m title remains in Kenya, following in the footsteps of Billy Konchellah, Paul Ruto, Alfred Kirwa Yego, David Rudisha and Korir. He will be supported by Alex Ngeno Kipngetich and Ferguson Rotich – the bronze medallist from Doha.
The Kenyans will expect a stiff competition from Arop, who has the third fastest time this season – 1:43.30 – which he posted while finishing second to Wanyonyi in Paris. The Canadian is the highest ranked athlete in the event this year, signalling his readiness to upgrade from bronze to gold while aiming to become the first Canadian in World Championships history to win the men's 800m.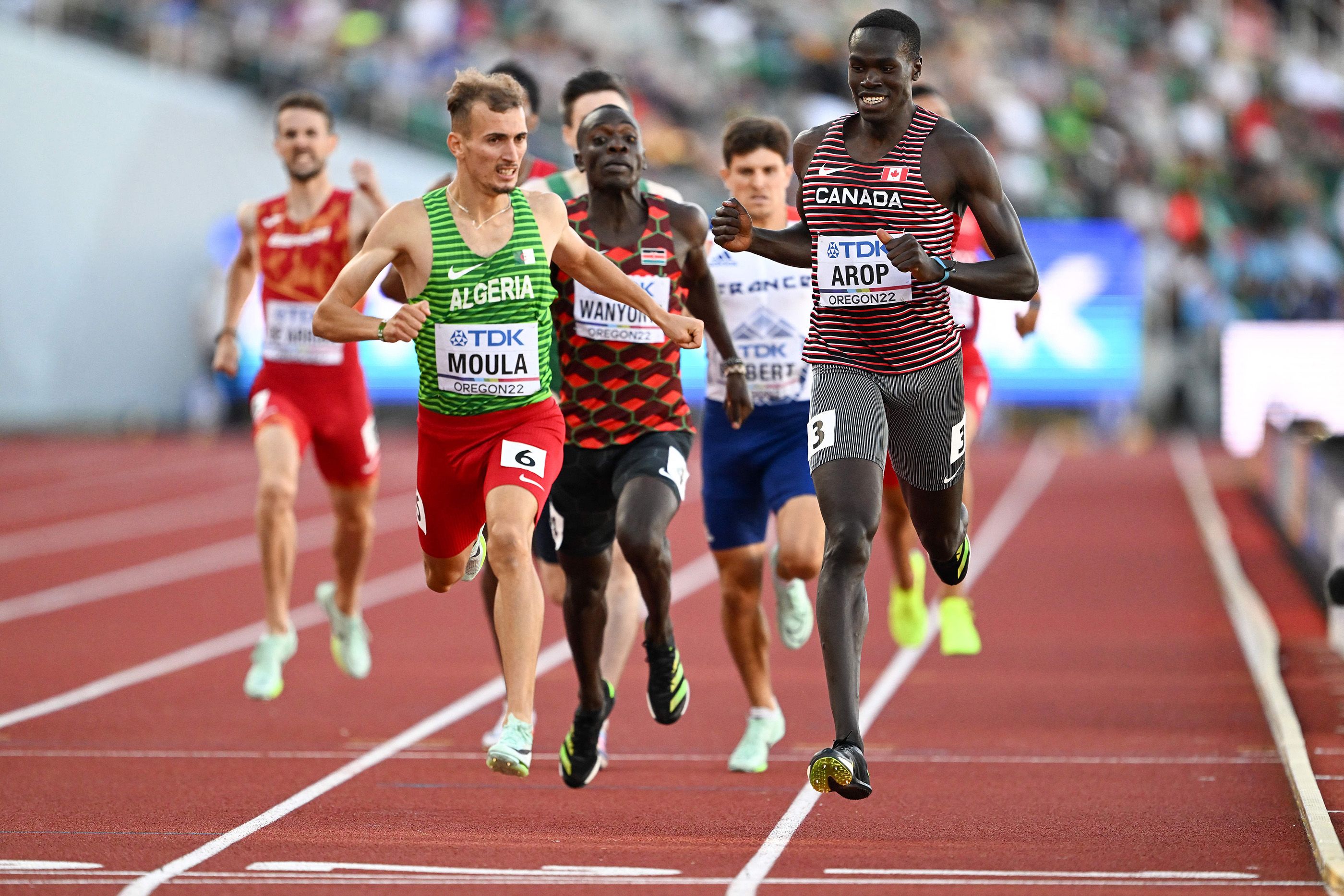 Slimane Moula and Marco Arop in Oregon (© AFP / Getty Images)
The East Africans will also have to contend with their North African counterparts – the Algerian duo of Slimane Moula (who was fifth in Oregon) and Sedjati, who are fourth and fifth on the global list for 2023 with their PB times of 1:43.38 and 1:43.40 respectively, also set in Paris, indicating that the teammates are peaking at the right time and will leave nothing to chance in Budapest. The only Algerian to have won gold in the men's 800m is Djabir Said-Guerni – a feat he achieved 20 years ago.
The US team comes with a blend of youth and experience and comprises Clayton Murphy, who won bronze at the 2016 Olympics in Rio, and Bryce Hoppel, who has a season's best of 1:43.95 and is the reigning US champion and third place finisher at last year's World Indoor Championships, plus Isaiah Harris, the 2018 NCAA champion in the event.
France's silver medallist at the 2023 European Indoor Championships, Benjamin Robert, and his compatriot Yanis Meziane will spur each other towards the top prize as the former recorded a PB of 1:43.48 in Paris, putting him in sixth place on the world top lists. The latter clocked a PB of 1:44.30 in Monaco and will aim to run faster in Budapest. Both will be hoping to replicate Pierre Ambroise-Bosse's gold-winning feat from 2017.
Great Britain will be represented by a decent team which includes Max Burgin (1:43.85), winner of the event at the London Diamond League, plus national champion Daniel Rowden, who stormed to a lifetime best of 1:43.95 in Monaco, and Ben Pattison, the Commonwealth Games bronze medallist who also posted a PB of 1:44.02 while competing at the London Athletics meet where he placed second.
Also among the sub-1:44 men this season is Australia's Joseph Deng, who ran an Oceanian record of 1:43.99 in France last month.
Women's 800m
Timetable | world rankings | 2023 world list | world all-time list | how it works
Last year, the predictions for the women's 800m in Oregon were quite forthright. Having struck gold at the Tokyo Olympics, USA's Athing Mu had extended her dominance to 2022 and maintained an unbeaten streak in all of her races, culminating in her clinching the world title on home soil in Oregon – the perfect climax to her fairytale.
However, as the countdown to the World Championships continues, it seems that the spotlight is going to be shared by a number of athletes, seeing as the defending champion has only competed in one 800m this season, which she won in a season's best of 1:58.73. Mu's only other two races this year were over 1500m at the US Trials, where she finished second to Nikki Hiltz, and though she's been listed for the 800m in Budapest, if she decides to compete it's not going to be a walk in the park for the US record-holder, going by the quality of the field.
Great Britain's Keely Hodgkinson has been in brilliant form and is the world's fastest woman this season. The 21-year-old, who has only competed in two Diamond League meetings asides the UK Championships, made the most of her chances by storming to a national record of 1:55.77 to win the Paris Diamond League, finishing ahead of Ajee Wilson (1:58.16) and Natoya Goule-Toppin (1:58.23).
Two-time World Championships bronze medallist Wilson finished a distant eighth at the US Championships and is ruled out of being in Budapest. Instead, USA's flag will be flown by Nia Akins, the new US champion, along with Raevyn Rogers, the silver medallist from Doha who boasts a season's best of 1:58.98, and Kaela Edwards (2:00.02).
Hodgkinson, the 2022 world silver medallist, and Kenya's Mary Moraa, who took the bronze, will be engaged in a battle for superiority, which is an offshoot from last year's championships as the pair faced off at the Commonwealth Games in Birmingham less than two weeks after the showpiece in Oregon. That time around, they switched places, as Moraa won gold ahead of her British counterpart who settled for silver. This year, the duo have clashed only once – in Lausanne – and it was Moraa who triumphed in 1:57.43, ending Hodgkinson's unbeaten streak over 10 races as she clocked 1:58.37.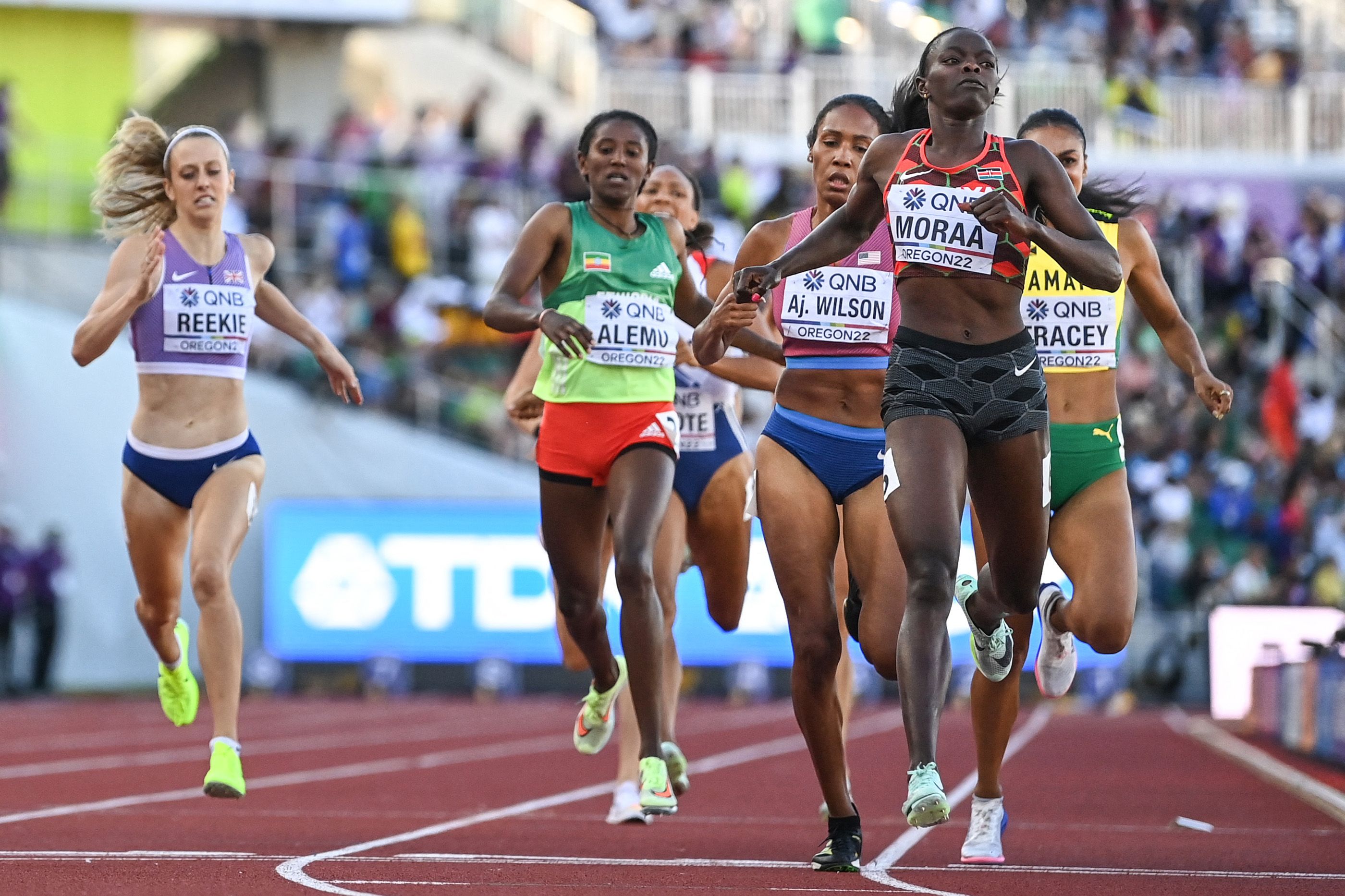 Mary Moraa in Oregon (© AFP / Getty Images)
Moraa, who is unbeaten in all of her seven races over 800m this season, including three Diamond League victories, is currently ranked number one in the world, followed by nine-time Jamaican champion Goule-Toppin and then Hodgkinson.
One athlete who has caused quite a splash is Scottish middle-distance runner Jemma Reekie. While competing at the London Diamond League, Reekie, who narrowly missed out on a medal at the Tokyo Olympics in fourth, raced to an impressive season's best of 1:57.30 – the third fastest time in the world this year – inspiring 2019 world champion, Halima Nakaayi to a national record of 1:57.62 in third, just behind Goule-Toppin who set a season's best of 1:57.61. Australia's Catriona Bisset, who was fourth in that race, broke the Oceanian record with her time of 1:57.78 – the sixth fastest time in the world in 2023.
Reekie, who has a PB of 1:56.90 set in Tokyo, admitted that her performance in London has boosted her confidence ahead of the World Championships, especially as she exited the competition in Oregon in the semifinals. "You can train as well as you like but it's all about performing on the stage," she said. "I've been building up my confidence and I'm ready for the World Championships."
Having made the finals of two World Championships, Jamaican record-holder Goule-Toppin will aim to secure a better position after her sixth-place finish in Doha and fifth position in Oregon.
Yemi Olus-Galadima for World Athletics