Ryan Crouser in the shot put at the Tokyo Olympics (© Dan Vernon)
In 2016, all 201 centimetres of Ryan Crouser burst on to the international stage in Rio, clinching gold with an Olympic record of 22.52m.
Off the back of such a breakthrough, many assumed the affable cowboy-hat wearing US thrower would go on to win gold at the next few major events, but Crouser's story since Rio is one that highlights the lack of predictability in a sport so firmly built upon quantifiable marks, times and analysis.
He finished sixth at the World Championships in London in 2017, throwing 21.30m. Two years later, the shot put final in Doha unfolded as one of the most competitive moments in World Championships history, as the 'big three' of Joe Kovacs, Crouser, and Tom Walsh were separated by one centimetre.
Crouser's opening throw that evening was the longest in World Championships history, yet by the end of the evening it was only the equal-seventh longest throw of the competition. The competitive drive of the now first, fourth and sixth best shot putters in history had captivated not only the whole stadium, but also all the thousands of fans watching on TV.
Crouser headed to Tokyo as the world record-holder, having broken the long-standing mark with his 23.37m effort at the US Olympic Trials. As shown in both 400m hurdles finals earlier in the Games, the presence of a world record-holder can force the rest of the field to rally, to attempt the previously thought impossible. Competitive risks become a necessity of sorts, nudging contemplated envelopes of competition.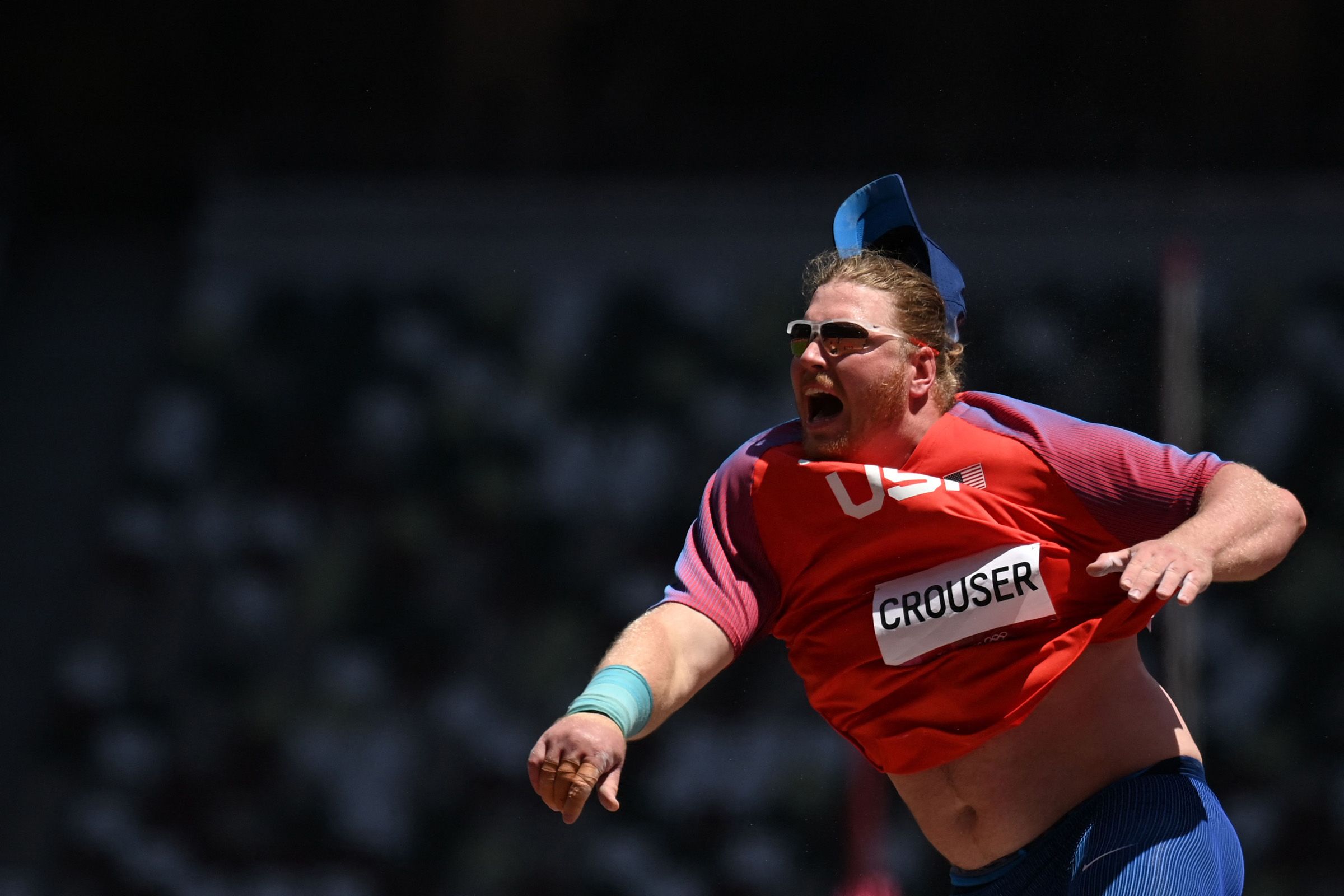 Track events are neatly compartmentalised: warm-up, check-in, start the race. There exists little time during an event to ponder, to analyse, with eyes directed down the track. In field events, however, there are hours for athletes to contemplate their fate, each round representing an opportunity for a competitor to respond.
Spurred on by Kovacs and Walsh, Crouser successfully defended his Olympic title in Tokyo with 23.30m, joining USA's Parry O'Brien (1952 and 1956) and Poland's Tomasz Majewski (2008 and 2012) as the only men to win back-to-back gold medals in the event.
In a sports coverage era filled with hyperbole, it is possible to lose sight of dominance within a sport, or an event group. Are Crouser's achievements best measured by medals or metres?
The 22-metre barrier is often used as a yardstick for excellence in this event, and indeed that's what was ultimately needed to win a medal in Tokyo.
World champion Kovacs has thrown beyond 22 metres on 28 occasions. Walsh holds a slight upper hand with 37 throws over 22 metres. World and Olympic fourth-place finisher Darlan Romani has 12 throws in excess of 22 metres. Kovacs (22.91m) and Walsh (22.90m) are fourth and sixth respectively on the world all-time list, while Romani (22.61m) is 11th.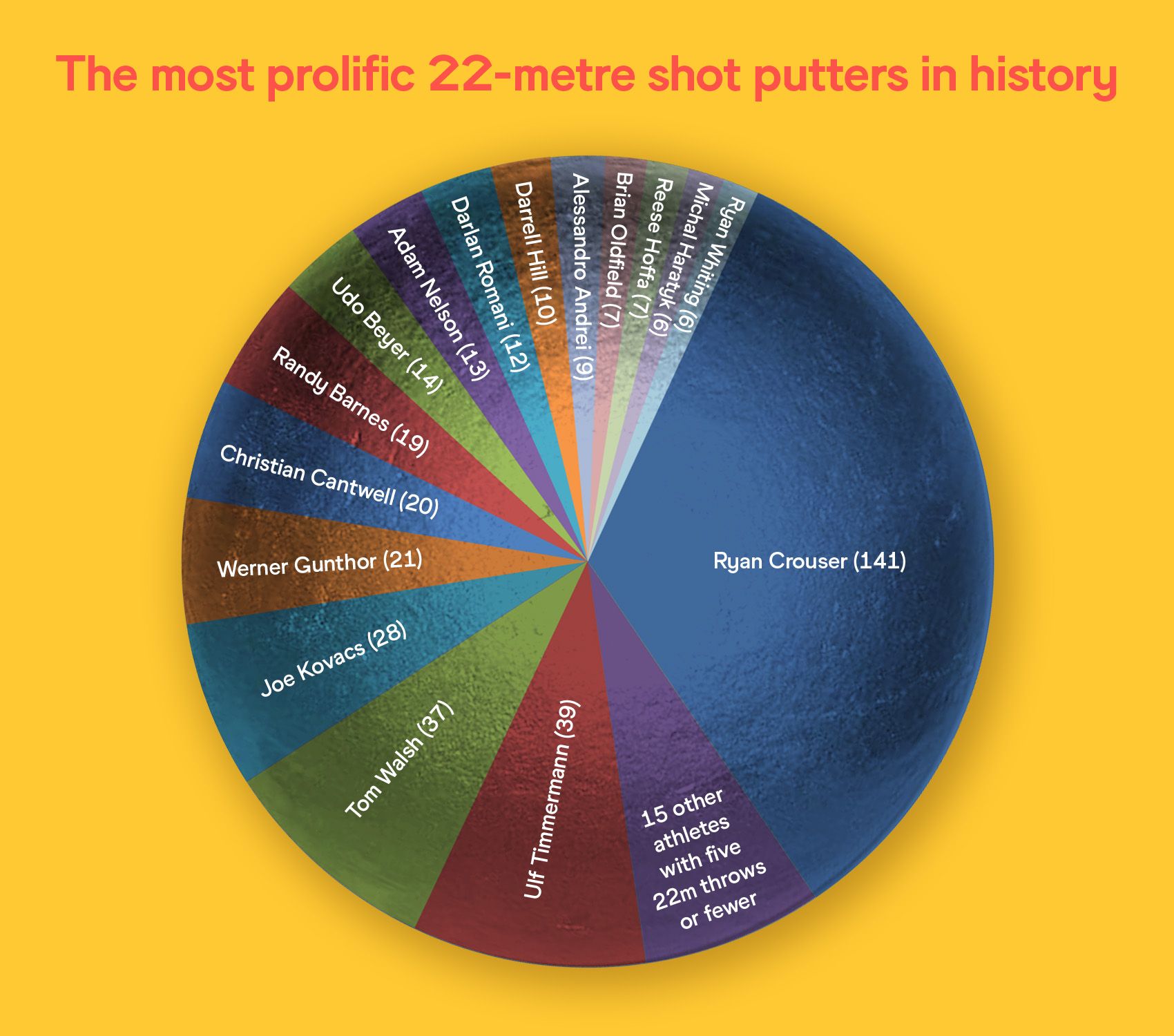 Crouser, meanwhile, has thrown beyond 22 metres an incredible 141 times, stretching back to that breakthrough year of 2016. In 2021 alone, he has achieved the feat 36 times – including three marks that landed beyond 23 metres.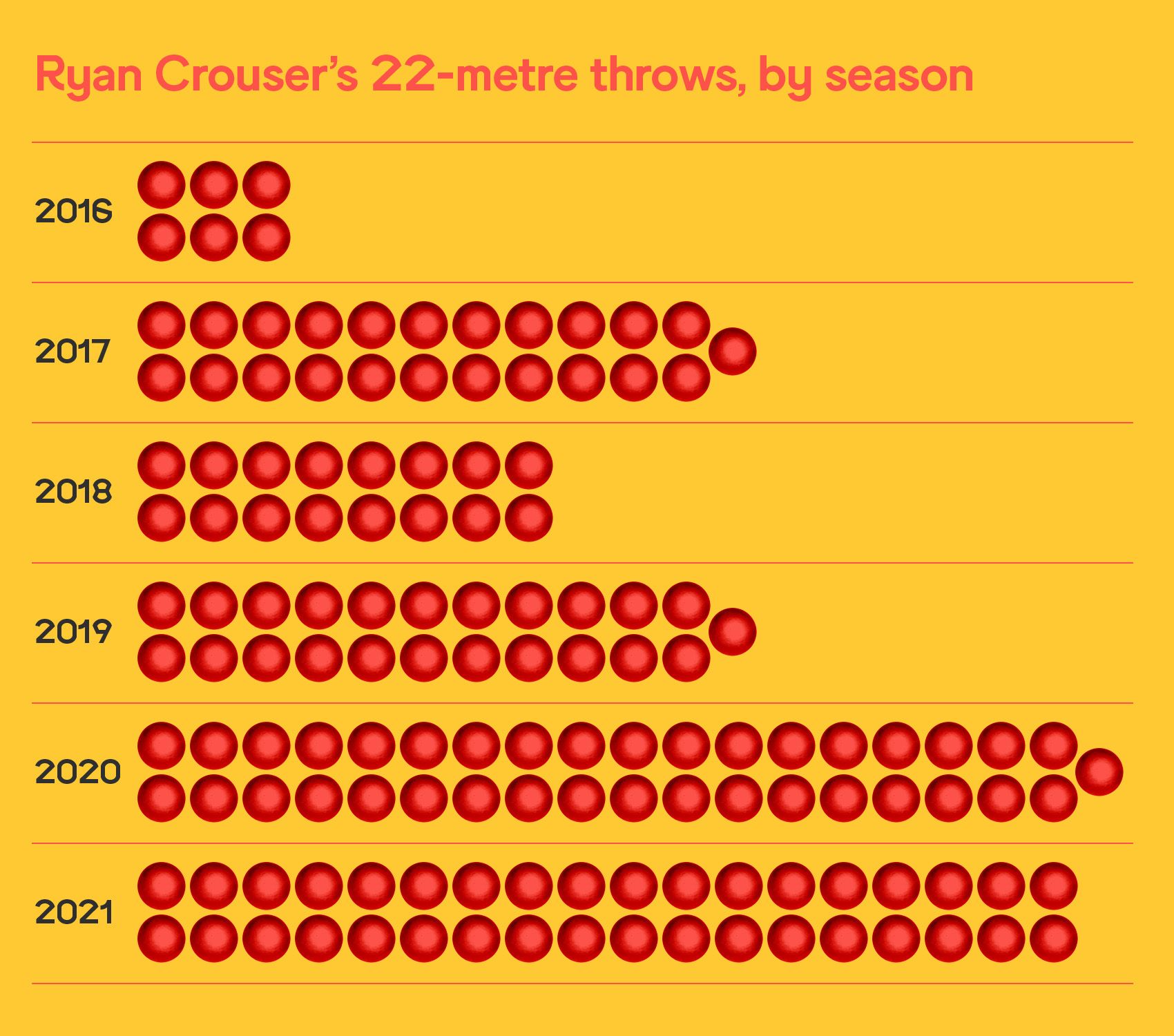 In total, 31 men have achieved a 22-metre throw. Of the 419 22-metre throws in history, Crouser owns more than a third of them (33.65%) – outstanding dominance of the top end of the all-time lists.
Sean Whipp for World Athletics