Olympic shot put champion Ryan Crouser in Tokyo (© Getty Images)
Ryan Crouser is not only a giant of a man, but he is a giant of a competitor, as he demonstrated on Thursday (5) in winning his second consecutive Olympic gold medal in the men's shot put.
He is only the fourth man in history to win the shot put at back-to-back Olympics and none of the previous dual gold medallists had to wait five years between their triumphs.
But Crouser was determined to win in Tokyo to honour his grandfather Larry, the patriarch of the Crouser throwing dynasty which has spawned three Olympians, who died the week before his grandson left for Tokyo.
After his triumph, Crouser held up a handwritten sign that said: "Grandpa, we did it. 2020 Olympic champion."
"I was probably about this tall (holds hand low to the ground) when I took my first throw with him in his backyard," Crouser said. "He got me started throwing, and I threw in his yard until eighth grade. The day before I had to leave (for Tokyo) I threw a shot, and it went right through the roof of his garden shed, so I had to go back the next day and replace that.
"He played a huge role in my throwing career. So to lose him the week before coming to the Olympics obviously was sad. But I feel like he was able to be here in spirit. I held the note because at the end he lost his hearing so I would write whatever I wanted to say to him and he would read it and answer back. I sat with him for a few hours after the trials and was able to tell him I was the world record-holder. And he watched that throw on the iPad thousands and thousands of times.
"So I just felt like that was the last note that I wanted to write to him, that I didn't get the chance to. I know he was here with me in spirit, and I know he would be proud if he was here."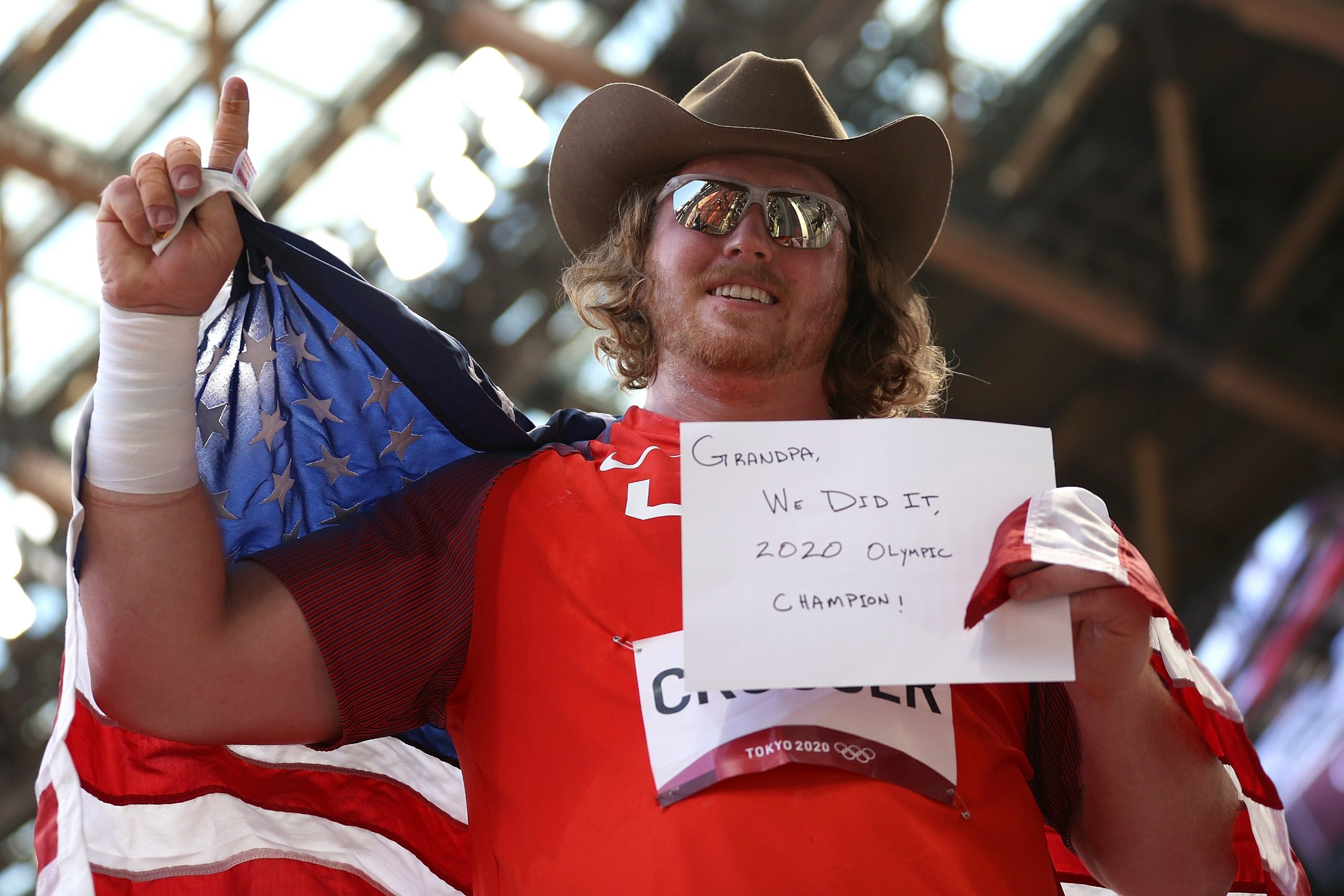 He said going through the process of writing the note a few days before the competition calmed him and gave him strength for the battle ahead.
"I was just sitting there in my bed, I had a great practice, but I felt emotionally drained," he revealed. "It was just a lot of stress, the Olympic Games is a stressful place. I just thought: 'Man, I am going to do something'. So I was missing him a lot, and was just going to write a note for him.
"I wrote that down and as soon as I did, I had a huge sigh of relief. I knew if I went in and threw how well I had prepared, stuck to my game plan, got out of my own way, and did what I had to do, I would be the Olympic champion. Writing that note to him a few days ago set my mind in the right place."
Crouser's victory in the Olympic stadium gave the US team a much-needed boost, after two big disappointments on the track during the course of the shot put final. First the usually medal-winning men's 4x100m relay team failed to qualify for the final, and then world champion Grant Holloway was beaten in the 110m hurdles final.
But Crouser has become the man who doesn't disappoint.
Less than two years ago, the top three men in the shot put – Crouser, world champion Joe Kovacs and former world champion Tom Walsh – were separated by just one centimetre as they staged the greatest shot put competition in history at the World Championships in Doha.
But Crouser has made best use of the intervening period to separate himself from the others (including building his own throwing circle during the pandemic so he could continue to train in a local field), and is now the dominant thrower in the world.
None of the three men had thrown over 23 metres when they competed in Doha. But Crouser breached that barrier for the first time in May this year, as an early warning of what was to come, before finally breaking the 31-year-old world record with a 23.37m bomb at the US trials in June.
He began today's competition as a man totally in control of his craft.
His first throw of 22.83m would have won the competition, as would his second (an Olympic record 22.93m) and third (22.86m) but it was in the sixth round, when the gold medal was already secure, that he really found his rhythm, launching the steel ball 23.30m with the very last throw of the competition.
Fellow US thrower Kovacs, who denied Crouser the world title by one centimetre in Doha, secured the silver medal with his fourth round throw of 22.65m, while Walsh was the only other man to better 22 metres. But the New Zealander also saved his best for last, registering 22.47m to win the bronze medal.
Kovacs, who is coached by his wife Ashley, said he felt the heat on a 35-degree day in Tokyo, but was proud that he and Crouser had dominated the competition.
"I'm really happy coming back with a silver and Ryan coming back with a gold," he said. "That's our job as US shot putters. We're the best country in the world at throwing, so we've got to make sure we don't come back empty-handed."
Walsh said he wanted "a different kind of metal" from the competition but vowed to keep pursuing the two Americans.
"Sometimes you just don't quite put it together the way you would like to and that's how good men's shot put is right now," he said. "You've got to nail it to win. I was very close but no cigar."
Nicole Jeffery for World Athletics
MEN'S SHOT PUT MEDALLISTS
🥇
Ryan Crouser 🇺🇸 USA
23.30m OR
🥈
Joe Kovacs 🇺🇸 USA
22.65m
🥉
Tom Walsh 🇳🇿 NZL
22.47m
Full results