Yalemzerf Yehualaw celebrates her performance at the Haspa Marathon Hamburg (© Haspa Marathon Hamburg / Hoch Zwei)
Ethiopia's Yalemzerf Yehualaw made history in Hamburg on Sunday (24), running 2:17:23 for the fastest ever women's marathon debut.
The 22-year-old won the Haspa Marathon Hamburg by almost nine minutes, breaking the Ethiopian record and German all-comers' record, while just a second separated the top two in the men's race. Kenya's Cybrian Kotut clocked 2:04:47 to pip Uganda's Stephen Kissa as the top four were all under the previous men's course record of 2:05:30 set by Eliud Kipchoge in 2013.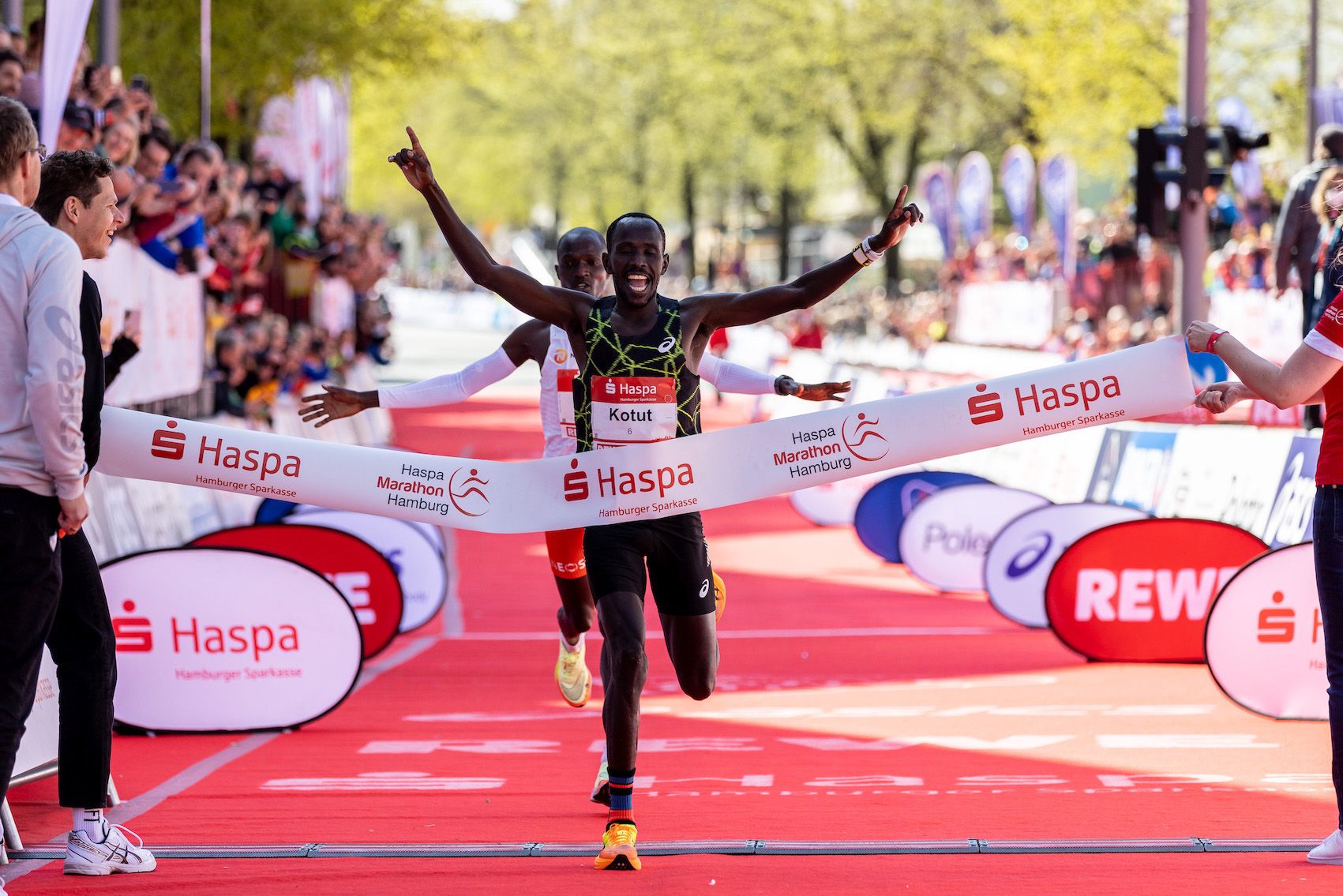 Cybrian Kotut wins the Haspa Marathon Hamburg (© Haspa Marathon Hamburg / Hoch Zwei)
Having broken the world 10km record with 29:14 in Castellon in February and with a half marathon best of 1:03:51 to her name, Yehualaw's marathon debut was highly anticipated and she delivered in fine style.
Fast from the start, she ran with her male pacemakers through 10km in 32:39 and was on exactly 2:17 marathon pace through half way (1:08:30). Slowing only marginally in the second half, she went through 30km in 1:37:34 before running solo through 35km in 1:53:55 once her pacemakers had done their job.
The world half marathon bronze medallist continued on to eventually reach the finish line with 2:17:23 on the clock, well under the previous fastest ever women's marathon debut time of 2:18:56 achieved by Paula Radcliffe in 2002.
The performance puts Yehualaw sixth on the women's world marathon all-time list, topped by Brigid Kosgei's world record of 2:14:04 set in 2019, and is the third-fastest time of the year so far.
She led an Ethiopian top three, with Fikrte Wereta and Bone Cheluke clocking respective times of 2:26:15 and 2:26:23, also on their marathon debuts.
"The race went well for me, considering this was my first marathon," said Yehualaw. "The fast Hamburg course suited me and the spectators helped me a lot."
In the men's race, Kotut and Kissa had broken away from a six-strong group that passed 35km in 1:43:38, and so began their fierce battle for the finish. They were together through 40km in 1:58:18 and with two hours on the clock Kissa kicked, looking for a win on his marathon debut, but his rival responded.
It was Kotut, last year's Florence Marathon winner and a training partner of recent Boston Marathon winner Evans Chebet, who had the stronger finish and he edged Kissa at the end - 2:04:47 to 2:04:48.
It was a PB for Kotut, improving on his previous best of 2:07:11 from 2016, while Kissa was rewarded with a Ugandan record on his debut.
Joining them under the previous course record were Ethiopia's Workineh Tadesse with a 2:05:07 PB and Uganda's Victor Kiplangat with a 2:05:09 PB.
"I am very happy that I broke the course record," said Kotut. "The pacemakers covered me well from the wind. It was not easy with the wind, but overall the conditions were very good."
Records fall at META: TIME : TRIALS
Fast times were the target and many were achieved at Sunday's META: TIME : TRIALS by ASICS, a World Athletics Label event in Malaga, with Britain's Eilish McColgan and Mekdes Woldu of France among the national record-breakers in the 5km and Ethiopia's Tsegay Kidanu quickest in the men's 10km with 27:14.
The event was specially organised to showcase the new METASPEED™+ Series footwear and McColgan, the 2018 European 5000m silver medallist, was among the athletes to go quicker than ever before. She led the women's 5km in 14:45 to improve the official British record and finish ahead of Kenya's Naomi Chepngeno with 14:57.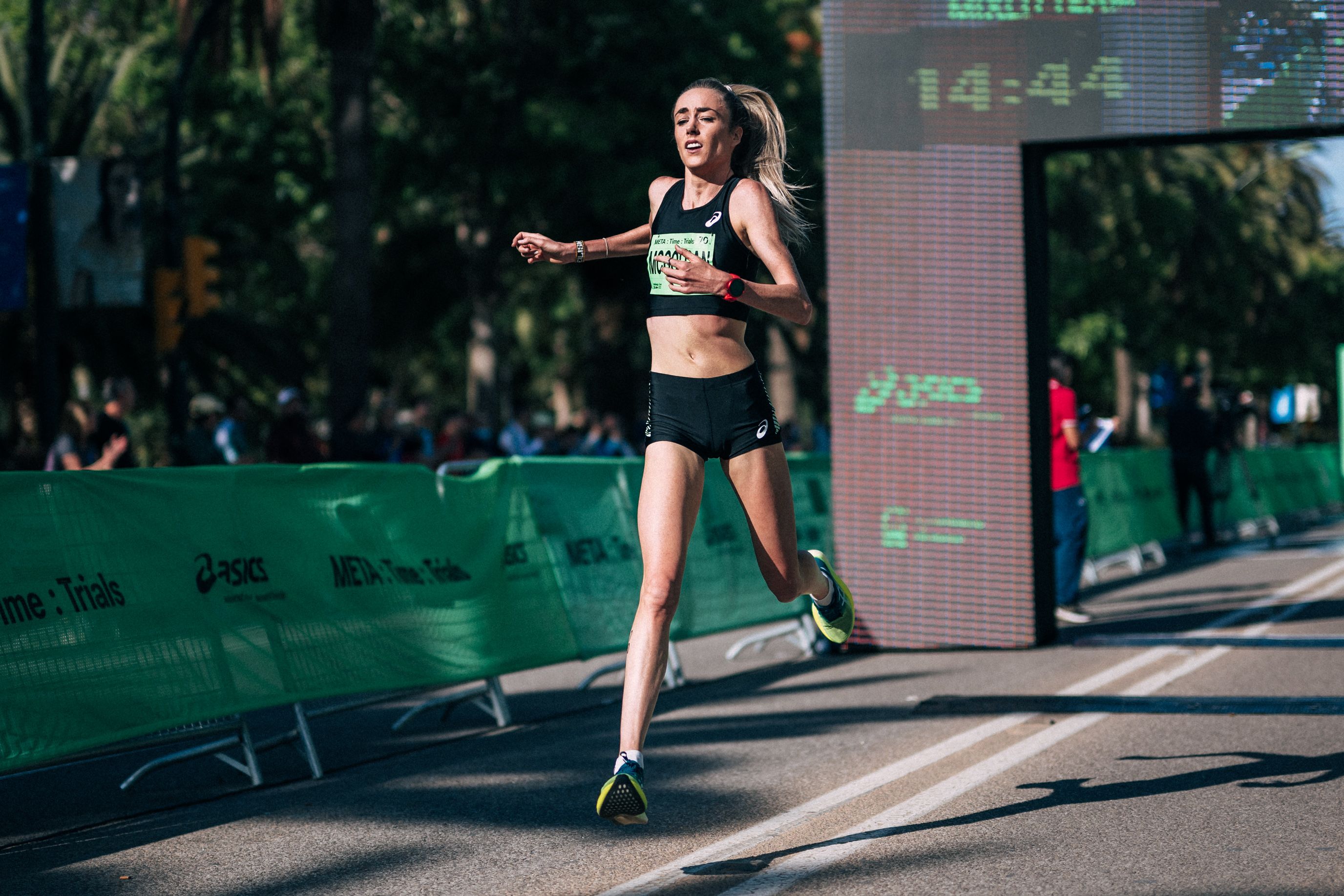 Eilish McColgan runs a national record at the META: TIME : TRIALS by ASICS (© Albin Durand / organisers)
In third, Woldu improved the French record with a run of 15:16.
In the men's race, Olympic finalist Mohamed Katir ran 13:20 to miss Jimmy Gressier's European record by just two seconds. Felix Bour of France was second in 13:41.
Kidanu impressed on his 10km road race debut, running 27:14 after passing half way in 13:42. That saw the 2019 world U20 cross country fifth-place finisher win by nine seconds ahead of Kenya's Boniface Kibiwott with 27:23.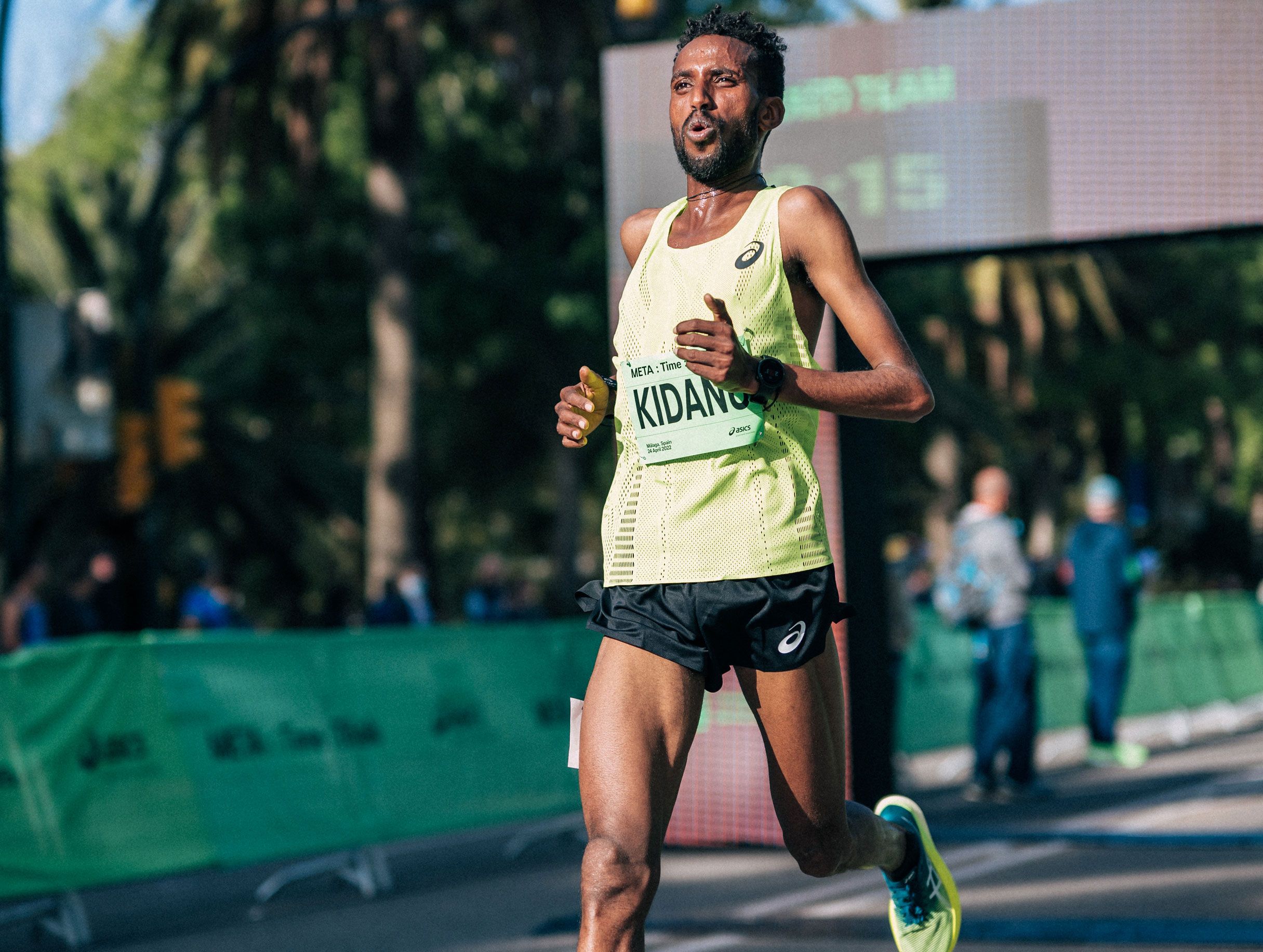 Tsegay Kidanu wins the 10km at the META: TIME : TRIALS by ASICS (© Albin Durand / organisers)
Kenya's Vicoty Chepngeno, winner of the Houston Half Marathon in January, was this time racing over 10km and claimed top spot in 31:39, 16 seconds ahead of Sweden's Sarah Lahti with 31:55.
Three athletes dipped under the hour in the men's half marathon, led by Morocco's Olympic marathon 11th place finisher Mohamed Reda El Aaraby with 59:54. That saw him break the hour barrier for the first time, improving on his previous best of 1:00:17 set when finishing 13th the 2020 World Half Marathon Championships in Gdynia.
Kenya's Wilfred Kimitei and Alfred Kipchirchir were just two seconds behind him, both clocking 59:56, while their compatriot Vincent Ngetich clocked exactly an hour.
Ethiopia's Yeshi Kalayu Chekole claimed a clear win in the women's half marathon, running a PB of 1:07:30 to finish 38 seconds ahead of Kenya's Sharon Kemboi with 1:08:08.
Chepkurui and Matolo win in Vienna
Kenya's Vibian Chepkurui retained her Vienna City Marathon title in a course record, while Cosmas Matolo Muteti ran the World Athletics Label event's second-fastest ever time on Sunday (24).
Chepkurui clocked 2:20:59 after a battle with her compatriot Ruth Chebitok, while Matolo ran 2:06:53 to beat his fellow Kenyan Leonard Langat.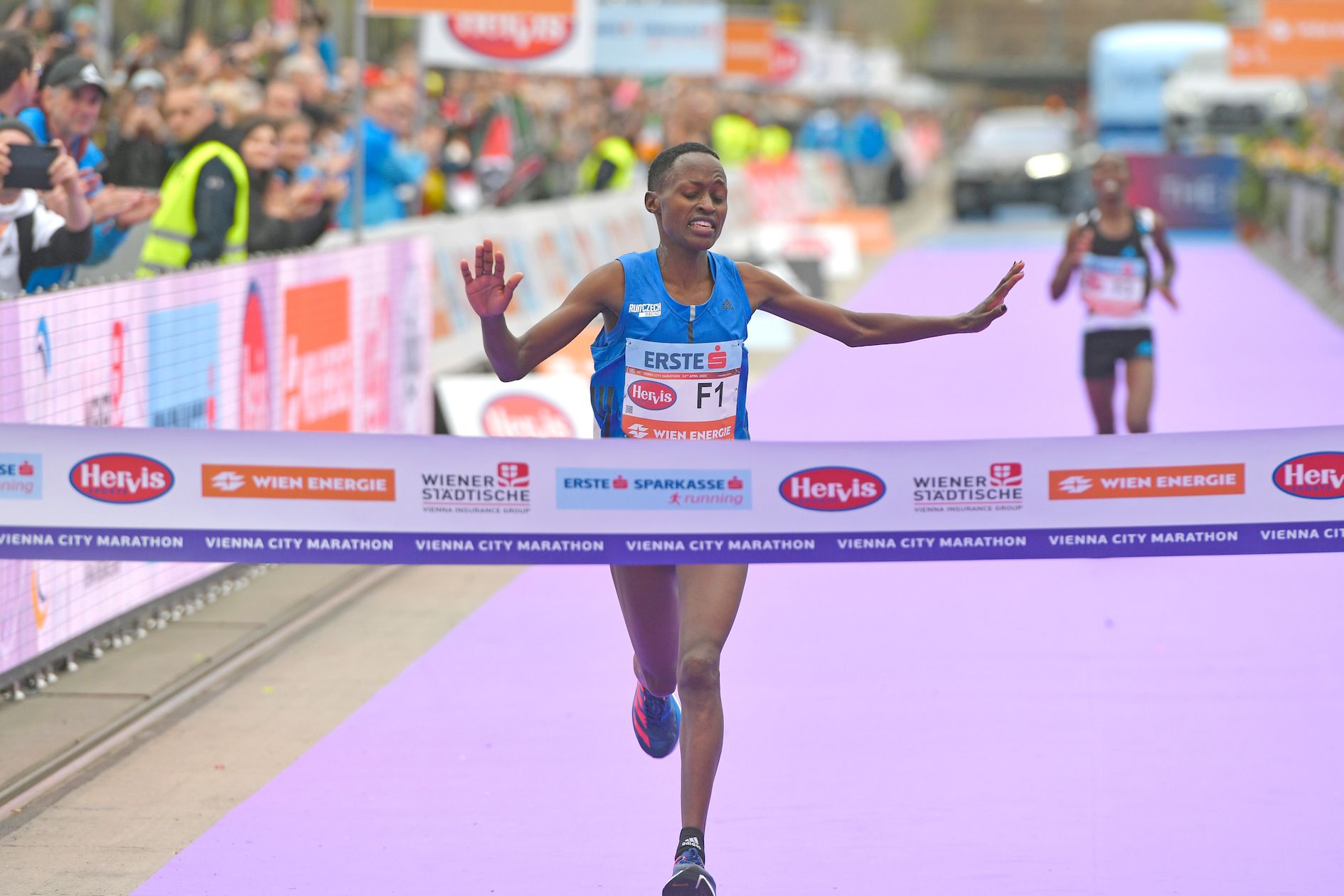 Vibian Chepkurui retains her Vienna City Marathon title in a course record (© VCM / Herbert Neubauer)
In the women's race, Chepkurui broke away after eight kilometres and had a six-second lead by the 10km mark. The pace slowed as her pacemaker struggled with a shoe issue, but she passed half way in 1:10:38 with a nine-second lead.
"My husband and pacemaker Wesley Kongogo had a problem with his shoes and got a blister, so he slowed a bit," explained Chepkurui.
Meanwhile, Chebitok was closing the gap and was right behind the 2021 winner at 35km. But determined to successfully defend her title, Chepkurui picked up the pace over the final kilometre and won in 2:20:59 to Chebitok's 2:21:03. Their compatriot Sheila Jerotich was third in 2:23:01.
"I am of course very happy to have won again in Vienna," added Chepkurui. "I want to come back next year and then my goal will be to improve to 2:18."
The 2:05:41 course record was never really threatened in the men's race and 17 runners including the three pacers passed half way in 1:03:21 before recording a 30km split time of 1:30:12.
As the pacemakers dropped out, Eritrea's Oqbe Kibrom Ruesom surged ahead but Matolo began to close the gap. With around 5km to go the Kenyan, who is partly coached by former world marathon record-holder Patrick Makau and was fifth in Berlin last September, caught Ruesom and then moved away from him.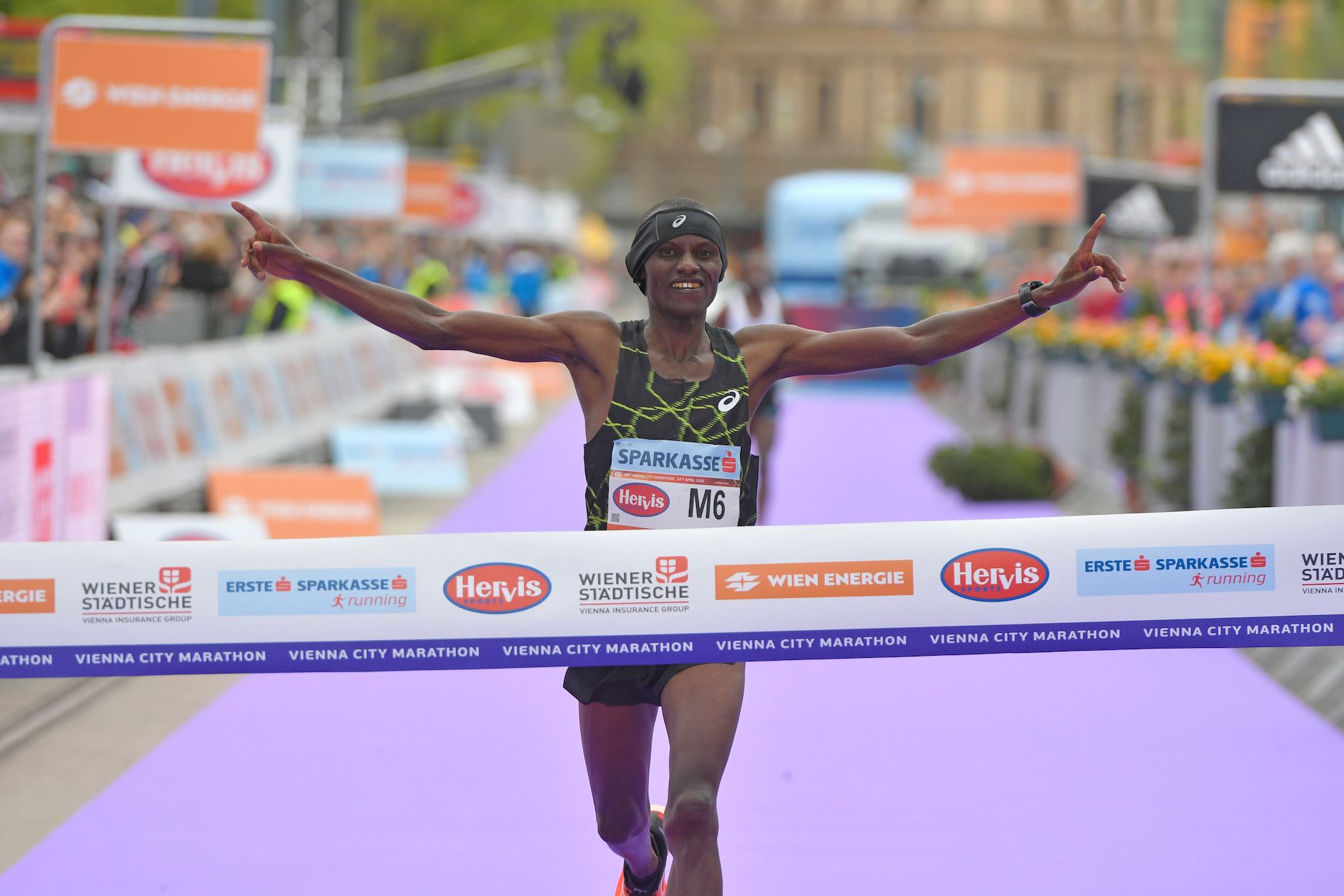 Cosmas Matolo Muteti wins the Vienna City Marathon (© VCM / Herbert Neubauer)
In the final stages, Langat moved into second place and made up some ground on the leader. He finished runner-up by six seconds in 2:06:59, while Ruesom was third in 2:07:25.
"I knew he was strong. But I decided not to go with him at 30km and run my own pace instead. I hoped to close the gap slowly," said Matolo on chasing Ruesom.
"This is my biggest victory," he added. "I hope to be able to defend my title here next year and then maybe break the course record."
Munyao and Omare triumph at Gifu Half Marathon
Kenya's Alexander Mutiso Munyao set a men's course record and Dolphine Nyaboke Omare claimed a clear women's race win at the Gifu Half Marathon, a World Athletics Elite Label road race, in Japan on Sunday (24).
In a close finish, Munyao clocked 59:56 to win by just seconds ahead of his compatriot Benard Kibet (59:57) and Emmanuel Moi Maru (59:58).
Omare, meanwhile, ran 1:08:13 to win by 47 seconds ahead of Australia's Sinead Diver, whose 1:09:00 is a world W45 record. Japan's Haruka Yamaguchi was third in 1:09:50.
In the men's race, five athletes ­– Munyao, Kibet, Maru, Joseph Karanja and Charles Karanja Kamau – remained together through 15km, which was passed in 42:52. By 20km, reached in 56:51, it was down to just Munyao, Kibet and Maru.
From there, Munyao kicked to victory to lead his compatriots under the course record of 1:00:02 set by Bedan Karoki in 2014 and the one-hour mark.
Karanja was fourth in 1:00:12 and Kamau fifth, 10 seconds behind him.
Omare had built a 31-second lead by 10km in the women's race, passed in 32:20. Diver was just ahead of the chase group by that point, with her compatriot Eloise Wellings four seconds back from her.
Omare reached 15km in 48:46 and 20km in 1:04:40 before crossing the finish in 1:08:13. Behind Diver and Yamaguchi, Wellings was fourth in 1:10:42, one second ahead of Japan's Reia Iwade.
Chepkemoi runs Enschede Marathon record
The 75th anniversary of the oldest marathon in the Netherlands – the Enschede Marathon – was marked with a women's race record of 2:21:10 by Maurine Chepkemoi, while her fellow Kenyan Julius Tuwei won the men's race in 2:07:43.
Chepkemoi triumphed in the World Athletics Elite Label road race ahead of her compatriot Philomena Cheyech (2:23:53) and Ethiopia's Bezabeh Alemtsehay (2:24:42), while Tuwei gained his title ahead of Kenya's Enock Onchari (2:07:52) and Ethiopia's Deme Tadu Abate (2:07:59).
After passing half way in 1:10:06, Chepkemoi broke away with Cheyech and they clocked 1:39:19 at the 30km point. After passing 35km in 1:56:01, Chepkemoi began to edge ahead and built a lead of more than a minute over the next 5km, clocking 2:13:24 at 40km. She went on to win in 2:21:10, claiming victory by more than two and a half minutes.
In the men's race, Tuwei was joined by Onchari and Abate in a lead group that passed half way in 1:03:23. That trio remained together through 35km in 1:45:39 and 40km in 2:01:08 before Tuwei kicked to victory, winning by nine seconds in 2:07:43.
At the Rock 'n' Roll Madrid Marathon, a World Athletics Label event, Siranesh Yirga led an Ethiopian top three in the women's race, breaking the event record with 2:24:37. Meseret Abebayahau was second in 2:25:18 and Kasu Bitew third in 2:26:18.
Ethiopia's Abdela Godana retained the men's title in 2:08:44 ahead of Uganda's Geofrey Kusuro with 2:09:23 and Ethiopia's Hailu Zewdu with 2:09:27.