Yalemzerf Yehualaw wins the 2022 London Marathon (© AFP / Getty Images)
Yalemzerf Yehualaw may have only made her marathon debut six months ago, but the Ethiopian 23-year-old has already made huge strides in the 26.2-mile event. A 2:17:23 run in Hamburg, which at that time was the fastest ever women's marathon debut, was followed by a 2:17:26 London Marathon win and she now sits eighth on a rapidly evolving world all-time list with two of the 13 fastest ever women's marathon performances to her name.
A name – Yalemzerf – that in Amharic means 'edge of the world'. When it comes to the world of road running, she has worked her way to the top of it.
There's no complacency, though. Hard work, determination, passion and a strong support system all contribute to Yehualaw's success and after such a triumphant transition to the marathon, the 2020 World Half Marathon Championships bronze medallist has already set new goals. Representing Ethiopia again, this time in the marathon at the World Athletics Championships Budapest 23, is on the list, as is racing the event at the Olympics. The world marathon record is in her sights and she also has an eye on the World Athletics Cross Country Championships Bathurst 23 in February.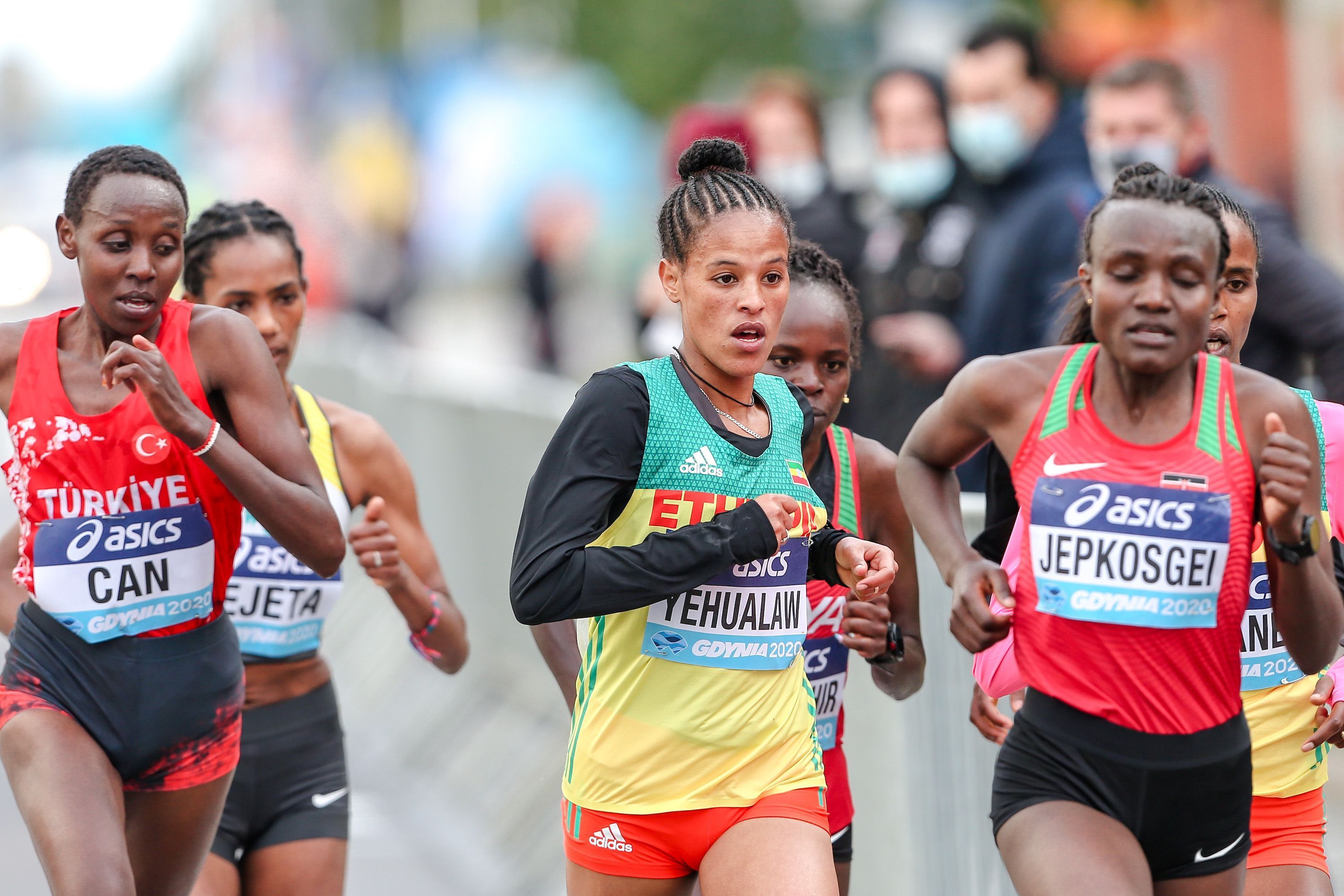 Yalemzerf Yehualaw at the World Half Marathon Championships in Gdynia (© Gdynia LOC)
Yehualaw's first steps in the sport came when she was at school. The eldest of six siblings, she grew up in West Gojjam, in a village in the Amhara region of Ethiopia, and showed her talent for athletics with wins on the track, road and cross country.
She was invited to train at the Ethiopian Youth Sport Academy in Addis Ababa and after four years there she joined the NN Running Team and began working with coach Tessema Abshero.
Her international debut came in 2019, Yehualaw winning the Rabat Half Marathon in 1:09:13. Later that year she returned to Rabat to win the African half marathon title and she improved her PB to 1:06:01 to triumph in the Delhi Half Marathon. Since then, she has taken her tally of sub-1:07 half marathons to seven, topped by her 1:03:51 run in Valencia last year when she finished second behind Letesenbet Gidey's 1:02:52 world record.
Yehualaw also dipped under 1:04 in Larne, Northern Ireland, two months before that and while her 1:03:44 could not be ratified as a world record because the course was later found to be 54 metres short, she went on to get a global mark of her own in Castellon. Running in the Spanish province in February this year, Yehualaw clocked 29:14 to improve the world 10km record.
"Today a dream came true," she said later, but that achievement was only part of the plan. Another ambition was to step up to the marathon and while it came sooner than he had intended, Abshero was ready to guide her on the next step of the journey.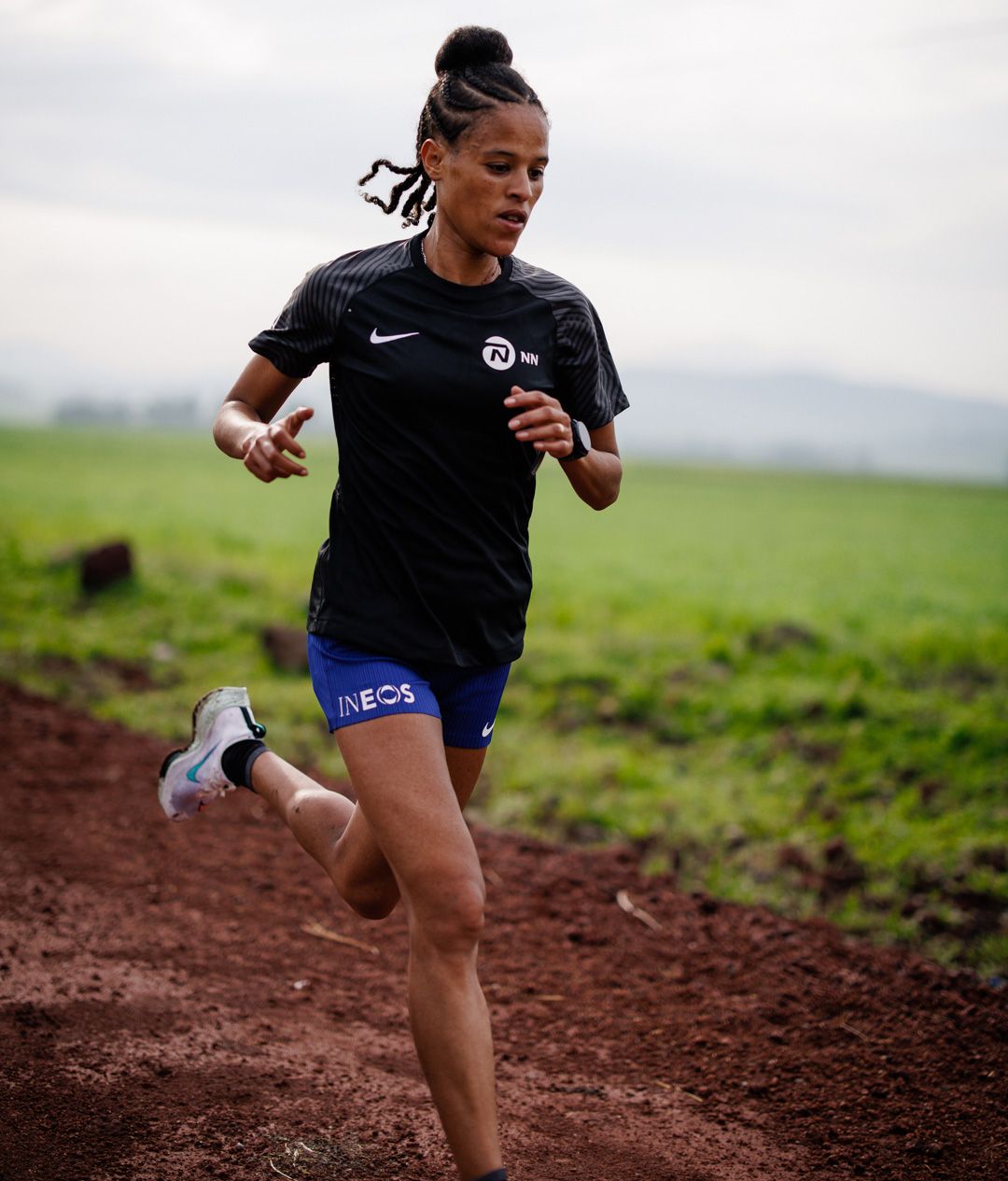 Yalemzerf Yehualaw training in Ethiopia (© NN Running Team)
For her debut, they decided on Hamburg, where Abshero ran his own PB of 2:08:26 when finishing fourth in 2008. Although the race was an increase in distance, Yehualaw's training remained fundamentally focused on the half marathon. That was also the case for London, for which she ran around 180km a week in the lead up. With even bigger goals to aim for, it is all with longevity in mind, Abshero explained.
"Always I am focusing on her half marathon," he said. "A lot of endurance is tough for her because she is very young. That is why I think she got a good result.
"If I give more mileage, maybe she would only run for five or six years. I improve her training step by step.
"I am not thinking about only one good result, I am also thinking about Olympic Games, World Championships, also the world record. I am focusing on the 10 to 15 years that she is running with these kind of performances."
What makes Yehualaw's performance in London all the more impressive is that she achieved it despite a heavy fall, and she wasn't solely on the hunt for a fast time – her aim was to win.
"I was thinking about a water station when I fell, but I got up quickly and continued to push," she said. "I landed on my hip and knee.
"At around 35km I felt that if I pushed, I could become the winner. So, that's what I did," added Yehualaw, who beat defending champion Joyciline Jepkosgei to become the youngest women's race winner in London Marathon history and achieve the third-fastest ever time recorded on the streets of the British capital.
"People were shouting, that was inspiring me. When I turned past Buckingham Palace and saw the finish line, my heart felt like it was clapping."
And it wasn't just the crowds that inspired her. Yehualaw was greeted by her fellow NN Running Team athlete Eliud Kipchoge, the men's marathon world record-holder, at the finish line and she later recited his motto – "no human is limited" – which was printed on a bracelet she wore during the race.


View this post on Instagram

"No human is limited – that inspires me," she said. So too does her compatriot Haile Gebrselassie, the multiple Olympic and world champion. "Haile Gebrselassie told me: 'Keep going, to win!'," said Yehualaw, who enjoys swimming at Gebrselassie's Yaya Village hotel in Sululta. "He has experience. He said take rest, eat good food."
Despite being in the early stages of her own career, Yehualaw is also an inspiration to other aspiring athletes and she is seen as something of a mentor and support to younger members of her training group.
"She helps the new generation, the newcomer athletes. She gives advice to them," Abshero said. "If Nike or any of her companies give her some equipment, she gives shoes, clothes to the new generation of athletes. She says: 'Never give up,' and she helps the athletes, she shares her experience.
"She has an amazing mind, she respects people. If you say something, she will listen to you."


Yalemzerf Yehualaw's top five tips for aspiring athletes

1. Start by loving and respecting yourself and those around you, followed by commitment to running and your goals.
2. You need to be disciplined. Even when it's raining or when you don't feel like it, you have to get out of bed in the morning and get those runs in.
3. That brings us to hard work, which is key. It's not always going to be easy but if you are committed, have discipline and work hard, you have a good shot at achieving your goals.
4. Listen to your coach and do the training they want you to do properly, especially not too fast.
5. When entering a competition, hold your head up high and believe in yourself.



Yehualaw will also no doubt be motivated by the performances of her peers, during a period of remarkable depth for the women's marathon. Already this year, eight sub-2:18 marathons have been recorded – two of those by Yehualaw, two by Ruth Chepngetich and one each by Tigist Assefa, Brigid Kosgei, Ashete Bekere and Almaz Ayana, who ran 2:17:20 in Amsterdam earlier this month to succeed Yehualaw as the fastest ever women's marathon debutant.
But through it all, Yehualaw remains focused on her own ambitions.
"I've started marathon running quite early in my career, so I'm very happy to be successful," she said.
"My dream is I will try to run at the Olympics, become a world champion. I will try my best to run in the marathon."
Jess Whittington for World Athletics