Kenyan distance runner Peres Jepchirchir (© Getty Images)
If any doubts surrounded the future of Olympic marathon champion Peres Jepchirchir, they are gone. A third world half marathon title in Riga was an emphatic reminder that the 30-year-old is far from over as a force at world level.
Earlier this year, for the first time in a long time, there were doubts surrounding Jepchirchir when she placed third at the London Marathon in April, Sifan Hassan's finishing speed proving too much for her as Buckingham Palace drew near.
She still ran the second-fastest time of her life, 2:18:38, but it was the first serious defeat of a marathon career that had threatened to move towards the leagues of the greatest of all time.
It was only at the end of 2019 that Jepchirchir made a serious move to the marathon, but she'd had a couple of attempts at the distance prior to that.
She made her marathon debut – and not exactly an intended one – at the age of 20 at the Kisumu Safaricom Marathon.
"I was going there for the 10k and then I arrived and the 10k was only for people from that area," she recalls. "I remember it a lot because I ran that first marathon without any long runs."
Running in the altitude of Kisumu, Jepchirchir finished third in 2:47:33, more than 30 minutes short of her current PB.
And, like with that run, she's able to draw some positives from her marathon defeat from earlier this year.
"I was happy because I was able to train for only two months when I was preparing for London, so for me I was happy because I was coming back."
In 2022 Jepchirchir became the first woman in history to have won Olympic, New York and Boston titles. Little debate surrounded the name of the world's best female marathon runner of the current generation, yet there were signs those victories were beginning to take their toll.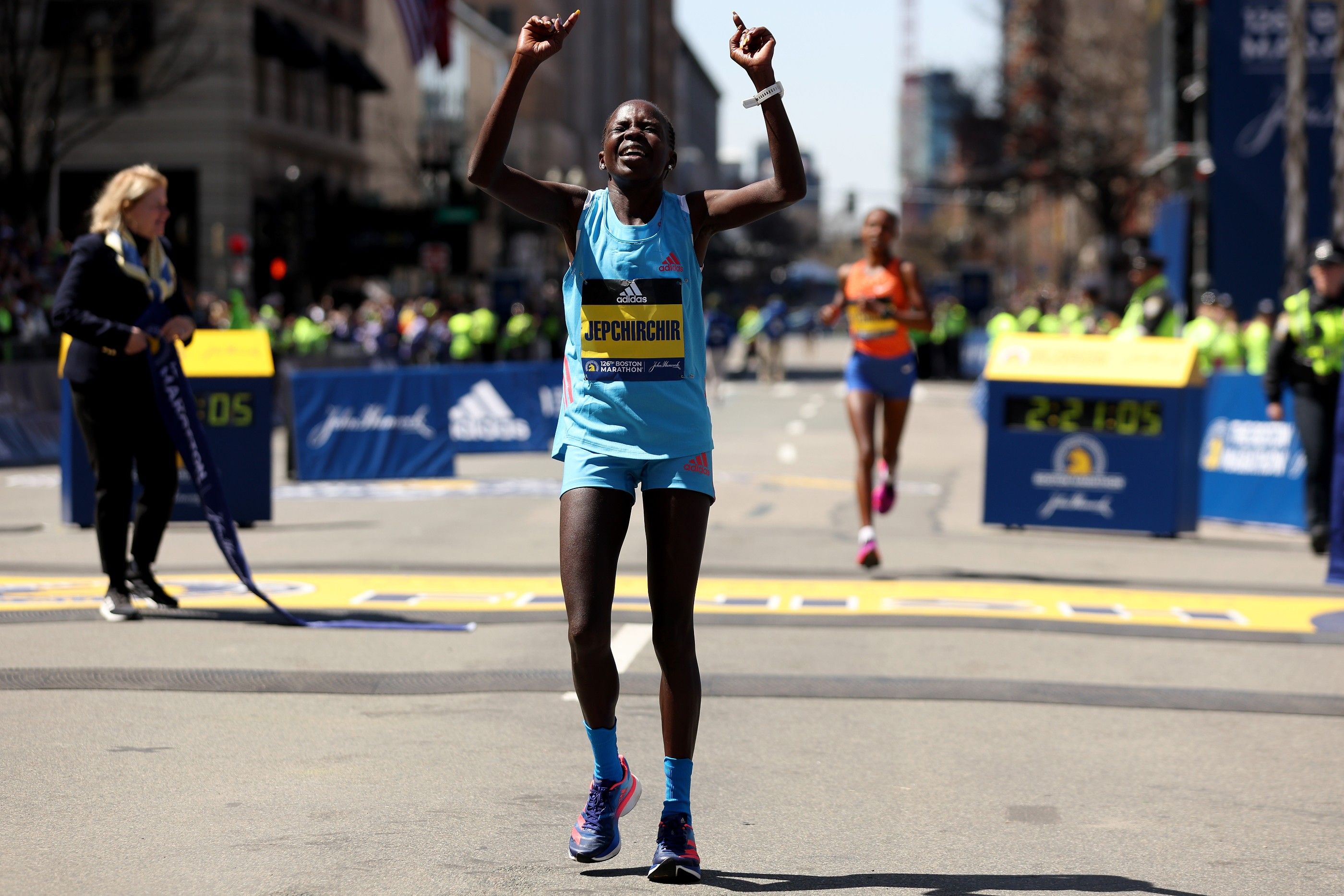 Peres Jepchirchir wins the 126th BAA Boston Marathon (© Getty Images)
Later that year, Jepchirchir started developing a problem with her hip, her final outing of 2022 a defeat to Hellen Obiri over the half marathon in the Great North Run.
Jepchirchir made her name in gliding away from Brigid Kosgei for the Olympic title in 2021. But over the final metres on the coast of the North Sea, her compatriot Obiri repaid the favour.
Seven months later, Hassan's London victory cemented the pattern.
Track stars are coming
Standing on the top step of global marathon running has proved a position difficult to hold down. Kosgei took ownership between late 2018 and 2020. Jepchirchir herself seized it for the two years that followed. Now Hassan, having won in London and Chicago, aims to tussle it from her grasp.
The Olympic champion welcomes the challenge:
"I can say it's good to have such people because they are strong, they will push hard and it helps me to work extra hard, knowing the strong people are coming."
Faith Kipyegon has hinted she will also join the marathon pursuit not long from now. Jepchirchir, meanwhile, knows the only control she has is over herself.
"I pray for good health," she says.
At her best, few can compete with Jepchirchir, at both the half and the full marathon. She holds the current women-only world record of 1:05:16, set when winning her second world title over the distance. Her outright best of 1:05:06, meanwhile, was set when Jepchirchir was a few weeks pregnant.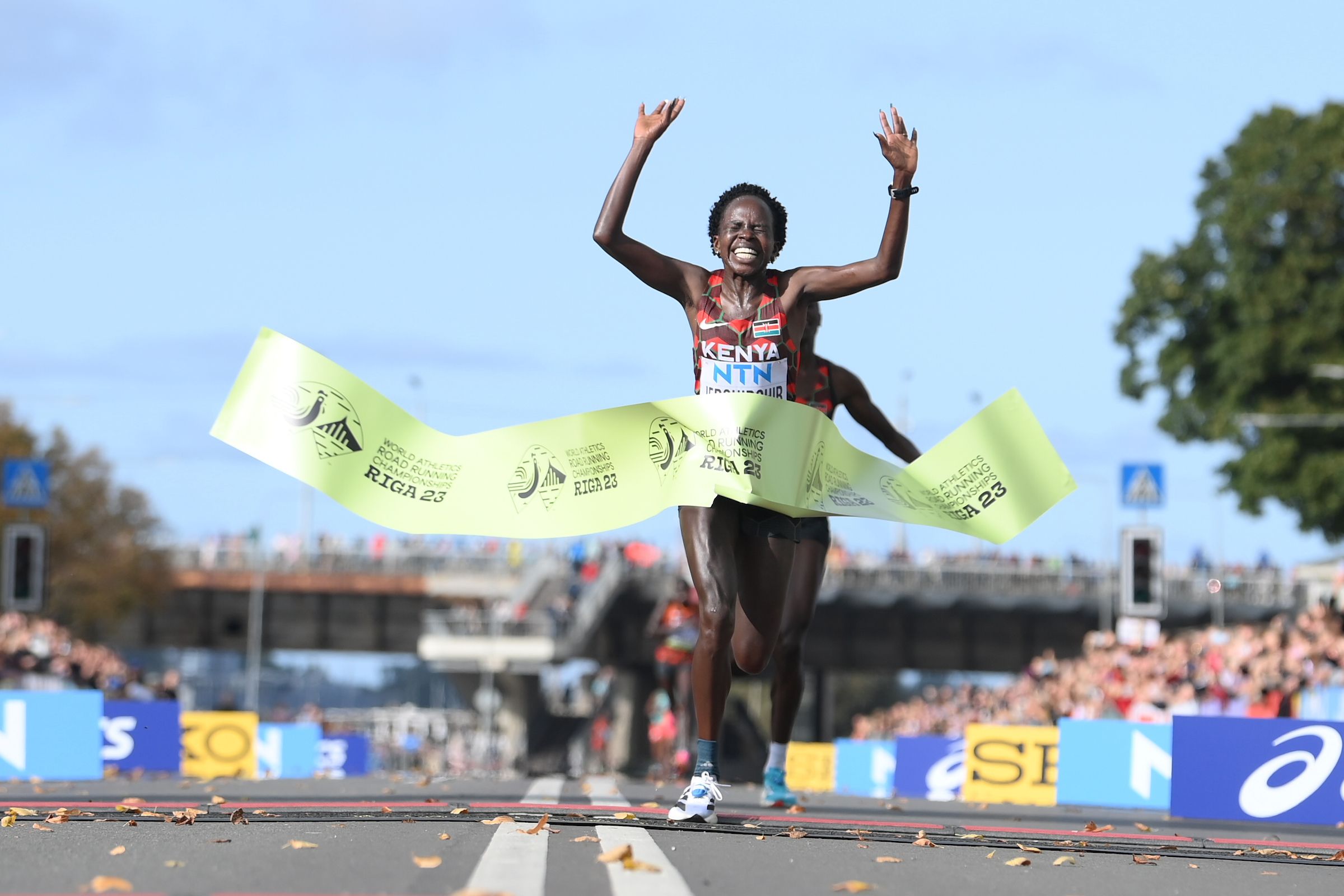 Peres Jepchirchir wins the half marathon in Riga (© Adam Nurkiewicz)
Jepchirchir is adamant that the injury troubles from the end of 2022 are now behind her. Plenty of athletes are coy about the extent of their woes; their performances provide the greater truth.
After finishing almost a minute ahead of New York champion Sharon Lokedi at last month's Great North Run, all the signs looked positive for Jepchirchir. Her victory in the Latvian capital now puts any remaining concerns to bed.
New York City Marathon
Jepchirchir's Olympic journey leading into Tokyo was catapulted by a seismic end-of-year showing. Her 2:17:16 victory at the Valencia Marathon at the end of 2020 was enough to secure her place on the Kenyan team.
On 5 November she will aim to gather similar pre-Olympic momentum in New York, returning to the site of her 2021 triumph. It will also allow a rematch with Obiri and a hint at the pecking order in the 10 months before Paris.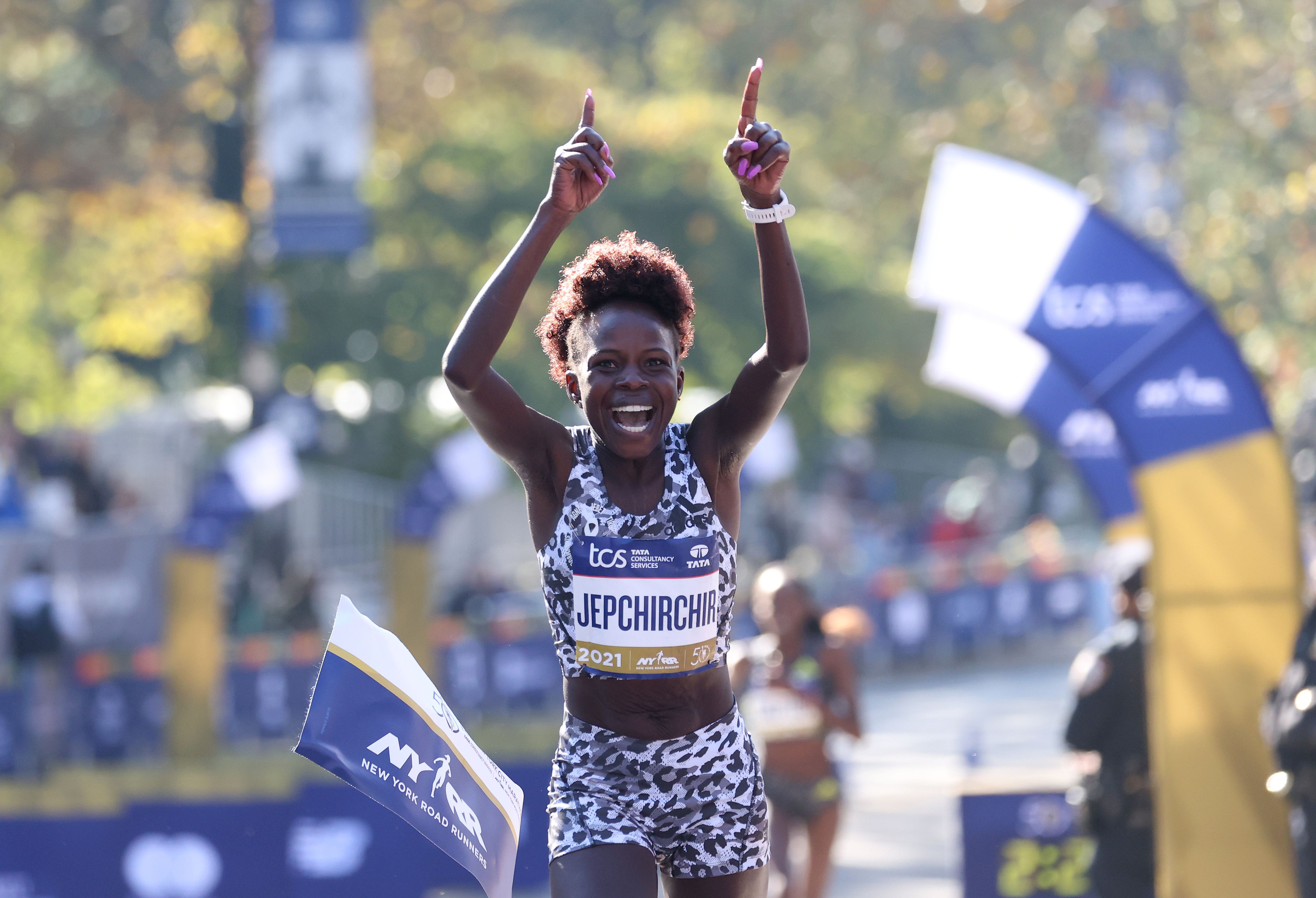 Peres Jepchirchir wins the New York City Marathon (© Getty Images)
But more than just a dress rehearsal, with Kosgei and Lokedi also present, two Kenyans will likely find themselves a long way from the Olympics before the year is out.
Jepchirchir can ill afford a slip-up. No woman in history has ever successfully defended their Olympic title over the marathon. Not Joan Benoit, Rosa Mota nor the eight that followed. Injury, ill health, just simply not being fast enough prevented such a feat.
But Jepchirchir has added motivation: her six-year-old daughter Natalia.
"When I was running the London Marathon, she came and asked me, 'why you come third place? Usually you are the winner!'"
The girl she credits as making her work extra hard, the source of a focused pressure to provide, found the defeat difficult to take. The six-year-old taskmaster looked for explanations and eventually relented in her criticism.
How could Jepchirchir possibly lose over the marathon? In her entire existence, never had Natalia seen such an outcome. Five marathons completed, five won. Natalia found her reason:
"She heard people talking about me coming back from injury, then she said, 'mama you are (free) from injury now, you are running, you will be ok. Mama you will win!'"
A confident backer indeed.
Jepchirchir is still sometimes surprised by her success. She recalls how she used to simply dream of going to the Olympics, let alone winning it. She remembers the days where she and her husband Davis Ng'eno used to try to raise money to send her to compete abroad. Now any race in the world would welcome her.
And in returning to Paris, Jepchirchir has an opportunity to draw a full circle on her career. Back in 2014, the then 21-year-old made her first trip to Europe. Competing in the Montbéliard-Belfort Le Lion Half-Marathon in the east of France, she started to ensure those fundraising efforts would stop.
Peres Jepchirchir wins the marathon at the Tokyo Olympic Games (© AFP / Getty Images)
"It would be special for me to run over there again and win, especially in the Olympics. It was my first half marathon and it was 69 minutes which at that time was good. It inspired me a lot and from there I started running good races."
Two further victories in France that year ensured a healthy interest from race organisers. The rest, as they say, is history.
Following her third world half marathon title, Jepchirchir's performance in New York will provide the next indication as to whether a second Olympic title is on the horizon. With a good run, Jepchirchir may move one step closer to retaining her crown.
George Mallett for World Athletics