Mary Moraa in Budapest (© Getty Images)
Athletics may be painful for world 800m champion Mary Moraa, but it has changed her life. It has made her a somebody.
"Athletics has uplifted me, from a nobody to now a somebody, from the poorest of all," Moraa says.
"If I stayed in the village in Kisii, western Kenya, I wouldn't be known, but my talent has made me known. Yes, athletics has changed my story, my life greatly. It is hard to explain," adds Moraa, who has been nicknamed the Kisii Express.
Moraa likens athletics to being in school, each day with different subjects for the students – which translates to different training and workouts for athletes.
"Athletics is painful, it is not easy. You have to put in a lot of effort to be successful, you have to endure and learn, you have to focus on your target. I woke up at 5am, I am still here," she explains, following a speed work session at Nyayo Stadium in Nairobi at around 9.45am.
That was her last workout before a long flight to the USA for the Wanda Diamond League Final, where she finished fourth. Prefontaine Classic results notwithstanding, Moraa describes her season as excellent. Who wouldn't? She is the world champion.
"I am happy. It is a big achievement for me, for my family and for my country," she says.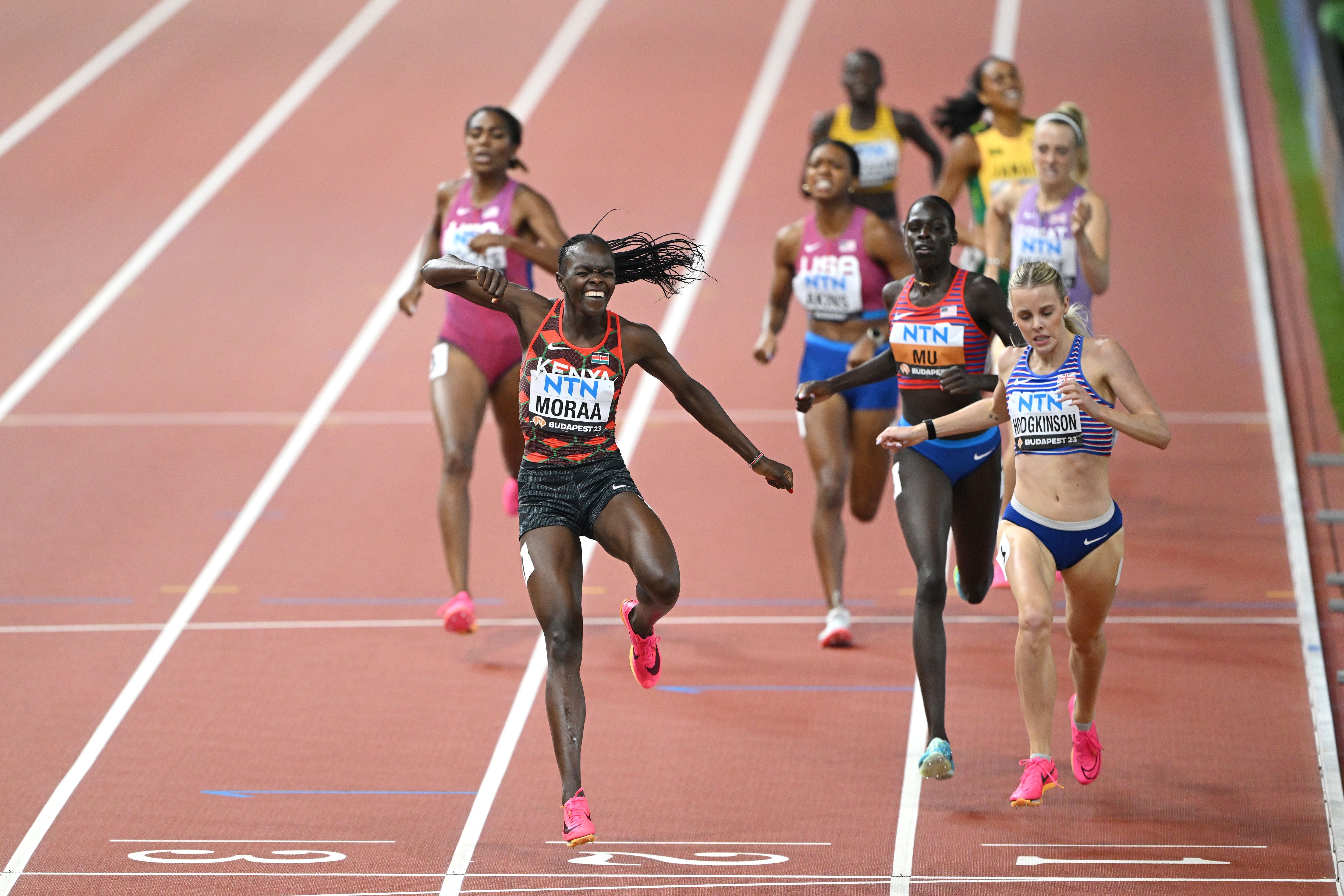 Mary Moraa celebrates her 800m win at the World Athletics Championships Budapest 23 (© Getty Images)
Clad in a black long-sleeved top, grey and black shorts, Team Kenya shoes and long black socks, the 23-year-old sits on the worn-out tartan track after her cool down. With her finger, lost in her deep thoughts, she draws patterns on the track; only she could understand.
Looking up at her coach Alex Sang, she smiles and says: "Coach, we had too much pressure this season. I am thinking how we started the season, on a low with the indoor tour, but we are ending it with a gold medal. I am satisfied with the performance". Coach nods in agreement.
"I could not even imagine, because the field (at the World Championships) had two very strong ladies, Keely Hodgkinson and Athing Mu, who won last year. But also, we had a better time this season. I really enjoyed the win, I was so happy," says Sang.
Moraa's prayer at the start line in Budapest was to be on the podium, considering the strong competition she had.
"I did not expect it, I had so much pressure," says Moraa. "There was a lot of tension and questions on whether I could win the 800m because we did not start the season well, but our peak target was the World Championships. I had told my coach, whichever medal I will win – bronze, silver or gold – I will be thankful.
"In the call room, the cameras were all over my face. When I moved, the camera moved with me. I was tense. I asked myself: 'why can't they just focus on Athing Mu? She is the reigning world and Olympic champion.'"
In that moment, Moraa shifted her train of thought and asked herself: "Ah, are the cameras following me because they think I can be a champion, too? The cameras are on me because I am also a champion."
It is this cognitive flexibility and mind shift to a positive approach, especially through adversity, that has been Moraa's survival tactic. Left an orphan when she was just two years old, both her parents passed away within a short period of each other. Moraa has no memory of her mother.
"I remember my dad, there are photos of him. I don't remember my mum, I have never seen a photo of my mum," Moraa says, her voice cracking. "Sometimes I ask myself, what if mum was alive to watch me compete? The money I am making now; I wish she was alive and we could celebrate together."
A painful recollection, which has pushed the limits of her memory.
"This is usually a very hard time for me. There are times I sit down and cry. And cry some more. It is still tough for me," she says.
"When Mary told me about her background, I was: 'wow, I don't know how to handle her'. I had to be both a coach and a father figure. I give her advice and handle her like my daughter," says Sang.
"What happened, affects her. It really touches me. It was a tough life. When she wins, she has a lot to tell the community that despite the background she grew up in, she has a life to live."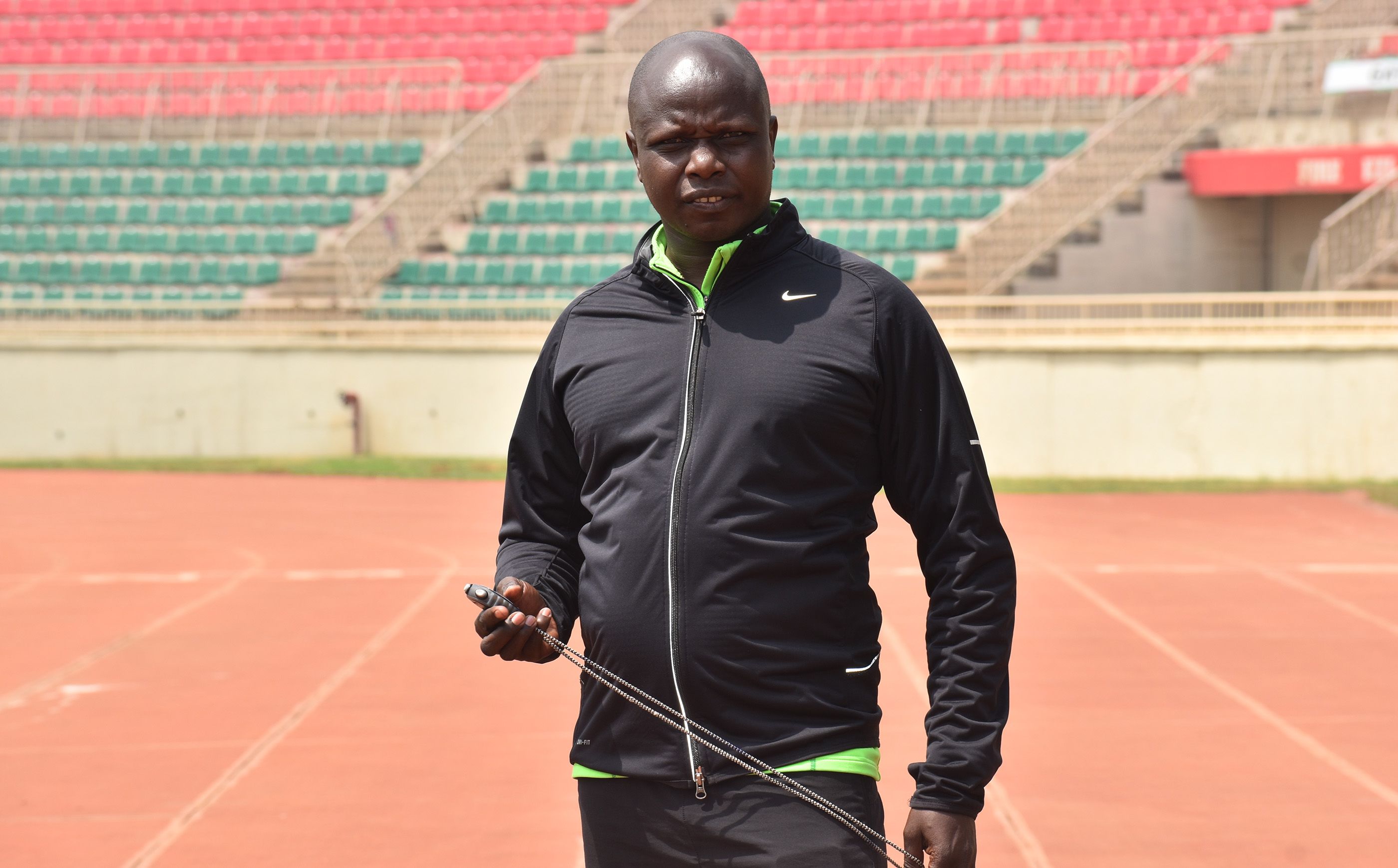 Alex Sang, coach of Mary Moraa (© Michelle Katami)
Moraa and her siblings were left under the care of her grandmother, who died in 2015 when Moraa was 16 years old. In 2018, her grandfather also died.
"I asked myself, 'what life is this that we have left with?' But I had to remain focused. I was lucky to get a school principal who treated me like his daughter, took me in, introduced me to sports," says Moraa, who attended Nyankononi Primary School and then Mogonga P.A.G Secondary School.
"You don't have to stay down when you are left with nothing and no one," she declares.
The night before our interview, Moraa had shared a photo of her hugging a young girl on her Facebook stories. The song accompanying the photo was about God lifting them out of shame and pain.
"That is my sister," says Moraa, the third born child in a family of four. "It was prayer day in her school. I have taken care of her since she joined primary school. When our parents died, she was six months old.
"We console each other all the time. She was always crying, asking who our mum was. Whatever small money I got from school competitions, maybe three dollars or less, I would pay school fees for my sister.
"We had the most difficult life growing up without parents. Without anything. However, when I look back, I am thankful how far God has brought us. I am able now to take care of her and others properly."
Aside from running to school as a child, Moraa's athletics influence is also based on the stories she has heard about her mum being an athlete. She stepped into the shoes of a mother she has never known.
"People say my mum was an athlete but I have never seen a video of her running or even photos of her," she says. "I thought, I have to also pick athletics so that people can talk about me – refer to me as my mum's child. I had to follow in her footsteps."
Hellen Obiri is Moraa's living inspiration, understandably so since they come from the same community in Kenya. She would dream of watching Obiri compete. Other influences are Beatrice Chepkoech and Faith Kipyegon.
"When I saw her (Obiri) physically, I decided there and then, she will be my mentor," Moraa adds.
Indeed, her early running shoes and training kit were from Obiri after a barefooted Moraa announced her arrival to the athletics world during the 2017 World U18 Championships in Nairobi. She won the 400m silver medal.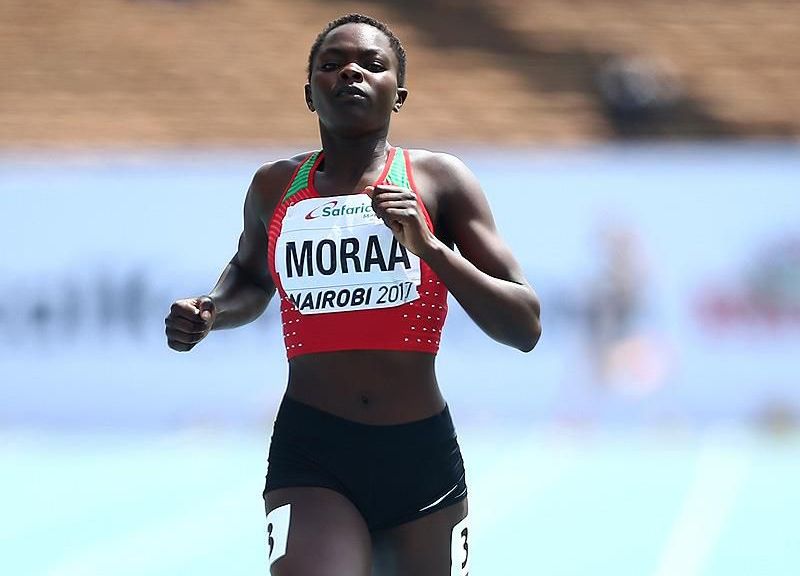 Mary Moraa in the 400m at the World U18 Championships Nairobi 2017 (© Getty Images)
Another exciting event was the mixed 4x400m relay, in which Moraa finished ahead of the Brazilian 400m hurdles star Alison dos Santos on the anchor leg of the first heat to the delight of a fully packed Kasarani Stadium.
"It was my first time; I didn't have shoes when I came for the championships," she says. "2017 is when I became known, and I assured myself: 'I will not let go of athletics.' My principal supported me through high school until I finished, then he handed me over to the coach.
"When Obiri gave me shoes and other running facilities, I told myself I would not disappoint her. I followed in her footsteps. I reminded myself, I may not have everything else, but I have the talent."
Obiri knew that Moraa would have a successful athletics career.
"Although she was a sprinter, the spikes I gave her where for middle distance," Obiri explains." I told her, 'I don't want to see you in short distance events'. I motivated her to move to the 800m."
Six years on, Moraa is the 800m world and Commonwealth Games champion, the 2022 world bronze medallist and Diamond Trophy winner, and the African U20 400m gold medallist. As well as holding a 1:56.03 800m PB, she is also the national record-holder in the 400m with 50.38.
"Now I am somewhere. I am a somebody," she says. "A lady called me and said she has named her daughter Mary Moraa, after me. I was surprised, I was confused.
"I am inspiring people back home in my community, who now want their children to take up athletics. I know right now, some upcoming athletes are asking themselves what they need to do to be like Mary Moraa. You have to be at your best, for people admire you and what you do, for people to pick up athletics."
She is building her own legacy and a success story one step at a time with an athletics journey that professionally started in the 400m but ultimately increased by a lap. That came after the 2019 World Athletics Championships, where she made the 400m semifinals.
"I cried for not winning a medal for Kenya," she remembers. "I was sharing a room with Beatrice Chepkoech, she won gold. Obiri won gold, too. They were the two people close to me. I had nothing. I was in tears. Beatrice and Obiri advised me to switch to 800m. I listened."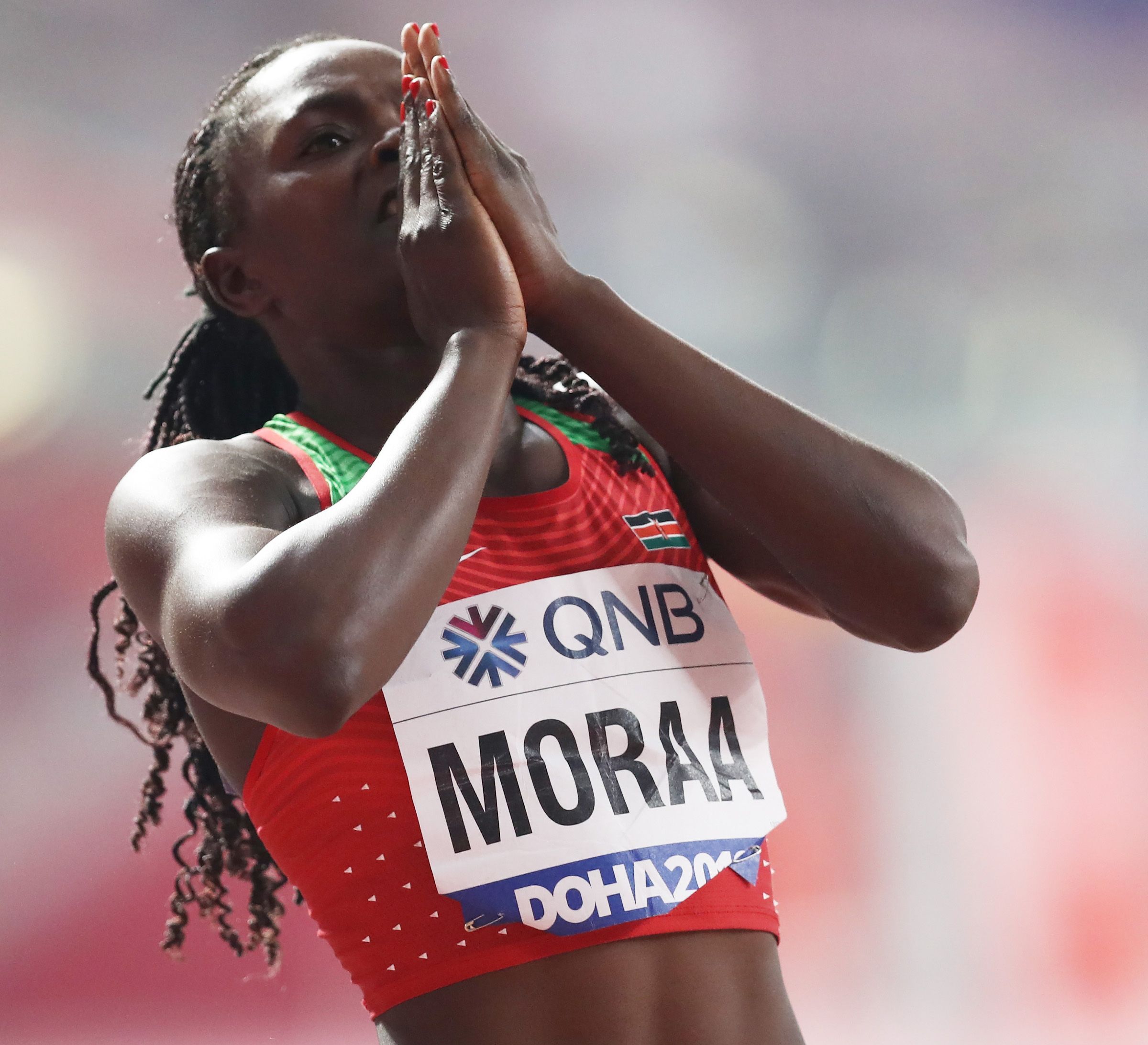 Mary Moraa in Doha (© Getty Images)
Sang adds: "I became her coach in 2019 after she finished high school in 2018. Initially, she was the one behind the change from 400m to 800m. As a middle-distance coach, that is where I fit in.
"We started with in the local meet in Mumias. That was impressive, it was a good start."
Moraa is enjoying the two-lap event and uses the 400m to gain speed, but she also loves to watch the 1500m and 5000m.
"I like the way she is advancing in her athletics; she wants to be a champion and at times she picks up a bet with other champions," says Sang. "She is like, 'I will beat you in a certain race' – she is a champion by nature. She knows what she wants, she likes to train alone."
Obiri adds: "Moraa is disciplined. I always remind her that she has just started, and still has a long way to go. She doesn't even know her event yet. And since she follows in my footsteps, I think she will go all the way to the marathon like me."
Moraa has always been involved in sport, starting off as a football midfielder before switching to athletics where she won every event she competed in. Sport earned her a bursary to study.
"Football is 90 minutes, a lot of time. It was hard for me. But athletics is two very tough minutes and I am over with it. During school competition, I would be asked to play football after finishing my athletics," says Moraa, who represented Mogonga P.A.G Secondary School at several competitions, including the East Africa Games.
She is still a football fan; she supports Chelsea in the English Premier League and French player N'Golo Kante, who plies his football in the Saudi Pro League.
Moraa does not only serve Kenya on the track; she is also an administration police officer in the National Police Service where she was admitted in 2021 after training and graduation.
"This is also work. You cannot run forever, you have to have options, something else which motivates you," she says.
Moraa's motivation extends to training, too, and she says she has developed her mind to like every athletics workout.
"There is no shortcut with sport. You have to wake up for training. Athletics is the farm you cultivate," she says. "Sport requires discipline and proper training. You have to listen to your coach, seek advice from experienced athletes and stay focused. Without discipline, you cannot achieve anything. Then you must rest, otherwise you will not survive.
"Athletics has taught me to love other athletes. You have to care about each other and be happy for those who win. We encourage and advise each other," she adds, as she turns to watch world 3000m steeplechase champion Winfred Yavi training and shouts some encouraging words.
"Look at Yavi. She is in great shape," Moraa observes.
Moraa has also learned to celebrate her own successes. After her wins at the World Championships and Commonwealth Games, the champion did what has become her signature on the track – she danced. Moraa has gained the reputation of being the dancing queen of the two laps.
Mary Moraa celebrates at the Commonwealth Games (© AFP / Getty Images)
"I started to dance last year at the Commonwealth Games," says Moraa. "I had lost hope because I was too tired to compete, coming from the World Championships. My mind was racing and I got this energy from nowhere and went all out.
"When I crossed the line, I still had the running energy, and I found myself dancing.
"When I went for the Diamond League Final last year, I heard spectators say: "We need your dance." It clicked again. Now it is part of my winning celebration, it is part of entertaining spectators who come to the stadium to watch and support us. They give us the morale," says Moraa, adding that she dances to the beats of two songs composed for her.
For upcoming athletes watching her on the track, she offers her advice: "Anything is possible if you trust in God, stay focused on your talent and seek help if you see someone who can help you advance your career, even though sometimes it is difficult.
"If you can compete during primary and secondary school competitions, it is a way of showcasing your talent. Someone will spot you. So don't lose hope, you must have a target."
While her own target is next year's Paris Olympic Games, Moraa's ultimate dream is for Kenya to host the World Athletics Championships.
"Faith Kipyegon and I challenged the President to ensure Kenya has good stadiums; stadiums that will make World Athletics consider Kenya," she says. "We can host the Diamond League, then the World Athletics Championships. It will be our joy to host over 200 countries in Kenya, it will market Kenya more."
Sang has additional aims for his charge. "We are going now for the next season – try to lower the world record if possible and hopefully await the Olympic Games," he says. "A world champion, now going for the Olympic Games."
For now, Moraa, who recently got engaged, will enjoy her off season before going back to training. During the off season, she loves being on her rural farm, cultivating vegetables, maize and other foodstuffs. Right now, maybe she is somewhere in Kisii harvesting food crops, on the Kenyan beach, or just chilling in Nairobi.
Whatever she is doing, she has one message: "It does not matter where you come from, what matters is your finishing point."
Michelle Katami for World Athletics