Australian pole vaulter Emma George competes in New Zealand in 1998 (© Getty Images)
For Emma George, it was just another high-flying routine. First, at the Australian national indoor competition in Adelaide on 26 March 1998, the former childhood trapeze artist soared over 4.50m. In doing so, she became the first female pole vaulter to achieve the feat indoors, 11 months after she had been the first to clear the mark outdoors.
Then, when the bar was raised to 4.55m, George cleared that too.
At the start of the day, the world indoor record for the rapidly-developing women's pole vault had stood at 4.48m, established 16 days previously at Sindelfingen in Germany by Stacy Dragila, a one-time rodeo rider from Auburn, California, and equalled in the same meeting by Daniela Bartova, a former Olympic gymnast from the Czech Republic.
In one afternoon, George had improved it twice, making a 7cm advancement in total. "I definitely feel more confident that it will survive for longer than the one I set last month," she said.
That was a 4.47m vault, also in Adelaide, achieved the day before Dragila and Bartova had bettered it by a solitary centimetre in Sindelfingen.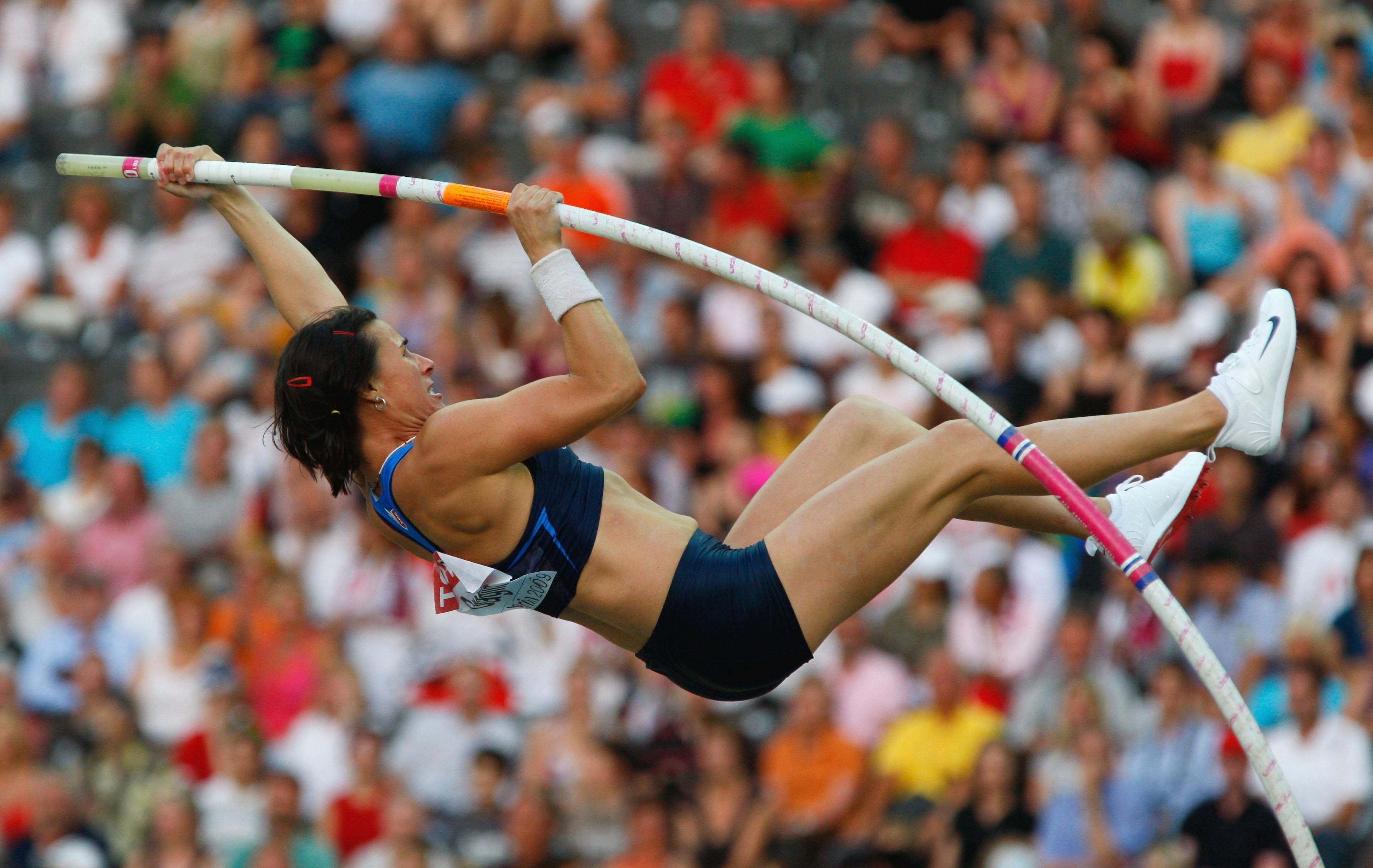 USA's Stacy Dragila (© Getty Images)
It had been a dizzying two and a half months for the women's pole vault.
Between 6 February, when the Swedish-based Icelander Vala Flosadottir jumped 4.42m in Bielefeld, and 26 March, when George cleared 4.55m in Adelaide, there had been 10 world indoor records.
George had set three of them. She had also notched three outdoors: 4.47m at North Shore, New Zealand, on 21 February; 4.58m in Melbourne on 14 March; and 4.59m in Brisbane on 21 March.
It could be said that 1998 was the year in which the women's pole vault took flight. If so, George was very much the chief-pilot.
She was 23 at the time. Like Bartova before her and Dragila after her, she was one of the great pioneers of the women's pole vault in the formative years when the event became part of the international competitive programme.
In 1995, Bartova took the outdoor world record through the 4.10m and 4.20m barriers: from 4.08m to 4.22m. Between 1995 and 1999, George raised it to 4.60m. Then, from 1999 to 2001, Dragila hoisted the global bar up to 4.81m.


Vaulting ambition: The 13 world records of February and March 1998

6 Feb 1998 Vala Flosadottir (ISL) 4.42i Bielefeld, GER
14 Feb 1998 Daniela Bartova (CZE) 4.43i Prague, CZE
14 Feb 1998 Vala Flosadottir (ISL) 4.44i Eskilstuna, SWE
21 Feb 1998 Emma George (AUS) 4.57 North Shore, NZL
1 Mar 1998 Anzhela Balakhonova (UKR) 4.45i Valencia, ESP
6 Mar 1998 Daniela Bartova (CZE) 4.46i Berlin, GER
7 Mar 1998 Emma George (AUS) 4.47i Adelaide, AUS
8 Mar 1998 Stacy Dragila (USA) 4.48i Sindelfingen, GER
8 Mar 1998 Daniela Bartova (CZE) 4.48i Sindelfingen, GER
14 Mar 1998 Emma George (AUS) 4.58 Melbourne, AUS
21 Mar 1998 Emma George (AUS) 4.59 Brisbane, AUS
26 Mar 1998 Emma George (AUS) 4.50i Adelaide, AUS
26 Mar 1998 Emma George (AUS) 4.55i Adelaide, AUS
Note: Bartova was denied a world indoor record two days before the start of this run, at Erfurt in Germany on 4 February, because the bar was raised to 4.41m when the declared height prior to the commencement of the competition should have been 4.40m at that stage. The world indoor record at the time stood jointly to Emma George and Stacy Dragila at 4.40m. Bartova's 4.41m clearance was not ratified.
Barcelona disappointment
George and Dragila both conformed to the great pole vault tradition of track and field eccentrics. Bartova less so.
She was 'merely' a sporting rarity: one of the select souls who made the Olympic grade in two different sports. As an 18-year-old, the Ostrava native was a member of the Czech gymnastics squad at the Barcelona Olympics in 1992. She finished 64th in the all-round competition, 56th in the vault.
Disappointed with her performances in the Catalan capital, Bartova turned her back on gymnastics and took up track and field. She started training as a long jumper but was persuaded to channel her gymnastic ability towards the pole vault instead.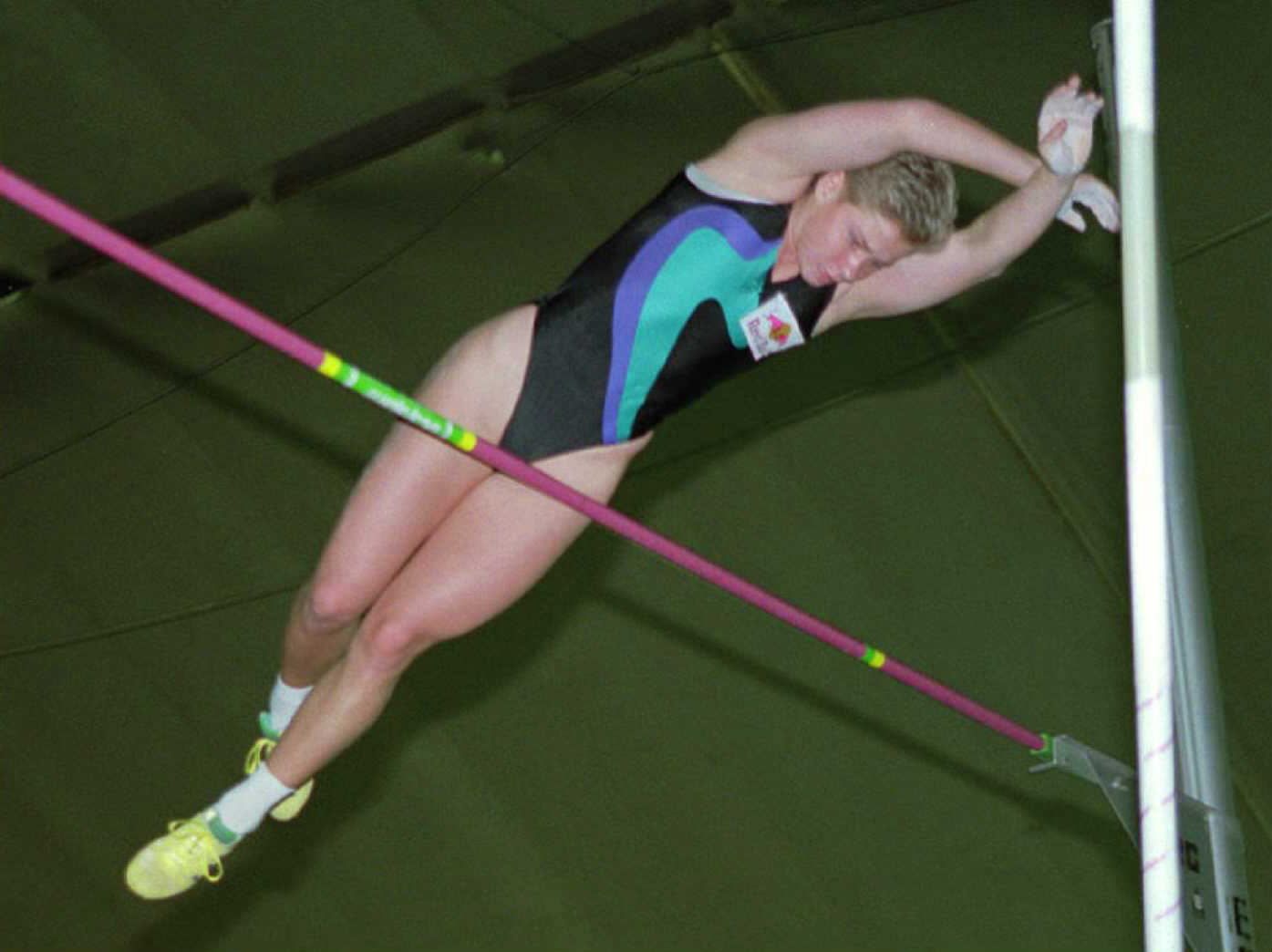 Czech Republic's Daniela Bartova (© AFP / Getty Images)
Dragila also started in gymnastics but was told to give it up because of asthma. She switched to rodeo riding, spending her weekends competing at fairs throughout California. She twice made the state finals.
When she turned 18 and went off to study at Idaho State University, she moved on to track and field and was introduced to the pole vault.
Running away from the circus
George spent four years of her youth performing as a trapeze artist with a circus troupe called The Flying Fruit Flies.
Fittingly, for one of the frontierswomen of the pole vault, she was born and raised in one of the boom towns that struck it rich during the great Australian gold rush of the 1850s: Beechworth in north-east Victoria.
The notorious outlaw Ned Kelly spent much of his time in and around the town, serving a sentence in Beechworth Prison and famously fighting – and winning – an epic 20-round bare-knuckle boxing match in a local hotel against Isaiah 'Wild' Wright.
George fondly recalls spending much of her early life "camping, fishing and exploring the bush country" in rural Victoria. She was eight when she joined the Flying Fruit Fly Circus, Australia's national youth circus.
"I performed acts such as trapeze and 'tower of chairs' during school holidays," she recalled. "When I became a teenager, I left the circus to pursue my new love, athletics. Ever since I was five years old, I dreamed of representing Australia at an Olympic Games."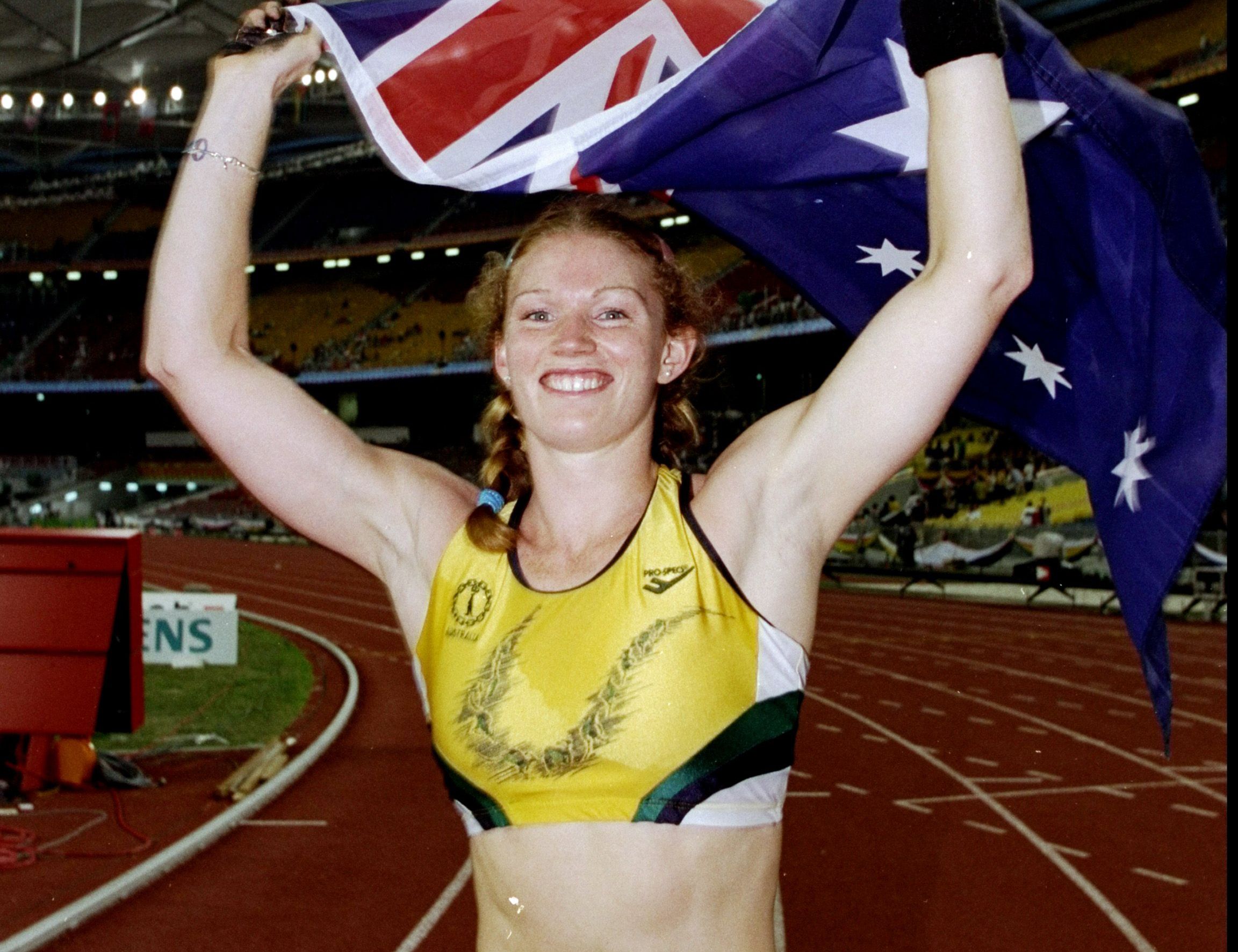 Emma George celebrates her 1998 Commonwealth Games victory (© Allsport / Getty Images)
That dream was to come true on home ground six years after George propelled herself over a pole vault bar for the first time. In her debut competition, towards the end of 1994, she managed to negotiate 2.55m.
That, coincidentally, was 4cm shy of the one-time unofficial women's world best mark set in New Haven, back in 1952, by Diane Bragg – the sister of Don Bragg, who famously celebrated his winning 4.70m vault at the 1960 Olympics in Rome with a Tarzan yell. He went on to play his hero in Tarzan and the Jewels of Opar, though the film never made it to the big screen because of copyright infringement.
Don 'Tarzan' Bragg, incidentally, had been preceded as Olympic champion by fellow US vaulter Bob Richards - the Reverend Bob Richards, or "the vaulting vicar," as the theology professor was known when he struck gold in Helsinki in 1952 and in Melbourne in 1956.
The Vaulting Vicar was the first man to win an Olympic pole vault title with a clearance of 4.50m-plus. By the time the former Flying Fruit Fly became the first woman to clear 4.50m – outdoors in Melbourne on 8 February 1997 – her dream of competing for her country in an Olympic Games was coming sharply into focus.
Launch pad for Dragila
The women's pole vault was to be added to the track and field schedule for the 2000 Olympic Games in Sydney, in George's home country. In the meantime, the event was being incorporated into other international competitions.
At the European Indoor Championships in Stockholm the previous year, in March 1996, the 18-year-old Icelandic vaulter Flosadottir took a historic gold with a clearance of 4.15m.
Born in Reykjavik and raised in the Icelandic fishing village of Bildudalur, she moved to Lund in Sweden at the age of 14 and trained there under the direction of Stanislaw Szcyrba, the Polish coach who was to become guiding light to one Mutaz Barshim. Now a book publisher with five university degrees and a PhD, Flosadottir still lives in Lund, with her husband, the former Icelandic Olympic discus thrower Magnus Hallgrimsson, and their two daughters.
The first global contest for women pole vaulters came just a month after George's landmark – or should that be airborne – 4.50m clearance. The Australian travelled to the 1997 World Athletics Indoor Championships in Paris as the big favourite for gold, and proceeded to justify the tag, clearing 4.00m in qualifying with some 60cm to spare.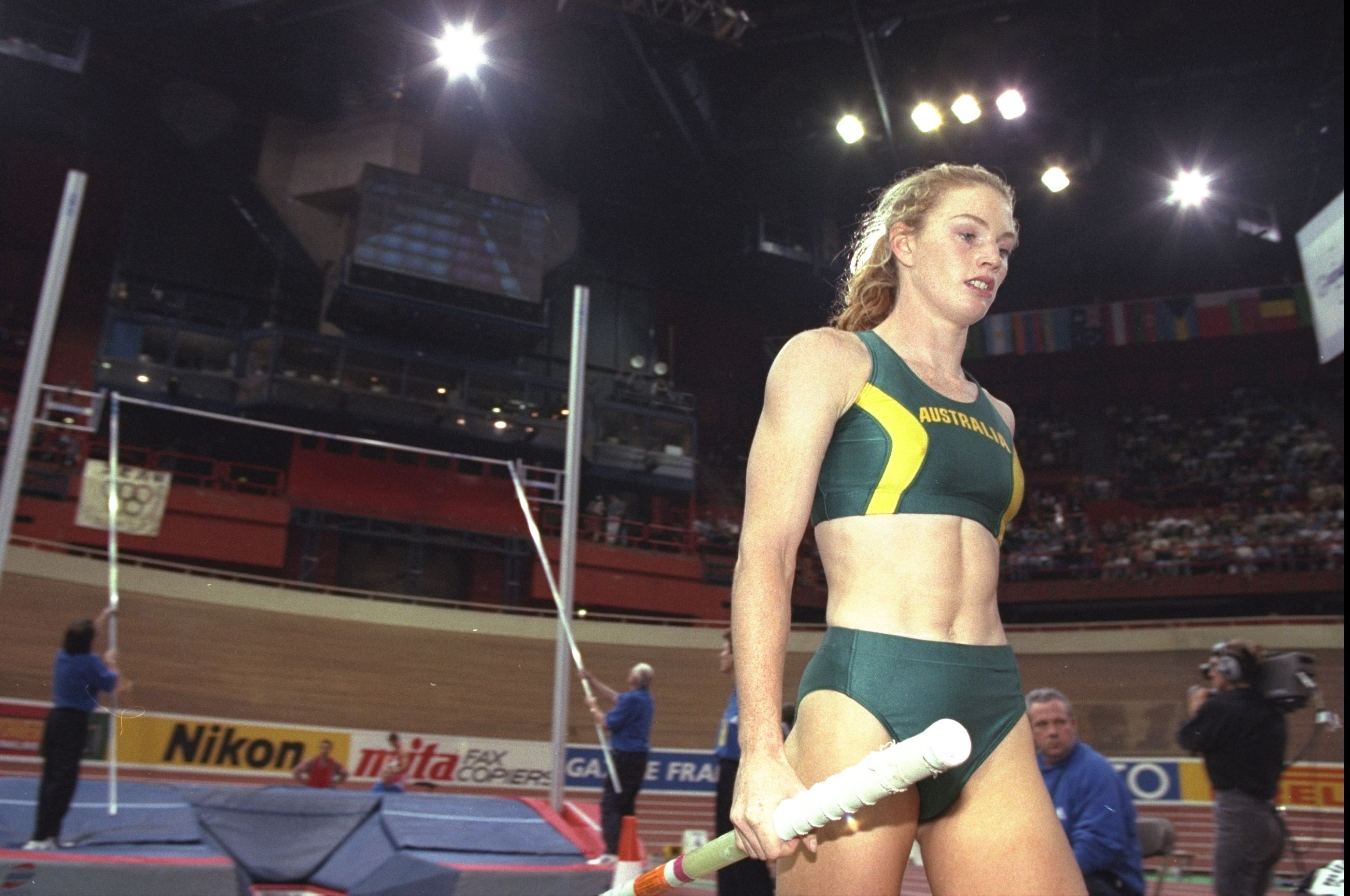 Emma George at the 1997 World Indoor Championships in Paris (© Allsport / Getty Images)
In the final she had an excellent first-time success at 4.35m, while the little-known Dragila needed three attempts. When the bar was raised to 4.40m, however, Dragila was the only one to nail George's indoor world record height.
"Coming into those World Indoor Championships, I was considered a dark horse," Dragila reflected. "For some time, I had been watching Emma George in awe, wishing I could compete with her at her level.
"Winning that meet was the launching pad for me."
Dragila went on to become the first outdoor women's pole vault world champion in Seville in 1999, clearing 4.60m to tie the last of the 15 world records set by George in the outdoor or indoor arena.
The Australian had injured her back in a fall in training and finished down in 14th place with 4.15m. Her vaulting ambition was being damaged by a mounting physical toll.
Dreaming of international recognition
The Olympic dream of Sydney 2000 turned into something of a nightmare for George. With titanium screws in both feet after suffering stress fractures, she failed to make it beyond the qualifying round in Stadium Australia.
Dragila claimed the gold with 4.60m, George's Aussie team-mate Tatiana Grigorieva the silver and Flosadottir the bronze, on countback from Bartova.
Stacy Dragila celebrates her win at the 2000 Olympics (© Getty Images)
"Sydney was the most devastating thing," George confessed. "I felt like an absolute failure. If I could have dug a hole and buried myself in it, I would have done it there in the middle of the track."
Three years and two back operations later, George hung up her poles at the age of 29.
Despite the disappointment of thwarted ambition, the 1998 Commonwealth champion could still appreciate her pioneering pole vault career.
"My dream was for the event to get international recognition and it did," she reflected. "I loved being involved and watching the event emerge."
Happily, George's spirit of adventure continues to prosper.
Settled in Western Australia with her husband, Ashley Cooper, and sons Austin, Cooper, and Bailey, she has become a passionate advocate for life in the great outdoors, extolling the virtues of fishing, boating, and diving on her website lovetheoutdoors.com.au.
"There's nothing better than getting the kids outdoors to spend quality family time together," said the Beechworth woman who pushed women's pole vaulting boundaries.
Simon Turnbull for World Athletics Heritage