Elina Tzengko at the World Athletics Championships Oregon22 (© Getty Images)
Elina Tzengko is becoming used to making a mark on the big stage.
In Munich last summer, the then 19-year-old from Greece became the youngest ever athlete to win a European javelin title. It signalled the arrival of Tzengko on the senior stage as a major player in the women's javelin, now and into the future.
She has long been an exciting prospect in the discipline, winning gold at the 2018 Youth Olympics in Buenos Aires, gold at the 2021 European U20 Championships in Tallinn, and silver at the 2021 World U20 Championships in Nairobi.
And when she sent her spear out to a personal best of 65.40m to win at the 2022 Golden Spike in Ostrava, she looked as though she could be a medal contender at the World Athletics Championships Oregon22.
But it didn't turn out that way. The occasion got the better of the precocious thrower.
"It was a disaster for me," she admits of a competition where she bowed out in qualification in 20th place, well down on her best with 57.12m
"It was a really bad performance. I felt from the beginning, right from going to America, I knew I wasn't ready. I knew I couldn't throw well there."
"It wasn't physical," she adds. "I felt that mentally I wasn't ready to throw well there. I was feeling really nervous there. But after the bad performance, I really talked to myself. I said 'Elina, you have to relax, you have to change everything in your mind. You are young, you have a lot of years of hard work'."
On her return to Europe, she regathered and refocused, setting sights on the upcoming European Championships.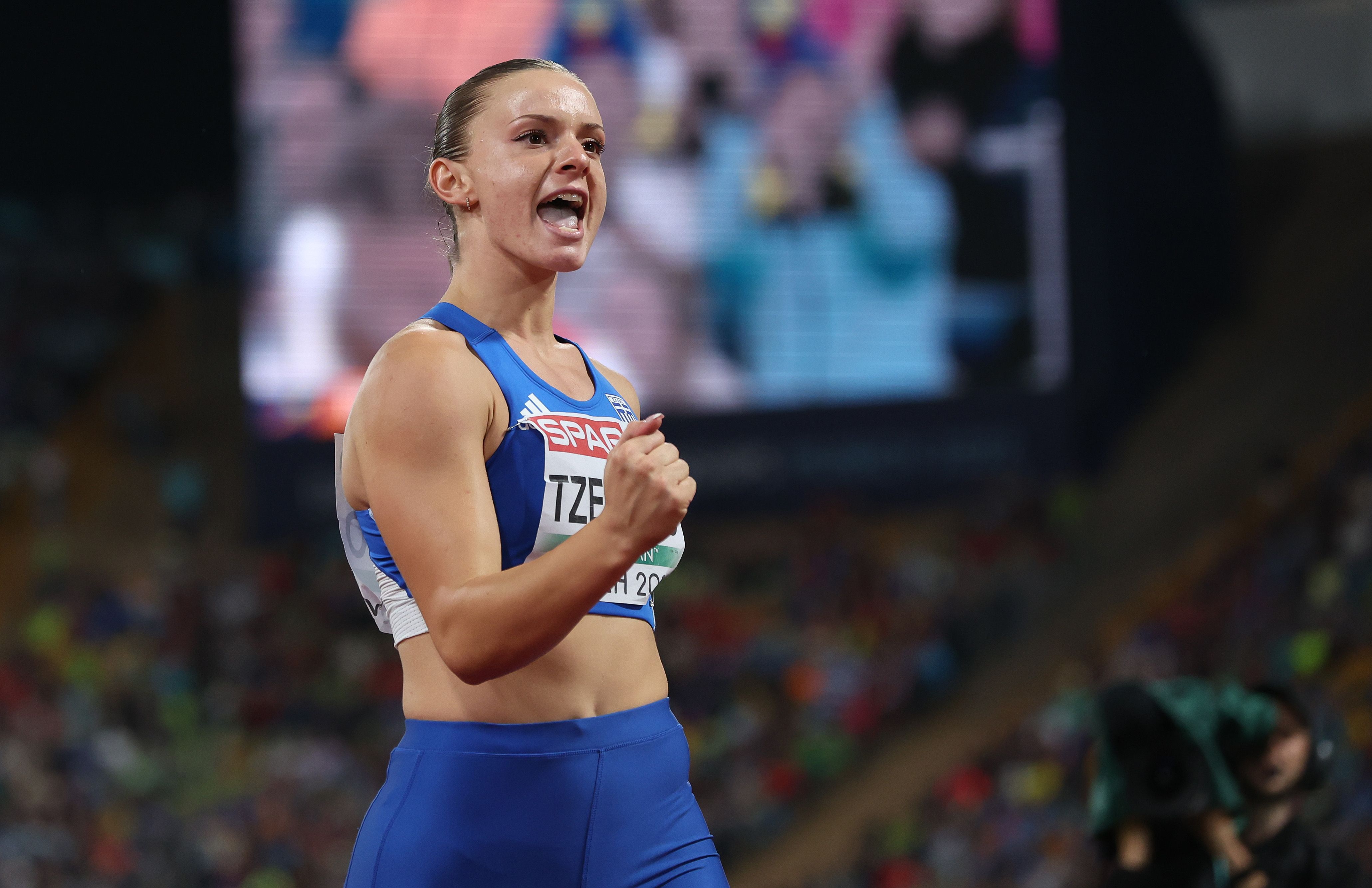 Elina Tzengko wins gold at the European Championships (© Getty Images)
"After the World Championships, during my first training session back in Greece, I was a different person," she says. "My coach (George Boskariov) told me 'The way you were working before and after the World Championships, it was different'."
"I tried to change my way of thinking and I went to the European Championships and I won the gold medal," she says of her mid-summer confidence transformation. "I felt from my first step on the track that I was ready. I felt really powerful."
She routinely navigated qualifying with an impressive 61.28m before dominating the final with a second-round effort of 65.81m to take gold by nearly four metres.
The podium in Munich symbolised a changing of the guard in women's javelin throwing with Tzenkgo's fellow teenager Adriana Vilagos of Serbia taking silver with 62.01m and double Olympic champion and four-time world champion Barbora Spotakova of Czechia closing her storied championship career with bronze with 60.68m
Still only 19, Vilagos represents a long-term rival for Tzenkgo. The Serbian got the better of Tzengko when winning the world U20 title in 2021. But it is a friendly rivalry.
"She is a great person," the affable Tzenkgo says of Vilagos. "I really love her. She is young, but her hand is so, so fast.
"I really enjoy watching her throw javelin. I believe in the next few years, we will be together in first and second place."
Tzenkgo sees in Vilagos the same natural ability that she also possessed from an early age.
"When I was really young, my two older sisters started doing track and field and I was really jealous," she recalls. "And I told my mum that I wanted to start. My trainer now is my first trainer.
"We started with throwing small balls. At the age of seven or eight, we couldn't throw javelin. It was really big for us. I was throwing the ball faster and I was the first one in the team. My coach told me 'Elina your hand is really fast, you should try javelin'."
Eventually the time came when she was big enough to handle the javelin. "I remember that moment, I was only 11 years old and I said, 'what can I do with that?' But I loved it from the first time until now," she smiles.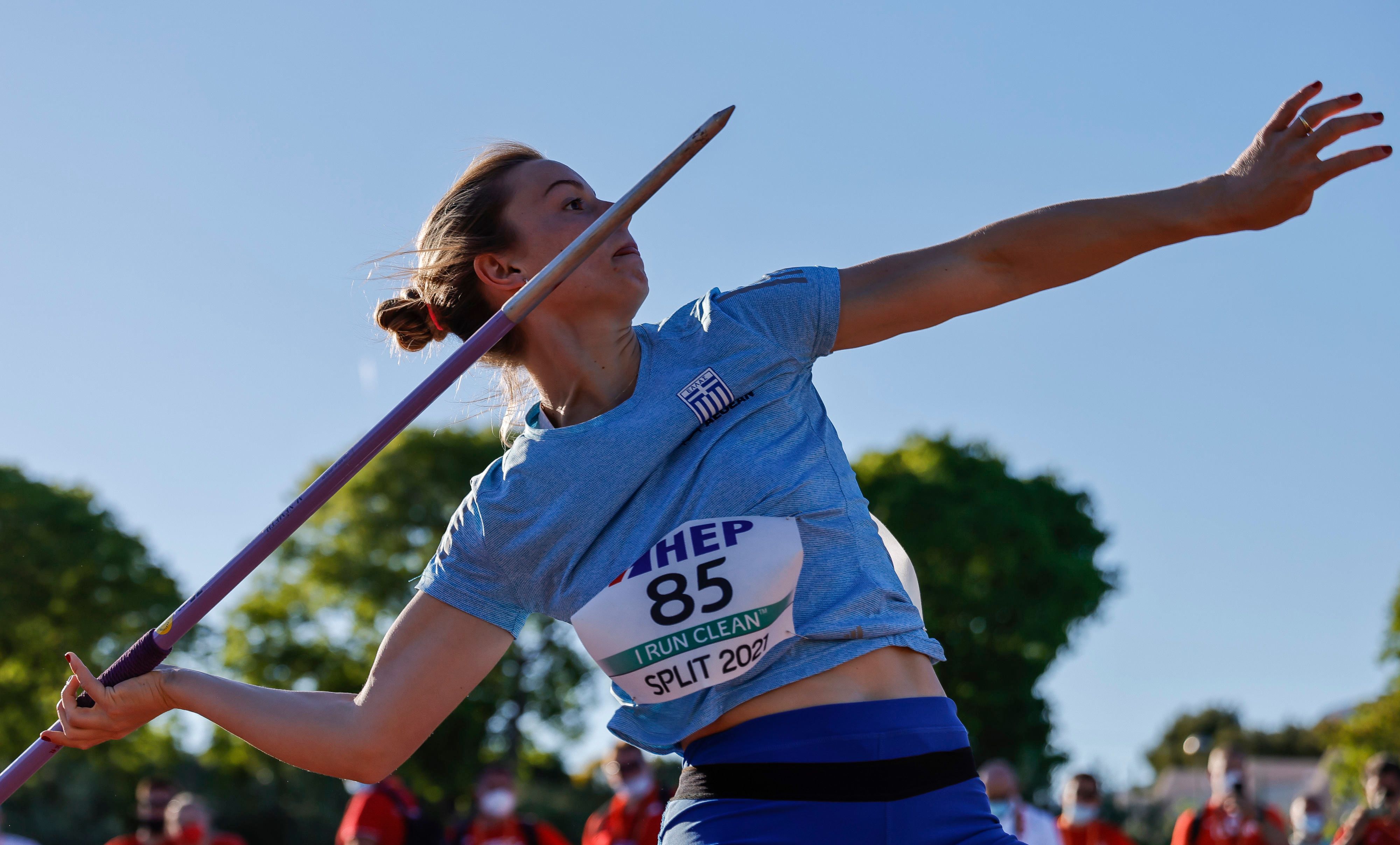 Elina Tzengko at the 2021 European Throwing Cup (© Getty Images)
Still only 20, Tzenkgo still has a keen sense of heritage and the significance of potentially becoming a Greek athlete at the Olympic Games.
"There is a big history behind all these things," she says. "It is a blessing for me. To hopefully be an Olympian and a Greek Olympian and a javelin thrower – because javelin was one of the first sports they were doing in the Olympic Games."
Based in Thessaloniki, where she is studying physical education and sports science, Tzengko has taken time out to visit Panathenaic Stadium in Athens, the site of the first Modern Olympics. "The first time I went there was a special moment. It's all stone. It's really beautiful."
But before Olympic year, she has more pressing ambitions this summer with the World Athletics Championships Budapest 23 in August. She also is eyeing a unique European treble.
"I want to be healthy to enjoy competitions and my training without injury," she says. "We have two big competitions, the World Championships and the European U23 Championships (13-16 July, Espoo, Finland).
"I already have the European Championship gold medal and the European U20 Championships gold medal, so I want the U23 one. It will be the cherry on the top!"
Having started her competitive year with her best ever annual opener at last month's European Throwing Cup in Leiria with a 63.65m victory, the Greek athlete is in prime position to challenge on the global stage in 2023. But she is determined to have fun along the way.
"I want a really good performance at the World Championships, because last year I didn't enjoy the competition," said Tzengko, who will open her summer season at the Wanda Diamond League meeting in Paris on 9 June. "This time, I want to just enjoy it."
Chris Broadbent for World Athletics