World Athletics eLearning (© Katherine Burgess)
In line with this year's UN Women theme #DigitalALL, World Athletics' eLearning platform is empowering women from across the globe to participate in our sport
World Athletics has made gender equity one of its key strategic priorities for 2022-2030. As part of this priority, World Athletics wants to "build the pool and pipeline of talented female administrators, coaches and officials in Member Federations and across all areas". This objective is no easy feat considering the differences in the geographic and socio-economic situations of many young aspiring female athletes and administrators across the world.
A recent report by the IFC (World Bank Group), in partnership with Coursera and the European Commission, found that women were more likely to face barriers such as finance, mobility, safety, and family restrictions when it comes to traditional face-to-face learning. Online learning provides an affordable – if not free – safe and flexible option for women, allowing access to learning from the comfort of their homes in their free time. Not only does this model benefit the learners, it allows organisations to provide cost-effective and high-quality learning worldwide, opening access to a more diverse group of learners.
"We know that women have responsibilities and commitments that can severely limit their access to education and training, said World Athletics eLearning Content Developer Stephanie Eagle. Therefore, as a key priority, World Athletics' Development Team has been working on a variety of eLearning courses to provide the flexibility many women around the world need in order to access such educational opportunities.
"We have also created our first course catering specifically to women – a Gender Leadership eLearning course with the aim of creating a sustainable pool of women with the skillsets to take on senior leadership roles within our sport. This self-directed certificated course covers a range of key topics including personal brand and communication, change management, and mentoring. It is currently available to all learners on our eLearning Platform in English, and will shortly be available in French and Spanish too."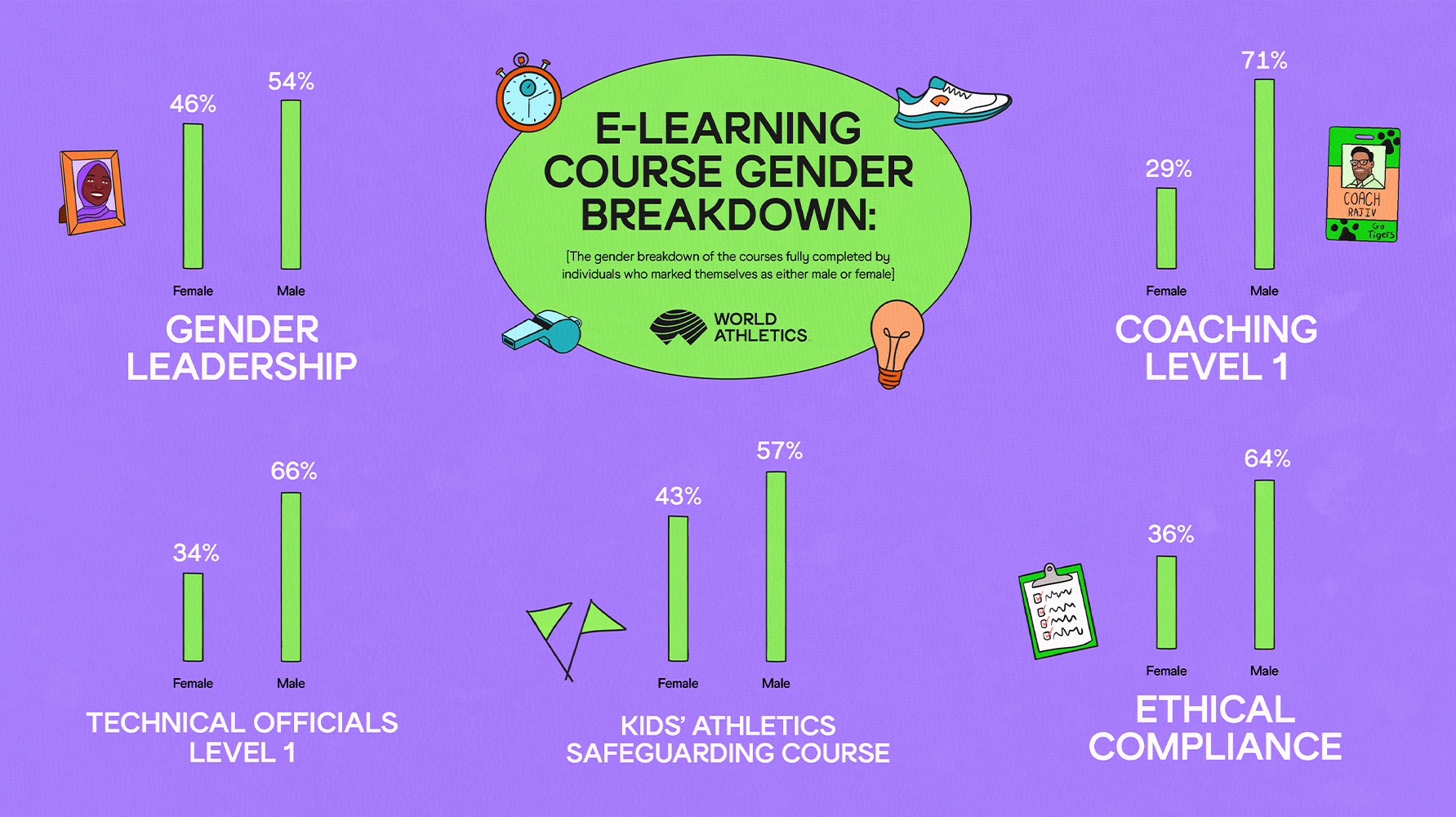 World Athletics' efforts in this space were recently reflected in a recent Silver Level Technical Official exam, which saw an increase in female participation from 19% to 40%. Providing both the education and exam online enabled more female participants from across the world to join the programme. The result was females representing 40% of participants achieving the Bronze Referee level and 30% achieving the Silver Referee level – significantly increasing athletics' pool of female referees at both National and International competitions.
This increase has highlighted the requirement to continue to offer online learning options to help empower women into key roles within the athletics community. To grow female engagement, accessibility and affordability are key to the success of online learning – especially for women living in difficult situations including refugees, those living in conflict zones, or who have suffered from natural disasters or other catastrophes.
This is echoed by Barbara Moser-Mercer, visiting professor at the University of Nairobi and Coordinator of the African Higher Education in Emergencies Network (AHEEN) – a network of African Universities dedicated to offering diplomas with strong employability potential to refugees and internally displaced persons on the African continent: "Girls' lack of literacy and numeracy skills in humanitarian and development contexts are preventing them from fully accessing digital tools and benefitting from digital learning opportunities. With the World Athletics-AHEEN U20 project we have been tackling both in tandem as we believe that there is no better way to integrate such skill-building than in embedding it in gender-sensitive athletics programmes that motivate girls to excel while also accessing learning opportunities virtually."
The World Athletics eLearning platform is free to use, mobile-friendly and provides bitesize self-directed learning. In 2023, World Athletics will continue to focus on increasing the accessibility of the platform by providing content in seven languages; providing more women across the world the flexibility to complete learning on their own timelines.
You can find all of our eLearning courses here
Stephanie Eagle for World Athletics