How are athletes represented in search engine results?
A pilot project undertaken to discover how female and male athletes are represented in search engine results has highlighted both the progress that has been made and the biases that still exist in the media coverage of female athletes.
As part of an International Women's Day pledge to World Athletics, global research, digital and creative agency Redtorch has studied search engine data, which directly impacts how discoverable athletes are to audiences around the world.
The focus for this project was the World Athletics Championships Oregon22, as the agency explored the differences in representation of female and male athletes in online news across English-speaking countries including Australia, Canada, Jamaica, Kenya, South Africa, the United Kingdom and United States.
Results showed a 42% female/58% male split in overall search returns when the spotlight was on specific athletes. However, when looking through the lens of individual disciplines, more significant differences were recorded: the biggest being a 32% female/68% male split among throwers.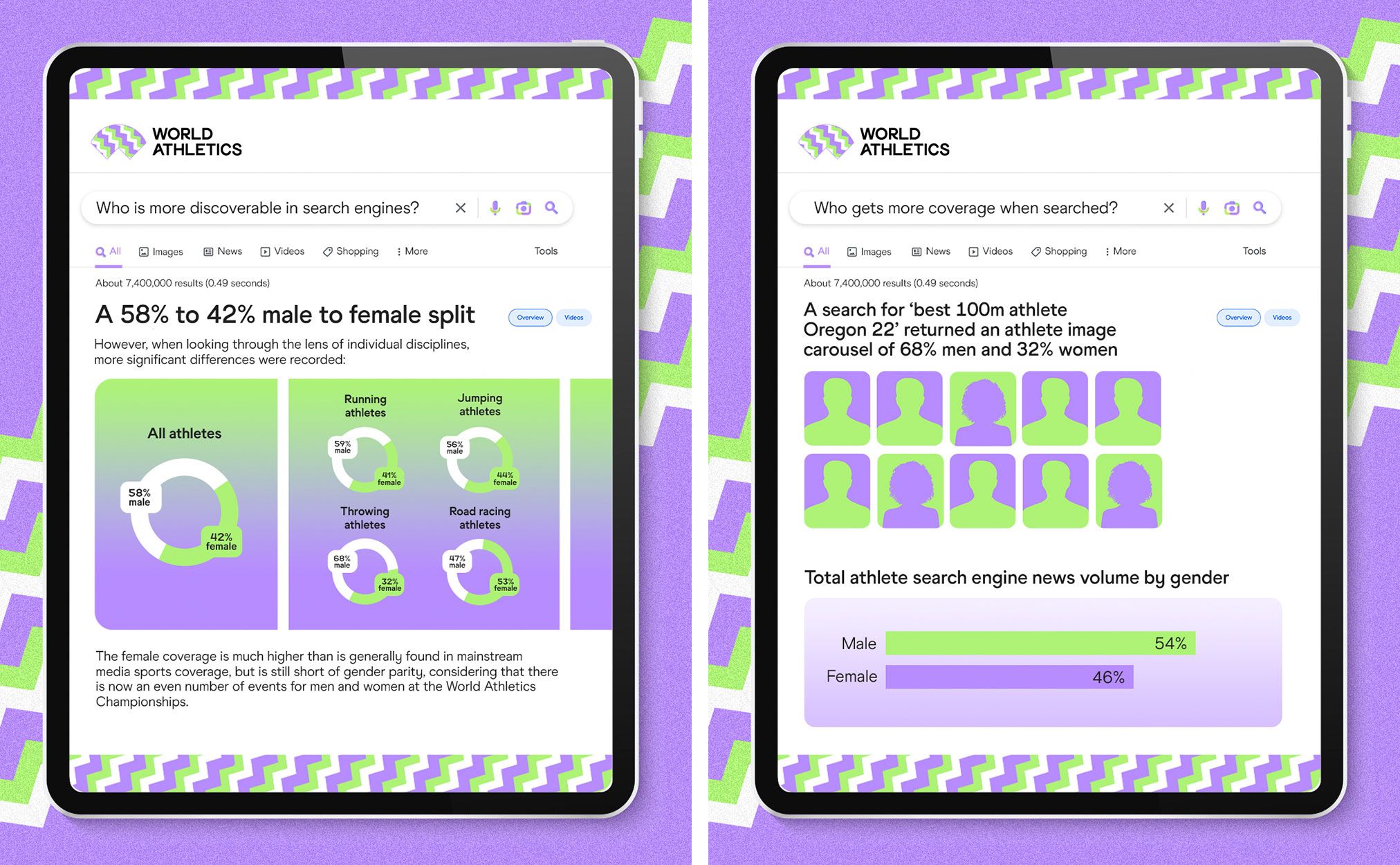 The female coverage is much higher than is generally found in mainstream media sports coverage, but is still short of gender parity, considering that there is now an even number of events for men and women at the World Athletics Championships.
The pilot study also analysed athlete social media platforms, paying particular attention to audience size as a robust reflection of overall popularity. Interestingly, the total of social media followers was significantly higher for female athletes (56%) than male athletes (44%), yet the word 'male' still appeared in headlines 107% more than 'female'.
In searches for named athletes, the study examined the coverage of generic discipline searches to gather information about best-performing athletes in each discipline. For example, a search for 'best 100m athlete Oregon 2022' returned an athlete image carousel split of 68% male/32% female on the athletes featured.
The average split across all disciplines in generic searches showed a 42% female/58% male return – very similar to the percentage return for named athletes. When searching for generic terms within disciplines, for example "best 100m athlete", on average the results featured substantially more male than female athletes. This could indicate that search engine algorithms may contain potential bias which overlook female results.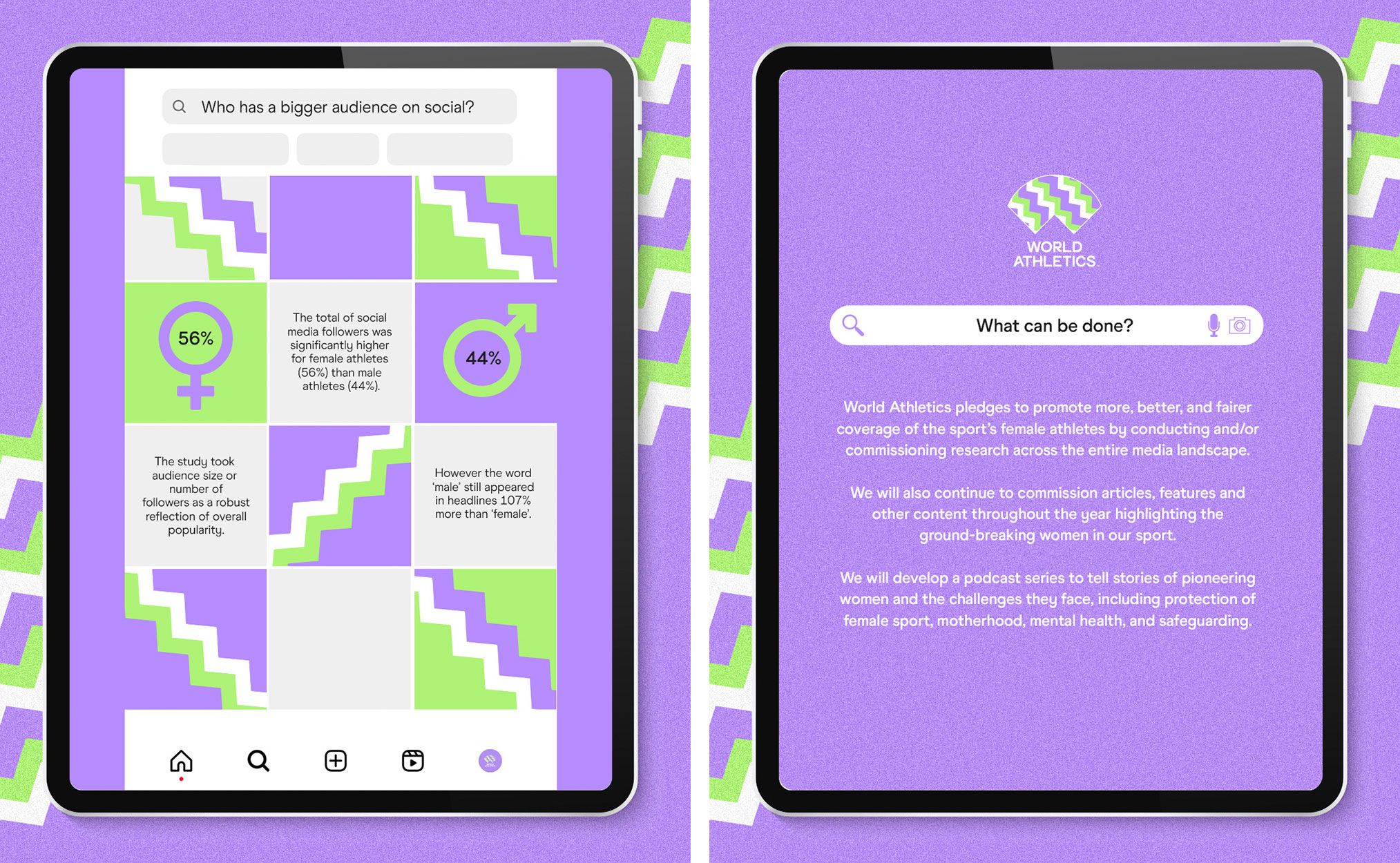 The study's authors concluded: "We believe this pilot project sets a benchmark that World Athletics can use to further address the imbalance in female coverage. We look forward to working together on the development of this pilot project by covering more markets and athletes, and helping to change the coverage."
Further data will be gathered during the World Athletics Championships Budapest 23 in August.
Among World Athletics' pledges for International Women's Day in 2023 is to promote more, better, and fairer coverage of the sport's female athletes by conducting and/or commissioning research across the entire media landscape, including a third online abuse study at the World Athletics Championships Budapest 23 , which will track abuse directed at male and female athletes on social media in order to better protect female athletes and take action against those who target athletes online.
World Athletics will also continue to commission articles, features and other content throughout the year highlighting the ground-breaking women in our sport. This will include developing a podcast series to tell stories of pioneering women and the challenges they face, including protection of female sport, motherhood, mental health, and safeguarding.
Methodology
• The period monitored was July 2022.
• The number of athletes monitored = eight top-performing athletes (named athletes) per discipline. This totalled 380 athletes with an equal female/male split.
• An extensive search was conducted across multiple markets (Australia, Canada, Jamaica, Kenya, South Africa, United Kingdom and United States) to ensure validity and representation of search returns.
• Other generic 'discipline' Oregon 2022 search terms were used to count the number of female/male athletes on the carousel (as well as the number of times 'female'/'male' appeared in first page results).